A once per year trading system triggered by yield, called the "Dogs of the Index" is used by many investors to determine the best of the best dividend stocks. The system empowers investors with all the wisdom and knowledge of the well-paid wizards of investment and publishing for free, as they collect the highest yielding and lowest priced equities selected by experts.
Charts below for the NASDAQ 100 Index reveal low yielding stocks whose prices increase (or whose dividends decrease) as candidates to be sold off once each year in order to sweep gains and reinvest the seed money into higher yielding stocks in the same index.
Two key metrics determine the yields that rank the NASDAQ 100 dog stocks: (1) Stock price; (2) Annual dividend. Dividing the annual dividend by the price of the stock declares the percentage yield by which each dog stock is ranked. Thus the investor is able to follow, trade, and await the results from an investment in the lowest priced, highest yielding five or ten stocks in the index.
Investment empowerment from the NASDAQ 100
Listed below are the top thirty NASDAQ 100 Index stocks by yield as of 2/10/12 per IndexARB.com data. NASDAQ states, "The NASDAQ-100 Index includes 100 of the largest domestic and international non-financial securities listed on The Nasdaq Stock Market based on market capitalization. The Index reflects companies across major industry groups including computer hardware and software, telecommunications, retail/wholesale trade and biotechnology. It does not contain securities of financial companies including investment companies."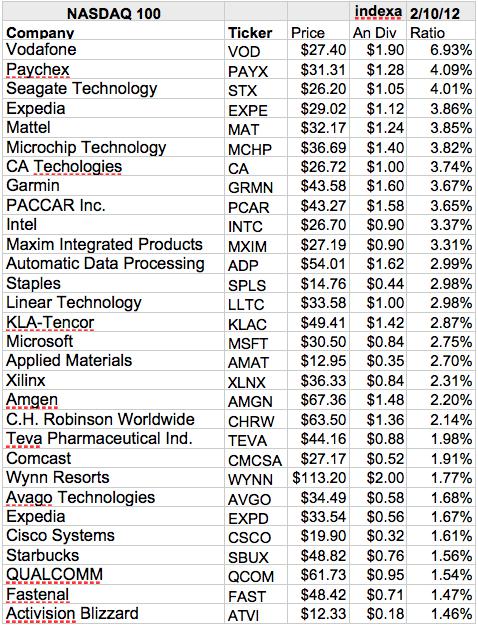 Six of the top ten stocks paying the biggest dividends in this index were again technology firms. Vodafone (NASDAQ:VOD) and Seagate Technologies (NASDAQ:STX) have traded places at the top of this list twice over the past year throwing 5 to 8% yields. On February tenth VOD was tops again at 6.93%. The remaining four firms represented two business sectors with three consumer firms, plus one service outfit.
Vertical moves by NASDAQ 100 index dividend payers
Color code in the charts below show: (Yellow) firms listed in first position at least once between October 2011 and February 2012; (Cyan Blue) firms listed in tenth position at least once between October 2011 and February 2012; (Magenta) firms listed in twentieth position at least once between October 2011 and February 2012; (Green) firms listed in thirtieth position at least once between October 2011 and February 2012. Duplicates are depicted in color for highest ranking attained.
Click on charts below to enlarge: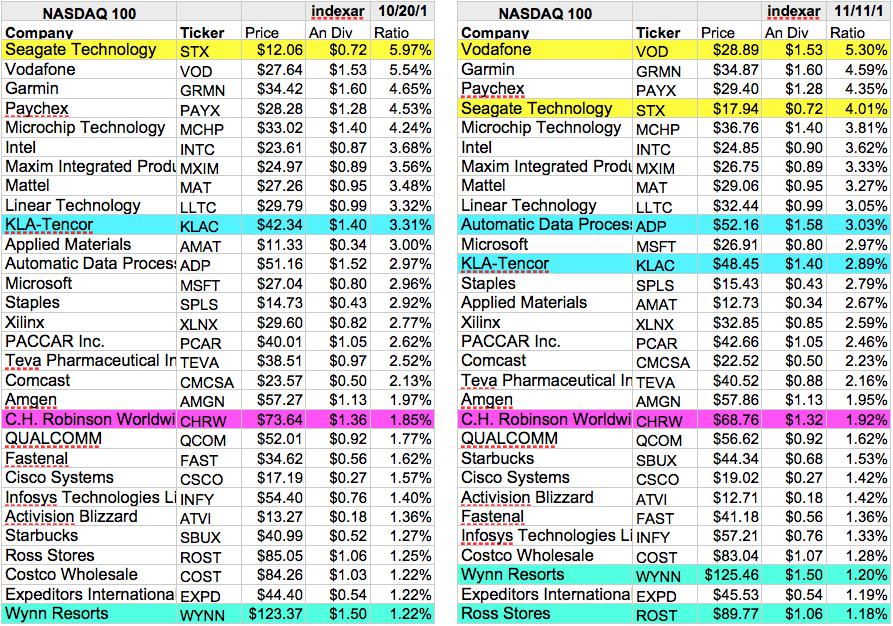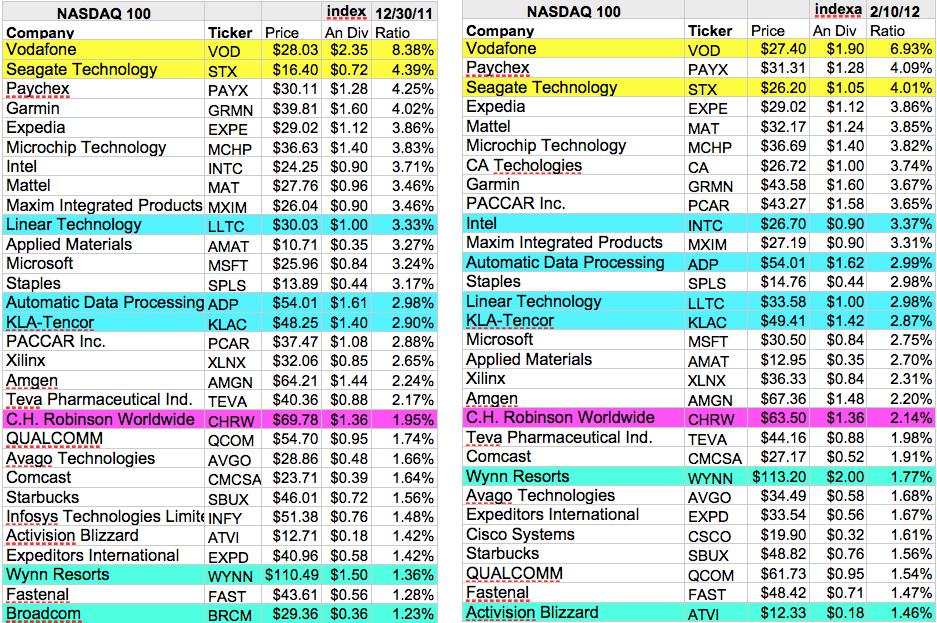 Newcomer to the top 30, Avago Techologies (NASDAQ:AVGO), replaces Infosys (NASDAQ:INFY) which plunged off the chart when its price shot up 8% from $51.38 to $55.71 in 40 days. October's top dog, Seagate Technologies (STX) was credited with a 46% dividend increase by IndexARB.com yet dropped one slot as its share price popped 59.75% from $16.40 to $26.20 in the same period.
Dividend VS. Price Results for NASDAQ 100 Index Top 10
Below is a graph of the relative strengths of the top ten NASDAQ 100 index stocks by yield as of February 10, 2012. Four months of historic projected annual dividend history from $1000 invested in the ten highest yielding stocks each month and the total single share prices of those ten stocks creates the data points for each month shown in green for price and blue for dividends.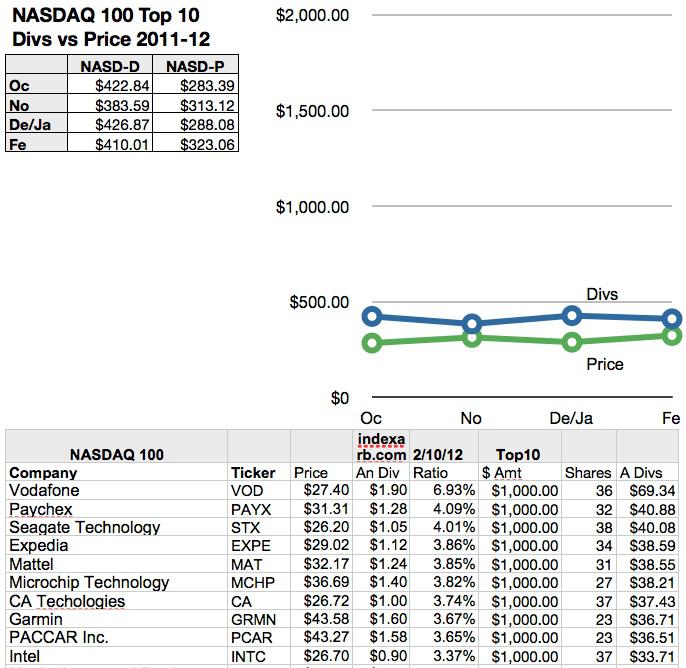 Click to enlarge.
The NASDAQ 100 February top ten yield components signaled a bullish market convergence with annual dividend yields dropping as the aggregate total single share prices increased.
Perhaps the bulls will continue running in the month to come and these share prices will intersect or exceed dividend yields. Stay tuned.
Disclosure: I am long INTC.