Wal-Mart's (NYSE:NYSE:WMT) top brass must surely be on a high this Christmas after 2015 gave them some respite after the 2014 numbers. Comparable store sales are up across the board, gross and operating margins are holding steady, and some lines of business have shown a marked improvement over the previous year, although stock prices didn't share that same enthusiasm at any time during the past 12 months.
2015 Income from Business Lines
With net sales getting ever closer to that tantalizing half a trillion dollars this fiscal, Wal-Mart has once again proclaimed its dominance in the retail world. A 3% revenue jump to $485.7 billion and comparable store sales finally back above sea level are certainly something to celebrate.
So all's good at the top line - well, mostly. The ever-burning question, though, is "who's bringing the biggest promise of future earnings?"
First, let's see where each of the segments stands.
Wal-Mart U.S. brought in 59% of overall revenue as its biggest earner, followed by 28% from its overseas outlets, which make up 54% of its global presence. That's not a very impressive figure considering that Costco (COST) gets 27% of its revenue from its international operations, which makes up 30% of its store count.
Sam's Club brought in about $58 billion, or 12% of net sales.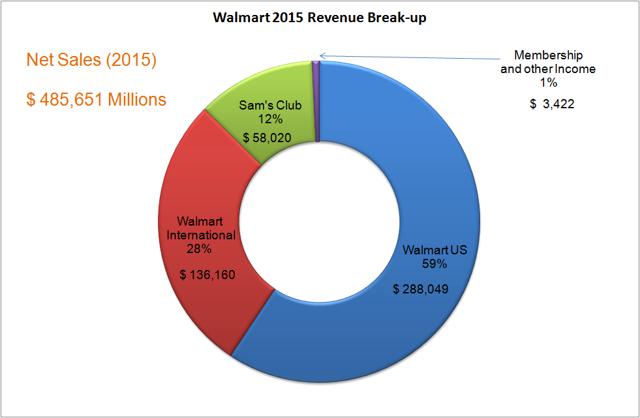 Sam's Club offers a very similar model to Costco's, and attempts to serve a slightly different economic segment than Wal-Mart's Supercenters. The membership-only model does offer an attractive proposition to buyers but, unfortunately, this business line has so far been unsuccessful at fostering the kind of loyalty that Costco has so successfully been doing over the past several years.
Nevertheless, Sam's Club continues to plod on with growth figures between 1.3% and 1.5%.
In contrast, Costco grew its revenue from $112.64 billion to $116.2 billion - or 3.16% - with a comparable number of stores.
Their international business struggled to even match last year's revenue this fiscal, and limped home with a 0.26% dip in sales.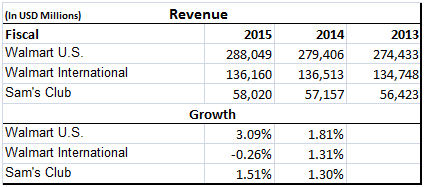 Operating Income
In terms of profitability, however, the company's overseas business outperformed the others and compensated for its previous year change (2013 to 2014) of -19%. This year, they seem to be much closer to what they were making in 2013 - about $200 million less, but a significant improvement over 2014.
The home front wasn't as lucky. Wal-Mart U.S. posted an operating income of $21.336 billion - down 2.1% from its 2014 achievement.

In terms of margins, its U.S. division left a bitter aftertaste by losing 40 basis points, while other segments showed strong signs of recovery from 2014's poor performance in relation to 2013.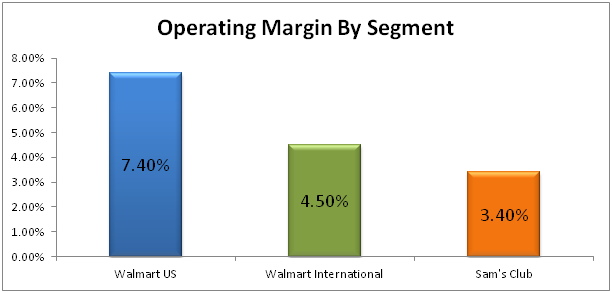 Source: All data taken from Wal-Mart Annual Reports and corporate.walmart.com
Margins aside, what's shaking up the numbers at Wal-Mart? It hasn't done much with its Supercenters, Sam's Club is a tired horse, international sales leaves a lot to be desired, and its YTD stock chart looks more like a cliff than a slope.
And Yet, This is How Wal-Mart Plans to Kill Kroger (KR) et al
Despite a mixed basket of results that left the company with an overall sense of being "somewhat euphoric," the true emerging star in the Wal-Mart constellation is the Neighborhood Market.
Wal-Mart's sheer size and reach enables it to foray into practically any market that captures its fancy. Even as it battle wages and labor-related issues, it is ready to pounce on Kroger's market share with this fresh approach.
I believe its strongest earner for the future will be this unique concept. I see it becoming much bigger than what it initially hoped Sam's Club - now an old dog that can barely do the tricks it knows let alone new ones - would be.
Its Neighborhood Market concept is essentially a transposition of Supercenter capability into urban locations. A brilliant concept when you look at it closely. Essentially, it allows much smaller outlets within city limits to have the discounting and product offering capability of Supercenters. And since groceries are already its biggest earner, it can provide fresh produce for much lower than what Kroger, Whole Foods (WFM) or Trader Joe's can manage.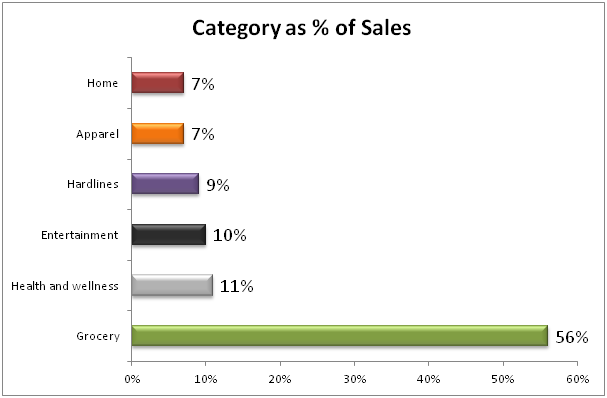 See the example below from a site called OregonLive.com. If I can pick up Wal-Mart-cheap groceries at a local store, why would I need to go to a Fred Meyer?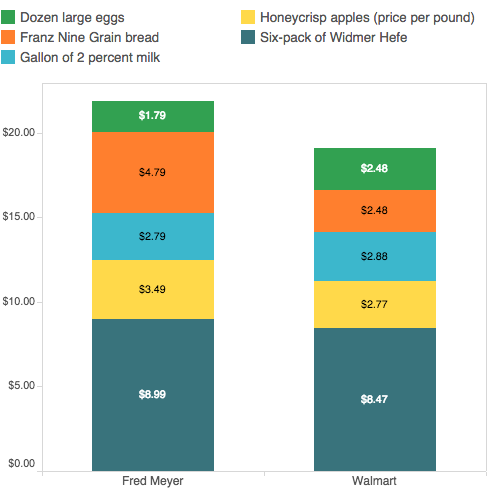 If I were a big player like Wal-Mart, this is exactly the kind of hybrid model I'd be looking at to seriously complement my already-popular Supercenters - my daily needs shoppers are serviced locally, and my Supercenters are ready to give my weekly and monthly grocery shoppers the deals and experience they've come to know and love. Win-win-win-win!
Investor-speak
I say enough with the Wal-Mart-bashing. The company is the biggest of its kind in the world and is bound to have a person or thousand saying things about them. When you get down to brass tacks, however, it's all a matter of future growth, future penetration and future profitability. Over the past year, WMT has taken a beating, for sure, but I do see one silver lining in all this - Wal-Mart going urban.
To say that Sam's Club is the future of Wal-Mart would be oh-so-80s; to give international sales a thumbs up would be ignorant, at best; and to tout Supercenters as the people's hero would be an insult to America (have you seen the crowd there lately?). Nevertheless, there is value in this behemoth in the form of a new discovery - that it can take its superhero discounting powers and actually bring it to that 'last mile' near your home. That new superhero is still very much a part of the Supercenter infrastructure, but it is now a short drive away instead of a picnic spot away. It is called the Neighborhood Market (NM), and it will revolutionize deep discounting in a way that Kroger or Whole Foods cannot match.
Think about this... the smallest NM is about 1,000 sq. ft. - that's 69 times smaller than the smallest Supercenter and 30 times smaller than the smallest discount store. Even taking the average, these babies are 4.8 times smaller than the 'mothercenters' that feed them. Yet, they have the same discounting power and the same width of products.

I'm not even getting into their online potential in this article, but that's where the next wave of success is going to be coming from.
As these two infants mature, they will support Wal-Mart U.S.'s profitability and, thereby, the entire WMT ecosystem.
So say what you will about stock charts resembling cliffs (oh, was that me?!) or Wal-Mart being the bane of blue collar workers across the nation, I believe that this stock will once again be valuable. Not next quarter, maybe, or even next year; but when the company's neighborhood hook, urban line and online sinker bait new waves of customers with fresh new ways of rock-bottom-shopping, you'll thank your stars that someone told you to get in now when stocks are at a significant low.
True, it may go even lower than it is now, but don't be the investor who, ten years down the road, says: "I should have jumped in during the downswing of '15 when I had the chance and the advice."