In a pyrrhic victory, akin to Luke Skywalker escaping Cloud City in Empire Strikes Back despite having his arm cut off, the Alerian MLP Index finished positive for the week by 0.2%. The equal weight version tells a different story, down 2.8% and decimated by distribution cuts and distribution cut speculation. MLPs did little to recover from the last two weeks (-10.9% and -5.3%), although the selling pressure was less steady this week than the last two, signaling potentially that the end is in sight.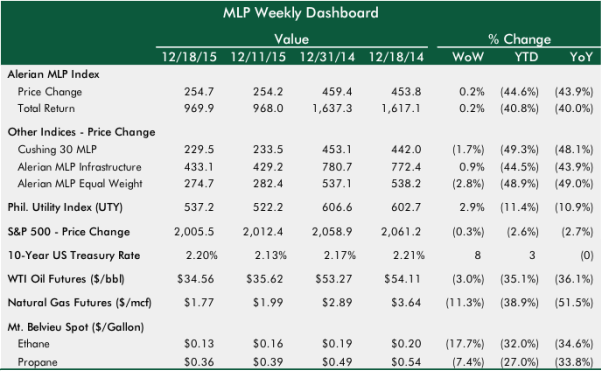 MLPs slightly outperformed the S&P 500 (-0.3%). The Fed finally raised rates, and it was a non-event for utilities, which outperformed this week. MLPs were able to somewhat withstand another steep week-over-week decline in commodity prices. Natural gas prices have caught up and passed oil prices of late in the race to the bottom.
2016: Return of the MLP?
Pardon the Star Wars themed post, but apparently being a Star Wars nerd is widely accepted these days, especially with the Force Awakens breaking box office records already. I remember when being into Star Wars wasn't cool, and I remember when it wasn't cool to be an MLP nerd, then it was cool, now it's not so cool anymore. The shame of holding MLPs in your portfolio has returned, but it doesn't feel like Star Wars nerdom will be shamed again anytime soon.
I think most MLP investors right now have the same feeling I have when watching the Star Wars prequels (Episodes I, II, III): when is this going to be over? Over the last 10 weeks, the Alerian MLP Index has produced -25% total returns, with average weekly returns of -2.8%. For the full year so far, including the last 10 weeks, average returns have been docile by comparison at only -1.0%.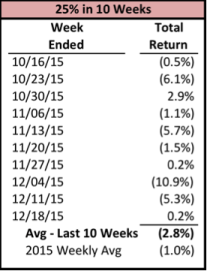 The year 2015, and certain selling pressures, will end soon. Optimism over a January rally persists, but questions remain about how sustained a possible January Effect might be as producers trickle out 2016 capex plans.
In the chart below, we show the classic total return sensitivities. From a 9.5% yield starting point, we do the math and show what the index's returns could be under various yield and growth scenarios. If MLPs trade down to an 8% yield and hold distributions flat over the next 12 months, the total return would be 28.3%.

Using this methodology, it's actually challenging to come up with a scenario whereby MLPs are not positive next year, unless distributions across the entire index get cut back significantly. But that math is difficult to conceive as well, when Enterprise Products Partners L.P (NYSE:EPD) and Magellan Midstream Partners, L.P. (NYSE:MMP) make up more than 25% of the index and when drop down growth MLPs like Shell Midstream Partners, LP (NYSE:SHLX), Phillips 66 Partners LP (NYSE:PSXP), Valero Energy Partners LP (NYSE:VLP), EQT Midstream Partners, LP (NYSE:EQM), Tesoro Logistics LP (TLLP) make up at least another 10%. The potential distribution cutters have been written down so much that their weight is fairly small within the index.
Now back to the Empire Strikes Back. This year, while watching MLPs flounder in the market day after day, or maybe upon receiving your monthly brokerage statement, I think we've all made the face Luke made after he learned of his true lineage. "Nooooo! that's impossible!!!"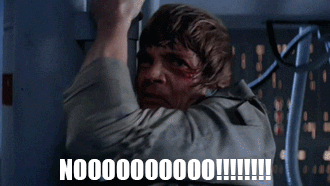 But don't give in to hate, search your feelings for the ability to ignore and endure the volatility of a thinly traded market these next 8 days. These aren't the prices you're looking for. MLPs aren't just a hokey religion with ancient weapons. May the Force be with you.
Poll Question
Which Star Wars movie will be Most Analogous to 2016 for MLPs?

The Prequels (Wooden actors deliver weak dialogue, forced call backs to much better earlier movies, destruction of what you enjoyed as a kid that drags on way too long)
A New Hope (Motley crew of unlikely heroes escape capture, unlikely victory in early stages of prolonged uprising)
Empire Strikes Back (Narrow escapes from monsters, frigid temperatures and bad guys, heroes wounded and split up, but everyone survives)
Return of the Jedi (Heroes reunite after rescue, Rebels experience triumph against long odds, vanquish bad guys completely)
Winners & Losers
MLPs were all over the map this week. SunCoke Energy (NYSE:SXCP) led the way after indicating its current distribution will be maintained. Vanguard Natural Resources (NYSE:VNR) cut its distribution and was up 4% on the news and up 17% on the week, after leading all MLPs lower last week. Crestwood Equity Partners LP (NYSE:CEQP)'s announced buyback program seemed to work this week, while VLP rallied more than other high growth names that all seemed to rally this week. On the negative side, the distribution cuts for the Teekay's clearly took the market by surprise, while other bottom 5 names seem to have distribution sustainability questions as well.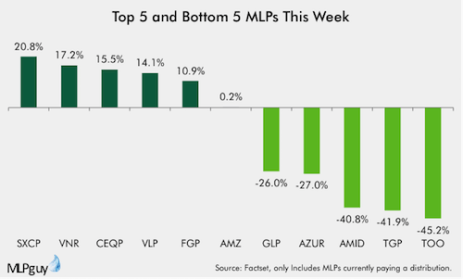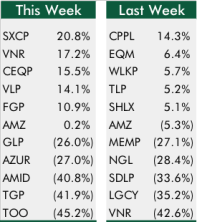 VLP's strong performance propelled it to the top of the MLP sector year to date with just 8 days remaining in the year. Only 2 MLPs are positive on the year, and the compression MLPs that had dominated the top 5 for most of the year have all fallen out of the top 5. On the downside, you'd think the bottom 5 would consist entirely of MLPs that have cut their distributions, but Azure Midstream Partners, LP (NYSE:AZUR) is down 89% despite having maintained its distribution at least through last quarter (implying 86% yield currently).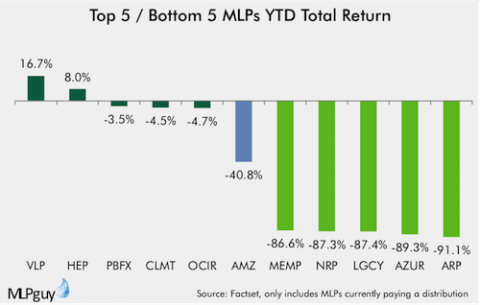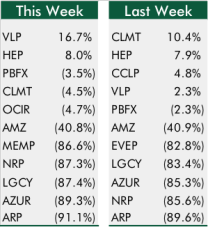 General Partner Holding Companies
GPs continue to be pummeled, regaining none of the traction that MLPs experienced this week. The median GP performance was -9.5%, and that's not even including TK Corporation, which was down 56% this week after cutting its dividend 90%. Energy Transfer Equity, L.P. (NYSE:ETE) and Williams Companies Inc (NYSE:WMB) were near the bottom again this week, as the market lacks faith in the attempted reassurances from management last week. Columbia Pipeline Group, Inc. (CPGX) has held up better than all other GPs over the last two weeks.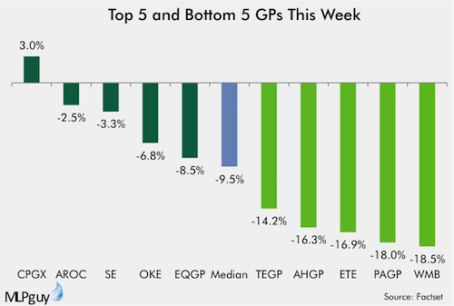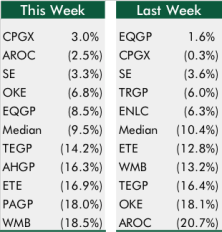 News of the (NYSE:MLP) World

M&A/Growth Projects
Other
Distributions not Cut

Tallgrass Energy (TEP - Pipeline MLP): $0.64 per quarter, +6.7% increase over prior quarter, 32.0% year-over-year increase.
Dynagas LNG Partners (DLNG - Marine Transportation MLP) announced intent to raise distribution between 4-6% next quarter.
Golar LNG Partners (GMLP - Marine Transportation MLP): flat distribution and $25mm unit repurchase program (press release).

Cited no change to business since 3Q, leverage ratio of 3.4x as supportive of distributions despite 26.7% yield.

SunCoke Energy (SXCP - Cokemaking MLP): announced intent to maintain current distribution, despite parent suspending its dividend.

Distributions Cut

Teekay LNG Partners (TGP - Marine Transportation MLP): 80% cut to $0.14 per quarter.
Teekay Offshore Partners (TOO - Marine Transportation MLP): 80% cut to $0.11 per quarter.
Seadrill Partners (SDLP - Offshore Rig MLP): 56% cut to $0.25 per quarter.
Vanguard Natural Resources (VNR - E&P MLP): 75% cut to $0.03 per month, second distribution reduction this year.

Kayne Anderson's closed end fund complex cuts dividends.

KMI dividend cut and stealth cuts through mergers cut into cash flow.

American Midstream (NYSE:AMID) announced the retirement of CEO Steve Bergstrom, to be replaced by new hire Lynn Bourdon, formerly CEO of Enable Midstream and an executive at EPD (press release).
The board of Cheniere, Inc. (NYSEMKT:LNG) announced that it will be replacing CEO Charif Souki with current board member Neal Shear (press release).
Editor's Note: This article covers one or more stocks trading at less than $1 per share and/or with less than a $100 million market cap. Please be aware of the risks associated with these stocks.