Introduction
Not much has changed since I had published my first article on coffee. The fundamentals are still in favor of this commodity, while overall ignorance of its future potential sustains the downward trend of coffee futures.
Even though the commodity appears to experience less bearish sentiment than it did a couple of months ago, throughout this article I will explain why I am more neutral than bullish on coffee at the time being.
Supply and Demand
Having no direct substitutes, coffee has been with us for a long time. Increasing availability of coffee around the globe makes it an irreplaceable companion for more and more people. As world's population is spending more time working each year, coffee, as a cure against sleepiness, maintains its useful purpose and keeps the long-established special attitude towards it.
It is clear that consumption of coffee will not significantly decrease any time soon. What is less clear, however, are the future price dynamics.
World coffee demand has been growing at an average of 1% per year since 2011. Even though consumption is still growing in developed countries, the most potential is locked in the emerging markets. Despite being strong contributors to the global coffee demand growth today, most emerging markets have sufficient capacity to handle continuous consumption increases in the future.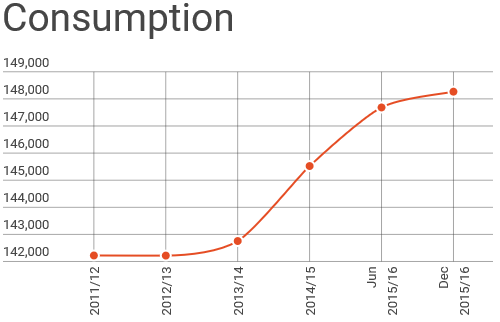 World Coffee Consumption in Thousands of 60 kg bags, 2011/12 - Present (Includes the latest estimate for 2015/16). Source: United States Department of Agriculture, (2015).
While coffee consumption is experiencing no headwinds, its production growth is slowing down, as Brazil's combined Arabica and Robusta production is expected to decrease by 4.9 million bags due to low amount of rainfall this year. Speaking of the world numbers, in June USDA estimated the 2015/2016 production to outpace previous year by 1.366% in terms of Robusta and by 2.63% in Arabica. Nevertheless, the revised data that was published this Friday showed that USDA has lowered its estimate to productigrowth of only 0.81% for Robusta and 0.075% for Arabica.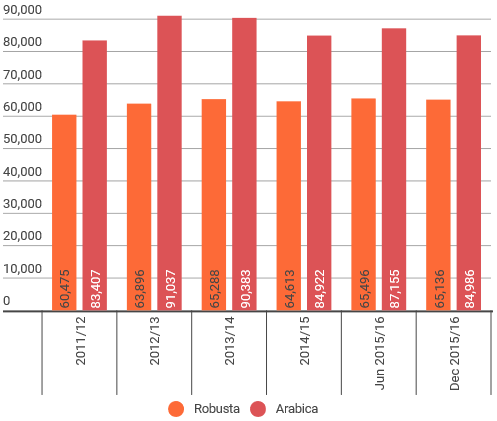 World Coffee Production in Thousands of 60 kg bags, 2011/12 - Present (Includes the latest estimate for 2015/16). Source: United States Department of Agriculture, (2015).
It is too early to conclude that supply is experiencing substantial issues at that point, however, since the latest USDA's estimates demonstrate that, despite the production headwinds in Brazil, increasing coffee inventories and large output in Honduras, Indonesia and Vietnam have only increased the total excess supply on the market.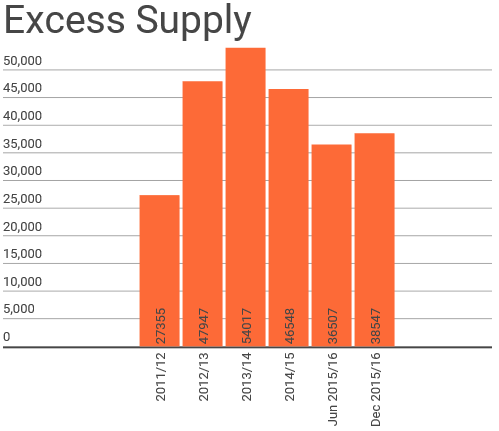 Total Excess Supply (Calculated as Total Production+Stocks-Consumption) of Coffee, 2011/12 - Present (Includes the latest estimate for 2015/16). Source: United States Department of Agriculture, (2015).
The Weather
When it comes to the future coffee price dynamics, the only factor that might be of higher importance than El Niño might be the buzz El Niño is capable of creating. This year's El Niño is on its way to becoming one of the strongest in its history. But what happened the last time it was nearly as strong as it is this year?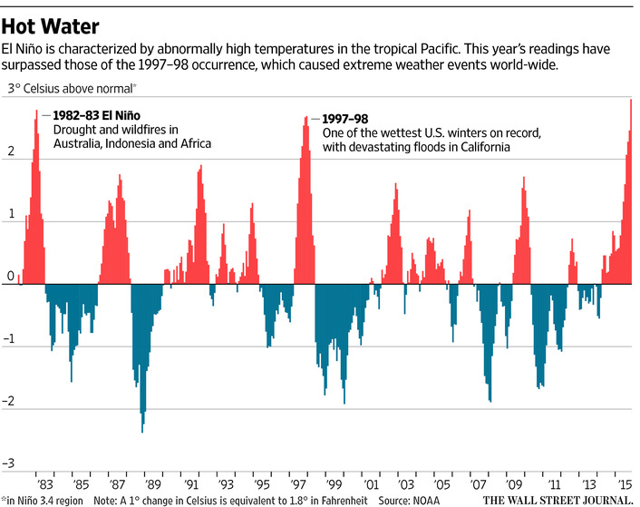 El Niño's Impact on Temperature, 1983-Present. Source: The Wall Street Journal, (2015).
In 1997, El Niño has strongly increased demand for coffee despite the rising world inventories, as people were preparing for "Dire predictions of storms and starvation, drought and death." Even though this year's El Niño does not seem to cause that much damage to the coffee crops, a negative impact on production in Brazil can be clearly seen. Although the current estimates cannot be called too pessimistic, the weather conditions should be watched carefully, as more coffee price-favoring estimate revisions might be on the way.
Coffee Prices
Despite the fundamentals slowly starting to act in favor of coffee, its futures have been falling strongly in 2015. Nevertheless, the external factors are slowly changing for this commodity. It is only a question of time when will the pendulum shift for coffee.
Under its coffee futures chart, Finviz offers a useful graph demonstrating small and large traders', as well as commercial hedgers' positions in the commodity we are currently analyzing. Large traders have a proven record of guessing most coffee price increases (which is not too surprising when the law of demand is considered), making it particularly interesting to study the recent developments in their positions.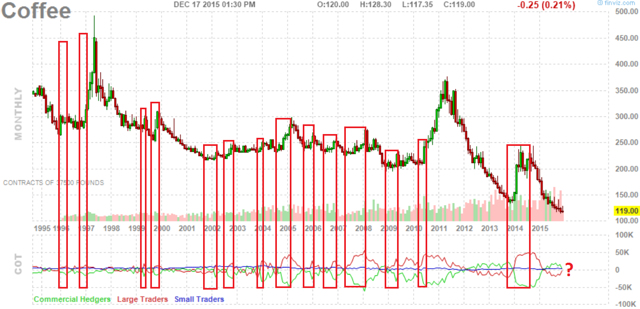 Coffee Futures Prices and Positions of Commercial Hedgers, Small and Large Traders (Red Line), 1995-Present. Source: Finviz, (2015).
It can be seen that larger traders have been increasing positions lately, which might possibly result in a sharp reversal of the current coffee price trend. A situation we would certainly like to avoid, however, would be a repeat of the fluctuating sentiment of 2013-2014, which is to some extent similar to the current conditions.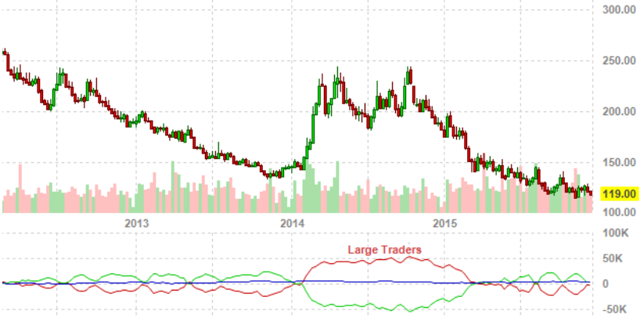 Coffee Futures Prices and Positions of Commercial Hedgers, Small and Large Traders (Red Line), 2012-Present. Source: Finviz, (2015).
Nevertheless, in case the larger traders' positions continue increasing over the next couple of months, there will be a growing probability of a trend reversal. The potential of further coffee price declines is diminishing, as the pace of supply growth will most probably not increase substantially in the nearest future. There is a growing number of African producers switching towards production of macadamia in their pursuit for higher profits, which is an example of additional drawbacks coffee supply might see in the future.
The pace of coffee price declines has been slowing lately, with stronger short-term price spike starting to take place. Moreover, the fact that the coffee futures have been fluctuating without a certain trend since November might imply that the downward trend is ready to come to an end. Nevertheless, even though the current conditions seem to be more neutral than bearish for coffee prices, a strong catalyst is needed for the expectation cycle to turn in favor of coffee futures.
Conclusion
The increasing number of catalysts for coffee is hard to ignore. While the pace of price declines is slowing, large trader positions are piling up. El Niño alone is capable of bringing a supply shortage and cause a spike in coffee prices in 2016. Nevertheless, it is also the El Niño which might bring the coffee price even lower should the weather conditions continue positively influencing production growth in Vietnam, Indonesia and Honduras. Coffee prices have been increasingly volatile lately, and this might act against them in case the expectations for supply decreases are not met. Nevertheless, the latest price trend seems to be dragging the coffee futures higher.

Coffee Futures Prices, November 9-Present. Source: Finviz, (2015).
Even though the fundamentals create favorable conditions for coffee prices to grow in the longer term, it might be wise to stay neutral for some more time and a keep an eye on fundamentals and large traders' positions. Moreover, it is important to ignore day-to-day swings and focus on fundamental-driven price changes. Even though the 2014 coffee rally was sharp, it did not happen during 1 day, while a position established today (December 21) might demonstrate a relatively poor timing in case the short-term price pressure returns.
Disclosure: I/we have no positions in any stocks mentioned, and no plans to initiate any positions within the next 72 hours.
I wrote this article myself, and it expresses my own opinions. I am not receiving compensation for it (other than from Seeking Alpha). I have no business relationship with any company whose stock is mentioned in this article.