I wasn't a fan of Facebook's (NASDAQ:FB) initial launch of its live product to only celebrities via the Mentions app. Facebook was already behind the curve with its live function. Periscope (NYSE:TWTR) launched over eight months ago and Meerkat has been out a couple of months longer. Adding in its inability to be used by most people made me disappointed twice as much. Finally the firm is now testing out the ability to livestream for everyone. If you have been reading my articles on this topic, you would have anticipated this move. Looking at this timeline, it isn't as disappointing now that it is actually launching as having celebrities use it can be considered an elongated test. The test isn't just about how the features will technically function; it's also how the notification system will work and how it will fit into newsfeed. It would be a disaster if users were bombarded with notifications.
Facebook Live Versus Snapchat Not Periscope
As someone who uses Periscope daily, has written about it from before it was launched, and went to the Periscope Summit in Manhattan, I think I have a different perspective on Facebook's live feature. From the reports I have read, tech journalists are comparing Facebook live to Periscope and Meerkat. Generally, they say those apps should brace for impact because a disruption is about to occur. In my opinion, Facebook Live is not a direct competitor to Periscope and Meerkat. Instead I think it's a direct competitor to Snapchat (CHAT).
From a Facebook investor's perspective, this is a positive because Snapchat is a much larger app. If Facebook stole all of the Periscope and Meerkat users, it wouldn't make a dent in its numbers. Facebook has tried and failed miserably to compete with Snapchat by creating copycat apps. It shuttered Slingshot, Rooms, and Riff. It's not surprising those attempts failed because Snapchat is excellent at innovating new features (i.e. the ability to scan a profile to connect on the app). A side project isn't going to destroy the powerhouse that is Snapchat. Why go on any of those lesser apps, if all of your friends are already on Snapchat? They didn't have any breakthrough features to differentiate themselves.
Facebook Live is different from those failures because it is more integrated with Facebook itself and it has a feature Snapchat doesn't have. I am still predicting Snapchat will become a livestreaming app, but currently Facebook has this advantage over Snapchat. To get back to my original point, Facebook Live is competing with Snapchat because live video will be shared to your friends and family. Only the celebrities and those who chose to make the live video public will have anyone other than their friends watch the livestream. This type of content is exactly what is on Snapchat. There are other famous public accounts on Snapchat, but usually you know most of your connections. For non-famous users Snapchats are about sharing an interesting portion of your life to your friends, not about gaining attention.
Periscope isn't in this category because its main function is to share a portion of your life with someone who is in a different part of the world. For example, I scoped walking in Manhattan and had people from around the world joining and commenting. This wouldn't work for Facebook Live because a majority of my friends have seen this hundreds of times. Periscope is an entrepreneurial venture at becoming your own TV broadcaster. On Periscope your goal is to use the platform to create an entertaining experience. For example, there is a cab driver in England who tells his customers whatever the comments say. Periscope is taking time to develop because it takes time for creators to understand what type of content is watchable. I consider Periscope a competitor to YouTube because it has similar content. It's a live vlog which is meant to inform and engage with the viewer.
I hope this article doesn't come across as me being a shareholder of Twitter trying to defend Periscope because I love the app. In reality, I am attempting to show how live video will transform every aspect of social media. Status updates will consist more of livestreams than of text. This is the next iteration of content. First we had text, then pictures, then video, then live video. Facebook's new feature will drive this trend forward.
I don't think Facebook will be able to finally destroy Snapchat or steal its viewers as Facebook Live will be a semi-public window into someone's life while Snapchat has the veil of privacy because everything is deleted within 24 hours. The big advantage Facebook has over Snapchat and Periscope is its more developed relationship with advertisers. Facebook has greater scale for corporations to experiment with using it to get the word out about new products. Live is a scary proposition for brands because a commenter can say something offensive or the person in the video can have a slipup that is seen by thousands of people with no possibility of being edited out. If Facebook can hold companies' hands through the process, it has the potential to be the most profitable of the three.
Facebook is like Apple (NASDAQ:AAPL) in this way because it has the potential to have a huge market share it terms of profitability. It can afford to lose the Periscope superstars and independent channels. This is the same relationship it has competitively with YouTube. It lets YouTube have the countless vloggers with 100,000 subscribers, but it skims off the top of the internet heap the best, most popular content and content creators and forms a monetization relationship with them. YouTube and Periscope will always offer a better deal to the smaller creator trying to gain a following, but this comes at a cost. This is why YouTube has had trouble becoming as profitable as you would assume the biggest collection of video content in the world would be. While I continue to believe YouTube Red will be successful and a Periscope Red (or Periscope Blue) could work out in the future, it makes much more sense for an investor to buy Facebook. Facebook doesn't have to start charging for a formerly free product in order to make billions.
Instagram
While Periscope was named the App of the Year by the App Store, the true App of the Year was Instagram. Instagram is Facebook's crown jewel and will be the main diver of growth in the next five years. The reason it will drive growth is teenage usage continues to increase. As you can see from the chart, 33% of teens consider Instagram their most important social media app. Companies need to disrupt their own business in order to stay ahead or else another firm will. If it wasn't for Instagram taking share from Facebook among teens, investors' original worry about teenage usage would cause the stock to plummet just as it did post-IPO.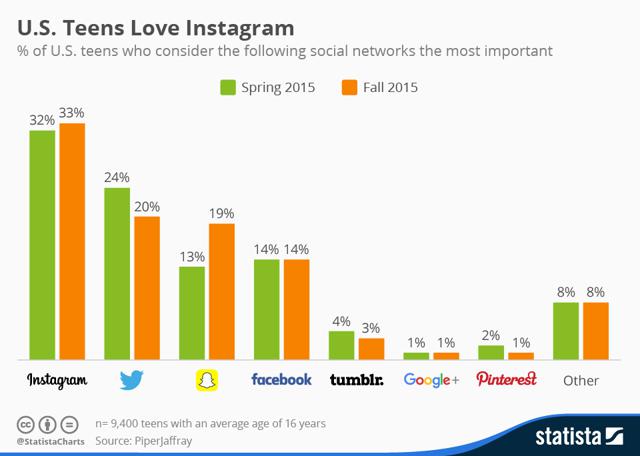 The next chart is a thing of beauty for Facebook shareholders. As you can see, Facebook has 3 of the top 9 apps, with Instagram being downloaded on 37.7% of smartphones in America. Instagram is in its beginning phases of integration with Facebook.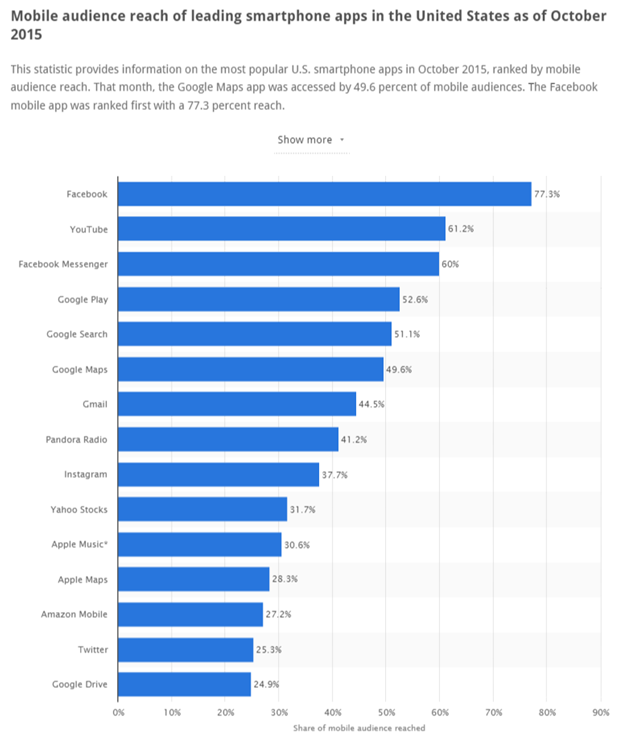 Instagram is still in the early innings of its ads. By using usage data from Facebook, the ads are even more targeted than they would otherwise be. Facebook has just revamped its events app which you can see below. There are synergies with Instagram where posted pictures can sink with events to give users a vivid idea of what happened at a local event. The next phase where Facebook will really flex its muscles is with an Instagram algorithm which will show users the content they are most likely to engage with. While the dedicated teenage users view every post for the hundred accounts they follow, an algorithm can get new users hooked. In essence what Facebook is trying to do is get teens who use Instagram onto Facebook and adults who use Facebook onto Instagram. I think Facebook will be successful at both ventures.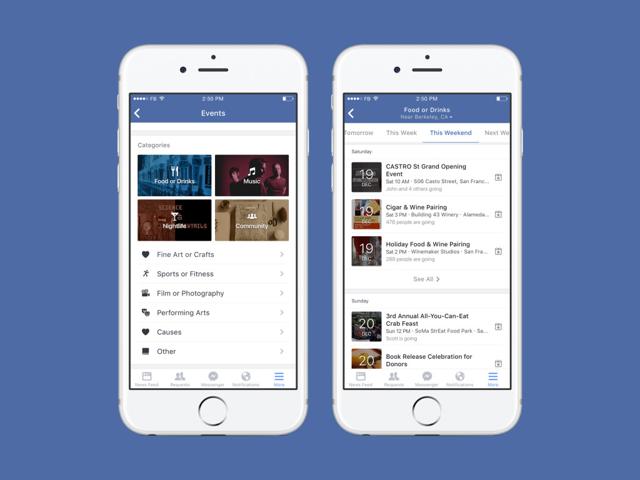 Conclusion
Facebook still looks like a great investment as its business model is more solid than ever before. I would even venture to say Facebook can be considered as a viable retirement stock. The company is able to flex its strength which is its social graph to kill off any competitors. The only firm that has effectively challenged Facebook in the past few years is Snapchat and Snapchat still hasn't impacted the growth among teenagers on Instagram. I still own Facebook and plan on owning it through 2016 and beyond.
Disclosure: I am/we are long TWTR, FB.
I wrote this article myself, and it expresses my own opinions. I am not receiving compensation for it (other than from Seeking Alpha). I have no business relationship with any company whose stock is mentioned in this article.