1, Investment in real estate development in China continued to slowdown
Investment of development of China real estate sector summed to 8.7702-trillion-RMB (about $ 1.37-trillion) from January to November 2015, with nominal growth at only 1.3%, 0.7- percent lower than the growth of period of January to October. This growth rate had declined for the 11th consecutive month, extended the downward trend since 2013.For now, there's no evidence that this macro trend will be reversed in year 2016.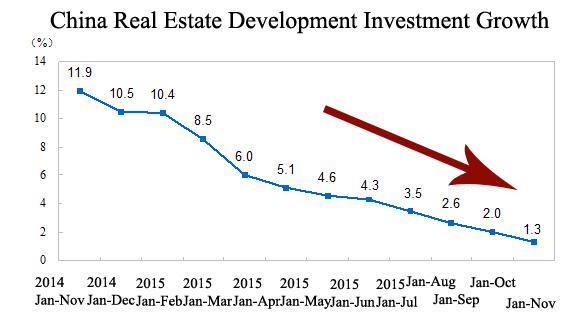 Source:National Bureau of Statistics of China
Among total investment in real estate development, 67.4% went to residence development, amounted to 5.9069-trillion-RMB (about $ 0.93-trillion) from January to November. It had increased only 0.7%, 0.6-percent lower than period January to October.
In the last 8-year, we'd only witnessed such near 0 growth in real estate development investment in year 2008, when subprime crisis broke. And this time the government is too indebted to stimulate the economy as it did in 2009.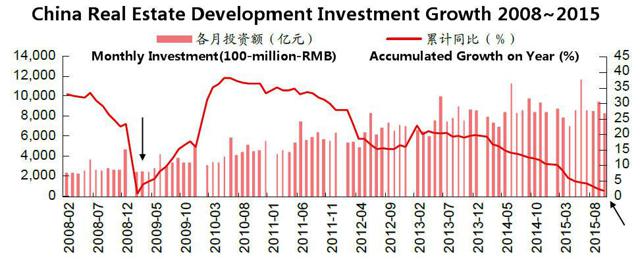 Source:National Bureau of Statistics of China
In a regional perspective, development investment in East China summed to 4.8789-trillion-RMB, increased 1.1%, in period of January to November, 1.2-percent lower than Jan-Oct. Investment in Middle China summed to 1.8988-trillion-RMB, increased 1.8%, 0.2-percent lower than Jan-Oct growth. Investment in West China summed to 1.9926-trillion-RMB, increased 1.1%, 0.4-percent lower than growth in Jan-Oct.
It's worth watching that the investment growth in West China decelerated to the level of relatively more "developed" East China, for West China was considered as the frontier of urbanization,with urbanization rate 30% lower than East China. It's where the fast growth should be. Therefore the persisted low growth in West China could be an early warning. We believe that slowdown in this frontier region signals further slackness of growth well into next several years.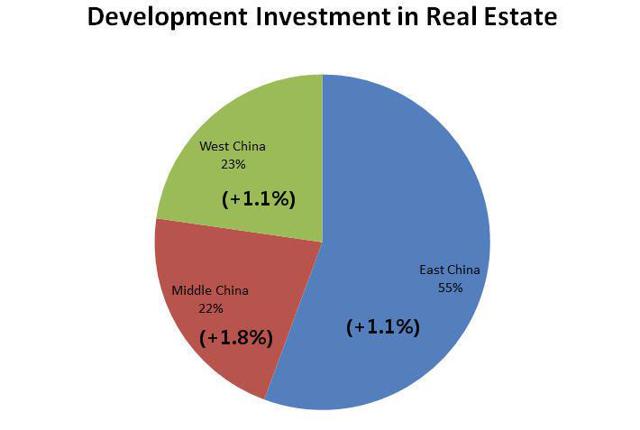 Source:National Bureau of Statistics of China
From January to November, floor space under construction amounted to 7.2399-billion-square-meter, increased only 1.8% on year,0.5-percent lower than growth of Jan-Oct. Area for residence under construction amounted to 5.03347-billion-square-meter, declined 0.3% on year. Newly constructed floor space amounted to 1.40569-billion-square-meter, declined 14.7% on year, fallen 0.8-percent further than Jan-Oct. Newly constructed floor space for residence declined 15.3% to 0.97077-billion-square-meter. Floor space completed construction declined 3.5% on year to 0.72413-billion-square-meter. Among them, floor space completed construction for residence declined 6.4% on year. Significant decline of newly contracted floor space is another warning sign of slowdown of China real estate sector and declined demand for industrial metals.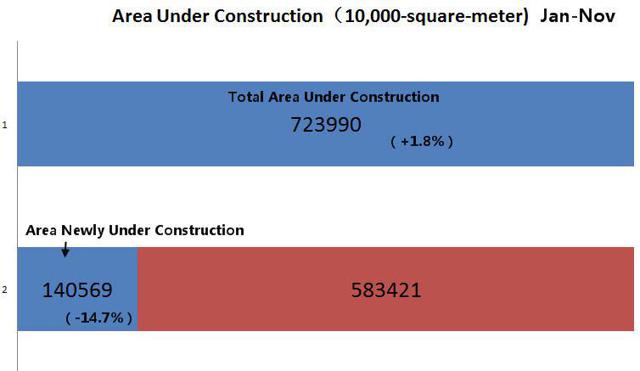 Source:National Bureau of Statistics of China
Land purchased in the first 11 months of 2015 by developers significantly decreased 33.1% on year to 0.19894-billion-square-meter. Total transaction amounted to 0.6409-trillion-RMB (about $ 0.1-trilion), declined 26% on year, signaling further investment deceleration for year 2016, as land purchase is the most critical leading indicator for real estate investment and metal demand.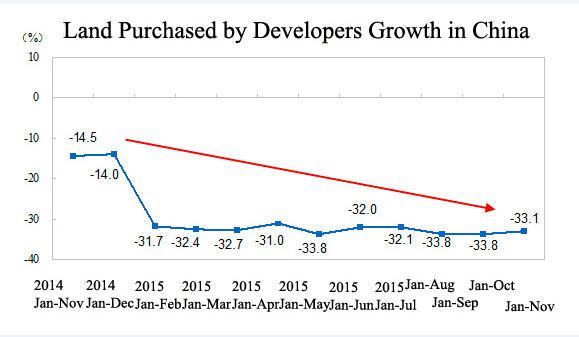 Source:National Bureau of Statistics of China
2, Strong housing sales had not trimmed high inventory and failed to stimulus investment
The housing sale is the only bright spot for China real estate industry in year 2015.
For the first 11 months in 2015, housing sales grew 7.4% on year to 10.9253-billion-square-meter.Among them, residential space sales increased by 7.9%, office building sales grew 16.2%, and building for business sales grew 2.7%. Despite these strong sales numbers, there's a clear trend that developers are getting more reluctant to increase their investment, reflected their bleach expectation for sales in the future and led to reduction of newly started floor space.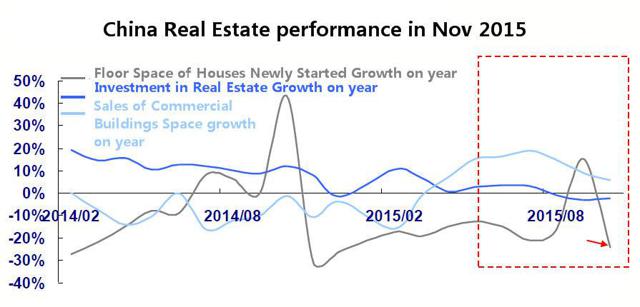 Source:National Bureau of Statistics of China
By the end of November, housing inventory reached 696.37-million-square-meter, increased 1.46% on month and up 16.46% on year.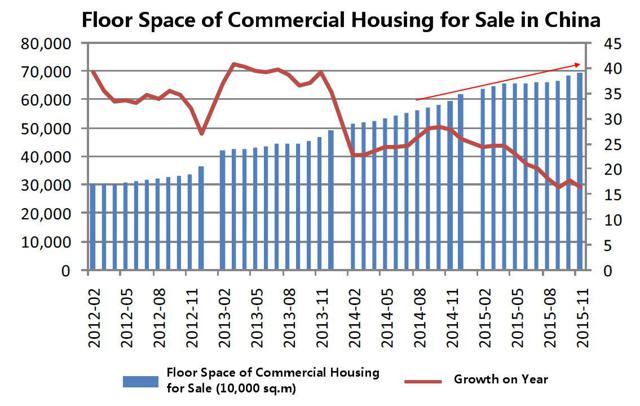 Source:National Bureau of Statistics of China
Though annual stock-sale ratio is 0.6373, not a large figure, some analysts calculated the inventory with "housing to sell" and "area under construction" combined, and estimated the actual housing inventory could be much higher than the official number, equivalent to 4~5 years of sales,hinted slower than expected growth of property construction in the future.
3, Funding of developers had also slowed.
Real estate developers raised 11.2563-trillion-rmb (about $1.76-trillion) for the first 11 months of 2015, increased only 2.2% on year.
In the following graph, we summed data of China real estate performance into one table. It's obvious to see the weakness in newly started floor space and land acquisition area , which are the most critical leading indicators for the metal demand in the real estate sector.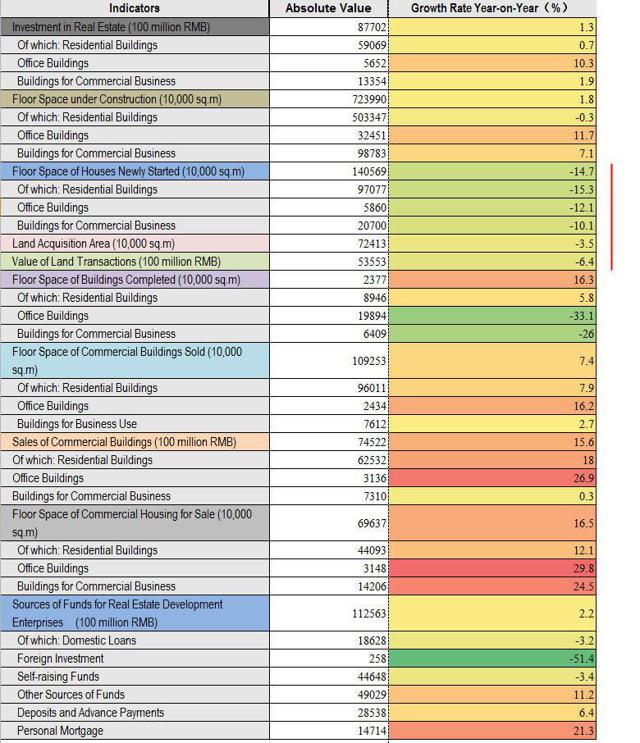 Source:National Bureau of Statistics of China
4, The weight on industrial metals and miners
As China is the top consumer of most industrial metals of the world, it's obvious that slowdown of its economy will hurt the perspective of industrial metals demand.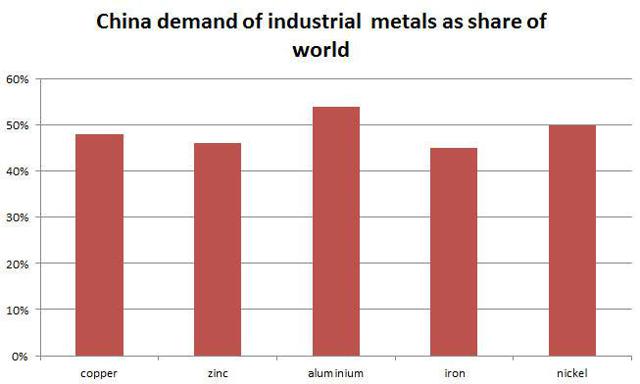 Source:Financial Times
And for real estate sector in China consumed most of the industrial metals, the downtrend of the investment in real estate development spelled an ill omen for the price perspective of these metals in year 2016 and beyond.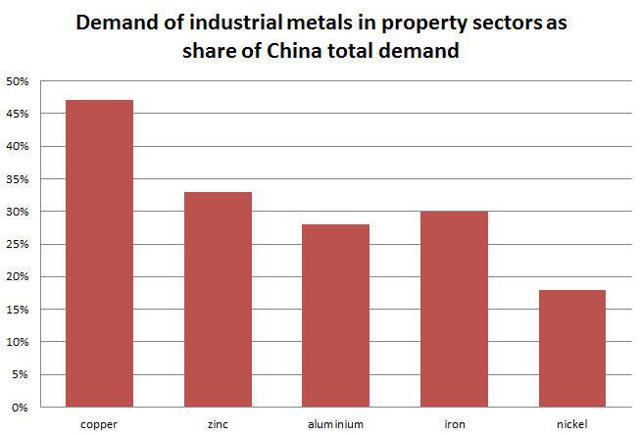 Source:Asianmetal
As we calculated, risk exposure for copper is the most significant among major industrial metals, as about 22% of copper demand of the world goes to China property construction. This ratio for zinc and aluminum is around 15%, also relatively high.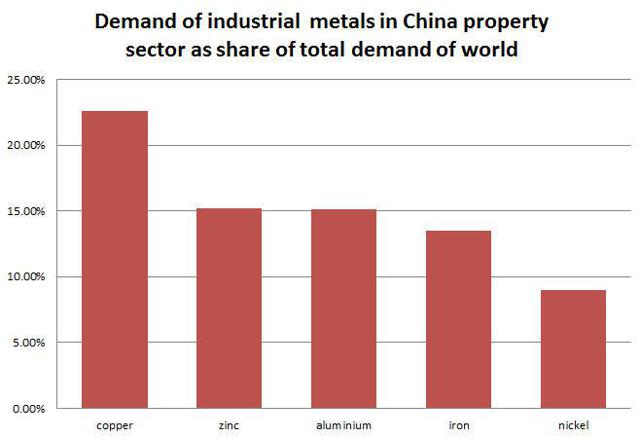 As a result, mining companies producing copper, zinc and aluminum are facing increasing risk from China real estate development cool down. For their stock prices are highly correlated with prices of industrial metals, which are still in a downtrend with cooling down of China real estate sector, it's premature to seek any value in their shares in the year beyond.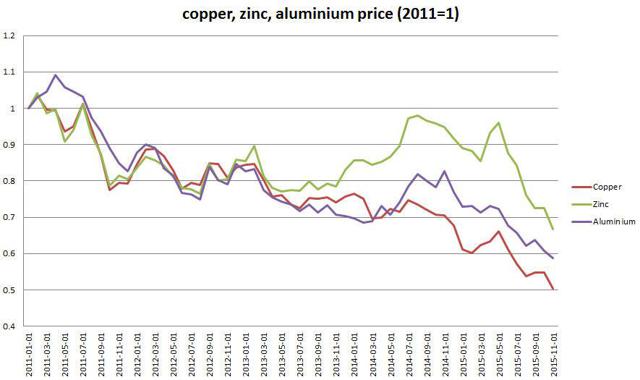 Source:IMF
From 2011 to 2015, copper price, which has the largest exposure to China real estate sector, fallen the most, lost about 50% of its value compared to the peak in 2011. Similarly, top ranked copper producers, such as Freeport-McMoran(NYSE:FCX), Glencore(GLEN), BHP Billiton(NYSE:BHP), Southern Copper(NYSE:SCCO), Rio Tinto(NYSE:RIO) ,KGHM Polska Miedz, Anglo American, First Quantum Mineral(NYSEARCA:FM) can lose further in their values as we believed that the bear trend for industrial metals , such as copper,zinc and aluminum, is still far from the end.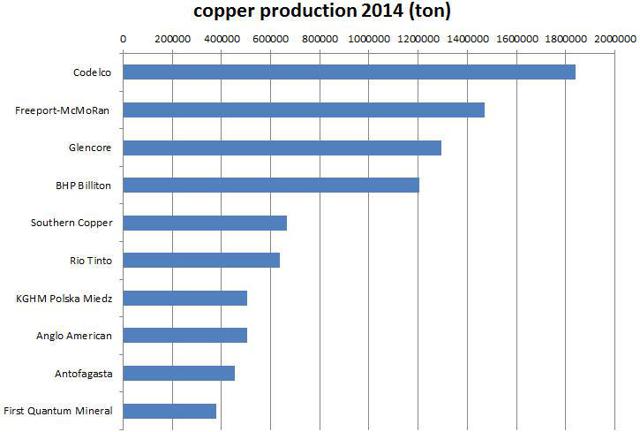 Source: press release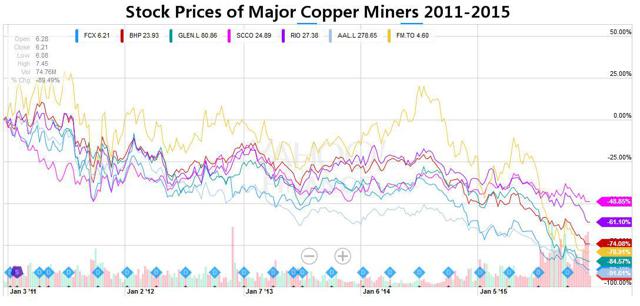 Source:Yahoo Finance
We hereby recommend producers of industrial metals to hedge the downside of their commodity products, with futures and options. Investors should refrain from owning shares and bonds of major miners, until significant cut of production can meet the pace of the slowing down of demand from China, and when industrial metals can find their bottoms. For investors already with notable exposure to those miners, equity options and bond CDS could be used to hedge a worse-then-expected scenario,such as bankruptcy.
Supporting Documents
Disclosure: I/we have no positions in any stocks mentioned, and no plans to initiate any positions within the next 72 hours.
I wrote this article myself, and it expresses my own opinions. I am not receiving compensation for it (other than from Seeking Alpha). I have no business relationship with any company whose stock is mentioned in this article.