This article curates a select group of publicly traded REITs which are well positioned to benefit from the growth of Amazon.com (NASDAQ: AMZN), e-commerce, and the third-party logistics companies that deliver the goods.
My goal here is point out secular trends and identify specific REIT sectors and individual companies for investors to begin due diligence and consider for 2016 investment.
While there are no Amazon landlord pure-plays, there is clearly an "Amazon Effect," of shifting inventories away from retail stores (expensive $/SF) to more affordable industrial real estate.
This includes three basic facility types: large, modern industrial properties (fulfillment); big box warehouse/distribution, and older, small infill industrial properties (last mile).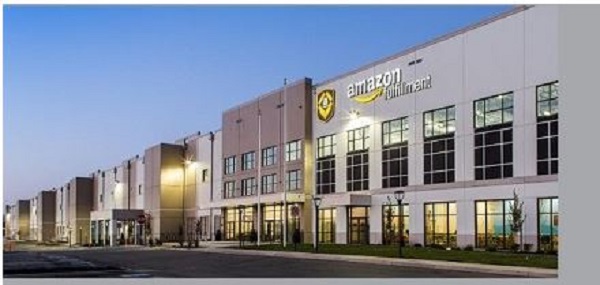 Source: Prologis presentation - Amazon.com Fulfillment
AWS Cloud - Show Me The Money
Another type of Amazon-focused real estate is the data center fleet which supports Amazon Web Services (AWS), the largest public cloud solution.
However, there is also a need to connect these data centers into a global network where customers can collocate, interconnect and have an easy on-ramp to the AWS cloud. Along with Amazon, over 6,300 enterprises lease space from global leader Equinix, Inc. (NASDAQ: EQIX).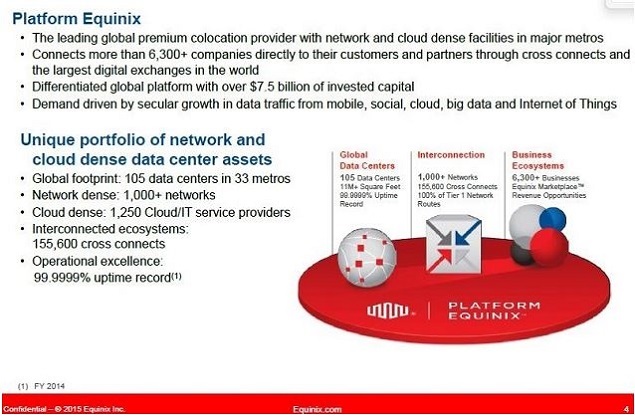 Source: Equinix - presentation
What good is it for Amazon to have all of that cloud storage capacity if enterprise customers have a hard time accessing it or distributing high-value content to customers?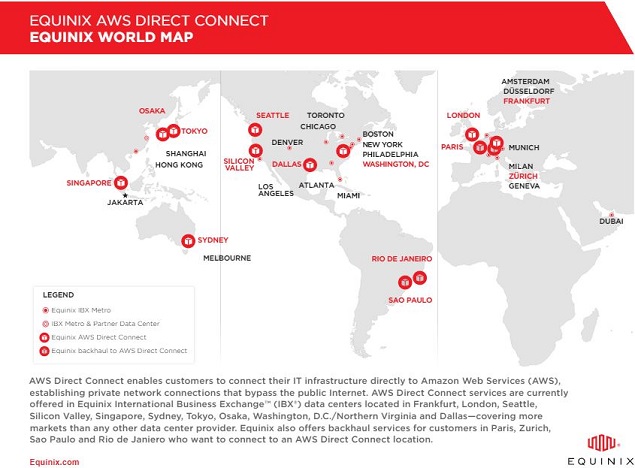 Source: Equinix - website
Equinix received its formal REIT approval from the IRS mid-year, which was one of the catalysts that led to a total return of ~40% for investors during 2015. I recently wrote an SA focus article on Equinix which explains the unique aspects of the Equinix business model. Equinix is an S&P 500 company with a $17.5 billion market cap.
A smaller peer which also offers AWS Direct Connect for its customers is CoreSite Realty (NYSE: COR). Notably, CoreSite is able to allocate capital for new developments and generate a sector-leading ROIC of over 17%.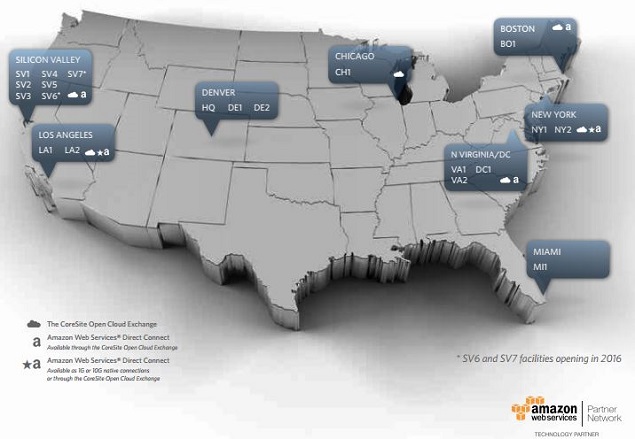 CoreSite shareholders had a banner year in 2015 enjoying total returns of just over 50%, including a 3.75% dividend yield. On December 2, CoreSite announced a 26% quarterly dividend increase, boosting the annual dividend up from $1.68 to $2.12 per share.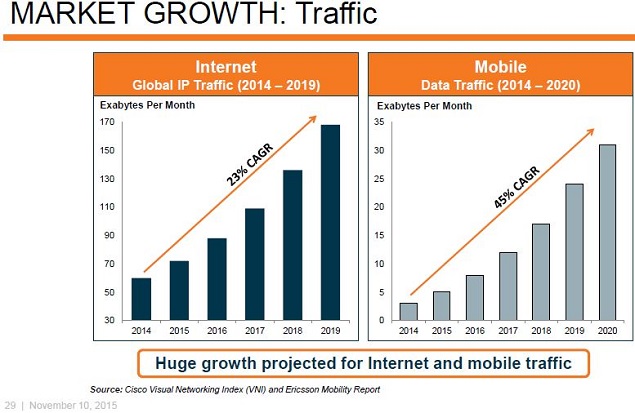 Source: DuPont Fabros - Analyst Day Nov. 2015
There are two other colocation-focused data center REITs which have delivered impressive double-digit returns in 2015: QTS Realty (NYSE: QTS) and CyrusOne (NASDAQ: CONE).
Notably, QTS also provides cloud and managed services in addition to colocation and custom wholesale offerings. Additional information on the unique QTS business model relative to its peers can be found here.
AWS Cloud Computing Scrooge?
Not all Amazon investors believe that AWS and its multitude of cloud-computing initiatives will make a significant difference in the earnings and profitability for AMZN shares. A recent Barron's piece highlights the views of one analyst who believes that cloud computing just isn't going to be a big source of profits for Amazon, relative to its other lines of business.
However, when it comes to data center REITs, cloud computing is a very big deal and a huge business driver. The ability to build enterprise "ecosystems" which are networked to deliver high performance applications with low latency to the end user is a huge tailwind for Equinix and CoreSite. While Amazon isn't the only game in town, it's certainly the big dog on the cloud computing porch.
Another major data center REIT player is Digital Realty (NYSE: DLR). Digital's top tenant is IBM (NYSE: IBM) and its SoftLayer cloud business. Digital has the largest fleet of data centers globally based upon square footage.
DLR traditionally was a provider of wholesale data center space and has recently pivoted strategically toward colocation and interconnection with its pending acquisition of Telx. As of this writing, Digital just hit a 52-week high on Friday when the Dow 30 was down 367 points.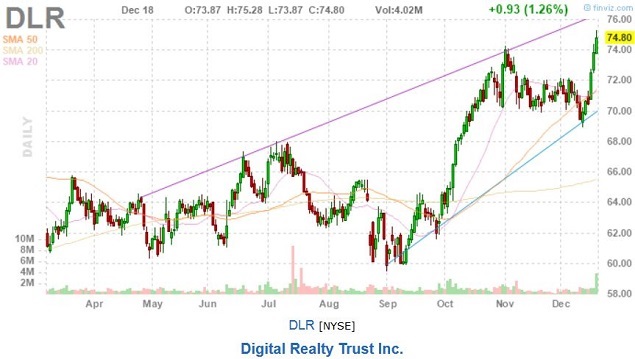 Here's a link to my recent article on why IBM's cloud initiatives will help Digital investors cash in "big-blue chips" in 2016 and beyond. Notably, global interconnection giant Equinix also is one of DLR's largest tenants based upon annualized base rent.
The Other Side Of The Coin
While Amazon and other hyper-scale Internet giants operate a fleet of state-of-the-art data centers, there also are computing requirements which are housed by third-party providers.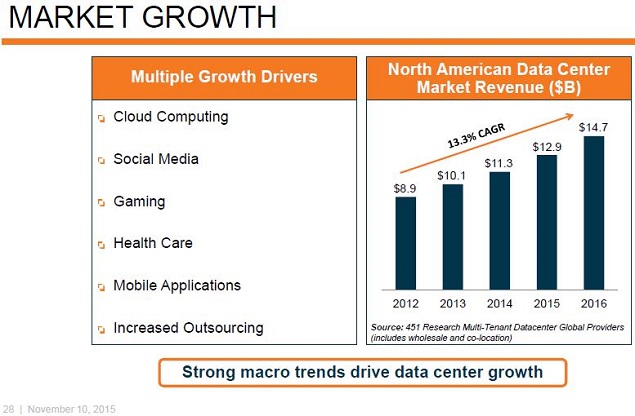 Source: DuPont Fabros - Analyst Day Nov. 2015
DuPont Fabros Technology (NYSE: DFT) is primarily focused on large, wholesale data center requirements, including cloud computing giant Microsoft (NASDAQ: MSFT) as well as Facebook (NASDAQ: FB), Rackspace (NASDAQ: RAX) and Yahoo (NASDAQ: YHOO).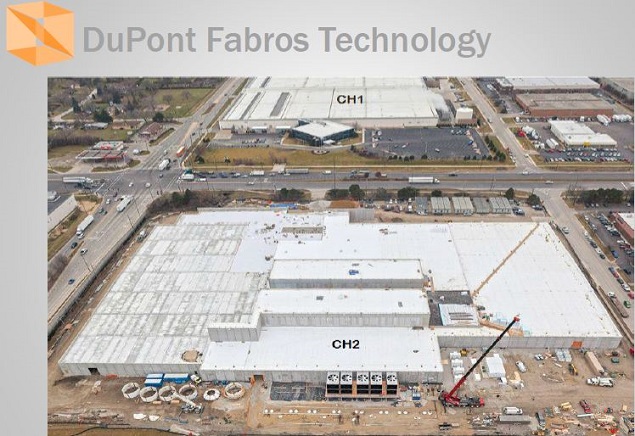 Source: DFT - Citi Conference March 2015
These four tech giants are DFT's largest tenants based upon average base rent, accounting for: 22.3%, 19.7%, 11.2% and 7.2% of revenues, respectively.
Global E-Commerce Growth
The addressable market scale is huge. A recent Forbes article focused on the potential impacts of the Trans-Pacific Partnership agreement:
"The current size of the global e-commerce industry is estimated at $1.6 trillion, which has grown at a rate of ~20.4% on a year-on-year basis. Furthermore, even at its present estimate, the industry accounts for merely 6.6% of total worldwide retail sales. Now, if the TPP is passed, the e-commerce industry could see further growth than what is already predicted. This is because the TPP would essentially mean that businesses would not have to build infrastructure in markets that they wish to operate in. This would bring down costs for businesses while simultaneously giving them access to a pool of new customers. The upside of the e-commerce boom is that ancillary industries such as courier and delivery services also see growth. Hence, names such as FedEx (NYSE: FDX), and UPS Corp. (NYSE: UPS) could see higher package volumes going forward."
The emphasis in the Forbes article above is mine. While I'm not an expert on global logistics, not having to build infrastructure seems a bit simplistic, but plausible on a relative basis. In that case, more infrastructure could be required domestically to service international e-commerce.
Amazon - Warehouse/Distribution Play
Regardless, investors looking to capitalize on global e-commerce growth can buy shares of global logistic giant Prologis, Inc. (NYSE: PLD), the largest U.S. industrial REIT. Prologis is an S&P 500 company and sports a $22 billion market cap. They are the global logistics expert.
Hamid Moghadam, chairman and CEO, Prologis discussing Q3 2015 results, said:
"The underlying trends in our businesses continue to be favorable, and as we look across our global portfolio, rents are trending higher while supply remains in check."
If you check out the top Prologis customers below, Amazon is on top, followed by DHL or Deutsche Post DHL Group (DSPGY), with other familiar third-party logistics names sprinkled all through the top 15 tenants.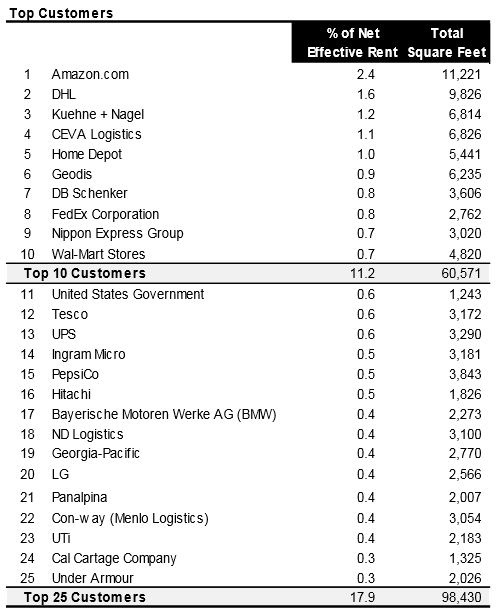 Source: Prologis - 3Q'15 Earnings Supplemental
Amazon leases over 11 million square feet from Prologis followed closely with DHL at almost 10 million SF.
Prologis Global Land Bank Is Huge
Amazon went out and bought thousands of truck trailers to move goods, a capital investment to help keep up with e-commerce demand. Those goods are either on the way to, or heading out of, an industrial facility. If you are an Amazon partner, it's necessary to have the ability to scale quickly.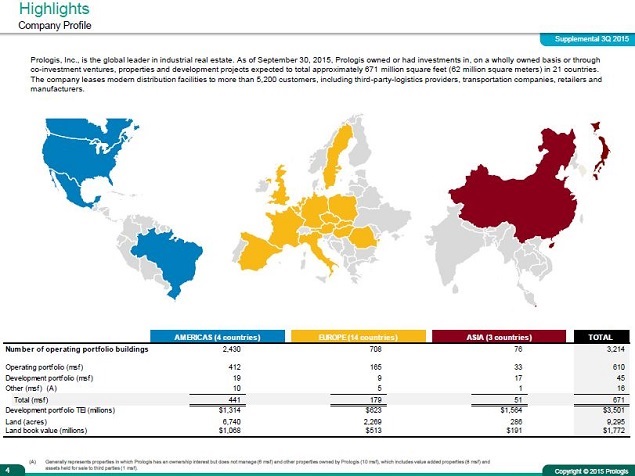 Source: Prologis - 3Q'15 Earnings Presentation
Prologis has over 9,000 acres of industrial land tucked away, including: Americas 6,740 acres, Europe 2,269 acres and Asia 286 acres.
While nothing happens overnight in real estate, entitled land in an existing industrial park can allow for an expansion or a new facility to be constructed and put into service reasonably quickly.
Because the land is carried at book value, as land becomes part of its development portfolio, Prologis reaps the reward which comes from marking it to market. Because the fundamentals for industrial development have remained strong for the past few years, this has led to much higher development margins for PLD.
According to Prologis CEO Hamid Moghadam,
"The operating environment is stronger than I've ever witnessed in the U.S."
The slides below give a sense of how Prologis is positioned to grow with Amazon and other large retailers in the SF Bay Area and Central Valley markets of California.
Cordes Ranch - At A Glance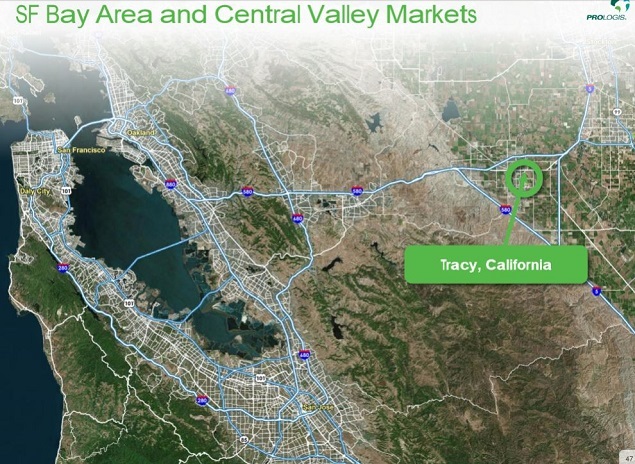 Source: Prologis presentation (for all non-attributed slides)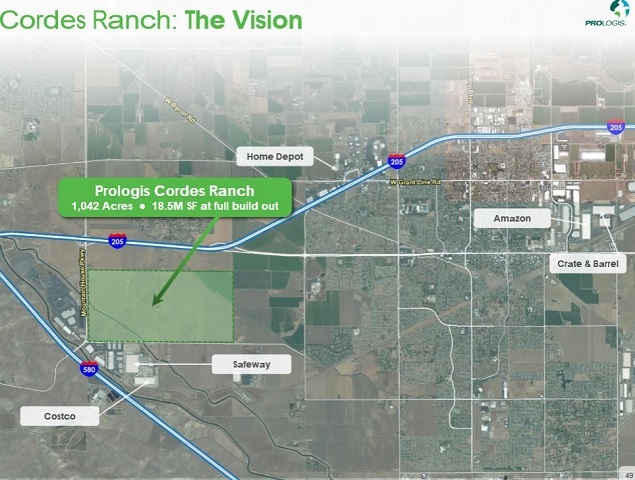 Source: Prologis - presentation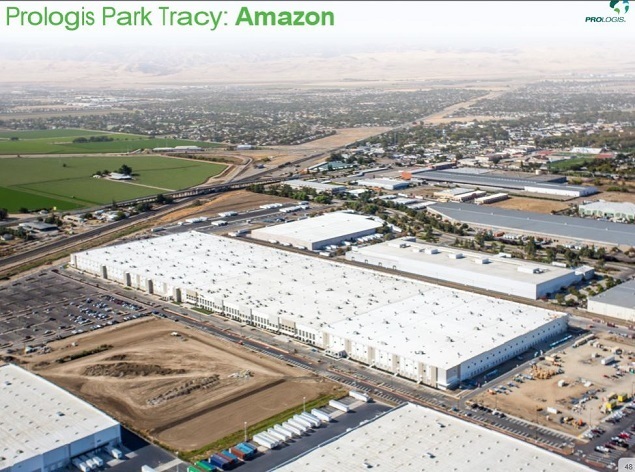 Source: Prologis presentation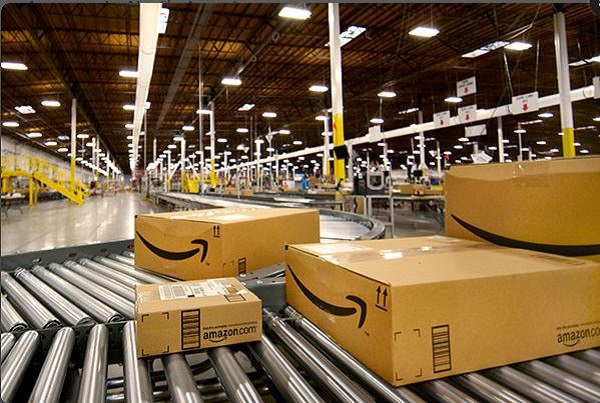 Source: Amazon.com website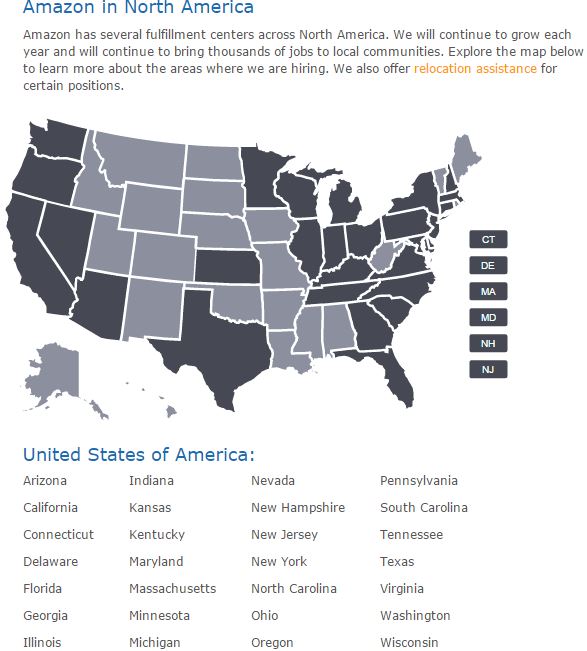 Source: Amazon.com
E-commerce is growing quickly off of a relatively small base. It appears that Amazon, the dominant player with a first mover advantage, is well positioned to continue to influence trends in U.S. retail.
E-commerce also represents a profound tailwind for many industrial REITs. Notably, Prologis studies have indicated that e-commerce development requires approximately 3 times the space of traditional distribution warehousing.
However, Prologis is the only game in town when it comes to betting on Amazon's growth overseas.

Source: Business Insider/Piper Jaffrey - Amazon Int'l Fulfillment Jan. 2015
In the vast majority of the international markets where Amazon is active, Prologis has a significant presence. Prologis industrial parks include a mix of third-party logistics tenants as well.
Prologis' experience with local customs and lowering barriers to entry for U.S. companies gives it a unique seat at the table to continue to grow and partner with its largest tenant.
Duke Realty - Amazon Landlord
Another U.S. REIT that has a significant Amazon relationship is Duke Realty (NYSE: DRE).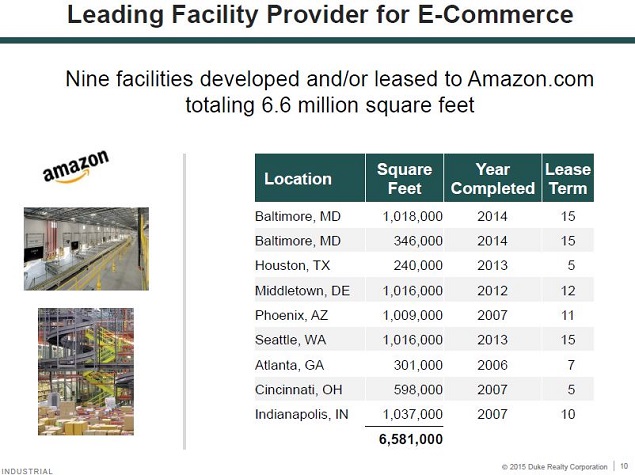 Source: Duke Realty - BAML Presentation Sept 2015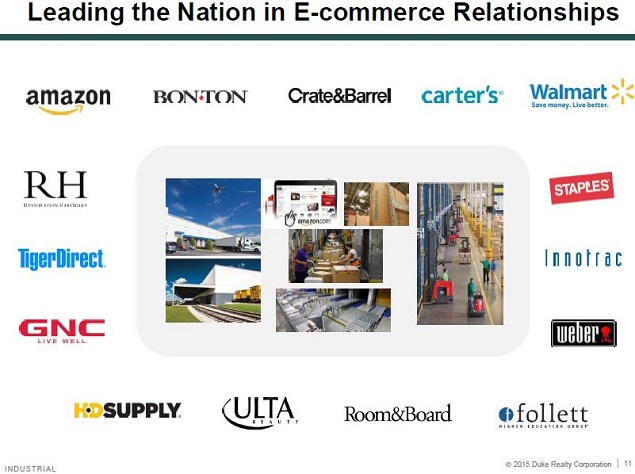 Source: Duke Realty - BAML Presentation Sept 2015
While Duke Realty has a significant portfolio of industrial distribution/warehouse facilities, it's not an industrial REIT pure-play.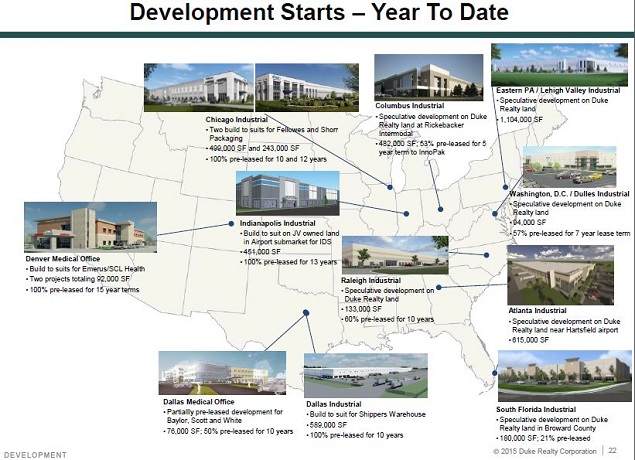 Duke has a significant medical office building portfolio in addition to industrial assets. However, as of September 2015, the development starts currently underway are heavily weighted toward fairly large industrial projects, both build-to-suit and speculative projects.
Clicks Are Growing
Bricks and mortar retailing is not dead and still accounts for more than 90% of U.S. retail sales. However, e-commerce is growing and many traditional retailers are scrambling to stay relevant, notably: office supplies, books, electronics and other non-perishable items high-in-value relative to weight.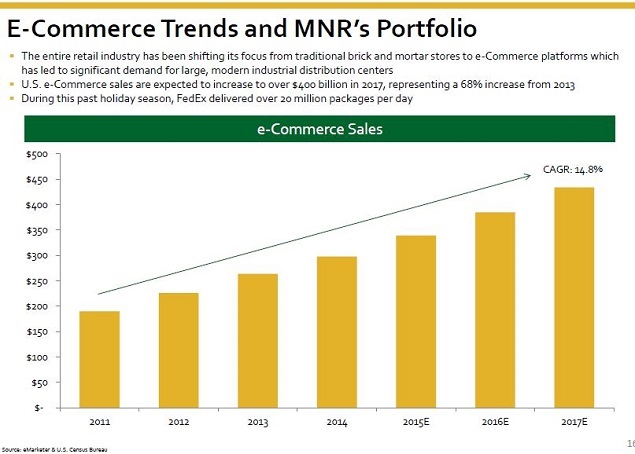 Source: Monmouth REIC - Investor Day presentation
It's no coincidence that for the first time Black Friday through Cyber-Monday sales in 2015 edged past bricks and mortar sales volume. My household helped, and just for the record, we are Baby Boomers - not Millennials, the usual suspects.
A Third-Party Logistics Play
Third-party logistics stalwart FedEx just reported strong earnings for the most recent quarter, and management guided to what is shaping up to be a record-breaking holiday delivery season.
FedEx and UPS stand to benefit from Amazon's top-line growth as well as bricks and mortar omnichannel retailing initiatives. One derivative play on this growth is single-tenant industrial landlord Monmouth REIC (NYSE: MNR).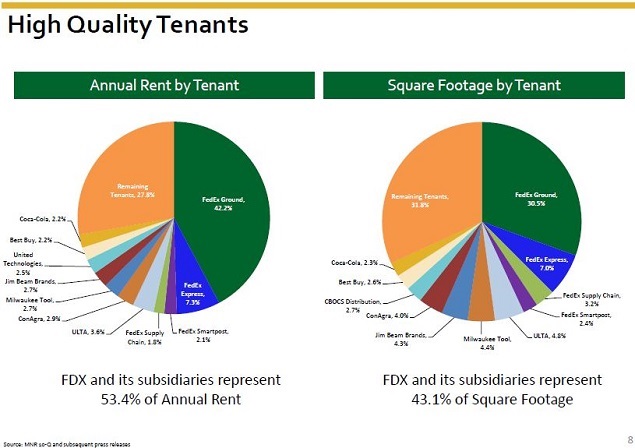 Source: MNR - Investor Day presentation
While tenant concentration can often be viewed as a negative, Monmouth happens to be a preferred FedEx landlord, and has grown its asset base by over 80% during just the past few years.
Monmouth happens to have been a slow growing small-cap REIT for many decades prior to hooking up with the FedEx development and expansion program. The new FedEx facilities can be quite large. The most recent FedEx acquisitions announced by Monmouth have been in the 300,000 SF range. FedEx is vacating some of its older facilities which are much smaller. Here is a link to a recent SA focus article on Monmouth which has traditionally been a reliable source of dividend income for investors.
According to CoStar research:
"…average lease rates for logistics property, which have risen by just 1 percent over history, spiked to a 4.6 percent average increase last year, and CoStar now expects another 5.5 percent bump this year before moderating in 2016 at a still-strong average hike of 2.7 percent."
On the heels of a 4.7 percent rise in light industrial rents last year, CoStar projects another 6.1 percent annual boost in rents by the end of 2015, which implies a need for new construction.
E-Commerce: The "Last Mile"
Finally, there are a few industrial REITs that own portfolios which contain a significant number of smaller (often older) infill facilities, located in high-density/high-barrier to entry urban markets.
EastGroup Properties (NYSE: EGP) - The ongoing EastGroup development program primarily focuses on 5,000 to 50,000 SF light industrial and logistics requirements.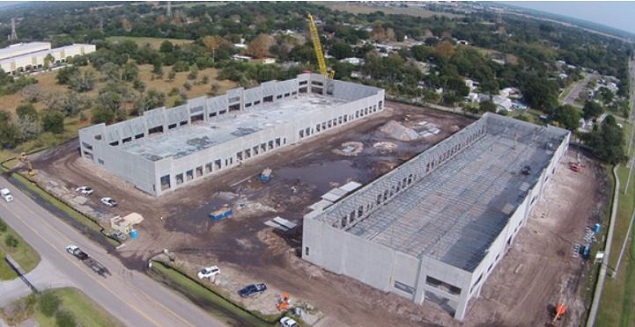 Source: EGP - Madison II & III Tampa
These happen to be the two types of facilities where CoStar is seeing the highest demand, while new supply remains relatively constrained.
Notably, EastGroup has paid 143 consecutive quarterly dividend distributions. An overview of EastGroup, including the pros and cons of its Houston market exposure, can be found here.
Terreno Realty (NYSE: TRNO) - Terreno is executing on a focused distribution/warehouse and light-industrial strategy in just six major U.S. port metros:

Source: Terreno 10-Q filing August 2015
These markets share similar characteristics, including difficult entitlements and limited undeveloped land, which serve to constrain the supply of new space. On the other side of the equation, a steadily growing economy, population growth and cargo imports continue to drive demand for industrial space.
The Terreno $7.59/SF average base rent is one of the highest of any industrial REITs. Many of the smaller infill properties in the Terreno portfolio benefit from the "last mile" associated with e-commerce deliveries. The average size of a Terreno property is under 75,000 SF.
Rexford Industrial (NYSE: REXR) is a small-cap industrial REIT with a laser focus on the SoCal infill industrial market. Rexford uses its contacts to be a local sharpshooter, taking down one-off smaller industrial properties. The Los Angeles/Long Beach industrial market is by far the largest in the U.S. and also has the highest industrial rents per square foot.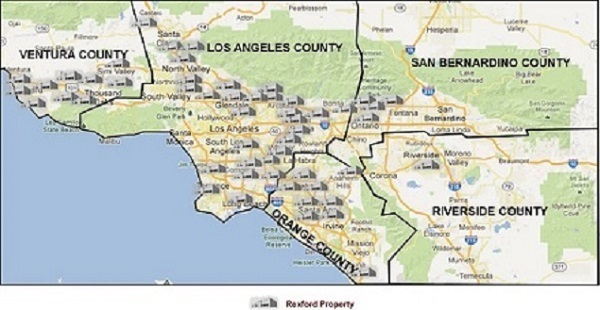 Source: Rexford Industrial
The vast majority of the Rexford portfolio is situated where it can provide "last mile" e-commerce delivery. However, there are seismic risks that should be considered regarding this concentrated SoCal portfolio.
Investor Takeaway
My goal with this article was to demonstrate that there are multiple ways for investors to piggyback on Amazon's success to make money on the growth of e-commerce and cloud computing.
Most consumers think of Amazon.com as a virtual bazaar of goods and services that resides on their mobile device or desktop, where buying simply requires one click on a virtual shopping cart. In reality, there's a huge logistics chain and multiple specialized facilities required to support it.
This creates an opportunity - especially for investors interested in dividend income - to participate in the long-term growth of e-commerce and cloud computing by owning shares of a select group of publicly-traded REITs.
Please consider following me on Seeking Alpha if you are interested in being notified about more articles like this one in 2016.
Disclosure: I/we have no positions in any stocks mentioned, but may initiate a long position in AMZN, EGP, QTS, PLD over the next 72 hours.
I wrote this article myself, and it expresses my own opinions. I am not receiving compensation for it (other than from Seeking Alpha). I have no business relationship with any company whose stock is mentioned in this article.