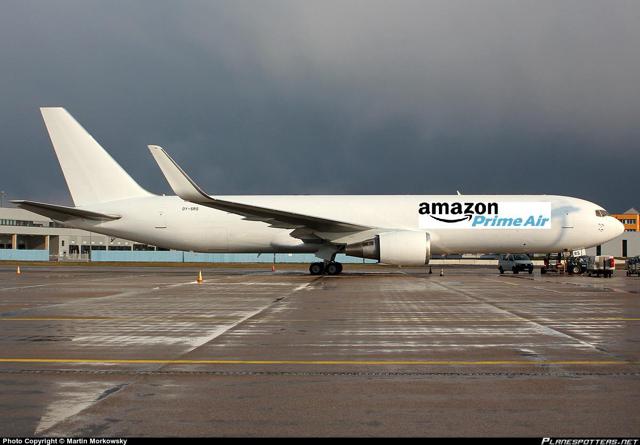 Img 1: A Boeing 767 with Amazon Prime Air titles
After over a month of speculation, more details are beginning to emerge surrounding Amazon's (NASDAQ:AMZN) rumored plan to launch an in-house freight airline. The rumor started with someone close to the talks posting on an online forum stating that Amazon is working to create the world's largest overnight parcel service within 2 years. The source stated Amazon would not buy an existing company as it did not want to inherit the problems so instead resorted to launching its own operation. In this article, I go into detail about the implications of such an operation for Amazon financially, structurally and the risks associated with such a venture.
Structure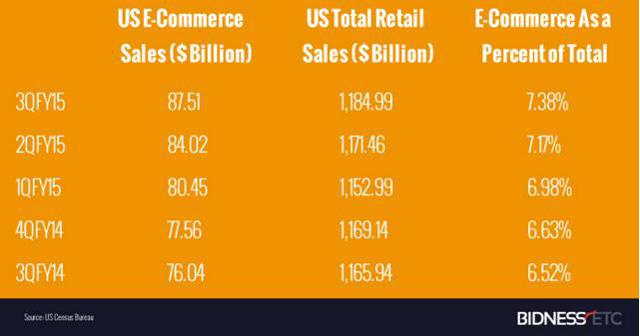 Img 2: U.S Ecommerce Growth
Some have suggested that this could just be a threat by Amazon to secure better rates from FedEx (NYSE:FDX) and UPS (NYSE:UPS), and while the whole move could be bargaining chip, it seems likely at this point that this is a serious move into the transport and logistics space by Amazon. Amazon has been quietly building up sorting centers across the country, replacing work that was previously done by FedEx and UPS, something many are unaware of. A move towards bringing transportation in-house would be a logical next step for Amazon. In addition, FedEx and UPS have been increasingly unable to meet Amazon's ambitious needs, and at the same time ecommerce still has enormous room to grow. By launching its own logistics operation, Amazon can spread some of the risks from this away from those external companies and onto itself, preparing itself better for continued ecommerce growth. This year has yet again proven to be problematic with reports suggesting UPS is once again struggling to handle shipments this year. FedEx has delivered 95% of packages on time and UPS 91% for the week ended December 4, very unimpressive numbers. To put this in perspective, Amazon delivered 608 million packages in 2013. With a 91% on-time rate, this means at least 55 million packages are being delivered late annually, leading to a customer service nightmare.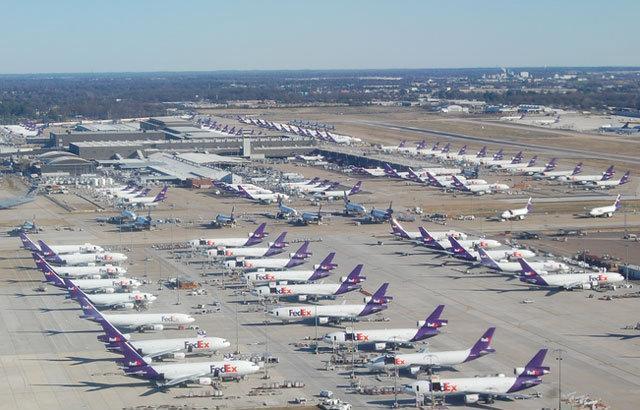 Img 3: FedEx Memphis superhub
Sources familiar with the plans have stated Amazon will do "whatever it takes to serve every community" in the USA with this new service, making it possible that this is a much larger plan than the 20 767s currently being talked about. Amazon is also planning on using this service to assist its efforts to eventually be able to deliver packages 90 minutes to 2 hours from when they have been ordered. It seems like with this goal in mind it is smart that Amazon starts to move away from FedEx and UPS and build its own infrastructure as it is unlikely FedEx and UPS would be able to deliver those targets for Amazon without large fundamental changes to how their businesses operate.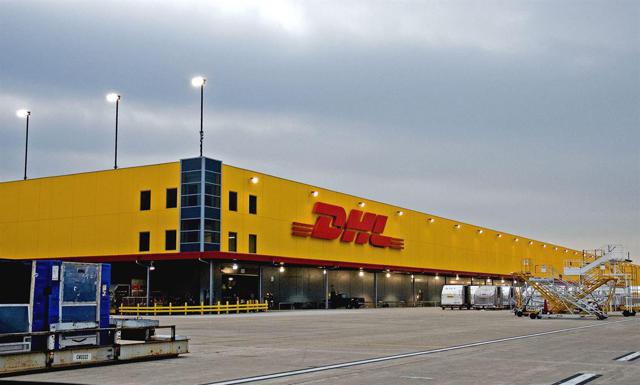 Img 4: Abandoned DHL facility in Wilmington, Ohio
The current trial run for Amazon's freight airline is operating out of Wilmington, Ohio. DHL used this facility many years ago when it was trying to establish an express operation in the United States to rival that of FedEx and UPS. The whole operation at its peak handled over 1 million packages daily but was eventually deemed a failure and closed down resulting in over 9,500 jobs lost. Since Nov. 1, the airport has seen 219 flights versus 7 in the period a year ago. With the DHL operation having been closed less than 10 years ago, there is a huge amount of infrastructure already in place for Amazon to use as it tries to launch a delivery hub. This operation is currently using five 767 aircraft and rumors are saying Amazon is looking to purchase/lease an additional 20-60 767 aircraft over the next 3 years.
While the media has been caught up in the 767 operation out of Ohio, they are overlooking the second trial Amazon is running. Operating out of Boeing (NYSE:BA) field in Seattle, Amazon has been using a 737 freighter aircraft to fly cargo between Seattle and west coast destinations. There is certainly potential for Amazon to look at growing the 737 operation and purchasing a large number of these which would be much more readily available compared to 767s and could expand the operation further.
An AOC is expected to be issued in 2017, meaning at that point, Amazon would begin flying the aircraft themselves rather than through third parties. Despite this, however, Amazon is unlikely to be able to bring anywhere close to 100% of its air transport needs in-house any time soon. Amazon's airline, and ground transport will likely supplement purchased transport services for many years to come.
Disruptor?
The transport and logistics space is an area ripe for disruption with $170 billion market cap of legacy logistics and transport companies ready for disruption. The current logistics market is said to be not unlike the enterprise IT market prior to cloud computing.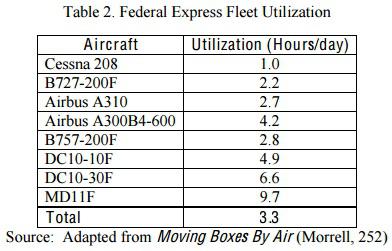 Img 3: FedEx fleet utilization daily
One does not need to look too deeply into the operations of FedEx and UPS to see how a disruptor could be successful against them. The two companies are slow to adopt cloud-based computing and cutting edge technology compared to what a tech company like Amazon could probably do. In addition, FedEx uses its aircraft on average 3.3 hours per day! This crazy low utilization is a result of FedEx in many cases only running one flight per day during the night between most city pairs. In addition, despite periods of huge delivery volume such as the Christmas season, overall these flights in 2015 are recording a load factor of 55.7%, something that would be considered horrendous in the overall airline industry. This load factor of barely over 50% and the fact that FedEx flies its aircraft a fraction of the time other airlines do, expose huge inefficiencies that Amazon could take advantage of in undercutting FedEx and UPS on price. High labor costs at both FedEx and UPS also do not help and the Fedex operation runs 3 separate entities, FedEx Express (AIR), FedEx Ground, and Smartpost that do not work with each other at all. These entities run separate warehouses, and separate fleets. An operation like Amazon could use computing to determine the most effective way to deliver a certain package within a specific time using a combination of ground and air transport. While FedEx today runs incredibly inefficient flights such as the 25-minute run from Tucson to Phoenix, an operation like Amazon could send packages on a mix of its ground and air network and send them from a specific warehouse to shorten the delivery distance and optimize its delivery. Data analysis could also forecast what products will be needed where and have them being transported in that direction prior to them being ordered, cutting down on transportation costs after an order is placed.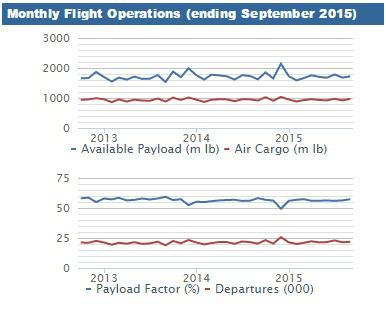 Img 4: Monthly flight operations at FedEx
You only need to look at the growth of FedEx and UPS to see they may not be the best equipped to handle the growth of ecommerce. Growth at FedEx this year in RTM (revenue ton miles) of 1.14% seems insane while ecommerce grows at 12.5% this year. The FedEx airline fleet has stayed very steady over the past few years despite this impressive ecommerce growth, and FedEx has started contracting out a lot of flying instead. By utilizing its 92 USA fulfillment centers, and its recently announced ground network through trucking and Amazon Flex, Amazon could deliver a compelling alternative to UPS and FedEx. An Amazon freight airline utilizing strong data analysis could fly many more hours per day while flying planes much closer to 100% full. If this perfect scenario were possible, Amazon with only 20 aircraft would already be flying as much cargo as over 5% of FedEx Express.
Amazon is said to be looking at offering this service to third parties looking to outsource their fulfillment. With an impressive portfolio of fulfillment centers, data analysis, computing, Amazon Flex and Amazon ground and air transport, it could eventually take a large slice of this market from FedEx and UPS and become a compelling disruptor.
Financial
Amazon spent $8.7 billion on logistics in 2014. At this point, many industry sources say that Amazon is paying bare bones rates to FedEx and UPS, not giving them much ability to reduce these costs. This is one reason FedEx and UPS are reluctant to make large investments for Amazon. Shipping revenues for Amazon in 2014 came in at $4.48 billion, leaving a $4.22 billion loss for shipping. Even a 10% improvement to shipping costs by bringing it in-house, which seems feasible, would reduce Amazon's shipping costs by almost a billion dollars, enough money to have allowed Amazon to turn $629 million profit or almost 1% margin as opposed to the $241 million loss it reported. Some impressive numbers to note are a 1% market share in U.S domestic parcel deliveries ($800 million), contract logistics ($2.5 billion), and freight forwarding ($1.7 billion) would add $5 billion in annual revenue to Amazon. At 10% margin, this could easily deliver another $500 million to the bottom line. In comparison, Amazon Web Services had revenues of $1 billion after 5 years with $10 billion expected in 2015.
Concerns
Despite many potential positives for Amazon by moving into the logistics and transportation business, there are many concerns. Airlines in particular are notoriously volatile and risky ventures. Richard Branson, was once quoted as saying "if you want to become a millionaire, start with a billion dollars and start an airline." Despite excellent profits now across the board many are quick to forget troubles all of these companies faced when oil was over $100. By bringing transportation and logistics in-house, Amazon is also bringing these problems in-house when they arise again. The timing may be good with many aviation analysts predicting an aircraft bubble causing used aircraft values to plummet, something that would be very beneficial for Amazon as it looks to buy used aircraft for its transport operation. Despite this, such a venture will still require a phenomenal amount of money and resources to build. FedEx and UPS make much of their profit from last minute express deliveries for high-value clients as opposed to making their money from Amazon deliveries. By relying almost 100% on its Amazon deliveries to fill these aircraft, Amazon will need to have much lower operating costs and a much more efficient operation to successfully run the operation financially.
Another big concern many have overlooked is the potential for Amazon to alienate FedEx and UPS. Amazon will not be able to build up an operation that can replace FedEx and UPS for many years at least. If both of these companies see Amazon becoming a threat, it does not seem unreasonable to think they could start making it difficult for Amazon to do business with them, by either limiting the volume from Amazon or raising prices for Amazon. This would wreck havoc on Amazon, a company that will absolutely require the corporation of FedEx and UPS to run its operation successfully for many years to come.
Conclusion
Can Amazon turn the logistics and transport business on its head and into a 5 billion dollar plus business? Will this effort turn out as the Amazon fire phone did or will it be more reminiscent of the success of AWS? These are all open questions and only time will tell how this venture works out for Amazon. While I am doubtful it can create the world's largest overnight package delivery service within 2 years as the original source suggested was the plan, I am much more certain it can become an industry disruptor and solid competitor to UPS and FedEx.
Disclosure: I/we have no positions in any stocks mentioned, and no plans to initiate any positions within the next 72 hours.
I wrote this article myself, and it expresses my own opinions. I am not receiving compensation for it (other than from Seeking Alpha). I have no business relationship with any company whose stock is mentioned in this article.