Altria Group (NYSE:MO) and the term over-valued have seldom been associated with each other. Altria's enviable performance over the last five or six decades was due partly to its under-valuation. Over the last couple of years, Altria has been on such a tear that calls of over-valuation are all too common. Search "Altria Overvalued" on Google and you will see many Seeking Alpha articles showing up in the results.
This article was written in June 2014 with the intent to "guess" what would happen if an investor bought at the then high. Altria was trading at $43 back then. Now, 18 months is not all that long a time-period for the long term investor but it is fun to reflect back and see how things have gone down so far and to guess the future.
Here is a break-down of some important developments over these 18 months:
The stock went as high as $61.74, which represents an astonishing 43% gain from the $43 range back in June 2014.
The quarterly dividend went up from 48 cents a share to 56.5 cents a share (two increases since then: August 2014 and August 2015). A very healthy 8% increase on average. Keep in mind that Altria's "child", Philip Morris International (NYSE:PM) increased its dividend by only 2% this year.
Altria also backed the Mega-Beer merger involving SABMiller and Anheuser-Busch InBev (NYSE:BUD). Rumors about this merger turned out to be the major catalyst when the stock reached its 52 week high.
With the recap out of its way, let us get into the present and some insights into the future.
Why does Altria keep doing so well ?
While there are many obvious reasons like the brand name, pricing power, and smoking being addictive, the two points below make Altria stand out.
Management: Warren Buffett's investment advice "Stick to what you know" is applicable to companies as well. It could be argued that no company follows this tenet better than Altria. Very rarely (perhaps never ?) do we see Altria's management venture into unknown territories. Rarely do we see the management in news for wrong reasons like scandals, over-compensation and the likes. In fact, the management is rarely in news, which is good. Do you even know the CEO's name ? Betting that half the readers of this article don't.
Focus: A good team is only half the battle. The other half is implementing the strategy. Altria' laser focus on its cost and operating efficiencies is legendary. When you find a niche, keep doing it, and find better ways to do it, you are a winner.
The chart below shows Altria's margin compared to some other well known tobacco names.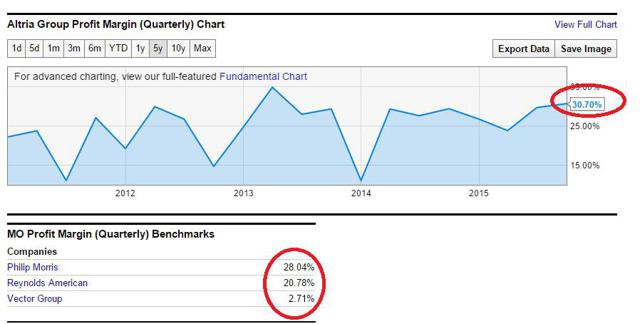 (Source: YCharts.com)
The Future? (Disclosure: No magic wand.)
Aging Wine: It doesn't take an Einstein to predict that Altria will keep doing the two points mentioned above. A modest management with its primary focus being the shareholders is pretty much a given. In fact, expect the company to keep improving itself with respect to increasing price and cutting down on expenses.
Earnings and Dividend: 2016 EPS is slated to come in at $3.06, which is 8% higher than the 2015 level of $2.82. Given how Altria likes to keep a payout ratio of 80%, investors can expect a dividend increase to at least $2.40/share when the next increase is announced in 2016. That would represent a yield of 4.20% at today's share price level, which is very reasonable.
Extrapolation: That said, the run up in share price sure has had an effect on the expected returns. The 2014 article linked above estimated that the 10 year yield on cost would be around 8.50% for investors buying at that level, assuming an 8% dividend growth for first 5 years and 5% for the next 5 years. The table below has been recompiled with the present share price and dividend level. The 10 year yield on cost will be around 7.50% under the same assumptions.
The two key points to remember here: 1) A slow but surely increasing dividend is the safest way to increase your income and 2) While the yield is lower now than it has been in general, investors can now realistically expect capital gains from Altria given the recent momentum.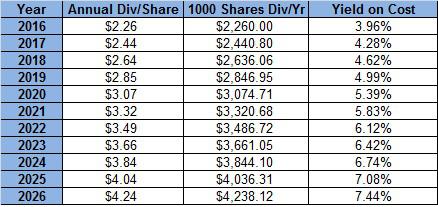 (Source: Dividend and Share price data from Yahoo Finance)
Growth:
The E-cigarette market is set to grow at 33% per year till 2019 at least according to recent research. Altria's MarkTen, while already the 4th popular E-cigarette in terms of market share, is still in it's infancy and this company knows a thing or two about marketing, selling, and profit making.
If analyst estimates are to hold true, the average price target on the stock is $64, which represents a 12% upside from the current level. Add the yield and stability to the mix, it is easy to see why many investors love this stock.
Technical Indicator: For the technical fans out there, Altria's 50 day moving average is around $57, right where the stock is now. The stock has found support at this level over the past couple of months. If it were to breach this lower, the next support area must be around $55, which is the 200 day moving average as of this writing.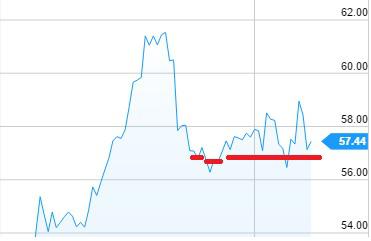 (Source: Yahoo Finance)
Conclusion:
Don't fight a battle that doesn't exist. Don't make things too complicated. If you are in for the long-term: ignore the noise, ignore the lawsuits, buy this stock, reinvest the dividends, and monitor it as you see the snowballing effect.
Reading through the comments on Seeking Alpha, more investors have said "Wish I had bought [more] shares back then" than regretting buying this stock.
Disclosure: I am/we are long MO, PM.
I wrote this article myself, and it expresses my own opinions. I am not receiving compensation for it (other than from Seeking Alpha). I have no business relationship with any company whose stock is mentioned in this article.