The year is not even two months old and the average stock in the Russell 3,000 is already up 13.55% year to date. Below is a chart showing the average YTD percentage change of stocks in each sector. As shown, the average Technology stock is up 17.25% so far in 2012, which leads the way for all sectors. Materials ranks second with an average gain of 16.81%, followed by Consumer Discretionary (15.24%), Industrials (14.68%) and Energy (14.46%).
One sector stands out significantly for its underperformance this year -- Utilities. As shown, the average Utilities stock in the Russell 3,000 is actually down 1.55% in 2012. Anyone that has a large Utilities weighting in their portfolio has likely underperformed the market recently.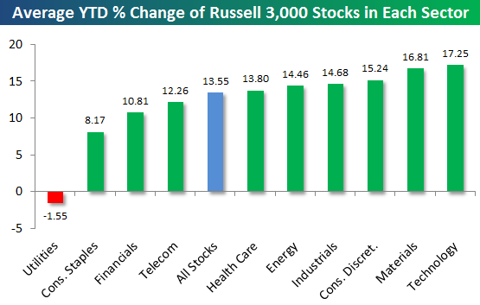 For those interested, below is a list of the 50 best performing Russell 3,000 stocks year to date. As shown, recent IPO FriendFinder Networks (FFN) is up the most in 2012 with a gain of 210.67%. Five other stocks in the index are up more than 100% in 2012 -- Corinthian Colleges (NASDAQ:COCO), Smith Micro (NASDAQ:SMSI), Cobalt International (NYSE:CIE), Eagle Bulk Shipping (NASDAQ:EGLE) and Hovnanian Enterprises (NYSE:HOV). Netflix (NASDAQ:NFLX) and Sears Holdings (NASDAQ:SHLD) are probably the most noteworthy stocks on the list as well as the most surprising given their underperformance in 2011.
With such strong momentum behind them at the moment, it's worth taking a look through these names over the long weekend to see if any opportunities exist.