Dallas, TX-based energy-focused BP Capital Management LP, founded in 1997 by T. Boone Pickens, manages $4 billion in assets, most of it in a commodity-focused hedge fund and a smaller $140 million in an energy-focused equity hedge fund. Mr. Pickens holds a 46% interest in the firm, and has earned billion-dollar payouts from his investment in the firm twice, in 2006 and 2007. Besides his fame as an energy investor, Mr. Pickens is also well-known for his business leadership, philanthropy and political activism, including his "Pickens Plan" that he proposed during the election cycle in 2008 for reducing U.S. dependency on foreign energy that among other things also had a strong alternative energy component.
In this article, we focus on the $140 million of assets reported in the Q4 13-F that was filed last Tuesday, on February 14th. The portfolio is concentrated in just 16 positions, with about 70% of its 13-F assets are deployed in large-caps, another 20% are deployed in mid-caps, and the remaining 10% are in small-cap equities.
The following were BP Capital's major moves in Q4 (see Table):
Transocean Ltd. (NYSE:RIG): RIG provides offshore contract drilling for oil and gas wells worldwide. BP added a new $8 million position, its largest purchase in Q4. Besides BP, other major funds that added to their RIG positions in Q4 include mega funds UBS AG (5.7 million shares) and Massachusetts Financial Services (2.1 million shares), and also energy sector-focused funds Van Eck Associates (1.1 million shares) and Sound Energy Partners (0.6 million shares).
RIG shares after a disastrous twenty-month slide have been extremely strong this year, up over 30% YTD. While the latest quarter results have been disappointing, the shares have instead benefited from a favorable ruling by a judge last month on the company's liability in the Deepwater Horizon incident in the Gulf of Mexico almost two years ago. Specifically, the judge ruled that RIG is indemnified against most of the claims made against it related to the incident. Furthermore, shares have also benefited from reports of improved utilization in the Gulf of Mexico, that bodes well for its outlook. The shares currently trade at 17-18 forward P/E and 0.8 P/B, compared to averages of 10.6 and 1.3 respectively for the oil & gas drilling group.
Golar LNG Ltd. (NASDAQ:GLNG): GLNG provides international marine transportation services for liquefied natural gas with a fleet of 12 vessels. BP Capital added a new $2.3 million position in Q4. Besides GLNG, other major funds that added to their positions in Q4 include mega fund JPMorgan Chase (NYSE:JPM) (0.45 million shares), and guru fund Barrow Hanley Mewhinney & Strauss (0.21 million shares).
GLNG shares have been in a strong upward trend, rising almost five-fold in the last eighteen months on an improved outlook in the global trade for liquefied natural gas. The LNG space is hot right now, as players try to take advantage of the price differential in the price of natural gas between gas producing nations such as in North America and the demand for those supplies in the far east, for example, in South Korea and Japan. The shipping industry is highly cyclical, and it is likely that LNG shipping rates will spike upward in the short- to intermediate-term as suppliers scramble to secure LNG freight tonnage to satisfy demand, and GLNG could greatly benefit from this. The shares of GLNG currently trade at a current 99-100 P/E and 6.5 P/B compared to averages of 16 and 0.5 for its peers in the shipping group.
EOG Resources (NYSE:EOG): EOG is engaged in the production and marketing of crude oil and natural gas in the U.S., Canada, Trinidad, U.K. and China. BP cut out its entire $12 million prior quarter position, its only sell during Q4. EOG trades at 17-18 forward P/E and 2.5 P/B compared to averages of 19.8 and 5.3 for their peers in the U.S. oil & gas exploration and production group.
The energy sector stocks have done well in Q4, and most of BP's investments have been up in the quarter. As such, we saw only two buys and one sell during the quarter in contrast to Q3 during which BP sold at least ten major positions, and bought major positions in two stocks. We believe this may reflect their optimism about the energy sector going forward, and their holdings in particular. The following are BP's major (unchanged positions) at the end of Q4:
Table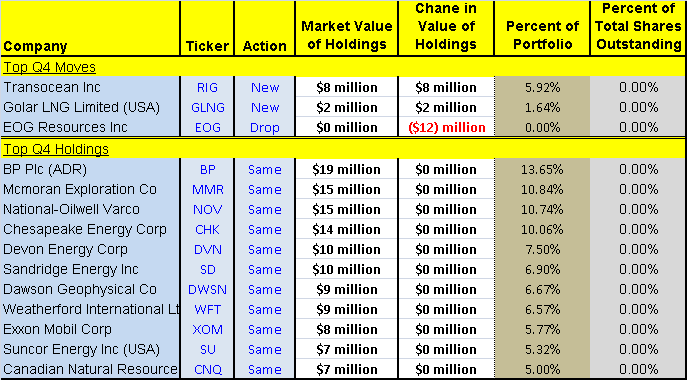 Credit: Historical fundamentals including operating metrics and stock ownership information were derived using SEC filings data, Zacks Investment Research, Thomson Reuters and Briefing.com. The information and data is believed to be accurate, but no guarantees or representations are made.
Disclosure: I have no positions in any stocks mentioned, and no plans to initiate any positions within the next 72 hours.
Disclaimer: Material presented here is for informational purposes only. Nothing in this article should be taken as a solicitation to purchase or sell securities. Before buying or selling any stock you should do your own research and reach your own conclusion. Further, these are our 'opinions' and we may be wrong. We may have positions in securities mentioned in this article. You should take this into consideration before acting on any advice given in this article. If this makes you uncomfortable, then do not listen to our thoughts and opinions. The contents of this article do not take into consideration your individual investment objectives so consult with your own financial adviser before making an investment decision. Investing includes certain risks including loss of principal.