San Francisco-based hedge fund manager Farallon Capital Management, founded and led by Goldman alum Thomas Steyer in 1986, is the 12th largest hedge fund in the world with $21.5 billion in assets. Its investments are well diversified into value investments, credit investments, merger arbitrage, real estate related investments, and direct investments in both developed and emerging markets. Furthermore, it also engages in event-driven international investing, and the success of its early investments in Indonesia in 2002 are widely credited with jump-starting the flow of foreign direct investment into the country from $286 million a year to over $4 billion in 2008.
In this article, we focus on the $4.2 billion of assets reported in the Q4 13-F that was filed last Tuesday, on February 14th. About two-thirds of its 13-F assets are deployed in large-caps, another 20% is deployed in mid-caps, and the remaining 10%-15% is in small-cap equities. Also, the fund is over-weight in technology and industrials, and it is under-weight health-care and energy sectors.
The following are stocks that Farallon is bullish on, based on its Q4 filing, and that are also trading under-valued compared to the peers in their group (see Table):
Qualcomm Inc. (NASDAQ:QCOM): QCOM is a designer of CDMA-based, RF and power management ICs for system software used in wireless handsets, modem cards and networks. Farallon added a new $69 million position in Q4, their second largest outside of the merger arbitrage plays discussed later in this article. Besides Farallon, other major funds that made significant additions of QCOM to their portfolios in Q4 include mega funds Goldman Sachs (NYSE:GS) (6.6 million shares), BNY Mellon Corp. (NYSE:BK) (6.5 million shares), and Wellington Capital Management (3.8 million shares); and also guru fund Viking Global Investors (5.7 million shares).
QCOM released an outstanding Q4 report just over two weeks ago, beating revenue ($4.68 billion v/s $4.58 billion) and earnings (97c v/s 90c) estimates, and guiding next quarter revenues and earnings higher. The stock has broken out of a long-term consolidation pattern and is currently trading at almost twelve-year highs at 15-16 forward P/E and 3.8 P/B compared to averages of 39.1 and 3.3 for its peers in the wireless equipment group.
Check Point Software Technology (NASDAQ:CHKP): CHKP is an Israeli provider of internet security software, hardware and services. Farallon added a new $72 million position in Q4, their largest outside of merger arbitrage plays. CHKP last month released a good Q4, beating analyst revenue and earnings estimates, and indicating strong growth of its high-end appliances. The favorable Q4 report helped alleviate earlier concerns about the strength of its product portfolio, and suggested that spending on the company's network security products would continue despite the over-hang of macro-economic uncertainty, especially in Europe. Its shares currently trade at 16-17 forward P/E and 3.9 P/B compared to averages of 31.4 and 4.2 for its peers in the computer software group.
Pall Corp. (NYSE:PLL): PLL is a leading supplier of high-tech filtration, separation and purification technologies for the removal of solid, liquid and gaseous contaminants, serving the global life sciences and industrial sectors. Farallon added a new $60 million position in Q4, its third largest outside of the merger arbitrage plays. Besides Farallon, other major funds that made significant additions of PLL to their portfolios in Q4 included mega funds Morgan Stanley (0.6 million shares) and JPMorgan Chase (0.5 million shares). PLL shares currently trade at 17-18 forward P/E and 4.8 P/B compared to averages of 31.7 and 3.5 for its peers in the pollution control group.
Some other big names that appear on its 13-F, in which it added significantly in Q4, appear to be merger arbitrage plays, since many of these companies are under acquisition agreements. These include:
Select Stocks that Farallon is most bearish on based on its moves in Q4 (see Table) include:
Table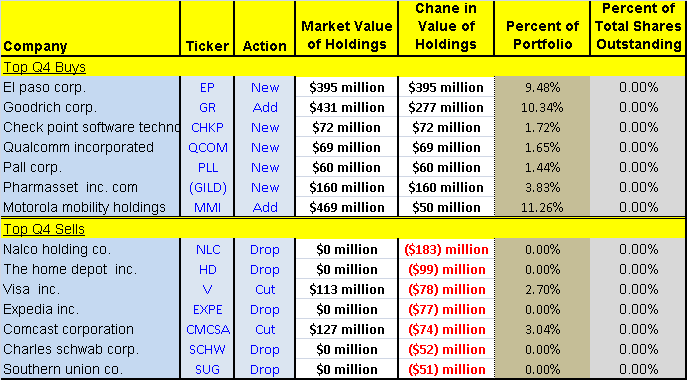 Credit: Historical fundamentals including operating metrics and stock ownership information were derived using SEC filings data, Zacks Investment Research, Thomson Reuters and Briefing.com. The information and data is believed to be accurate, but no guarantees or representations are made.
Disclosure: I have no positions in any stocks mentioned, and no plans to initiate any positions within the next 72 hours.
Disclaimer: Material presented here is for informational purposes only. Nothing in this article should be taken as a solicitation to purchase or sell securities. Before buying or selling any stock you should do your own research and reach your own conclusion. Further, these are our 'opinions' and we may be wrong. We may have positions in securities mentioned in this article. You should take this into consideration before acting on any advice given in this article. If this makes you uncomfortable, then do not listen to our thoughts and opinions. The contents of this article do not take into consideration your individual investment objectives so consult with your own financial adviser before making an investment decision. Investing includes certain risks including loss of principal.