Actionable Items:
CEF Weekly Review: On average, the 13 closed-end fund (CEF) types registered a share price decrease of 0.1% for the week ending 2/17/12. The high-low spread (average percentage price change difference between the highest and lowest fund types) registered this week was a broader +3.8% versus +2.0% the previous week indicating greater fund type diffusion. On an aggregate unweighted basis, the weekly average price change for the approximately 600 CEFs in the GrowthIncome database was down 0.1%.
The PowerShares CEF Income Composite (NYSEARCA:PCEF), an ETF that invests in taxable income CEFs, increased 0.2% for the week. PCEF is up 6.6% YTD on price appreciation alone. Currently, PCEF's trailing twelve months' yield is 8.3%. The S&P 500 gained 1.4% with most of the upside coming at the end the week. The S&P 500 is up an impressive 8.2% YTD.
(Click here for YTD CEF Performance. See "Research" Menu; "CEF Weekly Information" tab.)
CEF Weekly Fund Type Performance: The equities market put in an uneven performance with the ups and downs of the second Greek bailout subject to real time negotiations and speculation regarding Greece's role in the Eurozone currency block. The better U.S. economic numbers ended up trumping the euro concerns as the "decoupling camp" was again revived.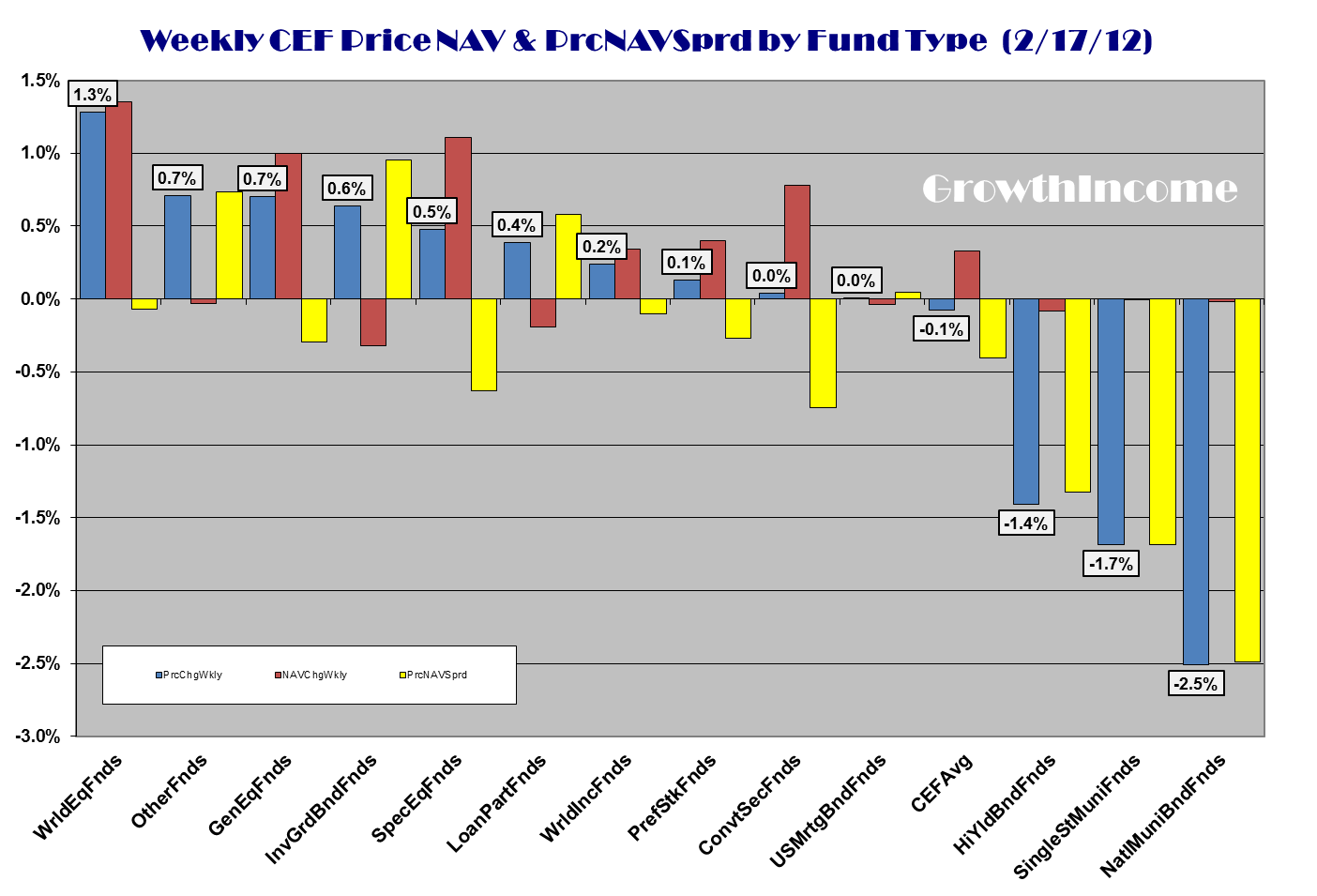 To place matters in perspective, the U.S.'s GDP is approximately $14 trillion, the Chinese economy is $10 trillion and the 27 Eurozone economies is collectively $16 trillion. If you think Europe doesn't matter, then think again. Additionally, the slump in copper prices is not a favorable harbinger of global economic growth.
As is typically the case, the CEF fund types listed towards equity-oriented fund types as the stock markets' advanced. WrldEqFnds regained is leadership position this week after polling last the previous week. Both SingleStMuniFnds and NatlMuniBndFnds took a "hit" this week, declining 1.7% and 2.5%, respectively. This was also true of HiYldBndFnds that declined 1.4% for the week. Some of the share price decline may be attributable to many of the CEFs going ex-dividend this week-although, HiYldBndFnds are often considered an equity proxy, i.e., if the underlying economics improve so does the credit and the value.
OtherFnds, which are typically "buy/write" or covered call funds were up 0.7%. These funds are typically most valuable in equity markets that go "sideways". InvGrdBndFnds also registered a gain which is typically a symptom of a defensive posture. So, this week there was something for everyone.
Weekly CEF Winners and Losers: The CEFs with the greatest positive PrcNAVSprd* for the week was The Cushing MLP Total Return Fund . SRV's share price advanced 3.6% while its NAV per share declined 0.6% generating a positive PrcNAVSprd of 4.2%.
In reviewing the other energy CEFs - and particularly the MLPs - SRV's advanced seemed elevated as its broader peer group advance was less than 1%. More specifically, its positive PrcNAVSprd of 4.2% was in contrast to the average for the group of a negative 0.4%. This is also confirmed by the price advance of Alerian MLP ETF which advanced 1.8% for the week-half that of SRV. So, either there is something specific to SRV or it's been temporarily mispriced.
There was elevated volume in SRV during the week. Average daily volume for the week was 200,000 shares with a 310,000 share volume day during the middle of the week. The average 3 months average daily trading volume is 124,000 shares.
SRV makes investment in master limited partnerships (MLPs) which are conduits for investments in energy infrastructure. Its current quarterly annualized yield is 8.2% with an impending ex-dividend date of February 27th. It is trading at a 24% premium which is slightly above its 52 week average of 20%.
The CEF(s) with the greatest negative PrcNAVSprd for the week was BlackRock Investment Quality Municipal Income Trust . RFA's share price declined 10.1% while its NAV increased 0.2% generating a negative PrcNAVSprd of 10.2%.
The reason for the steep decline was an announcement by BlackRock Advisors, LLC, after the close last Friday (February 10th), that the Boards of Directors/Trustees of BlackRock Investment Quality Municipal Income Trust, BlackRock New Jersey Investment Quality Municipal Trust (NYSEMKT:RNJ) and BlackRock New York Investment Quality Municipal Trust, Inc. (NYSEMKT:RNY) each have approved submitting a Plan of Liquidation and Dissolution to each of the Fund's shareholders for their consideration and approval. Since the CEFs were trading at premiums at the time the announcement was made, the stock price adjusted downward toward their NAVs.
Seemingly Illogical: We don't follow these specific CEFs so we may be missing something unique. However, it seems to an uninformed eye that this decision was made more for the benefit of the advisor than the shareholders.
While this may relieve the world's largest money manager by assets the burden of managing these small portfolios, I don't see how it benefits the shareholders. Effectively, the trustees have destroyed value for shareholders by announcing such liquidations when the shares are trading at a premium. This is comparable to renegotiating the sales price of your house and lowering it after you've received a signed contract because you're in a hurry to move.
Wouldn't a better decision have been to announce a "roll-up" of these smaller CEFs into a larger CEF and potentially maintain the premium valuation?
Paul Audet, a director of BlackRock Municipal Income Investment Quality Trust (NYSE:BAF), appears to have established an initial position of 6,500 shares at an average cost of $16.05 per share for a capital investment of $104,310. Mr. Audet was also active in the shares of BlackRock MuniHoldings Quality Fund (NYSE:MUS) purchasing 7,000 shares at 14.59 per share at an initial investment of $102,124.
James Keenan, a portfolio of BlackRock Diversified Income Strategies Fund (NYSE:DVF), purchased another 10,000 shares at $10.04 per share. Mr. Keenan has been a consistent buyer of the shares since the end of last year and now has accumulated 14,250 shares.
Eileen Patrick, an executive vice president of corporate strategy, purchased 14,285 shares of Apollo Investment Corp (NASDAQ:AINV) at an average price per share of $7.00 per share for a capital investment of almost $100,000.
Tad Rivelle, officer and portfolio manager of TCW Strategic Income Fund (NYSE:TSI) continues to add to his substantial position in TSI. He recently acquired an additional 18,054 shares boosting his stake to 423,676 shares at a price of $4.99 per share for a holding in TSI of over $2.0 million.
(Click here for a hyperlink to the Joe Eqcome's CEF Weekly Insider Report-see "Research" Menu; "CEF Weekly Information" tab.)
CEF Distribution Announcements This Week: The following is a link to a table of CEF distribution announcements this week as well as the previous week's with yet expired ex-dividend dates. The list is not intended to be inclusive. Additionally, mid-month is a time when many CEFs go ex-dividend and the beginning of the month is typically the time distributions are announced. (Click here for Joe Eqcome's Weekly CEF Distribution Announcements - see "Research" Menu; "CEF Weekly Information" tab.)
CEF Focus Stock(s) for the Week: Our focus stock for this week is Aberdeen Chile Fund . The stock was off 4.3% this week while its NAV per share was up 1.8% generating a negative PrcNAVSprd* of 6.1%
Usual Suspects: Chile is usually associated with copper production as it is the largest exporter of this critical manufacturing material. Copper prices have slumped as Chinese inventories have risen and prospect regarding the global economic growth still appear unsettled. This can be illustrated with the copper ETF (NYSEARCA:JJC) off 3.8% for the week.
Don't Shoot! While CH's investment portfolio is exposed to copper through some of the holdings in Chilean conglomerates, the bulk of its portfolio is investment in consumer staples, financial and communication enterprises. So, its exposure to copper is limited. In fact, the iShares MSCI Chile Index Fund ETF (BATS:ECH) was up 2.2% for the week.
It just seems that maybe CH got caught up in "stock bots" trolling for momentum and copper was a short.
Last Week's Focus Stock(s): Last week's focus stock was Western Asset Investment Grade Defined Opportunity Trust Inc. . Our thesis was during uncertain times that it's best to "punt". The uncertainties we diagnosed were the roiling turmoil in Europe-which remains a marathon as opposed to a sprint-and the budget negotiations here in a divisive campaign environment. It's usually best to stick with quality and safety.
This logic led us to prefer, at this juncture, high-quality corporate bonds. IGI, as the name implies, invests in a majority of assets in investment grade bonds. It is currently trading at an annualized yield of 5.7% and at a slight premium of 2.2%. The CEF is scheduled to liquidate in 2024.
Changing Landscape: This week brought more favorable economic news here in the U.S. This has generated more of a "risk on" environment. As a result, the share price of IGI suffered this week declining 0.6%.
Some of IGI share price "give back" may have been a function of going ex-dividend this week. Including IGI's distribution, its return was similar as the taxable bond ETF (NYSEARCA:BND): down 0.2%. IGI has also pre-announced its next two monthly distributions for March and April of $0.1045 per share, the 21st and the 18th, respectively. IGI deserves a place in a diversified CEF portfolio.
From a technical point the chart looks like the stock may be headed for a little bit of a struggle as it seems to have breached its near-term support level.
[*] All things being equal, price and NAV should move in tandem. A price movement greater than the NAV generates a positive PrcNAVSprd and may be interpreted as negative on a near-term basis and indicate that the stock is overvalued relative to its NAV which in theory is the stock's intrinsic value. The opposite would be true for a negative PrcNAVSprd.
Disclosure: I am long PCEF, IGI, CH. I own a diversified portfolio of CEFs and ETFs and am long stocks in the CEFBig10™ and CEFMuni10™.) The first is a balanced equity-income portfolio (CEFBig10™) and the second a tax-exempt income portfolio (CEFMuni10™)