The Buy Thesis
Senior Housing Properties Trust (NYSE:SNH) is far higher quality than its price indicates, meaning it trades at a large discount to intrinsic value and affords material outperformance. Investors are paid to wait for improved sentiment, with a nearly 11% dividend yield that is fully supported by stable FFO
Quality obscured by skewed focus
There are many aspects of quality for a REIT, which do not always get equal focus. In the case of SNH, its overall quality is solid with strong marks in nearly every category except for 1 - management. In the presently activist heavy environment, there is an increased market alertness to misaligned management and RMR Group (NASDAQ:RMR) is among the worst offenders.
With focus skewed so heavily towards its weak management, SNH's other aspects of quality get completely overlooked, causing it to trade at a junky multiple of only 7.5X expected 2016 FFO.
There has been an uptick in the amount of investor activism among REITs. Perhaps the best example of this is Corvex and Related which successfully removed RMR from Equity Commonwealth (NYSE:EQC) in a long and highly publicized battle.
Since this battle, the increased awareness of the misalignment made possible by an external management structure has caused nearly all of the externally managed REITs to trade down substantially. SNH got hit particularly hard as it is managed by RMR. The majority of this battle occurred in 2013, which is where SNH's returns diverge from those of the broader REIT market.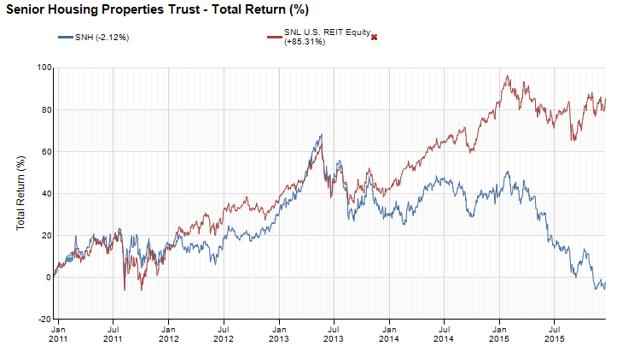 Source: SNL Financial
Note, however, that the divergence was not fundamental in nature. In fact, SNH has grown its FFO/share since 2013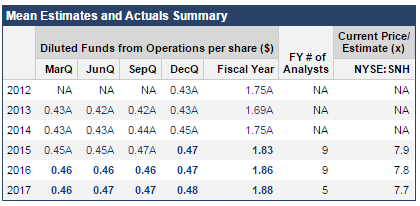 Source: SNL Financial
Consequently, there was tremendous multiple compression for SNH, which was not present in the broader REIT market which kept a fairly stable multiple.
Source: SNL Financial
Presently, the difference in multiple is extreme, with SNH priced at only slightly more than 1/3 the valuation of the average REIT.
Implications of value
Based on LTM FFO, the broader REIT market is giving investors an FFO yield of roughly 5% while SNH provides an FFO yield of around 13%. Such a yield difference must either represent a sizable difference in quality, or it represents mispricing with a clear opportunity. This leads us to our key thesis point that SNH is undervalued as its quality is far better than indicated by its trading multiple.
Quality analysis
There are countless aspects of quality, so I will limit our analysis to those of the greatest importance.
Property type/industry health
Property scale/location
Tenant health
Balance sheet
Property type
SNH consists of just over half senior housing and just under half MOBs.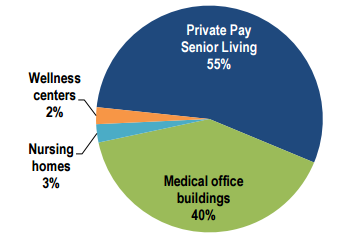 Source: December SNH presentation
Senior housing is often touted as having a secular tailwind of aging baby boomers, but I believe these demographics are broadly known and overemphasized. They do, however provide fertile ground for raising capital for new healthcare property investment, which sets the stage for oversupply. Overall, senior housing has a mixed outlook with healthy current fundamentals and some concern down the road as the new supply comes online.
MOBs are broadly considered to be the best variety of healthcare REIT property types with the MOB focused REITs (Physicians Realty Trust (NYSE:DOC) and Healthcare Trust of America, Inc. (NYSE:HTA)) trading at sizable premiums to the sector. Fundamentally, there is reason to believe the premium is warranted as the secular trend of outpatient services taking over inpatient services favors a MOB's efficient delivery of care. SNH has a larger portion of its portfolio in MOBs than any of the big 3 healthcare REITs, so its property mix is arguably superior.
Property scale and location
Regarding its senior housing portfolio, the best metric of comparison is RevPOR in which SNH is in the middle of the pack.
| | |
| --- | --- |
| REIT | 3Q monthly RevPOR |
| Welltower (NYSE:HCN) | $6,723 |
| Ventas (NYSE:VTR) | $5,259 |
| National Healthcare Investor (NYSE:NHI) | $4,811 |
| Senior Housing Properties | $4,228 |
| HCP Inc. (NYSE:HCP) | $3,873 |
| New Senior (NYSE:SNR) | $3,203 |
Source: Data from company filings
SNH's MOB portfolio is of higher quality with a large portion of it being the Vertex lab, which is Class A lab space with a premier location.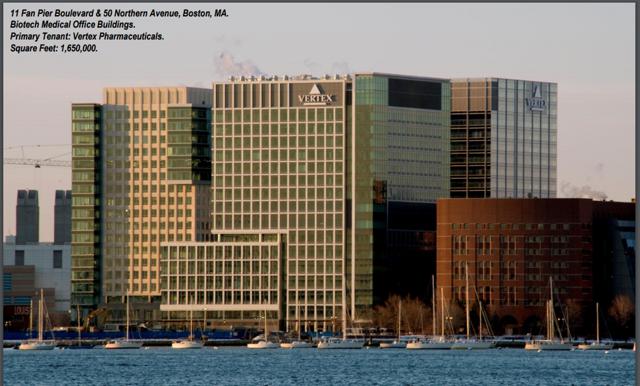 I would argue that SNH overpaid for this asset, but it is still somewhat of a trophy property that should retain or grow in value over time.
Regarding geographic exposure, SNH's properties are spread fairly evenly across the US shown below in locations that are typical of healthcare REITs.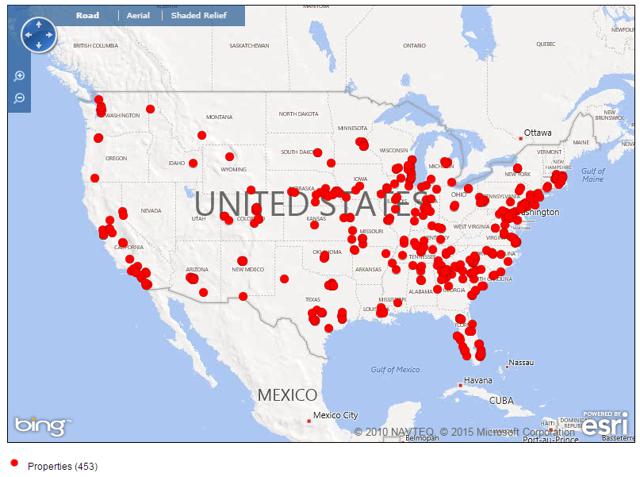 Source: SNL Financial
Note how remarkably similar this map is to those of Ventas and Welltower shown below respectively.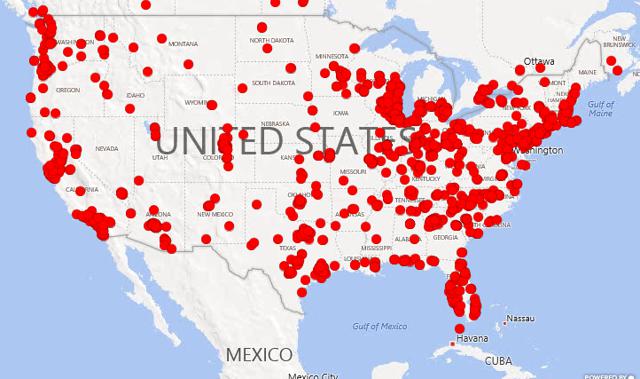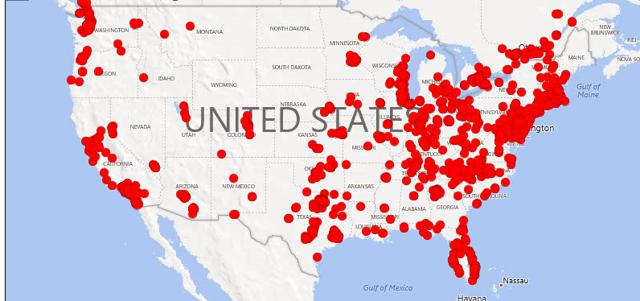 Tenant Health
SNH's latest 10-Q provides some nice color on tenant EBITDARM coverage of rent, shown below.

I read this as both good and bad news as the overall statistics are strong with 1.39X in 2015 being superior to many healthcare REIT peers. However, the skew is a bit troubling with their largest operator (Five Star) coming in the low 1.2X range.
While SNH also has a managed senior housing portfolio, a good portion of its revenues are triple net in nature with a weighted average remaining term of 9.4 years.

Source: 10-Q
The expirations are well laddered, so I do not see issues with lumpiness of earnings.
Balance Sheet
Senior Housing Properties' balance sheet is one of its strong points with a conservative level of leverage and scattered maturities.
Captured below, we can see that SNH has consistently been slightly less levered than its average peer.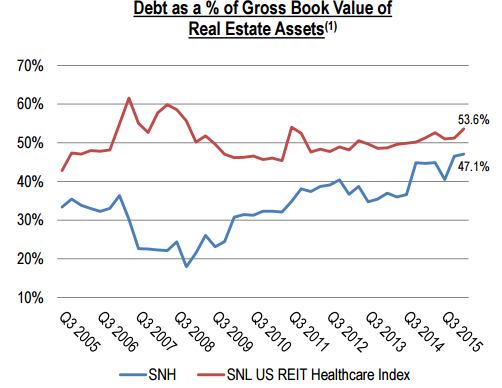 Source: December presentation
In the debt maturity schedule below, we can see that the large senior note maturing in 2016 has already been prepaid, so there is no material need for capital in the near term.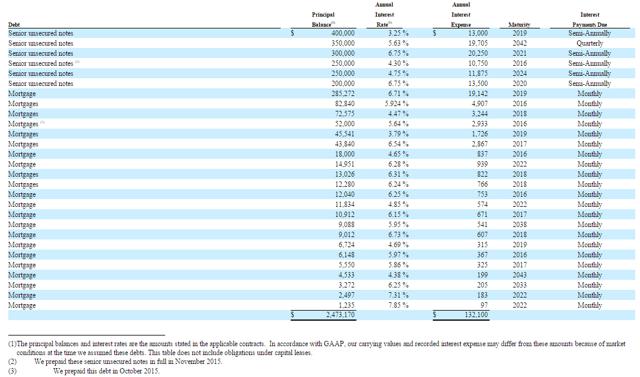 What is the point?
We have covered the material aspects of SNH to demonstrate how remarkably average it is within the healthcare space. The findings of our quality analysis are summarized below.
| | |
| --- | --- |
| Aspect | Judgment |
| Property mix | Slightly above average |
| RevPOR | Middle of pack |
| Property location | Similar |
| Tenant health | Above average aggregate but skewed slightly |
| Balance sheet | Slightly better than average |
Average quality is strange for a company that trades at only 66% of the mean healthcare REIT multiple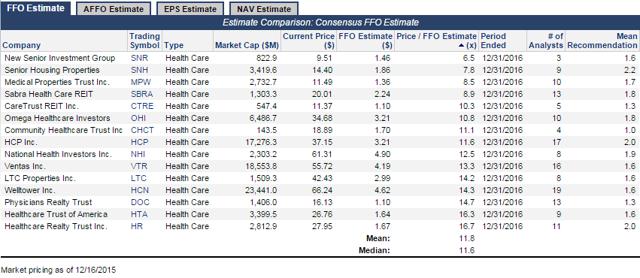 Source: Data from SNL Financial
And a 35% discount to NAV in a sector that trades at NAV.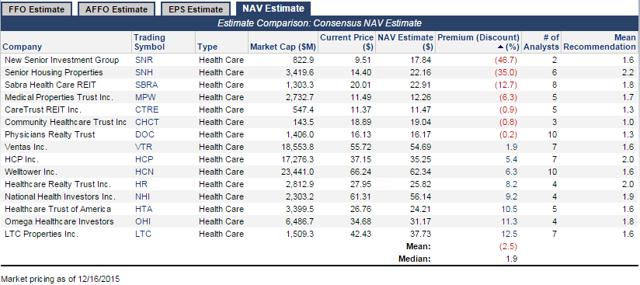 Source: Data from SNL Financial
Why is SNH so cheap?
In my opinion, there is one reason and one reason only why SNH trades at such a deep discount, and that is REIT Management and Research, which now goes by RMR Group. The market dislikes the management practices of RMR as evinced by every RMR company trading at a steep discount to peers and I can't say that I am any more comfortable with them. However, there is a point at which a discount becomes so large that the sheer value proposition outweighs the value destruction potential of a weak management team.
I believe SNH in the $14.00 range is trading at that point.
Shown below is a scatterplot of the healthcare REITs with their FFO multiples plotted against debt to EBITDA so as to normalize for leverage.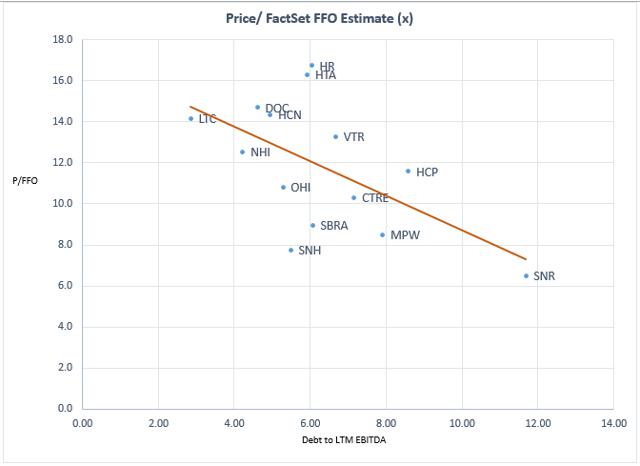 Source: Data from SNL Financial
The trendline represents average valuation for healthcare REITs of any given level of leverage so a company of average quality should trade directly on that line. High quality companies like Ventas and Welltower trade above the line, while lower quality like New Senior trades below the line.
In our analysis, we determined that SNH is very close to average quality at the property and balance sheet level, perhaps slightly above or slightly below depending on how you weight the factors. Yet, it trades at the largest discount by a sizable margin.
This valuation is only correct if RMR destroys a tremendous amount of value and does so at a rapid pace. If the value destruction occurs slowly over a long period of time, it will be more than made up for by the extremely cheap entry point around $14.00 as the oversized dividend and FFO yield provided by the cheap entry price will more than compensate the value destruction.
Limiting factors on value destruction
It is important to note that the nature of RMR's weakness as a manager can be categorized as self-serving and incompetent (this is merely my opinion. I am not making a legal case for breach of fiduciary duty); a type of weakness that is more stable than the delusions of grandeur that we have seen in other REITs (Nick Schorch at ARCP for example). Entities that are self-interested are more predictable and far more stable. RMR is highly incentivized to keep SNH running at a fairly satisfactory level for as long as possible so that they can continue to milk the platform for revenues.
Traditionally, the RMR model for building its own revenue stream is to endlessly issue equity since their external management compensation package is a flat percent. Applying the same percent to a larger base equals more compensation. This strategy is made painfully obvious through the following chart of shares outstanding over 15 years.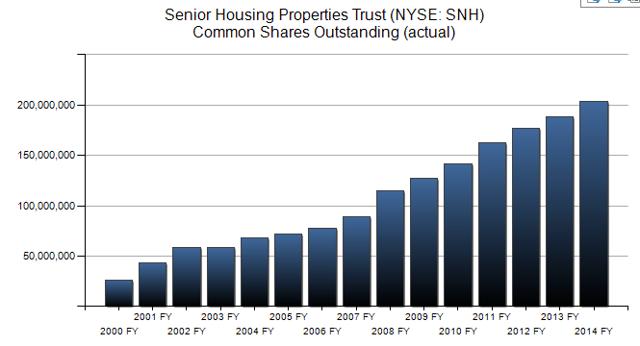 Source: Data from SNL Financial
The market is rightfully concerned that the value inherent in the gap between its asset value and trading price will be diluted away through issuance of new shares. Historically, the market would be correct in this assessment.
This time it is different
SNH's value has gotten so deep that they cannot issue equity without losing control of the company. RMR seems to be aware of this and has indicated that they will not issue at these prices. Rick Doyle, treasurer and CFO, stated on the 3Q earnings call.
"We have no plans today, especially at these equity prices to go the equity market"
Later in the call, David Hegarty, President and COO, commented.
"Well, I guess even on an ATM program that these price levels would not be attractive to us. So I think for the foreseeable future, equity is out of the picture"
An unusual protection
We opened this article suggesting that it is the increased activism in the REIT space, which has brought SNH's management to the forefront causing its price to drop, yet this very same activism may protect SNH investors. Since RMR is being watched so closely, they have to behave. It is in their own best interest to be at least somewhat responsible fiduciaries. It may be an insincere alignment, but given the depth of the discount to intrinsic value, that just might be good enough to make the investment work.
Magnitude of opportunity
It seems unlikely that the value gap will close entirely as a stink will remain on RMR managed companies. Thus, I believe it will get to a 10X multiple, which is still a discount to the intrinsically proper multiple of roughly 12.5X. On the anticipated (by FactSet consensus) $1.86 of 2016 FFO this would mean a market price of $18.60 or about 30% upside from its current $14.33.
The move will depend on sentiment returning to a still negative but more normal level and it is difficult to determine how long this will take. Even if it takes many years, it remains an opportunistic investment as the oversized dividend gives us nearly 11% per year that we wait.
Risks and concerns
While I believe SNH is opportunistic even on a risk adjusted basis, it is certainly a riskier investment than most. In particular, investors should watch for the following:
Further declines in the EBITDARM coverage of Five Star would be an early warning sign of potential fundamental hardship.
Entrenchment activities could prevent activist intervention, thus affording a more rapid pace of value garnishment. The board is already staggered which is bad, but there is no poison pill. Addition of a poison pill may be the time to get out.
Supply in senior housing should be watched closely. The currently projected supply is not a material problem, but in the past, it has gotten out of control. Senior housing has minimal barriers to entry and the bullish demographics outlook may cause overconfidence among lenders.
The bottom line
A beautiful asset portfolio is being massively discounted to a point where it is opportunistic with even weak performance. With so much of the downside priced in, the reward to risk balance has gotten quite favorable.
Disclosure: 2nd Market Capital and its affiliated accounts are long SNH, VTR, MPW, SBRA and DOC. I am personally long SNH, OHI, MPW and VTR. This article is for informational purposes only. It is not a recommendation to buy or sell any security and is strictly the opinion of the writer.
Disclosure: I am/we are long SNH, VTR, OHI, MPW, SBRA.
I wrote this article myself, and it expresses my own opinions. I am not receiving compensation for it (other than from Seeking Alpha). I have no business relationship with any company whose stock is mentioned in this article.