Both the NYSE and the Nasdaq have a requirement to maintain a minimum $1 share price in order for a company to maintain its listing on the main exchange. If a company falls below that price for a period of time it is threatened with removal or movement to another exchange if it can't regain its share price. For some companies they naturally regain their price. For other companies in distress, they may be forced into conducting a reverse stock split to consolidate shares and bring their share price higher.
There are still other reasons for conducting a reverse stock split. Many investment funds have requirements related to Market Caps and individual stock prices. By consolidating shares and increasing the price of their stock, typically above $5, then a company can bring their stock into the target range of larger funds. Doing this in theory will help increase the market for a company and help improve the share price.
However, for those companies that do perform a reverse due to distress, a reverse can act like blood in the water and continue to draw in more shorts to bet against the company. There is some evidence that in the long term, a reverse stock split may be good for a company. However in the short term, between 1 week and 3 months, it can have negative effects.
The spreadsheet below is a sampling of the reverse share splits during 2015, but shouldn't be assumed to be all inclusive.

There are a few more caveats to the list.
First is the Market Caps vary for the companies, as do the share counts. The largest companies in the survey for 2015 were Crestwood Equity Partners (NYSE:CEQP) and Hersha Hospitality Trust (NYSE:HT), each at over $1B Market Cap. The next group was over $100M with Peabody Energy (NYSE:BTU) and Empire Resorts (NASDAQ:NYNY). After that is the over $10M with FXCM (FXCM), Opexa Therapeutics (OPXA), Acasti Pharma (NASDAQ:ACST), Vringo (VRNG), Capstone Turbine (NASDAQ:CPST), and CHC Group (HELI). Finally are the sub-$10M companies with NeuroMetrix (NASDAQ:NURO), Inventergy (NASDAQ:INVT), Great Basin Scientific (NASDAQ:GBSN), NovaBay Pharma (NYSEMKT:NBY), InspireMD (NYSEMKT:NSPR), and Ocean Power Tech (NASDAQ:OPTT).
The second is that different brokers have different requirements for shorting shares. Some brokers will not let individuals short below a certain price point, or may not have access to enough shares to short.
The third is that while the results here are for 2015, these results can be amplified by the larger market movements and influences. If stocks overall are performing negatively, those pressures may be amplified.
During 2015, after the first week of a reverse stock split, the results were mixed with an average drop of 6%. With the exception of INVT, the companies that saw a positive stock appreciation had a market cap greater than $20M. The rest of the companies saw their stock drop with a high of 60%, but an average drop of 24%.
After one month, all but three companies saw a drop compared to their price at the reverse. Of those with a positive stock price, the average was a 5% appreciation. Of the rest of the companies, there was an average of a 34% price drop but a high of 66%.
After two months, all but OPXA had seen their price drop. While the average drop was 24%, once OPXA has been removed the average drop increases to 35%.
After three months, FXCM saw some resurgence, but OPXA again stayed positive compared to the pre reverse price. The average across the companies was a drop in 18%, but once OPXA and FXCM are removed from the average, the average drop was again 35%.
For the four large companies, only CEQP, BTU, and HT are far enough along in their reverse to make any assessments. NYNY is still in the initial stages of the reverse stock split. Of the other three, all have seen a drop in their stock price. CEQP fell 7% the first week and 18% in the first month. BTU initially surged after the split, but then fell 38% after 1 month, 45% by the second month, and 59% by the third month. HT fell 2% initially, then saw a rebound to 4% after the first month, but then fell 16% by month two, and was down 11% by the end of month three. It has been almost six months since the reverse and the company is still down 16% from the pre-reverse price.
Conclusion
While not scientific, and not strictly academic, there is a good amount of evidence to support the theory of share price falling after a reverse stock split in the short term (one week to three months). However, this rule shouldn't be followed blindly since a company conducting a reverse to draw institutional and fund investment may see its price surge. Due diligence is required on the part of all investors, but the reverse may be a good sign of blood in the water.
There are several companies with potential reverse stock splits coming that may be targets for shorts. The first is DryShips (NASDAQ:DRYS), which has already forecasted a potential reverse stock split. While there are people that believe the company is in the process of transforming itself, the fact is that a reverse stock split may actually help traders and investors to continue driving the price down before the transition is completed.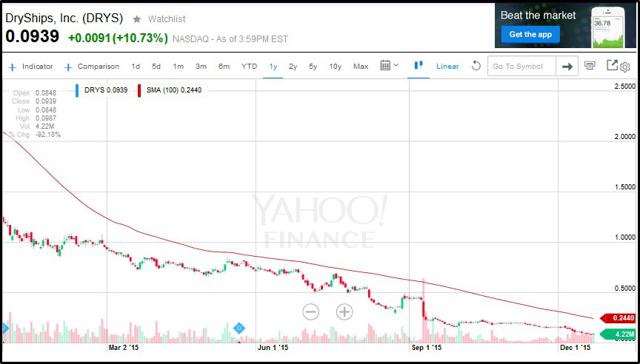 The second is Halcon Resources (NYSE:HK) which has already announced its reverse stock split. The company is making some changes that may fundamentally improve the company, but at the present, the stock will likely see the stock continue on a downward trend after the reverse.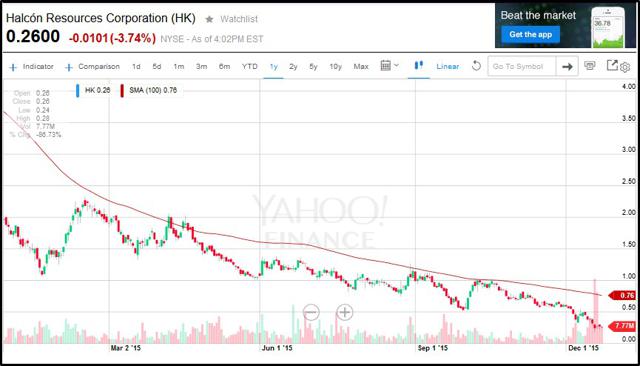 Disclosure: I/we have no positions in any stocks mentioned, and no plans to initiate any positions within the next 72 hours.
I wrote this article myself, and it expresses my own opinions. I am not receiving compensation for it (other than from Seeking Alpha). I have no business relationship with any company whose stock is mentioned in this article.
Editor's Note: This article covers one or more stocks trading at less than $1 per share and/or with less than a $100 million market cap. Please be aware of the risks associated with these stocks.