Dear Reader,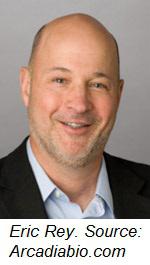 Happy Holidays! As I wrote in the comments of my first article about (NASDAQ:RKDA), I found the company so fascinating that I asked for an interview. Mr. Eric Rey responded favorably, so posted below is our full talk. But I know that the Holidays can take up quite a bit of time, so in everyone's interest I've written up a quick synopsis of the Interview for those familiar with the company, before posting the full thing. Feel free to skip to it if you're familiar with the basics of Arcadia.
For those new to Arcadia, I encourage you read my prior article. It is probably the most detailed analysis publicly available about the company. To summarize, Arcadia Biosciences is an agricultural technology company which IPO'd in May of this year. Broadly speaking, their business model is to stand between University research and final commercialization of valuable agricultural traits. In doing so, they test out the technology with their own labs, and when it works license it to big partners like Monsanto (NYSE:MON), DuPont (NYSE:DD), Dow Agro (NYSE:DOW), Syngenta (NYSE:SYT), Archer Daniels (NYSE:ADM) and others. In fact, it is licensing to 4 of the 5 above. They even have a program with Scotts Miracle Gro (NYSE:SMG) for Nitrogen Efficient lawn.
Their main long-term value is their patented a-biotic stress portfolio, traits which are capable of making almost all crop plants more resistant against drought, heat, salty soils, heavy metals and nutrient stress (RKDA has a separate trait for each individual kind of plant stress). This enables plants to yield better by 10 to 30%. Amazingly, the industry so far has mostly focused on protecting crops against insects, weeds or diseases, even though a-biotic factors like drought account for 70% of harvest losses. So while Arcadia is the only company out there with these types of traits, their science isn't under-appreciated; its big partnerships (where its partners bear the hefty costs of development) prove that. Another reason there isn't more competition are RKDA's strong patents. The a-biotic trait portfolio had its first approval in Argentina this year for the drought trait in Soybeans, significantly de-risking the science.
Just for everyone to review, here's a list of their programs / partnerships: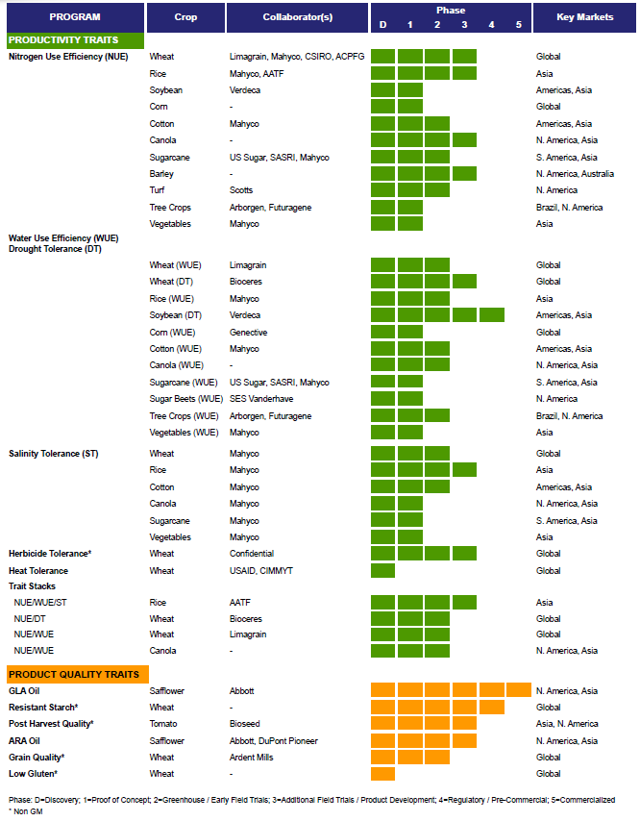 Source: RKDA S-1, page. An impressive Pipeline.
But the investing public has not yet picked up on the massive potential yet, as proven by the stock's ultra-low volume and market cap. Furthermore, their business model is one of licensing their IP for partners to develop, saving them those costs. This means they have low expenses and little need for fundraising, and are therefore also getting less publicity. Their business model is similar in ways to ISIS, GILD and others who stand between basic research and final commercialization. It is typical for these companies to experience rapid revaluations as the science proves itself and matures into revenues, though of course the place to invest is before revaluation, which can be quick. For those and many other reasons, they don't just have great prospects, but are also undervalued, which is why Arcadia Bio at these prices is my largest portfolio holding.
Arcadia is also a green company, which is reflected in each of their endeavors in some way. They also have many non-GMO projects, like the wheat mentioned in the article summary, but also traits for longer shelf life for vegetables, better oil yield and vast libraries of rare crop cultivars (like heirlooms) for genetic diversity. It is also a company with low cash-burn (partners develop the technology), high insider ownership and one high margin product already on the market, Sonova.
Sonova refers to Safflowers which produce 65% GLA in their oil. GLA is an anti-inflammatory Omega 6 fatty acid (most other Omega 6s are pro-inflammatory). GLA is mandated for pet food as a required nutrient, but also finds uses in baby formula (breast milk is rich in GLA) and nutritional supplements. Arcadia sells Sonova GLA at half the cost of its closest competitor and still has very healthy margins on it. That is because GLA is otherwise made from Borage seed oil, which costs $14 per pound and has only 15% GLA. Sonova costs $3 per pound to make and is 65% GLA. The health store GNC (NYSE:GNC) carries Sonova GLA in at least 6 of their products already, with new markets coming online as their GLA gets approvals from the FDA.
Summary of the Interview:
***Disclaimer: Before I start, I wish to state for the record that I am NOT employed by, paid for or in any other way compensated by Arcadia for publishing about them, or doing this interview. They also don't compile my material, this is my own, personal research.***
As I live in Gilbert, AZ and Arcadia has an office nearby, we met for lunch at The Henry (a local restaurant) in the middle of December when Mr. Rey, the CEO, the CFO Mr. Brandwein and I myself were in town. It was a fascinating, nuanced interview, and I'm happy to say that my prior article hit pretty close to the mark, with the exception of Verdeca commercialization (a bit later but instant market share) and RS Wheat (it's already approved, selling next year). For those short on time, here's a synopsis. It is meant as an update for those already familiar with the company. Happy Holidays!
Summary of what I learned from the Interview:
Sonova GLA market size is roughly 50 - 100mm. GLA use in pet food is major market, company expects approval in 2016.
Sonova ARA is in Phase 3, partnered with DuPont and Abbott. Market size roughly 100 to 200mm.
Carbon Credits. The IPCC (Intergovernmental Panel on Climate Change) has approved Carbon Credits to any farmer who grows crops with the NUE trait. These Credits can be sold on, and are probably unique to the entire industry.
First NUE plant to market as soon as two years.
Verdeca was approved after just one year. For four years already, the partnership has been breeding the drought trait into many different varieties and increasing seed stock in anticipation of launch. However, over half of soybeans from S. America are shipped to China, so farmers will only grow a crop when that approval is in. They anticipate that Verdeca will be approved in other S. American countries in 3 years or less and have export approval, so it's a 3 year time frame until Verdeca revenues come in.
Verdeca Partnership incorporates over 200 of the largest grower cooperatives, guaranteeing instant market share. Uptake of new traits / varieties is very rapid in agriculture, company expects the same in South America as it is the farmers themselves helping develop Verdeca. Conservative market share in S America means $240 to $475mm rev for Verdeca; 50% goes to Arcadia.
BGI Partnership: BGI spends its own money to completely sequence RKDA's 5000 specimen rice library over next year. Other breeders / researchers will pay fees to use it, which are shared with RKDA.
Company planned IPO to raise enough cash to get to break-even.
Ownership: Not only management, but all scientists hold shares of the company.
Healthy Wheat trait is right now being bred into multiple varieties, the company knows of no other similar product like it (confirming my research). Since it's non-GMO no approval necessary. Product sales begin next year.
Arcadia management is very focused on creating long-term value.
Interview:
***Note: Transcription errors (if any) are all mine.***
Jonas: I have the pleasure of talking to the CEO of Arcadia Biosciences, Mr. Eric Rey, and the CFO Steve Brandwein. Thank you both so much for taking the time to do this interview.

Steve: Glad to be here.

Eric: We're happy to talk to you.

Jonas: To start, could you please explain what Arcadia is all about?

Eric: We're an agricultural technology company. That means we have the lab facilities and expertise to do advanced breeding, genomic studies and more. Our focus is on developing high value, high margin agricultural products that also benefit the environment. That our products are good for the environment and human health is very important to us. And so to do that, we use our excellent relationships with Universities and private company researchers to source promising new technologies. So when they have found something exciting, we are always interested to look at their research to see if it's a fit with us. Some of the researchers want to follow their project and even come join our company. So once we've take this promising science in house or developed it ourselves, we run extensive field tests on it until we have solid data on it, and then find seed company partners to take it all the way to market.

Steve: Yes, and financially speaking, Arcadia keeps between 20 and 50% of that added value.

Jonas: Another question: I think we can all agree that GMO traits are revolutionizing agriculture, yet most people don't think very highly of them. Why do you think that is, and what makes Arcadia different?

Eric: I think it's important to note that we're not focused on the GM method, we don't like to think of what we do in this way. Allow me to explain: We use technology platforms - like GMO and non-GMO - those are necessary to make our products. And we have many non-GM projects - like our Resistant Starch Wheat, which benefits human health, our extended shelf-life traits, or our vast plant genetic diversity libraries. What really matters to us at Arcadia is that our traits simultaneously are good for farmers, the environment and consumers. For example, with our Nitrogen Use Efficiency (NYSE:NUE) trait, farmers may need 20, 25% less nitrogen fertilizer to get the same yields they currently do. We have excellent data on this trait, which is being developed by our seed company partners for most major crops. So that means there could be millions of tons of fertilizer saved, creating great economics for farmers but also resulting in a lot less environmental damage from nitrogen fertilizer run-off. It's easy to forget sometimes, but Food, Agriculture is the world's largest, most important industry, and we try to bring positive change to it in any way we can.

Jonas: I'd love to see some more of that data you mentioned. Why haven't the big companies bought up this research first?

Eric: No problem, we can send you over lots of data. I think generally the industry is focused on biotic factors that affect crop yield, like weeds, insects and diseases. The benefits resulting from such traits have been great for farmers and global food production, but our focus is on abiotic stress factors like drought heat, salinity and heat, which affect crops as well. In fact these types of stresses account for the majority of agricultural yield losses, it's a huge opportunity. And we are licensing these traits to many partners, so over the last few years interest has really grown in this area, especially because of the excellent field trial data our traits are generating.

Jonas: I'm looking forward to that data. Quick question about Sonova: The Omega-6 oil is just so different from the rest of your portfolio. Care to give a bit of background?

Eric: We wholly own Sonova, it's high in gamma linolenic acid (NYSEMKT:GLA), an essential fatty acid with similar health benefits like the Omega 3s. But conventional sources of GLA have always been very expensive. We produce GLA in safflower plants which yield 65% GLA, that's much higher than the 10-20% of other plant sources which also yield less oil per acre. This means that the cost of GLA from us is much lower than from competitive sources, and we still have good margins on it. So we are making a vital nutrient for good health a whole lot cheaper while freeing up a disproportionate amount of farmland. These are things I've always thought fit well with our company's goals.

Steve: Right now it's being sold for example by GNC, they have it in 6 to 8 of their products already.

Jonas: What do you sort of see as the market opportunity, and are there any regulatory approvals still necessary?

Steve: So the GLA market size is roughly $50 to $100 million per year, it's hard to say but those are about the numbers. A part of it is of course supplements, but there's also a very big market for use in pet food, and we've applied for the necessary approvals to enter that market.

Jonas: When could we expect to hear back on that?

Eric: We're hoping to have the answer in 2016, but of course we can't be entirely sure because it's in the hands of the regulators. That said, we recently got approval for the seed meal to be used as animal feed, so we've made steady progress in the regulatory area.

Jonas: Got it. I believe ARA is even more expensive than GLA and is required in baby formula for proper brain development. Is that true, and what is your progress there?

Eric: Yes, it contributes to proper brain and eye development in infants. Most ARA today is made by fermentation, and you're right that is very, very expensive. We are developing ARA in the safflower crop just like our GLA oil. We've partnered with DuPont and Abbott (Author's Note: Refers to Abbott Laboratories ABT) on this, the project is in Phase 3 right now.

Jonas: And the market size for ARA, your hope there?

Steve: I'd say the market is larger than for GLA, in the range of about $100 to $200 million. And it's certainly our belief that our plant source of ARA oil will be more sustainable and cost effective than current sources, meaning that it will be incorporated into more products like baby formula, to make that more similar to natural breast milk. So yes, we have great hopes that our ARA oil will do a lot of good.

Jonas: What about international sales?

Eric: The same price situation for these oils is found around the world, and since we're the lowest cost producer for GLA, and hopefully ARA too once that is approved, international sales are a high priority. As for GLA specifically, once it receives the necessary approvals for export we'll to ramp up production ASAP.

Jonas: OK, that answers my questions about Sonova. Now for the really fun part, your amazing crop trait portfolio. I'm always interested in the history of things, how did that get started?

Eric: Sure. These traits, this approach has always resonated with us. That's because abiotic stresses - like drought, heat, salinity, and nutrient stress - have the biggest effect on crop yields, far more than any other factor. So we at Arcadia really focus on these factors. Addressing these abiotic issues bring financial benefits to farmers and to consumers, and also benefit the environment.

So this technology has really proven itself out over the years. I think nothing shows better what a green technology this is than our work with the IPCC (Author's Note: Intergovernmental Panel on Climate Change). We worked hard with them on quantifying the benefit of our NUE technology on climate change, which led to them approving a carbon credit methodology for our Nitrogen Use Efficiency trait. We, all of us at Arcadia, are extremely proud of this. This means that a farmer growing crops with our NUE trait can calculate the avoided CO2 emissions and sell carbon credits to the market based on that. That's not just another wonderful incentive for farmers to use our trait, but true worldwide recognition for this science. And as far as I know, this is the first and only instance so far where just having a trait in a crop can earn carbon credits for farmers.

Jonas: Wow that is really neat, I had no idea about the carbon credits. Congratulations on getting that approved. Moving on, could you sum up the underlying science of the traits?

Eric: It all depends on the specific trait; each is different.

Jonas: Ok, let me rephrase that. I wrote in my article that the traits are boosting natural rate-limiting biological pathways, which is what makes your patents so valuable. Please correct me if I'm wrong.

Eric: Yes, that's pretty close to the mark. So for most of our abiotic stress traits, they also have a promoter that turns on the gene only in specific conditions, like during drought, or only in certain tissues, like roots or leaves. So not only do we have patents on the actual gene and similar sequences, but often on the method of using it with a certain promoter as well. Without getting into too much detail, let's just say that we feel there's a lot of depth to our IP and that we're very happy with it.

Jonas: Who do you see as your direct competition for these traits?

Eric: For competition it's a bit different than what you might think. For some of these traits we are the pretty much the only company that offers anything like it. We're certainly the only one that has extensively proven out such a portfolio in field trails, and we believe that we probably have the biggest, most robust, and most advanced abiotic stress trait portfolio in the world. Of course there are other trait companies, but most of these are focused on crop protection, which means fighting insects and weeds. That doesn't mean there isn't interest in the abiotic side of things, quite the contrary. As you say, we do have excellent proprietary traits and these are being tested all over the world in most major crops by very smart licensees like Dow AgroSciences and others. Did that answer your question?

Jonas: Yes actually. Here's a question I've gotten from a reader on SA: The overall GM seed market only clocks in at 20 Billion, how is there room for Billions more? So what is the market size, just the theoretical size for your a-biotic portfolio?

Steve: Market size is $100 Billion or more, and I'm not saying that in jest. Here's how we get to this number: Just the top five crops, just rice, corn, wheat, soybeans and sugarcane are a Trillion dollar industry. Abiotic stresses account for something like 60-75% of lost crop yields. So if our traits can reduce those losses - in other words increase yields - by 10% or more, the market size is about $100 billion. Of course we won't capture all of that, but the opportunity there is just amazing. And we and our partners are running trials in many more crops than just those five around the world right now. These numbers were compiled by an independent agency.

Jonas: That's an interesting angle, and I would like to review those numbers. Are you referring to the McDougall study?

Eric: Yes, we can send it to you.

Jonas: I would appreciate that. Moving on: Another reader question: Incorporating your Nitrogen Use Efficiency trait, does it change any other characteristic of the plants? What they mean is, do the leaves look different or..?

Eric: No, in all the crops that we and our partners have looked at, what happens is the plants get bigger faster and produce higher yields, there's no other difference.

Jonas: Just for the NUE trait, in how many different crops is that being tested in?

Eric: In more than 10 crops in several Phases by our partners, and there is preliminary work going on in other crops as well.

Jonas: When do you think a NUE plant could first make it market?

Eric: Phase 3 is 1-2 years, and some of the crops have been tested for a year already in that. Phase 4 can last from just one to 3 years, so add that together, based on industry experience we expect between 2 and 5 years.

Jonas: Moving on, first of all congratulations for the Verdeca soybean approval in Argentina. What specific traits are in Verdeca?

Eric: Thanks, Verdeca soybeans have the HB4 Stress Tolerance trait against drought impact. It took us just over one year to get regulatory approval in Argentina, which we think shows the value of our regulatory management team and working closely with local partners. That's something we do in other countries as well.

Jonas: Yes I've noticed that, and I think you've just answered my next question. Ok, when will we see revenues from Verdeca?

Steve: So the way this works is that there are two processes: One is regulatory approvals, and the other is breeding. Both run in parallel. The biggest approvals we are looking forward to are export approval to China, and approvals in other countries like Brazil. But when you have an approved trait in Argentina, adding other countries is relatively straightforward because the same data are being used. We don't expect commercialization to start until there is export approval to China. I think over half of Argentina's and Brazil's production go to China, Eric?

Eric: Yes, so commercialization of new traits can't start - in Argentina, for example - until you've got the China export approval. Soybean production is huge in South America, and it's true that more than half of it goes to China. And the second rail of that process is the plant side, incorporating the trait into the different varieties and seed stock increase. So in Verdeca, that's our 50-50 partnership with Bioceres, an Argentina-based company that's largely owned by soybean growers, we have actually been working for 3-4 years already with some of the largest South American soybean seed companies on getting the HB4 trait into their varieties and getting everything ready to launch once those final approvals come in.

Jonas: So when exactly do you think Verdeca Soybeans will fully enter the market?

Eric: Historical precedents suggests within 3-4 years, it could be sooner, it could be later. We like to be conservative.

Jonas: Please run through some numbers for Verdeca for South America ..

***Note: I confirmed that I recorded the numbers correctly later with management.***

Steve: Ok, so on average the trait increases soybean yield by ~4 bushels / acre under stress conditions. That gives farmers extra revenue of about $40 per acre. Typically, the farmers keep 60-65% of that ($25 per acre), and pay a "trait fee" to our seed company partner of about 35-40% of that ($14-16 per acre). Of the fee to our seed company partner, Verdeca would get 50-65% ($7-10 per acre). Then, assuming a very conservative market penetration of 25-35%, we expect Verdeca to receive $240 to $475 million per year in revenue from South America.

Jonas: Does the approval for Verdeca soybeans make it easier to get HB4 approved in other crops in Argentina? What are your next steps there?

Eric: Potentially it makes it easier as regulators have already approved the safety of the trait, and the supporting data packages are pretty much the same for all countries. But each trait and crop is handled individually by the regulators, so the impact isn't as large as you might think. We're taking nothing for granted.

Jonas: Another trait I find fascinating, I mean scientifically too, is the salt-tolerant trait. How does it work in the plant, what are your hopes for it?

Eric: OK, so our Salt trait enhances a plant's control over sodium in its cells. With it, it can pump that extra sodium more effectively into vacuoles, which are like storage compartments of plant cells. So in trials our trait has increased yields by 15 to 25% in salty areas, a huge improvement. And salty soils are becoming a big problem. Especially with irrigation, salt builds up when water evaporates. Our results show that the trait may make some areas suitable for farming again and just plainly improve yield in others. We also have a separate water-use efficiency trait, which makes plants more effective users of water overall, so a farmer would need to use less irrigation which can lead to these salt problems in the first place.

Jonas: You obviously have a huge portfolio of late-stage projects, anything specific there we should watch for in 2016?

Eric: Absolutely, look for us to keep forging ahead on partnerships and achieving development milestones with our partners. All of these things that take us closer to those revenue numbers Steve mentioned earlier.

Jonas: And specifically ..

Eric: Hard to say, it's impossible to precisely predict when approvals will occur. However, approvals in AG biotech are generally less uncertain than in medical biotech, for example. We have an exciting year ahead of us.

Jonas: Let's switch topics. The next is a tough question but I'll ask it anyways. Your stock has sold down this year, but it is also trading at super low volumes. Have there been any changes in the pace with which your partners are taking your projects toward regulatory approval?

Eric: Quite the contrary, we just announced a major collaboration with Dow AgroSciences for yield traits in corn and a project with BMI, the largest genomics company in the world, for rice, the world's most valuable crop. We've also announced major collaborations with multiple soybean seed breeding and marketing companies in South America. So our partnerships, and our overall progress, are advancing steadily.

Jonas: Is Arcadia well capitalized for 2016?

Steve: Yes. Our goal with the IPO was to raise enough cash to take us to our break even point.

Jonas: So what specifically needs to happen for Arcadia to become profitable?

Eric: It just takes one product getting to market. The opportunities are so big, the typical uptake by farmers so fast, that revenues can ramp very, very quickly with the first commercial launch. So, any one of our most advanced products could put us over the top, and do so in a big way.

Jonas: Would you consider selling a trait completely for a certain or crop or country?

Eric: We are very well capitalized, so no, we don't see a need to go that route. I mean, I wouldn't rule it out if an irresistible offer came along; but to maximize shareholder value in the long run, we are most interested in getting licensing fees once our products are on the market.

Jonas: OK. Let me just say it's impressive how many projects Arcadia is pursuing. Some people have wondered, how do you manage it all with only 5 million quarterly cash burn?

Steve: Of course we have expenses, but we are a very cost-effective organization. Everyone in management and all of our scientists hold equity of the company, so we're all interested in pursuing the best projects in the most cost-effective manner. And our major stakeholder has been with us for more than a decade, and participated in the IPO in a major way, so we are all focused on the long-term. Of course our unique business model helps, with us as the middle man between basic research and the commercial side of things.

Jonas: Please summarize the Healthy Wheat project.

Eric: We developed it together with the NIH (Author's Note: National Institutes of Health, a US government research funding agency) and commercial partners. So basically it's wheat whose starch is more cross-linked. This way, the starch is slower to digest, meaning it releases sugars slowly and keeps you feeling full for longer. How fast starch is digested into sugar, or rather how fast sugar enters the bloodstream, is called the Glycemic Index. As used in products, we believe that our wheat will have about twice the total dietary fiber of whole wheat, and about eight times as much as white flour.

Jonas: So is this a single variety of wheat plant? When will it be approved?

Eric: RS Wheat is a trait like our other traits, and is already in some basic wheat varieties that can be produced. It's also being incorporated into wheat lines that will enable broad production. And it's a non-GMO product, so there's no specific regulatory approval required. We're now scaling-up seed production and engaging in the further plant breeding required to start selling the wheat in multiple varieties.

Jonas: OK, and how did you develop the trait?

Eric: Arcadia has been around since 2002, and our scientists have been one of the first to develop libraries of plants with huge ranges of genetic diversity. So together with the NIH and helped by their grants, we searched and bred for this particular trait. I think it's a wonderful product, just imagine a wheat flour with about eight times as much total dietary fiber as conventional refined wheat flour. That's healthy, and a really big opportunity.

Jonas: That sounds really neat. You say it has 8 times the fiber of regular flour. So should we imagine it like white flour with extra fiber additive?

Eric: Yes and no. I mean on the nutrition label that's how it will be classified, as having higher total dietary fiber. As a refined white flour, it will look just like regular wheat flour. So, it looks and tastes just like regular flour, but it'll have a lower glycemic index, and this is part of what matters to good health. One of our collaborators ran a blind taste test with pasta, and the tasters preferred the pasta made with our resistant starch wheat. We've also made cookies with the flour - I'll send you some.

Jonas: I'd love that. Sorry if I'm asking the same thing over and over, but what is kind of the competition ..

Steve: We don't know of any competing wheat flour like ours that's on the market. Does that answer your question?

Jonas: Yes. A few more things, can you please explain the recent PR about the new BGI partnership?

Eric: Sure, so over the years we have built up probably one of the largest and most useful libraries of genetic diversity in rice cultivars in the world. So if a breeder wants to look at a certain gene in rice that control let's say kernel size, they can soon use our library to search for specific genes that might lead to that result. As part of the partnership, BGI will completely sequence 5,000 of our rice specimens over the next year, after which that data will be available.

Jonas: Arcadia is also involved in several charitable programs. What are some specific yield data from this, and how can a young company like yourself afford these programs?

Eric: So first of all, these are actually major undertakings with USAID and other organizations. For the studies with our NUE trait in rice, they consistently show 19 to 30% yield increases, we can forward you some raw data of over 4 years of work in Colombia and 2 years in Africa. As for how we can afford them, these are partnerships where our partners absorb most of the costs.

Jonas: I think it's great that you've gone out of your way to do charitable work. Last question: What is your vision for the company in the next 5, 10 years?

Eric: We as a company are absolutely excited about the future. To me personally, it feels like the agricultural industry continues to change, and in a way that is increasing benefits to farmers, consumers, and the environment. So, it's all a change for the better. We're in a secure financial condition, so in five years we are looking forward to major revenues coming in from around the world. And we're going to keep doing the things we're best at: getting to know and work with visionary researchers, staying on top of the R&D space, and bringing to market traits that are good for people, for farmers and the environment. That's a huge challenge, but we're confident we can grow and meet it.
Disclosure: I am/we are long RKDA.
I wrote this article myself, and it expresses my own opinions. I am not receiving compensation for it. I have no business relationship with any company whose stock is mentioned in this article.
Additional disclosure: I have materially increased my position in RKDA stock and am still buying as a result of the things I've learned during the interview. No information not in the public domain were shared with me.