Certain investors employ a a once per year trading system triggered by yield, called the "Dogs of the Index" to ascertain the best of the best dividend stocks. This method empowers investors with all the wisdom and knowledge of well-paid wizards of investment and publishing for free, as the highest yielding and lowest priced equities chosen by experts are selected.
Charts below for the S&P 500 Aristocrats reveal how low yielding stocks whose prices increase (or whose estimated dividends decrease) show up as likely candidates to be sold off once each year in order to sweep gains and reinvest the seed money into higher yielding stocks in the same index.
Two key metrics determine the yields that rank the S&P 500 Aristocrats dog stocks: (1) Stock price; (2) Annual dividend. Dividing the annual dividend by the price of the stock declares the percentage yield by which each dog stock is ranked. Thus the investor is able to follow, trade, and await the results from an investment in the lowest priced, highest yielding five or ten stocks in the index.
Investment empowerment from the S&P 500 Aristocrats Index
Listed below are thirty S&P 500 Aristocrats stocks by yield as of 2/10/12 per Yahoo Finance data. McGraw Hill, publisher if this index, states:
The S&P 500® Dividend Aristocrats index measures the performance of large cap, blue chip companies within the S&P 500 that have followed a policy of increasing dividends every year for at least 25 consecutive years.
Click chart to enlarge: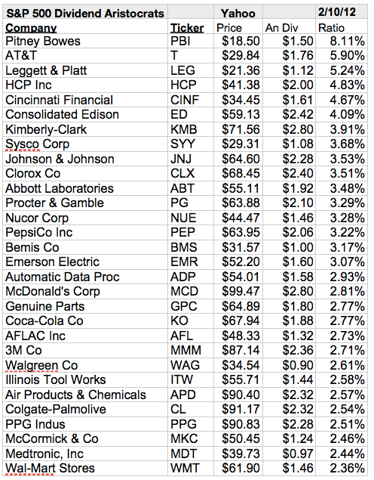 Consumer goods firms constituted four of the top ten stocks paying the biggest dividends on the S&P 500 Aristocrats as of February 10. The leading consumer goods firm, Pitney Bowes (NYSE:PBI), took over the top spot after Century Link (NYSE:CTL) left the list in January since Century Link failed to increase dividends in 2011 and broke the 25 year requirement to be listed.
For these 30 S&P Aristocrat dividend payers, one technology company, ten consumer goods, three financials, five services, four basic materials, two industrials, three healthcare, one utility, and one conglomerate represent the market sectors.
Vertical moves by S&P 500 Aristocrats index dividend payers
Seven of ten newcomers to the S&P 500 as of the December reconstitution are among the top thirty: AT&T (NYSE:T); HCP Inc. (NYSE:HCP); Sysco Corp. (NYSE:SYY); Nucor Corp. (NYSE:NUE); Geuine Parts (NYSE:GPC); Illinois Tool Works (NYSE:ITW); Medtronic, Inc. (NYSE:MDT).
Colors on the charts below reveal: (Yellow) firms listed in first position at least once between October 2011 and February 2012; (Cyan Blue) firms listed in tenth position at least once between October 2011 and February 2012; (Magenta) firms listed in twentieth position at least once between October 2011 and February 2012; (Green) firms listed in thirtieth position at least once between October 2011 and February 2012. Duplicates are depicted in color for highest ranking attained.
Click on charts below to enlarge: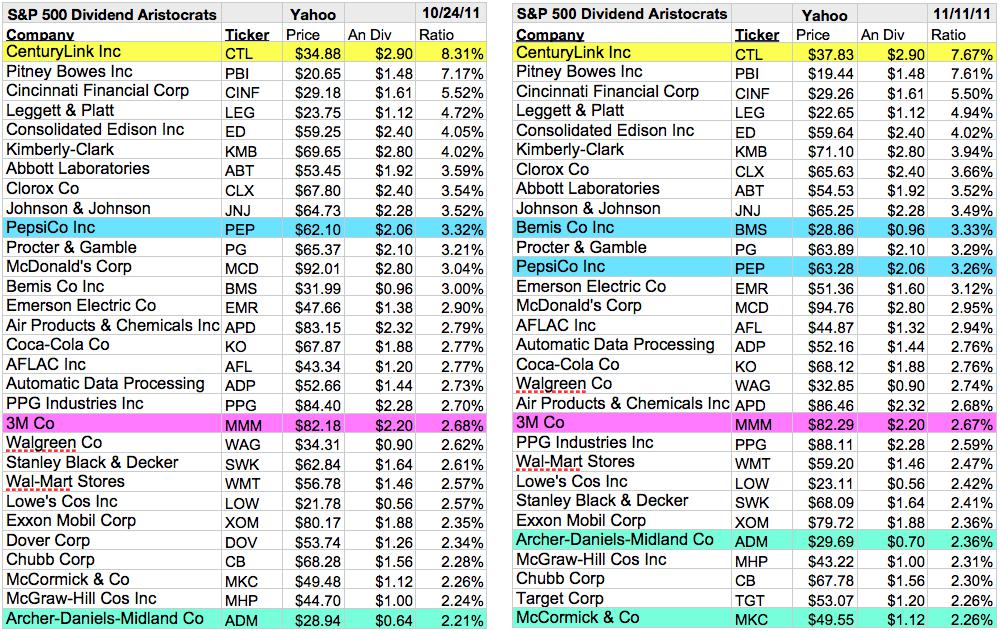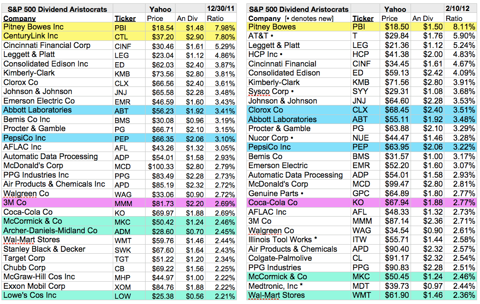 Bullish vertical moves were made over this 40 day report by Cincinnati Financial (NASDAQ:CINF) with a 13% price gain; Clorox (NYSE:CLX) with a 2.8% gain; Bemis Co. (NYSE:BMS) with a 4.95% gain; Emerson Electric (NYSE:EMR) showing 12% price improvement among the top ten.
Bearish moves for the same period were experienced by Leggett & Platt (NYSE:LEG) showing a 7.3% price decline; Consolidated Edison (NYSE:ED) with a 4.675% decline; Kimberly Clark (NYSE:KMB) with a 2.7% decline; Johnson & Johnson (NYSE:JNJ) declining 22.4% in price within the top ten.
Dividend vs. Price Results for S&P 500 Aristocrats Index Top 10
Below is a graph of the relative strengths of the top ten S&P 500 Aristocrats index stocks by yield as of February 10, 2012. Four months of historic projected annual dividend history from $1000 invested in the ten highest yielding stocks each month and the total single share prices of those ten stocks creates the data points for each month shown in green for price and blue for dividends.
Click to enlarge: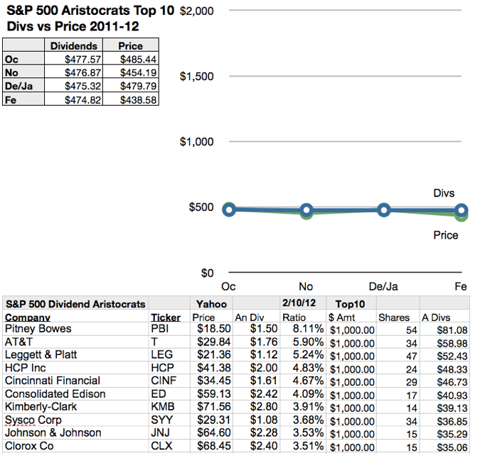 The S&P 500 Aristocrats Index component for February shows a small discernible bearish price trend for this index as prices for the top ten equities veered slightly to the southerly direction.
Meanwhile, projected total annual dividends paid from $1000 invested in each of those top ten stocks stayed nearly level at the $484 level.
What direction will S&P 500 Aristocrats prices and dividends go in March? Stay tuned.
Disclaimer: This article is for informational and educational purposes only and shall not be construed to constitute investment advice. Nothing contained herein shall constitute a solicitation, recommendation or endorsement to buy or sell any security. Prices and returns on equities in this article are listed without consideration of fees, commissions, taxes, penalties, or interest payable due to purchasing, holding or selling same.