Background:
I published a detailed article in October which profiled a sleepy micro cap industrial business named, The Eastern Company (NASDAQ:EML). The article outlined the case for significant multi-year upside and some of the key elements of the thesis included:
EML's stock price and operating performance has stagnated under a long tenured and previously entrenched board of directors and executive team.
Barington Capital won a proxy fight earlier this year. Now having board seats, Barington has articulated a strategy that has the potential to unlock significant value.
Eastern's management disclosed in proxy documents that it is a "supplier of choice" for the military's pending Joint Light Tactical Vehicle Program. Having previously supplied the Humvee Program, a contract award would likely produce windfall revenues.
Eastern was the subject of a strategic takeover offer earlier this year and shares are attractively priced relative to the company's cash flow and strong balance sheet.
The bankruptcy of Eastern's largest shareholder had pressured the stock price despite multiple favorable developments.
CEO's Retirement Heralds Major Change
The Eastern Company attracts no research coverage and Monday's press release may have gone unnoticed by many investors. In a major development, Eastern announced that its longtime CEO, Leonard Leganza, will relinquish his operational duties at the end of the year and also retire as Chairman of the Board. Mr. Leganza, 85, has served as Eastern's CEO since 1997 and had previously been surrounded by one of the longest tenured board of directors in the country.
Eastern simultaneously announced that Barington's James Mitarotonda will become its new Chairman and August (Gus) Vlak, a Senior Advisor to Barington, will serve as the new CEO, effective January 1. With The Eastern Company having stagnated and in need of a major strategic and operational overhaul, this is an extremely favorable development. For additional background on Mr. Mitarotonda, an interesting interview can be found here.
While Barington's proposals have appeared promising, there had been some uncertainty as to what extent Eastern would adopt them. Although clearly in need of change, ongoing resistance from the long-tenured executives and board represented a key risk to the investment thesis. Any concerns about change being stymied have now been removed by Barington's entrance into the executive suite. As a result, 2016 should be a year of major change at Eastern.
Revisiting Barington's Strategic Plans
During its contested proxy campaign, Barington outlined detailed plans for Eastern. Barington has said that its recommended "playbook" for the company follows the strategies that it helped successfully implement at Jarden (NYSE:JAH) and Roper Technologies (NYSE:ROP). Describing its motivations, Barington wrote that:
We continue to believe that Eastern is undervalued given the Company's position in several industrial hardware market niches, its global manufacturing footprint, its healthy balance sheet and its culture of judiciously controlling expenses. We also see opportunities to significantly grow Eastern, both organically and through acquisitions.
Detailed in several letters and slide decks, Barington's proposals can be grouped into five simple elements:
Complete a strategic review of all business units
Sell business units with least favorable prospects
Pursue acquisition to gain scale in attractive business units
Improve growth through new products and markets
Governance improvements
With Barington's representatives having won board seats earlier this year, the strategic review has likely been largely completed. Both Mr. Mitarotonda and Mr. Vlak should begin 2016 with a strong understanding of the relative attractiveness of Eastern's broad assortment of business units and assets. As a result, I expect 2016 to be a year of high activity on the M&A front. The simple strategy of divesting unattractive business units while gaining scale in the company's more attractive units makes solid strategic sense.
Clearly having a lack of strategic focus, Eastern's 10 distinct business units generated, in aggregate, roughly $140 million in revenues last year. The mini industrial conglomerate is in great need of a reshuffling and divestitures would also go a long way towards simplifying the business. In addition to capital allocation improvements, a more active approach to M&A also stands in sharp contrast to Eastern's historical approach. Mr. Leganza appears to have been unwilling to consider the sale of individual business units or, for that matter, a sale of the entire company. This was illustrated by Mr. Leganza's statement to a local paper that he "regularly fields offers from corporations interested in merging with or acquiring his company", and that "I get emails all the time, but I don't like to respond to those". With Barington having stated it was "greatly dismayed" by this practice, Eastern's posture in the regard will clearly change.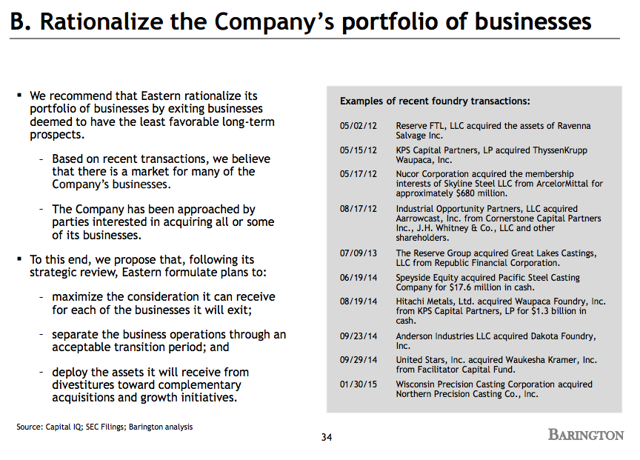 Eastern's Metal Products Segment (representing roughly 20% of sales) may be one of the business units that the company looks to divest. The business, Frazer & Jones, has struggled in recent years on account of weakening demand in the mining industry for its mine roof anchor products. This deterioration has accelerated and sales were down an enormous 25% in the most recent quarter. Obviously, the business is not going to command a premium multiple; however, it does have valuable and fully depreciated fixed assets. Frazer & Jones operates out of a 200,000 square foot foundry, which was actually one of the first foundries in the United States. This may be attractive to various strategic acquirers and Barington had specifically highlighted foundry transactions in its May 2015 proxy presentation.
At minimum, Barington's financial incentives have become closely aligned with shareholders. As the bankruptcy of Eastern's largest shareholder appears to have flooded the market with shares earlier this year, Barington was actively buying and has now amassed roughly 9% of the shares outstanding. As a result, Barington has a clear and vested interest in maximizing the value of the company.
Expect Communication And Transparency To Improve
During its proxy campaign, Barington had also urged Eastern to improve its communications with the investment community. Eastern historically has not held conference calls and provided only limited disclosure and explanatory detail in its earnings releases and filings. Investors should expect the transparency to improve significantly in this regard next year. This is an extremely favorable development and I believe Barington's new management will articulate a clear operational strategy over the coming months.
One particular area that investors deserve to be updated on is Eastern's status in the pending JLTV program. Having previously been a latching supplier for the military's Humvee-retrofit, Eastern's management disclosed during the proxy campaign that it is the "supplier of choice" for the JLTV program. The language implied that Eastern (through its Eberhard Manufacturing subsidiary) will be the supplier regardless of which company is ultimately awarded the primary contract. Oshkosh (NYSE:OSK) was awarded the $6.7 billion JLTV contract (although the entire program is estimated to be $30 billion long term) at the end of August, but Lockheed (NYSE:LMT) subsequently filed a protest. Deliveries were initially expected to begin in the summer of 2016, but Lockheed's protest had halted production. A couple of weeks ago, the stop work order was lifted, even though Lockheed's appeal is continuing.
The extent to which Eastern is participating as a supplier has remained unclear and I would expect new management to provide more transparency here. It is a material event and I speculated in the previous article that the JLTV program could very well represent a $100 million+ multi-year revenue opportunity for the company.
Conclusion
The retirement of Mr. Leganza heralds significant and long overdue change at The Eastern Company. 2016 is likely to be a year of major activity, with the company becoming more active on the M&A front and overhauling its capital allocation policies. Investors should also expect improved communication and a clear articulation of Barington's operating plans moving forward. The JLTV program, in particular, could represent a major revenue windfall to the extent Eastern is a latching supplier for the program. Shares remain attractively valued and I continue to believe the stock has significant multi-year upside.
Disclosure: I am/we are long EML. I wrote this article myself, and it expresses my own opinions. I am not receiving compensation for it (other than from Seeking Alpha). I have no business relationship with any company whose stock is mentioned in this article.