In my previous articles, I have postulated that Micron (NASDAQ:MU) and Intel (NASDAQ:INTC) had to wait for the ECD bankruptcy to close in order for them to move on with 3D XPoint ("3XP") and other related products - but I didn't really know why until just recently. In my most recent Not the Point article, I hypothesized that the reason was the cross-licensing agreement between Ovonyx and ECD's Ovonic Cognitive Computer subsidiary ("OCC").
Don't Touch Me, Please
I was just too stuck on the fact that I had found documentation to prove that PCM just recently began to fulfill the "bulk material" specification that Intel and Micron had described in their 3XP product announcement. Subsequently, I disregarded some fundamental research on the implications of the "affiliate" language used in the cross-licensing agreement as well as the impact of the interfacial PCM.
Described in the article above is exactly the issue at hand with respect to the affiliate issue: because Micron is now the successor-in-interest to Ovonyx, all of their related PCM (which I believe to be 3XP) intellectual property is now "infected" by this cross-licensing agreement. This was a calculated risk and explains why Intel holds the trademarks (which qualify as IP) on 3D XPoint - since they only own 49 percent of IMFT, they remain insulated from the infected area. But, if they - or anybody else - were to purchase Micron, they'd immediately find themselves infected, too.
I presume that the ECD bankruptcy trust is now aware of this issue (because they resurrected OCC from automatic dissolution and deposed the Ovonyx CEO), they're necessarily not going to allow this opportunity to expire worthless - someone will buy that for a dollar.
Or more.
So Micron will likely find themselves acquired by an entity that has little to no PCM-related IP. I will leave that as an exercise to the reader. Another discovery is notable:
But the lawyers say that it is too late.
I Love You Though You Hurt Me So
The other big news that I ignored is the advent of Superlattice ("SL") and Superlattice-like ("SLL") PCM (which are broadly covered under "interfacial PCM"). This discovery has remained eerily quiet even though it is the best thing since canned beer. Essentially, SL and SLL bring PCM down into a molecular engineering level, requiring very little power while increasing speed and durability to levels that leave current memory technology in the dust.
I was partially thrown from this track because I had trouble tracking down the authors in this groundbreaking work on the topic - their first names were obfuscated. Later on, I discovered this patent on the subject - the authors are all there (albeit in reverse order, which is curious). Also interesting is that, while this patent is assigned to Japan's National Institute Of Advanced Industrial Science And Technology, all of them appear to have been Elpida employees at that time. Micron now owns Elpida.
The observation from the SLL PCM (aka "PCRAM") at the end of this patent:
Under programmed voltage application on the PCRAM thus prepared, currents required for recording and erasing data in the device were measured. It was found that the current for resetting (crystallization) was 0.02 mA, and the erasure was possible in 10 ns. The rewriting cycle number at these current values was measured to find that the rewriting cycle number was 1017 cycles. Moreover, a resistivity at the time of the recording differed by 500 fold from that at the time of the erasure.
Mind you, this is work from 2008 at a 100 nanometer fabrication size. For the non-technical, a cycle spec of 1016 is where you need to be in order to replace DRAM without wear leveling or other caching shenanigans. This is an order of magnitude better than that. Later work revealed a set time of 1 nanosecond (and an incredible reset speed of 300 picoseconds) at a feature size of 40 nanometer - this gets better as it gets smaller, folks.
At 20 nanometers and under, PCM will not only dominate in all respects, it will be required to survive the aforementioned semiconductor mass extinction event that I have predicted. SRAM (even on-chip cache memory) should be afraid in some cases, at this point (note: don't anthropomorphize computer memory - it hates that).
Once I Ran to You, Now I Run From You
I've gone on record to say that, if what I say is true, then there would be no reason for Micron to invest in 20nm DRAM, 3D NAND or commodity memory for that matter - they need all hands on deck for 3XP and the hybrid memory cube. How does that roadmap look now?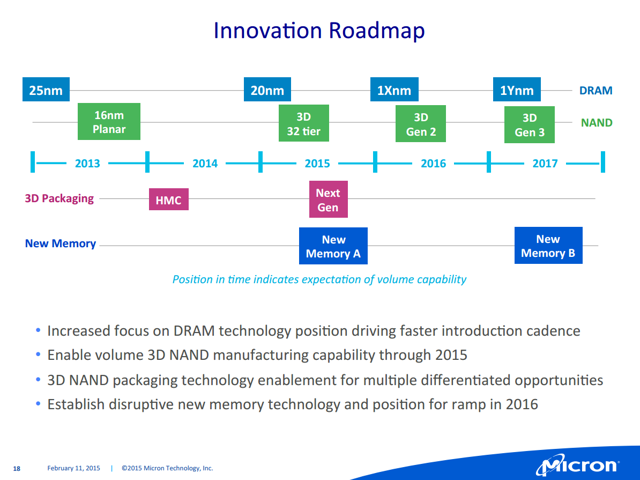 Not so good, eh? Also note the absence of the next-gen HMC this year. Since this contains 3XP, they can't ship it, either. Thankfully, they don't even put Automata on this roadmap anymore. Does everyone understand why they acquired Inotera this week? They need to buy a marketable product because they planned on shipping 3XP and HMC by this time. In my opinion, they never invested in the commodity technologies on this roadmap - they were just there to smokescreen until the 3XP announcement after the ECD bankruptcy. But ECD is still chugging so now they're scrambling to cover the bases until it is gone.
Now I'm Gonna Pack My Things and Go
Now that it is out there, I expect the remaining assets of ECD to be quickly acquired and everyone can move on. The IP transfer to Carlow indicates, to me, that there is going to be an effort to tie this up in the courts for as long as possible.
But, ultimately, this means that, if 3XP is PCM, then the ECD buyer will get a cross-license. But the license is clear - there is no sub-licensing granted. So there may be a third contender coming soon.
Apple?
Samsung?
IBM?
Google?
Microsoft?
Bueller?
Anyone? Anyone?
Disclosure: I am/we are long MU, INTC, ENERQ.
I wrote this article myself, and it expresses my own opinions. I am not receiving compensation for it (other than from Seeking Alpha). I have no business relationship with any company whose stock is mentioned in this article.