Michael Kors Holdings (NYSE:KORS) has declined by 44% year-to-date and trades on some of the lowest multiples in its history. I believe that the company is trading at a huge discount and all we need now is a catalyst to propel the share price higher.

It's true to say that the days of a lofty price to earnings ratio supported by high comp sales growth are long gone for Michael Kors. But I think we can all safely say that it won't be trading at 9.7 times earnings in the long run. I expect the stock will move in line with its industry peers in the near future, which promises to provide investors with wonderful returns.
Luxury retailers, if they're lucky, go through a stage where they are in vogue and experience heightened demand for their products. Coach (NYSE:COH) went through this, as did Kate Spade (NYSE:KATE), and most recently Michael Kors has experienced this. But invariably, in time, shoppers will move onto the next new trend and demand drops for the old one. What causes this nobody really knows, but luxury items seem more desirable when they appear rare.
Maureen Chiquet, the CEO of Chanel, says, "When you're working in a luxury brand like Chanel, rarity and exclusivity are important, so sometimes I'm trying to sell, believe it or not, fewer handbags so we don't banalize the product."
As the Michael Kors store numbers grew, I believe it may have lost a touch of its sparkle, as well as potentially cannibalizing sales from other existing stores. As you can see below, the store network has grown quite rapidly to support this theory somewhat.

Source: Company 10-K
Michael Kors Is Transitioning
What we're experiencing now, I believe, is the transition from being thought of as the "in thing" to just a highly respected global luxury brand. During this transition, especially with increasing store numbers, comp sales has to go through a stage of correction so to speak, and if there's one thing the market hates, it's decreasing comp sales.
You only have to look as far as the company's share price, down 44% year to date, to see how negatively the market has reacted to the decreasing comp sales. Now, as long as you didn't buy at the top, this is what I would deem to be an overreaction and a gift in the old Christmas stocking for investors.
I expect that the company will continue to trade on a low price to earnings ratio until at least the end of Q4 in fiscal 2016. This was the point where the comp sales started to turn negative and therefore will make future comp sales much easier. An increase in comp sales I believe will be the trigger that sends the stock shooting higher and priced in line with its peers. As you can see below, its peers are averaging around 15 to 16 times twelve-month trailing earnings.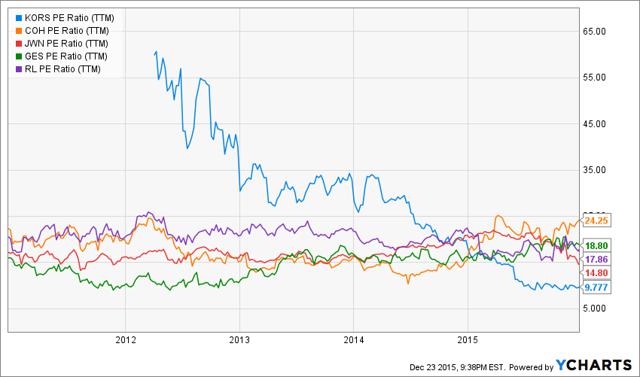 As of Q1 2016, there were 354 retail stores in North America. On the Q2 call, management indicated that the North American store network is nearly complete, so moving forward, we shouldn't have to worry too much about new stores opening and cannibalizing the sales of existing stores. As approximately 78% of revenue comes from the North American segment, this weighting will help overall comp sales increase should the segment perform well.

Source: Company 10-K
All segments, whether retail or wholesale (primarily department stores), are growing well. I believe there is still a great deal of growth in Europe and Asia (excluding China). Whilst the business doesn't benefit directly from the Michael Kors China business, according to management, the development and success of the China business is "increasing demand from the Michael Kors brand throughout Asia and Europe, as Chinese consumers travel the globe and 50% to 60% of their purchases are outside of mainland China." Additionally, the digital business is growing fast, doubling year over year in the latest quarter. All this looks very promising for the company moving forward.
Small Is The New Big
There has been a shift in trend this year from large handbags to smaller handbags. Lesser in size also translates as lesser in price. Great for the consumer, but not great for retailers who could essentially be selling many more units but still come out with lower levels of revenue.
I was pleased to hear, during the earnings call, in order to combat this, CEO John D. Idol said:
"We are going to take some price increases on some of our small leather goods because we've been actually slightly underpriced compared to some of our other luxury competitors..."
A Very Healthy Business
As well as the fact it is trading at 9.7x trailing earnings, I am also attracted to the company due to its fantastic financial health. It has growing levels of free cash flow, a current ratio of 4.196, and a quick ratio of 2.028. I believe it is a very secure and well run company.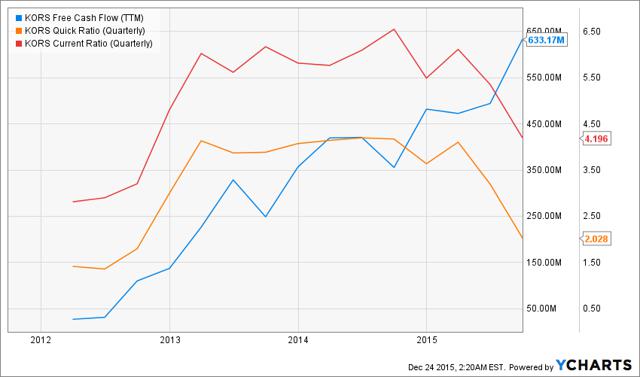 Another benefit from having such a healthy balance sheet is the ability the company has to repurchase shares. On the recent call, management said:
"We remain confident in our long-term growth outlook and free cash flow generation and are pleased to announce that the board of directors has authorized the repurchase of an additional $500 million of the company's ordinary shares. This increases our initial repurchase authorization to $2 billion, of which $758 million is available to us for future repurchases through March 2018."
This is great news for shareholders. Whilst they could have repurchased shares at a cheaper price in the last few quarters, I don't believe management ever could have imagined such a radical drop in the share price.
Outlook
Management has offered guidance of $4.6 billion to $4.65 billion in revenue for fiscal 2016, and on the bottom line, diluted earnings per share in the range of $4.38 to $4.42. Even at the lower end of guidance, this still provides the company with good year-over-year growth that a lot of other companies could only dream of.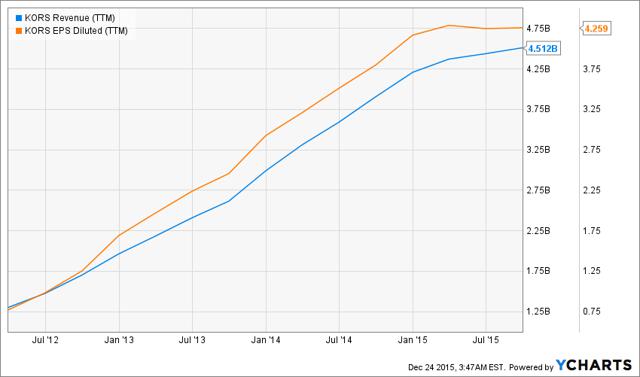 There will continue to be headwinds from the strong U.S. dollar, but with a large proportion of revenue coming from the U.S. market, this doesn't concern me as much as it does with other international businesses.
Our Valuation
Being conservative and using the lower end of the guidance, $4.38, and forecasting the company to be trading at 15 times earnings, I expect the share price to climb to $65.70 by June 2016. That gives you a mind-bending 57% return from the last close of $41.63.
Please note, though, that as mentioned, the catalyst to increasing the price to earnings ratio is positive comp sales. I believe by Q1 of fiscal 2017 the company will find it far easier to achieve this and fully expect them to have done so. I have suspicions they may even manage it in Q4 of fiscal 2016.
My recommendation is to buy now and hold because when the increase in price to earnings is triggered, there promises to be some great returns for shareholders.
Disclosure: I/we have no positions in any stocks mentioned, but may initiate a long position in KORS over the next 72 hours.
I wrote this article myself, and it expresses my own opinions. I am not receiving compensation for it (other than from Seeking Alpha). I have no business relationship with any company whose stock is mentioned in this article.