Overview
Hain Celestial (NASDAQ:HAIN) is a diversified manufacturer, marketer, distributor, and seller of natural and organic foods. They operate in North America and parts of Europe, primarily in the U.K. Their main product categories in the United States include grocery, snacks, tea, and personal care. In the U.K., frozen and chilled products are the primary categories. Approximately 37% of Hain's revenue comes from outside the United States.
Management
Irwin Simon: Founder, President, CEO, and Chairman of the Board
Got his start at Haagen-Dazs in 1986 in various sales and marketing positions.
Vice President of Marketing for Slim Fast in 1992.
Serves on various boards of major companies.
Over 30 years of experience in the food industry.
John Carroll: Executive VP and CEO of Hain Celestial North America
Managing Director of Heinz Foods and other positions (1995-2003)
President of Grocery and Frozen at Hain (2004)
President of Personal Care (2005)
Over 20 years of experience in the food industry.
Pasquale Conte: Executive VP and CFO
Worked at companies such as Colgate-Palmolive, NYNEX Corporation, and Arthur Anderson
Tax Director, VP, and Controller at Motorola
Financial consultant for Hain in 2009.
All in all, the management of Hain has extensive experience in the food industry, leading me to believe that they can operate the company effectively and obtain superior results. I have no reason to doubt their abilities, especially considering Hain's long-term performance.
Proximate Causes for Sharp Correction
Since peaking in early August, there have been a few possible reasons for the recent decline.
High Yield Debt Market and the Effect on Serial Acquirers
In recent months the action in the high-yield debt market has been concerning. According to Guggenheim, approximately 15% of the high-yield debt market is related to energy. To give some background, the boom of shale gas in the United States gave rise to many exploration and production (E&P) companies. When times were good (back when oil prices were significantly higher), in order to grow faster, these companies took on debt (often at very high rates). Now, with $35 crude, some of these companies have found themselves in a bit of a pickle. They have to pay back this high yield debt, or else they will find themselves in bankruptcy. Already in 2015, 36 energy companies have filed for bankruptcy. I would expect this trend to continue going forward and ultimately tighten credit for the debt market overall.
So, how does this relate to Hain? Well, Hain is a serial acquirer of smaller food companies. In 2015 alone, Hain has closed acquisitions on three companies: Belvedere, Empire Kosher Foods, and Mona Group. In order to finance these acquisitions, Hain has taken on some debt. The fear is that debt will no longer be as cheap as it is currently and that Hain's acquisition strategy will become more expensive and therefore make acquisitions less accretive. Similar companies deemed "serial acquirers" (rightly or wrongly) include Whitewave Foods (NYSE:WWAV), Jarden (NYSE:JAH) (before being acquired by Newell Rubbermaid), Horizon Pharmaceuticals (NASDAQ:HZNP), Valeant (NYSE:VRX), and Allergan (NYSE:AGN) (before being acquired by Pfizer), followed similar patterns.
2. Internationally Based Companies Reporting Weaker Numbers Due to FX
Well before Hain reported, many international companies reported significant reductions in revenue and profits, due to FX. This, in turn, created a snowball effect. The market quickly discarded any company that had the slightest bit of international exposure. So, seeing as though Hain is an international company, they followed a similar trend line. The dollar has strengthened significantly during 2015 and put downward pressure on Hain's revenue and profits. Fortunately for Hain, only 37% of their business is international, so the risks are slightly mitigated, but may present an issue.
3. Quarterly Reports
Despite reporting record sales and profits for the past two quarters, the market does not seem to care. To be fair, a lot of this growth has come from acquisitions, meaning the company is lacking organic growth. When a growth company is lacking organic growth, their stock tends to go through the proverbial meat grinder. In their latest quarter, they reported a 9% increase in sales. However, nearly 83% of the growth was due to acquisitions, meaning there was only 1.5% organic sales growth. In comparison, some of the major food companies don't have any growth and some even have negative growth. However, Mr. Market has spoken; Hain has been punished mercilessly, going from $70 in early August to $40 earlier this week.
Conference Call
In their latest conference call, Irwin and his team recognized that they are not performing up to snuff. He said,
"Q1 did not fully meet our expectations for Hain Celestial U.S. In fact, quite frankly, they didn't beat them at all, we're not happy with it."
I view this as a positive sign because some management teams don't even recognize when they are faltering. Hain clearly acknowledges their faults, but that means nothing unless they have a plan.
As the call progresses, there were signs of encouragement and major secular trends were discussed. First, ecommerce is growing. Amazon (NASDAQ:AMZN) is becoming one of their biggest customers and grew 39% in the current quarter. This should bode well for the company, as Amazon is becoming a powerhouse and more people are visiting the site by the day. Second, millennials and older generations are eating healthier. Seeing as though 99% of their products are GMO-free and 40% are organic, they are well positioned to cater to this market. Going off the healthier eating trend, more people are eating less red meat. Hain has many plant-based and non-dairy alternatives as well as antibiotic-free meat products. Both have been big-time sellers and as more people desire transparency, Hain will capture a larger share over time.
Third, the company has a plan of action. They have a five-pronged approach to improve their results. First, they plan to fix Maranatha and Spectrum brands. Maranatha is a $20 million brand that had a voluntary recall last year. They are still working through the issues and they are actively reducing the products on the shelf. Going forward, they plan to reenergize the brand by rolling out new products. These initiatives will increase plant efficiency and lower costs. As for Spectrum, approximately 40% of the business is coconut oil. In the past, the price was too high, so customers balked and did not buy it. As a result, Hain is strategically lowering the prices for key customers. They expect sales to ramp in the second half of their fiscal year. Second, they plan to "optimize retail with an increased focus on top 500 SKUs." These top 500 SKUs are their best-selling products. So, it makes sense that they would want to sell more of these products, as they already have a large following. Third, extending distribution on non-grocery businesses. Again, Hain is steadily casting their wide array of products and pushing it through as many channels as possible. Fourth, they plan to do a restage of Celestial Seasonings. New packaging generally attracts new customers and Hain has already seen some traction. Last but not least, Hain is "working with Advantage to drive superior retail merchandising, distribution, promotion, execution with our natural channel retail partners to drive growth, especially in the center of the store." Essentially, Hain is looking to improve efficiency by focusing on distribution, marketing their products correctly, and pricing them so that enough customers will buy them.
Based on the conference call, Hain acknowledges their problems. They know they are not firing on all cylinders and are actively improving upon it. They are not resting on their laurels and simply letting things come to them. There is a clear plan of action and there is no reason to doubt their ability to execute. They have a lot of secular tailwinds that will propel them for years to come, in addition to their tenacious plans. All in all, the conference call was mixed, but gave me hope that the company can execute for 2016.
Catalysts
Forward P/E
At present, Hain is trading for 18.4x forward twelve-month earnings. Other competitors include Whitewave Foods, General Mills (NYSE:GIS), and Hormel (NYSE:HRL). WWAV trades at 27.5x, GIS at 19.4x, and HRL at 27.4x. It is quite clear that Hain is trading at a discount to their peers. To see if this discount is warranted, we will look toward the forward PEG ratio.
Now, let's compare Hain to the S&P 500. The S&P 500 trades at roughly 20x. This means that Hain is trading at a slight discount to the market. Traditionally, Hain has traded at a premium to the market because of its superior growth profile. For that reason, sooner rather than later, I believe Hain will once again trade at a premium to the market.
Forward PEG
Hain is expected to have sizeable growth over the coming years. According to analyst estimates, they are supposed to earn $2.15 for FY '16. In FY '15, they earned $1.89. So, this is a 13.8% increase year over year. So, using the forward P/E from above, Hain's PEG 1.33, meaning it is neither cheap nor expensive. In comparison to their competitors, WWAV has a growth rate of 18.6%, making for a PEG of 1.48. GIS has a growth rate of 9.3% (very solid for a traditional food company), with a PEG of 2.06. HRL's growth rate is 10.5% and therefore has a PEG of 2.61. So, based on the PEG, Hain has the lowest. In order for them to reverse this trend, Hain needs to execute on their plans. Then, the market will reward them for their efforts and both the forward P/E and PEG will expand.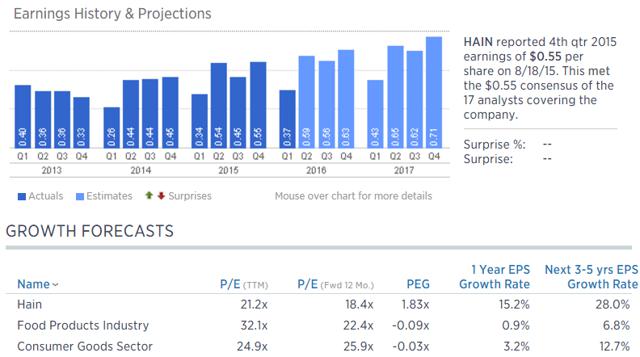 Source: CNBC
Scarcity Value
In the public market, there are not many "natural and organic" players. In fact, there are two pure plays: Hain and Whitewave. While traditional food companies, such as Hormel (NYSE:HRL) and General Mills (NYSE:GIS) are beefing up their natural and organic offerings they still derive the majority of their revenue from mostly non-natural or non-organic products. So, when there is only a couple of players in the space, these players tend to trade at richer valuations. Right now, both Whitewave and Hain are out of favor. However, these high growth companies do not stay down for long.
Takeover
Takeover rumors in the food industry are quite common. Competitor Whitewave Foods has been the subject of numerous takeover rumors that have yet to come to fruition. Now, it is about time that we mention Hain. Hain is a $4.2 billion company that is still growing at a very nice pace. They have a lot going for themselves on a standalone basis, but a potential suitor might find value in them. It would not be hard to imagine a large traditional food company with limited organic and natural exposure, to swallow Hain. For the suitor, it would bolster its natural and organic offerings and improve the company image. They could be getting a steep discount relatively to what it may be worth next year. While I'm not expecting a takeover, it could provide some upside.
Risks
Increased Competition
As with any business, competition is always a threat. Particularly within the food industry, there are many similar and undifferentiated items as you stroll down the aisles of your local supermarket. In order to outpace its competition, it must innovate. They must constantly improve their products and packaging. If they fail to do this, the business may be in jeopardy.
Volatility of Raw Materials
As we have seen in 2015, commodities are extremely volatile and therefore hard to predict. Hain has a lot of ingredients that they rely on including almonds, corn, dairy, fruit and vegetables, oils, rice, soybeans, and wheat. Should any of these commodities substantially go up in price, Hain's results may be adversely impacted. Also, fuel is another commodity to look out for. In 2015, it was a tailwind, but in 2016, it may not be.
Expansion into New Countries Does Not go as Planned
According to their annual report, Hain plans to expand their global footprint and enter new markets. They may expand into markets where there is political and economic instability, potentially creating a challenging environment to grow sales. Also, countries may have different cultures and their products may not resonate with the people, creating a potential drag on profitability.
Other Factors
Long-Term Debt
After a quick look at the balance sheet, Hain has over $800 million in long-term debt. That is equivalent to approximately 20% of the market capitalization. While this may be concerning, Hain has minimal debt coming due before fiscal year 2020. Only $34 million is coming due from FY '16 to FY '19. FY '20 is the year that over $800 million is coming due. While this is a high number, Hain generates enough cash flow where I am comfortable enough with it.

Source: 2015 Annual Report
Conclusion
All considering, I believe Hain is a worthy investment. While they did not have had an ideal end to the year, it ought to set up for a stellar 2016. Management is aware of their issues and they know what is needed to right size the company, as evidenced by their five-pronged approach. Secular tailwinds will continue to boost sales and profitability. The stock's forward P/E and forward PEG are trading at a discount relative to their competitors. As management executes, this disparity should take care of itself. I expect Hain to outperform its peers and march back to their 52-week highs set in August.
Disclosure: I am/we are long HAIN, WWAV.
I wrote this article myself, and it expresses my own opinions. I am not receiving compensation for it (other than from Seeking Alpha). I have no business relationship with any company whose stock is mentioned in this article.