With the January contract for WTI (CLF16) expiring under $35 a barrel, many question if there will be more downside or a nice rebound into the $40s. To answer this question, we must examine the fundamentals underlying the crude market.
Firstly, OPEC for many decades has served as the swing producer. They strategically increased or decreased their production to preserve targeted prices. Last year OPEC, specifically the Saudis, declared that they would no longer care about the prices set by the market and produce as they deemed appropriate to preserve market share. Furthermore, at the last OPEC meeting, it was decided that production should not subside, but increase to a three-year record of 31.695 million barrels a day. With so many OPEC countries dependent on the exportation of crude oil to meet their fiscal needs, as can be seen below, very few have the luxury of hundreds of billions of dollars in cash reserves to offset fiscal short falls. The only way to get more cash is to produce more and more crude. This effectively has destroyed the cartel. A free for all is now the paradigm and a self-fulfilling oversupply has resulted.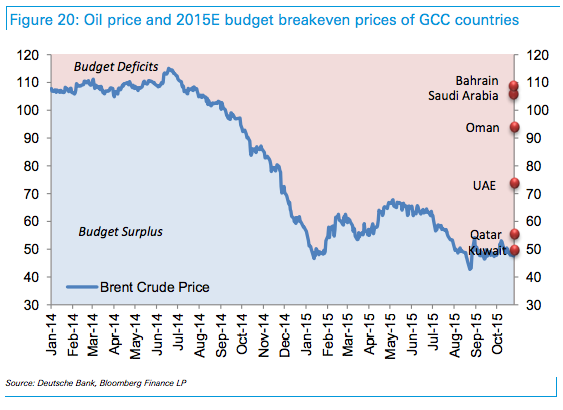 As I mentioned above, the Saudis spearheaded this effort. Understanding their incentives, objectives, and perspective is extremely crucial to understanding the price of crude. Fighting a war in Yemen, supporting combative coalitions in Iraq and Syria, all the while keeping their populace happy with benefit after benefit, the Saudis have proved their resilience to not reduce their production of crude. I do not see this modus operandi changing anytime soon. Their goal is to maintain or increase their market share at whatever cost. They want to snub the Russians and hurt them as much as they can, fiscally, for their support of Bashar Al Assad of Syria. They want to drive down US production because of the long-term effect it can have on their significance. And let's not forgot the Iranians, whose crude oil will soon flood the market. Any opportunity to undermine their sworn enemy, the Saudis will not hesitate to take it. The Saudis will continue their elevated production even if oil trades in the $30s until there geopolitical objectives have been reached.
How about the Russians? The ruble has been crushed, their economy has been devastated; however, the resilience of Mr. Putin is underestimated. The Saudis have persistently tried to undermine the Russians in the European crude market by trying to flood it with rather cheap crude. The Saudis have also tried to remain the top exporter of crude to the Chinese. The Russians took whiff and did across the board optimization throughout their upstream and downstream operations, driving down their costs and utilizing the ruble's weakness. This has allowed them to continue to hold pace and slightly increase production as can be seen by the two charts below.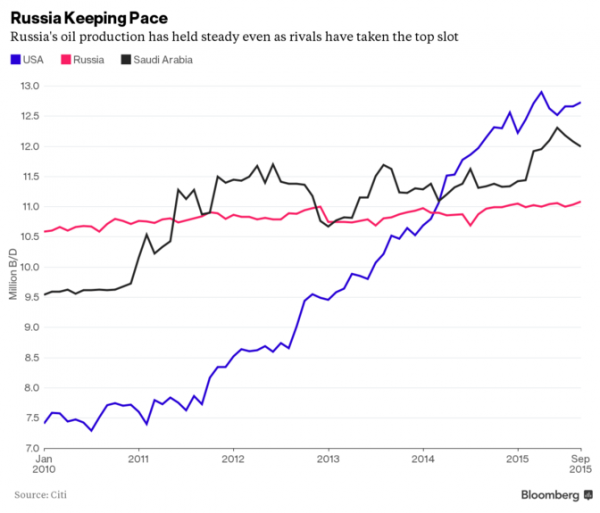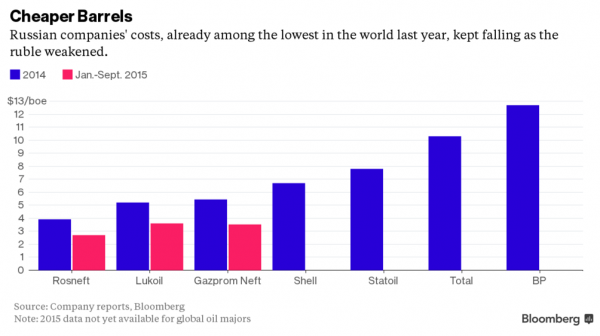 This proves that the Russians can survive the low prices of crude, but the question is for how long? Strategically speaking, the Russians cannot afford to stop producing, no matter the costs; their loss of market share to their competitors would be a disaster for Mr. Putin. For this reason, I believe they will last for a very long time.
To sustain demand for their crude, the Russians have looked to the east for an ally, the Chinese. Reuters reported that the Russians for the third time this year bested the Saudis:
"China brought in about 949,925 barrels per day (bpd) of Russian crude oil in November, compared with 886,950 bpd from Saudi Arabia."
This can be a symptom that the Saudis' plan is backfiring. Even some of Russia's producers are settling their transactions with the Chinese in Yuan, signaling the long-term relationship the Russians and Chinese will have in regards to crude. It may even signal the slow and quiet death of the petrodollar, but that still remains inconclusive.
The Russians steady production and the Saudis' stubbornness to not settle may lead to an even larger supply glut.
U.S. and Canadian producers, on the other hand, have, for the last 7 years, benefited from the Fed's zero interest rate policy, leading to an explosion in production. However, this get rich quick scheme relied on one thing only and that was sustainable crude prices. As everyone knows, this bubble burst fantastically with the drop of crude prices and the blow up in the high yield bond market. Many rigs were closed, but the surprise to all was the persistence of U.S. production. As can be seen in the chart below, U.S. production has remained steady even as the amount of rigs dropped substantially.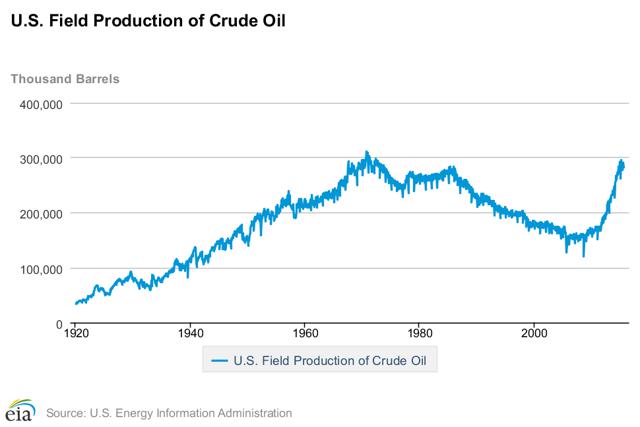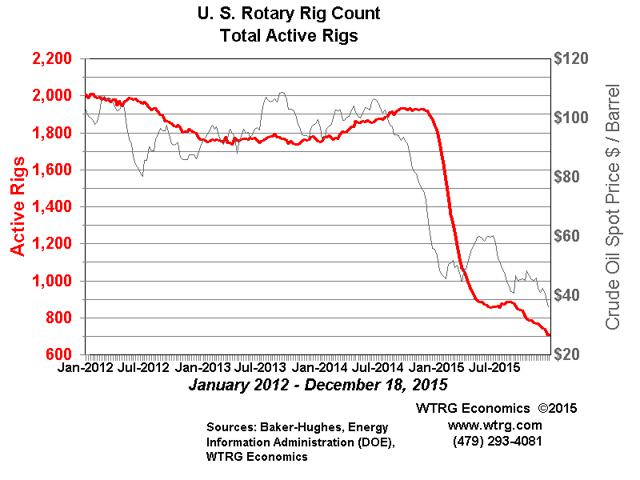 Many producers optimized and made more efficient there production. Some locked in prices when crude rebounded. U.S. production no matter how low prices got would simply not die. This exacerbated the supply glut beyond anyone's prediction. Close to all-time storage capacity utilization here in the United States has been hit, as can be seen below.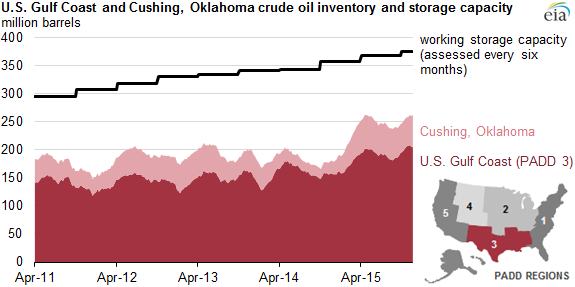 Courtesy of the EIA:
"Commercial crude oil inventories in Cushing, Oklahoma (located in Petroleum Administration for Defense District 2) and the U.S. Gulf Coast (PADD 3) totaled a record-high 309.4 million barrels as of the week ending November 27. Based on the recently released storage capacity and line fill data in the September Petroleum Supply Monthly (PSM), EIA estimates 70.2% utilization of working crude oil storage capacity in Cushing and the Gulf Coast on a combined basis, only slightly below the record utilization level of 71.2% set in the week ending April 24 of this year."
To exemplify the glut, as of December 22, 2015, about 40 oil tankers are anchored near Galveston, with approximately 30 million barrels. Almost one day worth of OPEC production.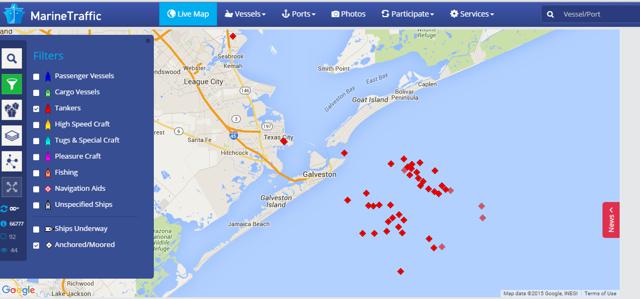 Source: MarineTraffic
On top of that, the oil export ban has been lifted, now providing new incentives for producers here in the U.S.
It seems like U.S. production is here to stay. Don't get me wrong this is not a bad thing for our country and national interests, but it is a bad thing for crude prices.
With that said, the situation with U.S. production must be closely monitored. Many U.S. producers are hurting; there is a lot of financial stress as seen in the blow up in High Yield. The amount of crude oil produced here in the U.S. will begin to subside and this is the most likely scenario. When this will happen is the question, but it must be kept in mind. There is evidence that this has already begun.
How about demand? The IEA predicts "World demand growth of 1.2 mb/d … in 2016, as first signs of a slowdown appear."
Source: EIA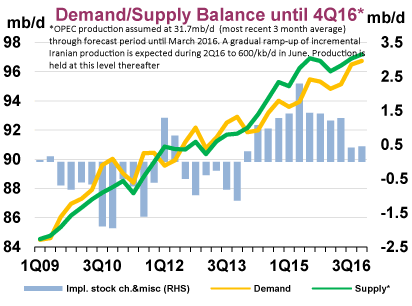 I agree with this assessment. The global economy seems to be slowing down. Emerging markets are drowning in debt. The Chinese growth engine seems to be fabricated and slowing. The Chinese spent hundreds of billions of dollars to prop up their economy, but the slack in growth will not budge. Here in the states, the credit markets show that we are approaching the end of our credit cycle, hence the business cycle. The recent High Yield blow up is one symptom. The gross euphoric build up over the last few years is the other. Our manufacturing sector is without a doubt in a recession. I see this as a symptom of what is to come, but this is a whole other story in itself. What can be concluded, without a doubt, is that the oil supply glut will outpace demand, unless a black swan appears in favor of demand.
This supply glut is unimaginable and I believe we still have not realized its extent, even after the crash in prices. OPEC is now, for all intents and purposes, non-existent. The Saudis' plan has backfired; it's a free for all across the world. So where will prices move from here? I believe a short rebound into the upper $30s, lower $40s is possible because of euphoric and irrational hope and algorithmic computerized trading. Long term, however, there are still major fundamental issues in regards to the supply of crude. For this reason, downward pressure on the prices of crude will most likely remain. We may need more drastic lower bound prices in the $20 range to finally lower the excess in producers globally. Until then, a supply glut will persist, prices will remain low, and nation-state producers will keep pumping. A fundamental paradigm shift in the supply of and demand for crude must occur before prices can genuinely rise.
On a side note, black swans can occur. They actually have a higher probability of occurring the longer one has still not occurred. As Nassim Taleb says in his book, "Fooled by Randomness", and I paraphrase:
Reality is like Russian Roulette. We pull the trigger over and over again but with a revolver that has thousands of barrels with randomly distributed bullets, that are sparse and few. We tend to forgot that one day these bullets must be triggered.
For crude oil, the following risks must be kept in mind:
Crude rebounds into the upper $30s, lower $40s. Highly likely. Based on historical data and the short-term cyclical nature of crude, in terms of technicals, it seems likely for crude to rebound again. However, as long as there are no major shifts in the fundamentals on the supply side, which I do not see drastically changing unless prices violently drop, and on the demand side, which, based on global economic data, seems to have suppressed the growth in demand for crude, fundamentals will inevitably continue to keep in check the price of crude.
U.S. Production Plummets. Likely. The financial stresses of low crude prices are hitting U.S. producers hard. High Yield blow up is a symptom. It is only a matter of time before production reduces at a quicker rate. This must be monitored carefully. However, I might be underestimating the U.S. producer's resilience, they have continuously maintained production while facing low crude prices.
Saudis reverse course and reduce production. Highly unlikely. They have shown persistence and perseverance even at low crude prices. They are burning through their cash reserves at an epic rate and still have not reversed course. However, the Saudis should be monitored very carefully, for they can reach a fiscal breaking point that may lead to an outright coup within the House of Saud.
Large Scale Geopolitical Conflict. Possible. The world is in chaos. Syria and Iraq is a convoluted mess with many countries partaking. The recent escalation when Turkey shot down a Russian bomber is a perfect example of how fragile the situation is. One mess up can pit NATO in war against Russia. Not likely but should be kept in mind.
Disclosure: I/we have no positions in any stocks mentioned, and no plans to initiate any positions within the next 72 hours.
I wrote this article myself, and it expresses my own opinions. I am not receiving compensation for it (other than from Seeking Alpha). I have no business relationship with any company whose stock is mentioned in this article.