Thanks to the overwhelming response in the comments of my previous article, I've decided to turn this into a series on renewable energy growth and the future of fossil fuels. In the previous article, I discussed the growth of renewables compared to natural gas in the US. In this one, I will go into more details and look at the cost of gas generation vs. utility scale solar. Special thanks to Seeking Alpha user J* H* M* for some calculations and sources.
Gas Powerplant Costs
A gas turbine power plant uses 11,371 Btu/kWh. The current price utilities are paying per Btu of natural gas are $3.23/1000 cubic feet. 1000 cubic feet of natural gas have 1,020,000 BTUs. So $3.23 for 90kWh. That translates to 3.59c/kWh in fuel costs alone.
A combined cycle power plant uses 7667 Btu/kWh, which translates to 2.42c/kWh.
Adding in operating and maintenance costs, we get 4.11c/kWh for gas turbines and 3.3c/kWh for combined cycle power plants. This still doesn't include any construction costs.
Utility Scale Solar PPAs
A recent study by Lawrence Berkeley National Laboratory (LBL) showed significantly declining solar PPA pricing.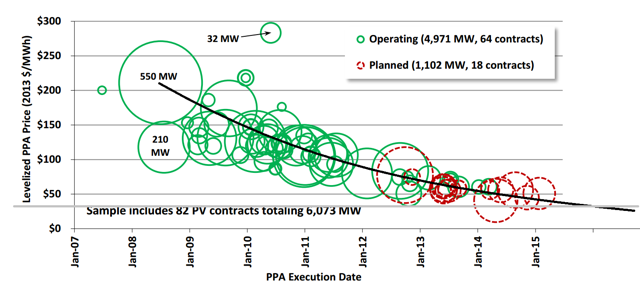 Source: LBL. I overlaid the black trend line and the grey line.
The average solar PPA is likely to go under 4c/kWh next year. Note that this is the total cost that the utility pays and includes all costs.
And the trend puts total solar PPA costs under gas turbine fuel costs and competitive with combined cycle plant total operating costs next year.
At this point it becomes a no brainer for a utility to buy cheap solar PPAs compared to building their own gas power plants.
The only problem here is that gas plants are dispatchable, while solar is not. This is a problem that is easily solved by batteries. So utilities would be better served by spending capex on batteries as opposed to any kind of gas plant, especially anything for peak generation. More on that in my next article in the series.
Companies That Benefit
So companies that benefit from this trend are ones that
1. Build utility scale solar plants: This includes manufacturers like First Solar (NASDAQ:FSLR), SunPower (NASDAQ:SPWR), Canadian Solar (NASDAQ:CSIQ) and SunEdison (NYSE:SUNE).
2. Sell electricity from utility scale solar plants: This includes YieldCos like 8point3 (NASDAQ:CAFD) and TerraForm Power (NASDAQ:TERP). FirstSolar, SunPower and SunEdison build power plants and sell them to their YieldCos, which in turn sell power to utilities.
3. Manufacture solar panels: This includes again First Solar, SunPower and Canadian Solar and Chinese manufacturers like Trina Solar (NYSE:TSL), Jinko Solar (NYSE:JKS) and JA Solar (NASDAQ:JASO). Most manufacturers have power plant projects but the Chinese makers do not have any in the US. Canadian Solar plans to spin off a YieldCo in the near future.
Most of the above solar manufacturers are profitable and growing as fast as possible. The YieldCos are dividend paying instruments ideal for income investors.
I've recently liquidated over 50% of my fossil fuel investments and am building a diversified portfolio of renewable energy companies.
Disclosure: I am/we are long CSIQ, JASO, JKS, TSL, SPWR. I wrote this article myself, and it expresses my own opinions. I am not receiving compensation for it (other than from Seeking Alpha). I have no business relationship with any company whose stock is mentioned in this article.
Additional disclosure: I may add/remove to any of my positions at any time and open new positions in any stocks mentioned at any time.