Brazil is a mess. With a toxic economic and political environment, it is not a good place to put your money. But that doesn't mean you can't profit from the those who do invest there.
Brazil is currently facing its worst financial crisis since the Great Depression. As seen in the graph below, GDP shrunk 4.5% in the 3rd quarter from a year earlier. This is the 6th consecutive quarterly contraction. It's also the lowest number recorded since Brazil started using their new GDP system in 1996.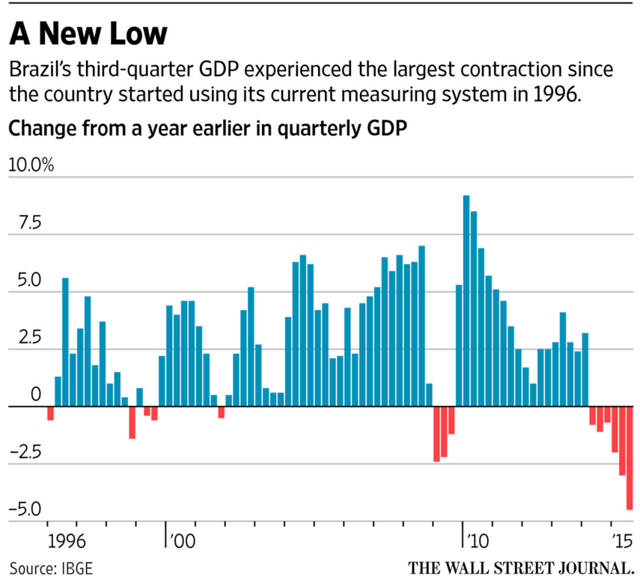 André Perfeito, chief economist at Gradual Investimentos in São Paulo, had much to say about the contraction. He explained that the "[the latest GDP] report read like an obituary. There were no positive signals [...] for the Brazilian economy in the next few quarters, and we still can't say we've hit bottom."
As a commodities based economy, the recent rout in prices has been a disaster for Brazil. Its economy is shrinking fast and has already lost over a million jobs this year. At the same time, inflation is running wild at over 10%. And despite the central bank's best efforts, its currency, the Brazilian Real, continues to plummet. It has shed 33% of its value this year alone.
And what's the Brazilian government doing to fix this train wreck? Nothing at all. Instead, they decided to start a political crisis to add to the financial one. What we now have is a bunch of crooks accusing each other of being crooks. It's one corrupt political party versus another corrupt political party. Brazilian politics would make such a fascinating TV drama!
This month the speaker of Brazil's lower house of congress - Eduardo Cunha - opened impeachment procedures against Brazilian President Dilma Rousseff. The accusations claimed that Rousseff broke various federal accounting laws between 2014 and 2015. She allegedly cooked the federal books by using funds from state banks to cover budget shortfalls.
These charges come on the heels of Rousseff's other corruption accusations. She was recently in hot water for being on the board of directors of Petrobras (PBR). Petrobras, the state-owned energy company, is currently at the center of the largest corruption scandal in Brazil's history.
What's funny is that her accuser, Cunha, is facing charges in the same Petrobras corruption scheme. He's accused of accepting millions in kickbacks. Yet, he's the one bringing up charges against her! This scandal has wrapped up dozens of other politicians too. To say corruption is widespread in Brazil would be an understatement. As we explained before, it's crooks accusing crooks. It's a giant mess.
Good luck putting much needed austerity measures through a political system like this. It's not going to happen. The system has grinded to a halt. There is currently no way to make the changes needed to reignite the economy.
And so Brazil will continue to crumble and fall apart. As the country goes down the drain, so will its companies. One of these companies is BRF-Brasil (NYSE: NYSE:BRFS), a Brazilian food producer.
BRFS has formed a giant double top going back to July 2012. We're interested in shorting BRFS if it breaks its neckline around the $14.00 level.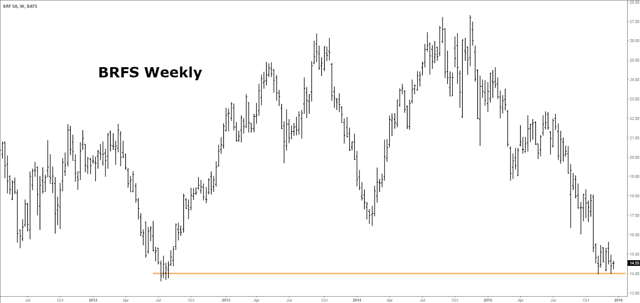 BRFS is the 7th largest public food company in the world. It slaughters, packages, and ships various types of meat from chicken to pork. Its production accounts for 14% of world poultry trade. BRFS has its headquarters in Sao Paulo, Brazil, with its ADR shares listed on the NYSE.
BRFS owns popular brands such as Sadia, Perdigão, Qualy, Chester, Perdix and Paty. Now these names probably aren't familiar to our American audience. And that's because BRFS doesn't sell much here in the States. It is mostly found in Latin America, the Middle East, and Asia.
Earnings Shock
BRFS' third-quarter earnings dropped a bomb on investors. They were expecting one thing, but got another.
To start, revenue growth missed market expectations by a third! Margins also shrunk and caused the company's earnings before interest and taxes to drop a staggering 45% from a year earlier. BRFS blamed the dismal results on "extremely challenging" economic conditions in the country.
Investors were not happy. And they chose to take their frustration out on BRFS' stock price. After the earnings release, shares dropped over 11%.
Bank of America saw the report and decided to cut their price target for the stock. They then proceeded to change their recommendation from buy to sell. BofA viewed the earnings report as "shockingly weak" and had concerns about the "dramatic" decline in profit margins.
Caio Moreira, an analyst at Banco Fator SA, said "[he] expect[s] the fourth quarter to be just as pressured. There's nothing signaling that [BRFS is] going to have a better quarter, especially in Brazil".
Investors' expectations are important to a company's stock price. In this case, investors understand Brazil is in trouble. But what they don't understand is how fast things are actually deteriorating. And also how large the resulting impact is on companies like BRFS. The result of this misunderstanding is unrealistic expectations.
These expectations set investors up to be surprised when BRFS underperforms. This surprise causes dramatic readjustments in price. That's why after the "shockingly weak" report, you saw BRFS' price drop over 11% in one day. That was an expectations revision. Investors had to reassess their expectations for the company based on new information.
We believe investors will continue to underestimate Brazil's troubles and their effect on BRFS. This will cause them to keep overvaluing the company. As a result, we will continue to see large moves lower in BRFS' stock price as investors are proven wrong and forced to repeatedly reevaluate their expectations.
Where Brazil Goes, So Does BRFS
BRFS' performance depends on Brazil's economy doing well. In 2014, the Brazilian market represented over half of BRFS' sales. A majority of its production and distribution plants are also based in Brazil. With the Brazilian consumer struggling, it's no wonder BRFS' revenue growth didn't meet expectations.
In its 2015 annual report, BRFS commented on Brazil's slow GDP growth. Executives confessed that it's a major obstacle for the company. They explained their worries over contracting consumption and rising inflation. They also explained their plans to combat it. But like investors, BRFS is unfortunately underestimating the trouble ahead. The company's plans won't be enough.
Brazil continues to do worse than everyone predicted. Every time you check, there's another downward revision on estimates for the economy. For example, Brazil's recent central bank survey showed a downward revision in GDP estimates. Instead of a 2.31% contraction in 2016, analysts are now expecting a 2.67% contraction.
Inflation is out of control too. At a 12-year high of almost 10.5%, Brazil's central bank is failing to keep inflation at their set target of 4.5%. Because of this, economists have recently revised their expectations of future rate hikes. Instead of a raise to 14.25% in 2016, they are now expecting a raise to 14.5%. They believe the central bank will have to become more aggressive to control inflation.
Now normally when your economy is suffering, you cut interest rates. It's called easing. Lower borrowing rates are supposed to help jumpstart your economy. We've seen this strategy play out in the U.S. for years now. But what happens when you have rampant inflation at the same time your economy is contracting?
That's tough problem. Because now you have to control inflation by raising rates, but at the cost of your economy. The higher rates will lead to less borrowing for your consumers and companies. And less borrowing leads to less total consumption. It slows the economy down. In this situation, you're stuck between a rock and a hard place with no escape. That's what Brazil has to deal with.
The ratings agencies understand this. Fitch Ratings recently cut Brazil's credit rating to junk. They know Brazil is screwed. Fitch's outlook was also negative. This means they will likely need to downgrade Brazil more in the future. Fitch explained that the economy was contracting and that the government failed to manage the budget. They also commented on the President's impeachment proceedings serving as a distraction, preventing the government from acting.
A credit downgrade hurts, especially when your rating falls to junk. There are many institutions like pension funds that can't invest in countries with junk ratings. It's considered too risky for clients. This means institutions will need to close out their Brazilian investments. In turn, companies like BRFS may suffer massive capital outflows, killing their stock prices.
Borrowing rates also jump for everyone when a country's credit rating is cut. After the downgrade, Brazil's bond prices dropped and interest rate swaps rose on expectations of higher borrowing costs. Brazilian companies will now have a harder time borrowing. If you're part of a country that becomes less trustworthy, you need to pay more to have people lend to you. Credit availability for BRFS will tighten. This will result in higher interest payments for anything they borrow.
BRFS claims that it is doing everything it can to decrease its exposure to Brazil. As CEO Pedro Faria said, "[they] continue to seek expansion overseas as part of the plan to make BRF a global company". BRFS is trying to expand its distribution network in Europe, the Middle East, and Asia. For example, it recently opened its first food processing plant in the Middle East.
This is good and all, but unfortunately not good enough. Nor fast enough. Its attempted expansion won't be able to save it from the problems in Brazil. And as seen from the graph below, it has had a pretty steady sales mix for the last decade. It's unlikely it will be able to change this mix rapidly enough to avoid getting dragged down by Brazil.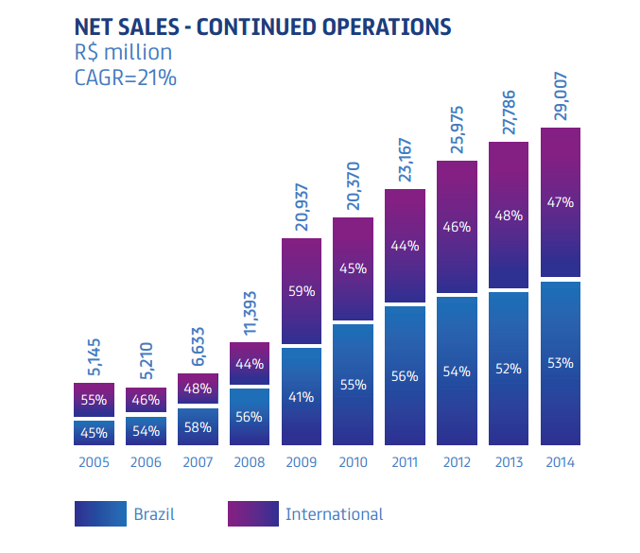 (Source: BRF Annual Report 2015)
Margins Miss
Investors' biggest issue with BRFS' latest earnings report was its margins. Investors were expecting a resumption of the upward trend in margins they saw for the last few years. They wanted the mishap in Q1 to continue to correct itself. Just as it had begun to do last quarter. But instead of further recovery, they got another move down.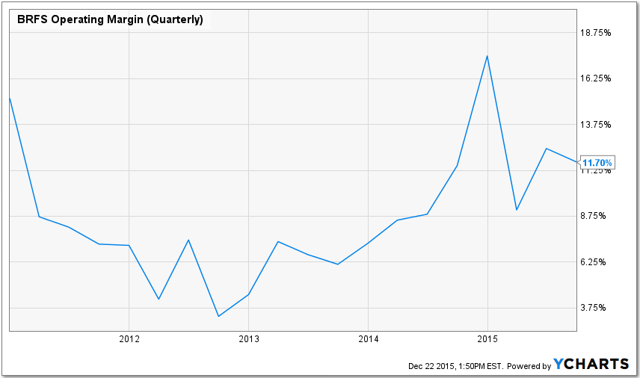 This margin pressure is coming from a few different areas.
On the pricing side, BRFS is facing stiff competition from JBS (OTC:JBSAF), another Brazilian meat processing company. Both companies are fighting for market share in a deteriorating Brazilian market. The problem is neither can increase prices without demand dropping off. Consumers are just too strained to afford higher prices. The only way to go is down.
JBS has been pushing this idea hard and is steadily gaining market share. In the 3rd quarter, JBS' volume of processed food grew by 5% while BRFS only grew by 3%. Analysts believe that a full blown price war could soon take place between the two companies. This would be bad for everyone involved. Margins would get squeezed and profits would drop even further.
On the cost side, BRFS' executives have complained about a weak currency raising input costs. One of the biggest inputs for BRFS is grain. It needs it to feed its chickens. Grain is priced in dollars. So as the real depreciates against the dollar, grain becomes more expensive for Brazilians. And given the trend seen below, and what we know about dollar strength, the real doesn't look like it will stop weakening anytime soon. This once again puts pressure on margins as production costs increase.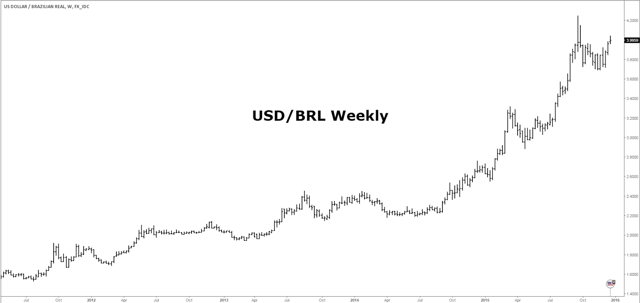 Drop That Chicken
Considering the problems in Brazil, and BRFS' dependence on its economy, we see a nice short play developing. Investors are expecting things to get worse for both BRFS and Brazil, but they're underestimating the extent of the decline. They will likely continue to be surprised. And this will cause the price of BRFS to continue to drop. But apart from the fundamental story, we also want price action to confirm our thesis. We will wait to potentially short BRFS at a break of the $14.00 level.