OPEC released its 400+ page World Oil Outlook ("WOO") just before Christmas. Its WOO foresees a net 18 million barrel per day (mmbd) growth in world oil demand over the next 25 years. It says oil consumption will grow by over 25 mmbd in the developing economies.
Around eighty percent of oil consumed in the world is for transportation use. In terms of individual regions, a significant reduction in the use of oil in the road transportation sector is expected in each OECD region, and OECD America is expected to use 3.6 mmbd less oil in 2040 compared to 2014. On the other extreme, developing Asia accounts for most of the growth in the sector's demand, with increased road transportation being the highest in China.
The auto industry in China has become the world's largest since 2008, measured in terms of unit production. In 2014, total vehicle production in China reached 23.7 million, 26 percent of global production. McKinsey & Company has projected that China's car market will grow tenfold between 2005 and 2030.
OPEC is pinning its hopes that there will be no major advances in auto technology to replace oil. The WOO projects that by 2040, only 6% of the passenger car stock and 5.3% of commercial vehicles will be running on non-oil fuels. It argues that due to:
(t)he high purchase price, serious challenges in terms of convenience, such as range limitations and poor battery performance during very hot or cold weather conditions. Similarly, anticipated high purchase costs, the lack of refueling infrastructure, and relatively expensive hydrogen fuel will make fuel cell electric vehicles less likely to become a global breakthrough technology over the forecast period. Natural gas vehicles will be the most attractive option. However, high price premiums and a scarce network of refueling points in most countries will limit the large-scale adoption of this technology. The overall picture is not too different in the commercial vehicles segment."
"You have to breathe"
China's pollution problems are well-known, but they are getting worse. Coal is the highest carbon emitter among commonly-used fossil fuels, and about two-thirds of China's overall energy comes from coal burning.
On Christmas, more than 220 flights at Beijing's Capital International Airport were canceled as pollution caused poor visibility, China's official Xinhua news agency reported. Hazardous smog blanketing China's north-east has sparked more red alerts, with authorities advising residents in 10 cities to stay indoors.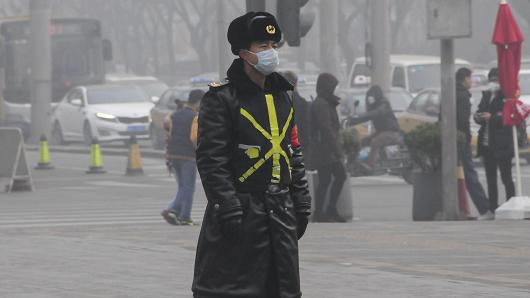 Mahmut l Anadolu Agency l Getty Images
Lloyd Blankfein, Chairman and CEO of Goldman,Sachs, said that China had been pursuing an economic strategy of growth-at-any- cost. "They'll put a smoke-belching factory in the middle of the city. And nobody cared about pollution…but guess what? You get to a certain level of wealth and you have to breathe."
China has more than tripled natural gas production between 2003 and 2013. The government targets a 50% increase in natural gas production by 2020 to replace other hydrocarbons in the country's energy portfolio.
Urbanization of China
In 1996, without any warning or global policy debate, and certainly void of any fanfare, China began orchestrating the biggest urbanization project in the history of mankind. In 1996, it moved 22 million people from rural to urban areas. To put that in perspective, 22 million is more than the entire population of Manhattan, London, Paris, Sydney, Berlin and Stockholm combined. Now, imagine all of those cities being empty at the beginning of a year, then completely full by the end. That's essentially what began happening in 1996, and has continued unabated every year since. How is it comparable? Well, the urbanization of a country like China is like population growth on steroids. In essence, people go from being economically invisible to the rest of the world, to suddenly competing for jobs, raw materials and food on a global scale. Fact is, city dwellers simply live differently than their rural counterparts, particularly those in rural China."
With the urbanization of China, mass public transportation and other options become much more feasible for commuting.
EV Epicenter
The central government has set stricter environmental standards for emissions than Europe. President Xi Jinping has made China's production of electric vehicles a strategic initiative.
Car makers must build EVs in China. "There is really no choice for the automakers, if they are required to meet the more stringent emission standards by 2020," said Steve Man, an analyst with Bloomberg Intelligence. "Other technologies with the stringent emission standards won't get you all the way to target."
To meet its 2020 goal of five million EVs, the government will speed up the construction of charging stations. With EV subsidies from the central government, "China will be the epicenter for electrification of the auto industry globally," said Bill Russo, Shanghai-based managing director at Gao Feng Advisory Co. He estimates that China would have invested 100 billion yuan ($15.5 billion) by 2020 on new-energy vehicles.
Many cities worldwide have considered vehicle restriction policies to curb proliferating problems of traffic and pollution. At the beginning of 2011, Beijing became the first city to allocate vehicle license plates using a lottery. EV are exempt from the ballot, driving EV sales.
Chinese consumers are expected to purchase between 220,000 and 250,000 electric cars this year, making the country the world's largest market for the vehicles, according to the China Association of Automobile Manufacturers (CAAM). Sales of electric vehicles-specifically "battery electric vehicles" and "plug-in hybrid electric vehicles"-have almost tripled in China in 2015 as of the end of October, compared with a year earlier.
Automakers will have to meet China's standards if they want market share. With EV subsidies from the central government, Geely Automobile Holdings Ltd. said last month new-energy vehicles will be up 90 percent of its sales by 2020.
Toyota, the world's largest car maker, announced in October that it plans to phase-out gasoline-powered cars by 2050. Toyota will focus on vehicles powered by hydrogen fuel cells. Toyota began selling the Mirai, the world's first mass-market fuel-cell car, in Japan a year ago.
Earlier this month, Ford Motor Company announced it is investing an additional $4.5 billion in EV solutions by 2020. It is also changing the way it delivers "vehicle experiences" by changing the way people move.
Conclusions
OPEC is pinning its hopes on the world needing oil to power the vehicles of the future, particularly in China and other developing economies. But environmental conditions demand a weaning from gasoline and diesel fuels. It is not a question of believing in climate change. The populations of China and India need cleaner air to breathe as soon as possible.
Implicit in OPEC's strategy to flood world oil markets now, to drive prices lower, it must expect higher revenues later to make financial sense. That worked in the aftermath of 1985, but a lot has changed in thirty years.
OPEC does not have much spare capacity, as it did then to maintain pressure. In fact, its members are suffering a lot more than major oil corporations, due to the need of OPEC members to support their countries' budgets. ExxonMobil is not in trouble, for example.
The supply curve has shifted. Shale production economics are very different than conventional oilfield economics. The shale oil will not disappear no matter what OPEC does. And the technology of producing it costs less as technology improves.
On the demand side, the world's financial and inventive resources that are being invested in EV and non-oil technologies are enormous worldwide. OPEC has cited the current limitations in EV, but history shows that technology evolves to provide solutions.
I wouldn't take OPEC's bet in a million years, or at least for the next 25. If I were running OPEC, I would maximize revenues to 2020, and invest in Swiss bank accounts.
With the spare capacity that would develop, the 2020s would be insured to be the age of cheap oil, with OPEC having huge spare capacity to flood the world after cutting back for 4 years to maintain high prices, but then expanding exports and ultimately revenues.
That's a better strategy, I think.