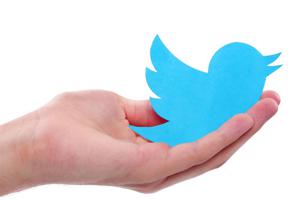 Twitter (NYSE:TWTR) certainly has had a rough time of it lately. The stock has taken a hammering, and user engagement has been largely leveling off in 2015.
User Base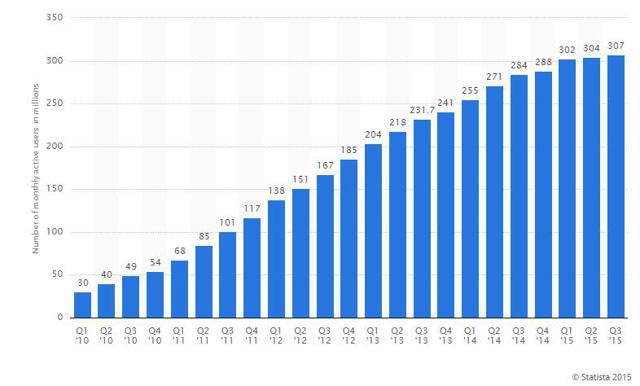 Source: Statista
There are three primary ways Twitter brings in revenue. The first is through advertising, which accounts for the lion's share of revenue at 80 percent. Another one is data licensing, where Twitter can collate vast arrays of information across its user base to sell on to companies. Another one is promotions, where companies will pay Twitter to advertise their brand on the site. However, note that the success of these three revenue channels depend highly on user engagement, which is determined by how long users actually spend on the site. It stands to reason that someone who is engaging with the site, i.e. commenting, retweeting, etc, will use the site for longer periods than someone who simply checks Twitter for a few seconds to get the latest updates on their favorite page, celebrity, etc.
Thinking medium to longer-term, I am worried about the sustainability of Twitter's business model. The biggest thing that has struck me about the platform from my own personal experience is that Twitter is more of a news feed rather than a social media network. For instance, a very interesting article by Alex Pitti had referenced that the upcoming U.S. Presidential Elections should generate wide user engagement in the coming year thanks to the publicity generated by Donald Trump on the platform.
This may well be the case short-term. Nevertheless, it does reveal a very interesting facet of Twitter in that it is ideal for celebrities or well known figures to engage with their fan base and generate publicity for Twitter. However, the vast majority of users on Twitter are not public celebrities, and even if they are well-known and have many followers, they cannot rely on large user engagement within Twitter itself (through comments, likes, retweets, etc). Therefore, one will often find that the tweets from such users are merely backlinks to another platform, e.g. a personal website, another social media network, etc. In this regard, Twitter is merely serving as an "intermediate" platform of sorts, and thus user time spent on Twitter is minimized since the end game is to simply get the user from Twitter to another platform.
In this context, it is certainly a possibility that we could see a decline in Twitter's overall user base going forward, with the site being used predominantly by celebrities/users who already have a large fan base. The big problem that I see with Twitter is lack of specialization. For instance, LinkedIn (LNKD) is the go-to social network for professionals to interact with each other through various connections, groups, industries, etc. Instagram is ideal for sharing photos and video snippets. Facebook (NASDAQ:FB) is the best platform for connecting with friends you know personally, and even Google (NASDAQ:GOOG) (NASDAQ:GOOGL) Plus has succeeded at bringing users of like-minded communities together.
However, Twitter has failed to become good at one particular facet of social media, instead serving as a "jack-of-all-trades". Going back to the example of Donald Trump, he may be very active on Twitter, but he is also very active on Instagram and Facebook. Indeed, Donald Trump's Facebook page is also serving as an effective news feed in allowing users to engage with the celebrity in the same way as they would on Twitter, and Instagram allows for promotion of the Trump brand through photos and video, something which Twitter's news feed is not ideally suited to. Therefore, Twitter is very good at allowing users to view Donald Trump's latest thoughts on the election, other candidates, etc, but users are likely to spend more time engaging with the celebrity through Facebook, which on the basis of a Cowen and Company poll last year, has an average user time of 42.1 minutes per day compared to Twitter's 17.1 minutes per day.
Bearing in mind, this is before we get into how the site is used across regular users and more specialized communities. As an example, a regular user like me that visits Seeking Alpha's Twitter handle is not doing so in order to comment, like or retweet (at least that is not my primary purpose). Rather, the objective is to gain an overview of all the latest articles and then go directly to the Seeking Alpha website where the vast majority of engagement takes place. More generally, it is harder for a user to locate communities on Twitter compared to other platforms. For instance, supposing I wish to engage with a community dedicated to stock trading. On Twitter, I must search the keyword or hashtag #stocks, and see which pages are worth following which in many cases may transport me to a new community altogether, e.g. Seeking Alpha, StockTwits, etc. However, on Google Plus, Facebook or LinkedIn I can simply search for the term "stocks" again and there will be several dedicated communities with their own fan page and a dedicated number of users who engage with the site through comments, discussions, etc. This, in turn increases the time spent on the site which increases the likelihood that monetization efforts by the social media site will be successful.
Ultimately, I worry that Twitter is struggling to grow its user base due to lack of user engagement. Social media networks promote engagement in order to thrive, whereas a news feed simply relays information, which is primarily what Twitter does. Given this, I suspect that user engagement on Twitter is set to fall further and we could see a situation where less users are actually signing up to the platform. There is a big difference between viewing a platform and actually using it. Twitter excels on the former, not on the latter.
Disclosure: I/we have no positions in any stocks mentioned, and no plans to initiate any positions within the next 72 hours.
I wrote this article myself, and it expresses my own opinions. I am not receiving compensation for it (other than from Seeking Alpha). I have no business relationship with any company whose stock is mentioned in this article.