With one week to go in 2015, many small-cap investors are looking forward to a fresh start in 2016. It has been a difficult year for stock performance in the small-cap space. According to Russell Investments, large-cap growth has been the domestic equity asset class of choice with a year to date total return of 6.37% through December 24th. On the flip side, small-cap value has been the worst performer year to date with a negative total return of 9.34%. Large-cap growth managers are well aware of the importance of owning a select group of this year's winners, known by some as the "FANG" stocks (Facebook Inc. (NASDAQ:FB), Amazon.com, Inc. (NASDAQ:AMZN), Netflix, Inc. (NASDAQ:NFLX), and the former Google Inc. (NASDAQ:GOOG) (NASDAQ:GOOGL), now known as Alphabet Inc. Triple-digit year to date returns in AMZN and NFLX, along with 30%-40%-plus gains in FB and GOOGL, have gone a long way to defining whether or not your large-cap growth portfolio has outperformed this year. Looking at return data from Morningstar Inc., the top 10 large cap growth managers for year-to-date performance had an estimated average weighting of nearly 16% in these four names at the end of the third quarter vs. a current weighting of around 9% in the Russell 1000 Growth Index. Continued strong performance in the fourth quarter from these names likely has further contributed to the differentiated performance against the peer group. I would note, however, that NFLX isn't as a large a factor to the performance as I initially thought, given its more modest 1/2 percent weighting in the index. Source: iShares.
Taking another look at the large-cap data via iBankCoin, the median year-to-date return among their universe of 600-plus names with market capitalizations above $10 billion has been 0.8%, modestly lagging behind the 1.7% year-to-date return of the Russell 1000 Index. Stock selection appears to have been even more important among the small-cap universe, where nearly 4,000 stocks in the iBankCoin universe with market capitalizations below $5 billion have had a median return of -9.2% year-to-date, well below the -2.9% year-to-date return of the Russell 2000 Index. I acknowledge the data are not perfect for a true apples to apples comparison, but I still believe the evidence supports the notion that stock selection has been a key factor in 2015 portfolio performance.
Again using the iBankCoin data, AMZN, NFLX and Ctrip International Ltd. (NASDAQ:CTRP) are the three large-cap stocks trading on the U.S. exchanges that have advanced by more than 100% at this point in the year. Conversely, I see 72 names with market capitalizations below $5 billion that have more than doubled so far this year. As a long time small-cap investor, I'm always trying to find next year's winners. Today, I'm going to profile three small-cap ideas that I think could be big winners in 2016. All three names had significant news announcements in the most recent month. Many small-cap stocks will move higher on news announcements only to give back much of the advance as investors digest the news and short-term traders move on to other ideas. In these three cases, however, I believe the news items were significant enough to help set the stage for potentially great 2016 price returns.
1) Pieris Pharmaceuticals, Inc. (NASDAQ:PIRS) is a clinical-stage biotechnology company applying its proprietary Anticalin technology to create differentiated drugs that can help patients suffering from cancer, severe asthma, anemia and other medical conditions with a high unmet medical need. An early December announcement of a high potential collaboration with Roche provided another significant indication of the value of PIRS' technology. With roughly $0.80 in cash per share, a manageable cash burn rate, additional potential partnerships in the year ahead, and an expected steady flow of news, I think today's $90 million market cap is inexpensive relative to many early-stage biotech companies. A slight push above the 52-week high provides the opportunity for a potential double in this low-priced stock.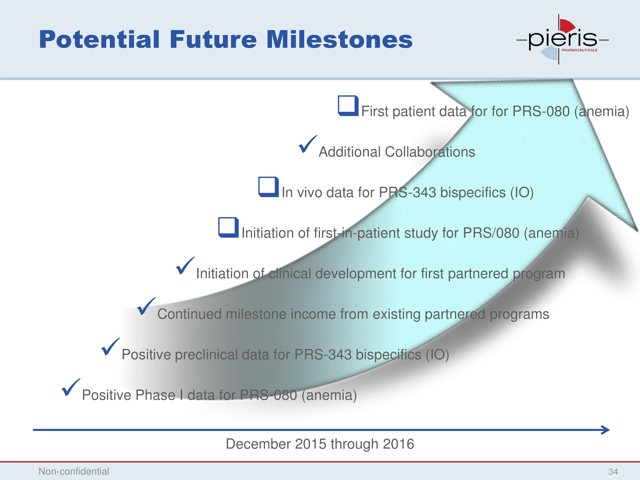 Source: Investor Presentation
2) Arcam AB (OTCPK:AMAVF) may be ready to grow more into its valuation as the 3D printing market continues to experience significant growth. After experiencing revenue growth of 70% in 2014 and organic growth of 62% through the third quarter of 2015, AMAVF remains confident that its emphasis on providing 3D printing systems for metal components for use in aerospace and orthopedic implants will provide superior growth opportunities in the years ahead as conventional technologies are replaced with AMAVF's electronic beam manufacturing (EBM). With estimated dollar sales of around $70 million this year and EPS of around $0.20, it's more challenging to value AMAVF on many traditional metrics. With a market cap of about $420 million, less cash of around $53 million, AMAVF clearly will need to continue its rapid growth in the years ahead for the stock to work from here. To that point, the company recently announced its largest single order ever from the Italian subsidiary of GE Aviation. As a Swedish-based company, AMAVF is not that well known among U.S. investors, but the long-term story for 3D printing, particularly in metal components, has an exciting future. The sales cycle for AMAVF is lengthy at 6-18 months, but if we see more mainstream adoption of their EBM technology, 2016 could be a banner year for AMAVF investors.
3) I hesitated a bit to include my next name given the incredibly poor timing I had when previously discussing it on Seeking Alpha, but NetSol Technologies, Inc. (NASDAQ:NTWK) continues to intrigue me as a high potential return name. The stock has had a great run recently and was my fourth best dollar contributor to my investment performance this year. But the recent signing of a 10-year, +$100 million contract has me thinking 2016 could be a breakout year for the company. With over 1,500 employees working in Pakistan and the rest of the world, I'm optimistic that the company has the infrastructure in place and that recent contract wins will provide nice incremental margins as revenue is recognized. The structure of the company and its majority-owned subsidiary in Pakistan makes it more challenging to fully analyze NTWK. But I can see the stock moving substantially higher from current levels as management provides additional perspective on recent contract wins and future opportunities in the pipeline.
As I look at large cap vs. small cap prospects in 2016, I see that in eight out of the past 10 years (2006-2015), investors would be best served by investing in the lagging asset class of the prior year. 2015 likely will be an exception as the Russell 1000 Index is headed for a second year of outperformance vs. the Russell 2000 Index.
| | | | | |
| --- | --- | --- | --- | --- |
| Index | Year | Return | Index | Return |
| Russell 1000® Index | 2005 | 6.27 | Russell 2000® Index | 4.55 |
| Russell 1000® Index | 2006 | 15.46 | Russell 2000® Index | 18.37 |
| Russell 1000® Index | 2007 | 5.77 | Russell 2000® Index | -1.57 |
| Russell 1000® Index | 2008 | -37.6 | Russell 2000® Index | -33.79 |
| Russell 1000® Index | 2009 | 28.43 | Russell 2000® Index | 27.17 |
| Russell 1000® Index | 2010 | 16.1 | Russell 2000® Index | 26.85 |
| Russell 1000® Index | 2011 | 1.5 | Russell 2000® Index | -4.18 |
| Russell 1000® Index | 2012 | 16.42 | Russell 2000® Index | 16.35 |
| Russell 1000® Index | 2013 | 33.11 | Russell 2000® Index | 38.82 |
| Russell 1000® Index | 2014 | 13.24 | Russell 2000® Index | 4.89 |
| Russell 1000® Index | 2015-YTD | 1.73 | Russell 2000® Index | -2.89 |
Source: Russell.com
As can be seen in the above table, 2015 returns look a lot like 2011 at which point in time small-cap stocks did relatively well vs. large caps in the subsequent two years. Only time will tell whether you should overweight small caps at this point, but I'm sure there will be some big winners in 2016. I hope to have exposure to some of them as the year unfolds. Good luck to my readers on your 2016 journey of "seeking alpha."
Disclosure: I am/we are long PIRS, AMAVF, NTWK.
I wrote this article myself, and it expresses my own opinions. I am not receiving compensation for it (other than from Seeking Alpha). I have no business relationship with any company whose stock is mentioned in this article.