Many times, discussions about whether to take a lump sum versus an annuity are hypothetical. They can be objective and sterile. Real life is different. They aren't black and white, there are nuances. And you're talking about critical decisions that will affect the rest of person's life. This is an account of the real life annuity versus lump sum decisions and a friend made with advice from me, over the last calendar year.
At the end of last year (2014) my friend was counting the days until retirement which was coming up on February 28th. He had just turned 62. It was definitely retirement time. Besides the normal longing for retirement, Paul (not his real name) worked in young man's profession, and he was no longer a young man. Not all of his joints were in perfect working order, and some weren't even original equipment.
But most importantly, Paul needed to be at home. His wife had suffered a major debilitating stroke a couple years prior. She needed round the clock care at home, which he provided along with nurses, stepchildren, and agencies like Hospice. His wife was already drawing her Age 66 benefits as a result of her stroke. The cost of care for her though was far exceeding her Social Security. Retiring would allow him to do more of the care, saving money they were burning monthly.
The Retirement Options
Although he had done the same job for 30 years, his company had been bought out part way through his career, so his retirement was coming in 2 different parts. Part A was being offered as either a lump sum of $182,000 or a monthly annuity of $1,070 a month. There were no survivor benefits, and no cost of living benefits. Part B was only being offered as an annuity of about $760 a month, again with no survivor benefits and no cost-of-living.
He had done some retirement counseling with a finance person at a local university who had advised him to take the lump sum on Part A. The general game plan was to invest that money, and start drawing Social Security immediately. The counselor said to not start withdrawing any money for a few years on the lump sum to let it grow, and use the Social Security money to survive over the next few years until he started withdrawals on the lump sum. He was proceeding that way and in fact had already applied for Social Security, when he decided to run the plan by me for my thoughts. I had just been in town a couple weeks earlier and we had talked about the investing I was doing for myself and the fact my brother had asked me to start working with him on investments. Paul had never done any real investing.
When I looked at it, here's what I saw: The problem with the Annuities was two-fold.
(1) No cost of living, so he'd be on a fixed income the rest of his life
(2) No survivor benefits so if he passed away first, all of his retirement would be lost to his ill wife.
So, it made sense to me to take Part A as a lump sum, and try to implement a Dividend Growth Investment Plan where the initial proceeds would not be too far off from the $1,070 promised by the Annuity, would still leave him with the cash, would hopefully grow in income over the years, and survive him should he die first.
Since he had no choice but to take the Part B Annuity, that left a certain sense of safety in that we would be taking the sure thing (annuity) mixed with the market risk/gain (Lump Sum).
But the problem that jumped out to me as soon as I heard the plan was the part about taking Social Security immediately. The hope was they could gain 4% or 5% a year on the lump sum even though
the market was at all time highs

Social Security would increase by a guaranteed 8%
And of course, unfortunately, the reality with his wife very ill, was that she might only live a couple more years. In that case, he would be much better off delaying Social Security, and claiming Survivor Benefits, which would let his benefits keep rising.
The Tentative Plan
So this became my advice to him: Take Part A as lump sum. Take Part B as Annuity, delay Social Security as long as possible. Withdraw dividend earnings from the Part A investments, and if we have to, cannibalize it a little until he starts drawing Social Security.
I put together a sample $182,000 portfolio.
We selected dividend stalwarts AT&T (NYSE:T), Verizon (NYSE:VZ), BCE (NYSE:BCE), Intel (NASDAQ:INTC), Pepsi (NYSE:PEP), Altria (NYSE:MO) ..combined with some of my favorite REITS like Realty Income (NYSE:O), Omega Health Investors (NYSE:OHI), and STAG Industrial (NYSE:STAG).
Oil had plunged from over $100 to the crazily low mid $50's, so it seemed like a no-brainer to take advantage of the bargains in oil. (Is it possible to be young and naive in your 60's?). So we selected Exxon-Mobil (NYSE:XOM), Conoco (NYSE:COP) and Kinder Morgan (NYSE:KMI).
And we topped it off with 4 high yield players Main Street Capital (NYSE:MAIN), Annaly (NYSE:NLY), New Residential (NYSE:NRZ) and Duff and Phelps Income Fund (NYSE:DNP) to try and boost income a little closer to the $1070 mark.
Paul in the meantime had made an appointment with Social Security who verified the things I'd said about Survivor Benefits. Their confirmation sealed the deal and he cancelled his application for Social Security and he decided he'd go the DGI route with the lump sum money.
His company had told him that the annuity checks would start immediately (March 1st) but the Lump Sum would take a couple months to show up. Invested Dividends would take a few months longer. But Paul had some outside money that could see him through till dividends started showing up. So we waited for March 1st.
The Second Tentative Plan
After the 1st of the year, he was informed by the company that his options had changed. He could now take Part B as a lump sum also if he wanted. Paul and I liked the mix of having part of this guaranteed (annuity) and part being invested (lump sum), but we decided to flip the Parts. Part B was now offered at $760 a month or lump sum of about $146,000. We decided to take the bigger Part A as the annuity of $1,070 per month and invest Part B as lump sum.
The Plan starts, and then everything changes
Paul worked his last day on Feb 28th, and just like his employer said his first check arrived the next day. The lump sum was working it's way through the system to be invested in 60 days or so. However, in early May his wife took a turn for the worse and she passed away.
Personally, of course his life was a whirlwind for a while, but here's what it meant financially/retirement wise. He notified Social Security and he was started on Survivor Benefits which show up pretty quickly. Social Security seems to have certain parts of their system down to an art form because they do it so much. My mother had passed away on June 30th the year before. Her payment for June showed up a few days later. However, since she had not lived the entire month of June, she was not entitled to June benefits, and they withdrew it from the checking account within a week.
The lump sum showed up in his brokerage account about May 15th. Paul had a personal IRA that he also transferred over, making the investable total $167,555. One of Paul's goals is to make the monthly payout hit the target of $760 that was available if he had taken the annuity. Transferring that personal IRA made our number closer. We revised the original portfolio and this is the snapshot of our initial purchases as of May 31st.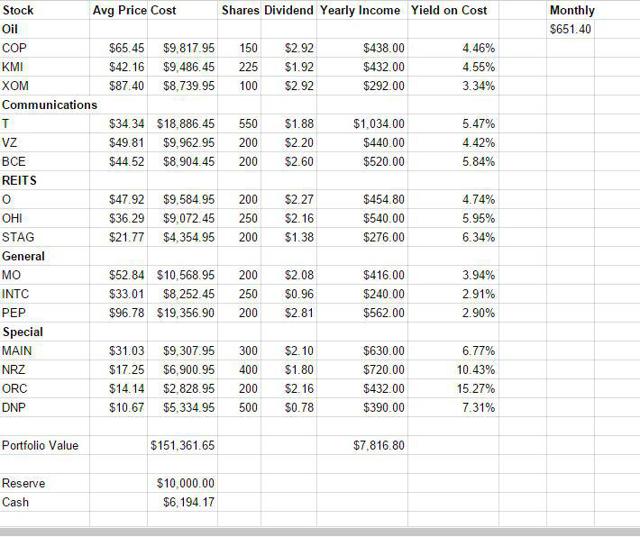 Points about Initial Portfolio
Monthly income was about $650 a month even with $6,000 not yet invested and $10,000 held aside that he wanted to keep in cash.
A "full position" was about $9,000, so we tried to purchase round lots/numbers that fell about that number. We had a double position in T because the yield was so attractive and a double position in Pepsi, because Paul liked their stock and their prospects.
We split a position between 2 high yielders in NRZ and Orchid Capital (NYSE:ORC). NRZ was/is a favorite of mine that had great yield that I felt was undervalued, and ORC had recently been characterized as a "best in breed" among mREITS, so instead of NLY we went with ORC. And then we did a half position in a CEF called DNP that was yielding 8% and had the same payout for 28 years. We viewed that as purchasing an income stream.
Although Oil had risen back up to $60, we were overjoyed that our oil stocks were even LOWER than the bargains they were in December, so waiting had served us well. KMI was essentially the same price ($42) but they were immune to oil prices and were going to raise the dividend 10% a year so it made sense that their stock had not fallen like COP and XOM.
Since Paul still had some outside savings and he thought he was moderately close to breakeven with Social Security and the Annuity, he said to reinvest the dividends. Maybe for all of 2015. So we did.
Tweaks During The Year
Interestingly enough, Paul and I are both mesmerized by certain numbers…… but they are not the same numbers. Paul is drawn to matching and then beating the $760 monthly income figure, and I am laser-focused on ensuring the income stream is ever-increasing.
July - Purchases and our only Dividend Cut of the Year
We had a month of reinvesting dividends, and a mini-increase from O, when the allure of spending some of the unspent cash and getting the $650 figure closer to $760 started hitting Paul like a guy on a diet sitting next to a steaming pizza.
He did the research himself, and based on a Brad Thomas article purchased 100 shares of Digital Realty Trust (NYSE:DLR) on July 9th bumping his yearly income up $340. Unfortunately, the very next day we took our only dividend cut for the year when ORC turned out to be a mutt rather than best in breed and we got a 22% reduction. That reduced annual income by $100. ORC continues to be a problem child. It is down about $700 from where he purchased it and we're still not certain it can maintain the lower dividend. We are intentionally understating its dividend income in case it is cut again or Paul sells it to get into a different stock.
August - Some more purchases
On August 7th, Paul bought 100 shares of Cincinnati Financial (NASDAQ:CINF) for another $184 in income and he followed it up with 100 shares of Coca-Cola (NYSE:K) on the 24th for another $132 increase. That pretty much took care of all the unspent cash.
Oct/Nov - We start to give up on Oil
In late Oct and spilling into early November we made some moves. Paul old half his Pepsi and ended up purchasing 100 Shares of JNJ and a little more DNP. In addition we started throwing in the towel on Oil. I got rid of KMI in my accounts after they issued their preferred stock. I'd been watching/reading about KMI. It struck me as a stock that might cut their dividend, and the Preferred Issue was the final blow for me. Paul did likewise and we got out of KMI a little over $27. I didn't want his income to suffer, and by then I was becoming intrigued with the CEF Flaherty & Crumrine Preferred Securities Fund (NYSE:FFC) so he moved his KMI money there. After all the transactions we ended up about $100 ahead in income. And one headache was off our table.
Dec - Another oil bites the dust
In December we took COP off the table also. Didn't want to take a chance on dividend cut. Too afraid oil is going to stay low for a long while. Swapped it out for more FFC. Picked up another $187 in income.
Where he stands at end of year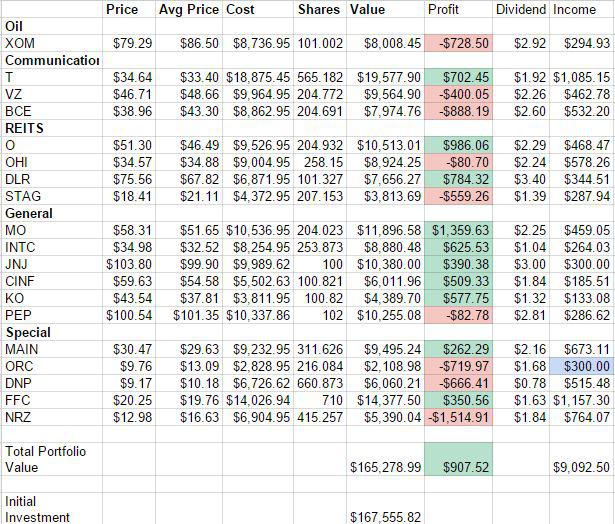 Overall his portfolio is down about $2,000 for the year. Oil accounts for the biggest loss. It was down over $6,300. Fearing dividend cuts and further losses, we are almost out. And Paul is weighing the options on XOM.
The High Yield stocks are also down about $2,300 but they also account for ⅓ of the dividend income since we moved the oil into FFC.
REITS were an overall winner, Communications an overall loser. "General Stocks" led by MO a big winner. Towards the end of the year, Paul stopped DRIPS on all the stocks in order to make possible future withdrawals more convenient.
He is within $2.30 of meeting his goal of matching the $760 a month that would have come from the Annuity. And income has been consistently rising all year. He had one dividend cut but many nice raises along the way. By being on Survivor Benefits and delaying his own SS, his benefits are rising every month.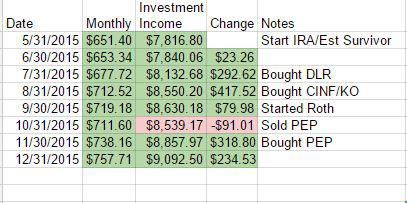 This chart allows both us to track our objectives for the portfolio. Overall we are pleased with portfolio's performance for the year.
Disclosure: I am/we are long BCE, CINF,DLR,DNP, FFC, INTC, K, MAIN, PEP, STAG, T, VZ, MO, NRZ, O, OHI, ORC , XOM.
I wrote this article myself, and it expresses my own opinions. I am not receiving compensation for it (other than from Seeking Alpha). I have no business relationship with any company whose stock is mentioned in this article.