Several factors should be considered when deciding how to position your portfolio over the long-term. Some of these factors include demand from consumers, inventory, historical earnings patterns, cash flows, and share price patterns. By combining these indicators, we can determine which stock is a better choice for a portfolio. In this note we will analyze whether Caterpillar (NYSE:CAT) or Agco Corp. (NYSE:AGCO) will better suit a long term portfolio.
Beginning with demand, both companies have recently reported stronger demand than expected. Caterpillar stated the firm was able to capitalize on "outstanding execution and stronger global demand." Similarly, Agco said the company is thriving due to "attractive farm economics [that] supported robust global demand." This indicates that each firm is expecting high future growth, which will become more apparent on the financial sheets during 2012 and beyond.
Each firm's respective earnings and financial sheets are the main indicator of which company is the better long term choice. However, before moving on to that, it is important to briefly note the inventory levels reported by Caterpillar and Agco. Caterpillar's dealers increased inventory to $2.5 billion in 2011 from $900 million in 2010; a 177% increase year over year. Similarly Agco increased total inventory by 26.2%. The majority of this came from a 67% increase in raw materials.
An increase in inventory indicates both companies are expecting strong demand and are not simply implying demand is strong to pump the respective share price higher. An increase in inventory is indicative of stronger demand because each firm would not have increased supply unless demand is simultaneously increasing; therefore investors can rest assured that 2012 will be a strong year.
With that said, it appears each company is a strong candidate for a long-term investment; assuming, of course, that these trends will continue. Therefore it is imperative we take a good look at the past eight quarterly reports to decipher which company has the highest probability of success in the future.
One of the easiest indicators of a company's success is revenue. Increases in revenue indicate the firm is at the very least making similar sales quarter over quarter and year over year. Caterpillar falls into the category of strong revenue growth. Over the past eight quarters Caterpillar's revenue has increased roughly 109%. And as I will discuss later, this has lead to a 98% share price increase over the past two years.
Click to enlarge:
Purely looking at revenue, Agco has not had the same success. On the one hand Agco's revenue has increased 89% over the past eight quarters. However, on the other hand, Agco has not been able to produce continuous revenue growth quarter over quarter. This is one of the main reasons Agco's stock should not be added to a portfolio before Caterpillar; but I will discuss this later.
Click to enlarge: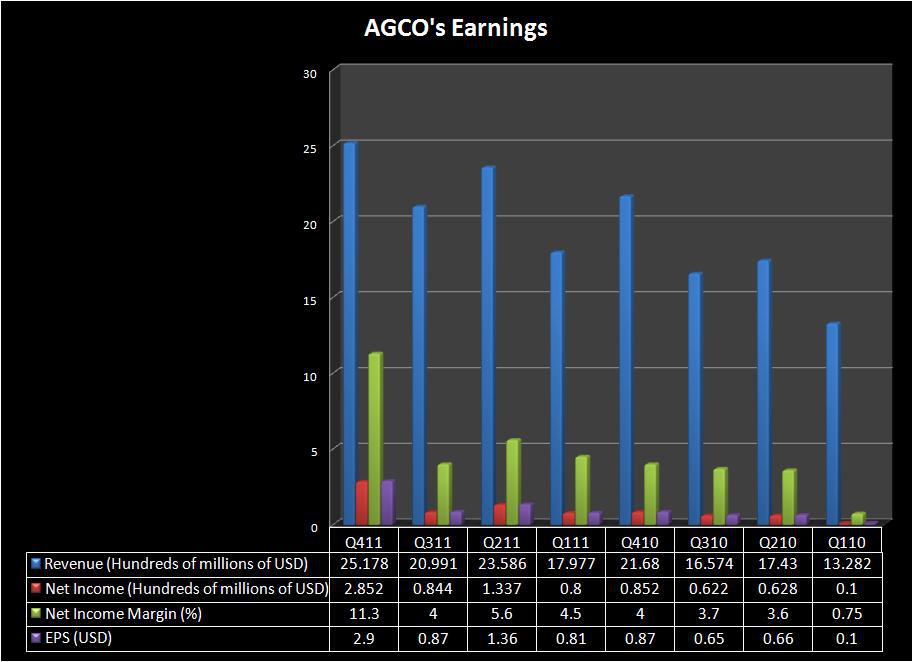 With that in mind, Agco's fourth quarter of 2011 proved to be the best quarter for either company in the past eight quarters in terms of net income margin. While this is a strong data point to applaud, it is more important to view the net income margin trend. After throwing out each firm's low outlier from the first quarter of 2010, Caterpillar's average net income margin is 7.8% and Agco's is 5.2%. Keep in mind Agco's mean includes the recent 11.3% outlier. Therefore it is apparent Caterpillar has done a better job at producing income from overall earnings compared to Agco. This is important because net income margin indicates how much of a company's revenue is flowing through to shareholders.
Therefore, intuitively, a higher margin percentage means the company is generating more profits from sales. And as you can see, Caterpillar has done a better job at returning income from net sales. However, of course, if Agco can maintain the whopping 11.3% margin, we will see Agco's share price take off. On the other hand, until Agco proves this one quarter is not an outlier, we cannot conclude Agco will maintain this value. Caterpillar, however, has gradually grown net income margins and investors should expect to see steady growth between the 7.5%-8.5% range in the near future.
After looking into each company's earnings, it is important to view the charts in order to determine which stock is the better option. Beginning with Caterpillar, it is important to note right off the bat that the share price came within 1.6% of setting a new 52 week high. Many investment professionals will say this is an indicator that the share price will need to major pull back before moving higher; therefore any investments should wait.
However, contrary to that, it appears Caterpillar's share price has met a ceiling just under $115. This is important because once this ceiling is breached, the $115 level will become the floor. This is also very important because if the ceiling is broken, investors will likely see the share price run another 8%-12% above $115 before any new weakness is felt. Therefore, in the short-term as well as the long-term, Caterpillar will return big money to investors.
Click to enlarge: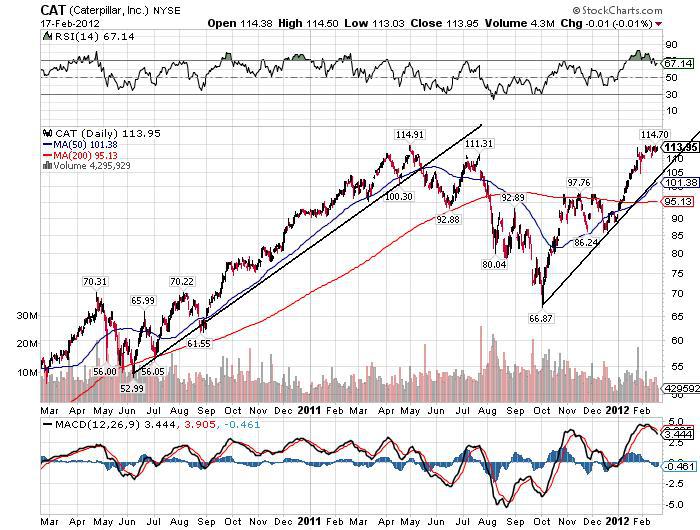 Agco has a very similar two year chart to Caterpillar. However, the biggest and most important difference is the fact that Agco has not been able to rebound in the same manner as Caterpillar. Nevertheless, both charts indicate similar upward trends over the past two years. In other words, as you can see, the late 2010 and early 2011 rally led both share prices to follow similar trend lines. Also, the current trend line indicates both companies are on the same upward trend. As such, why has Caterpillar been able to reach new highs while Agco has struggled?
Click to enlarge: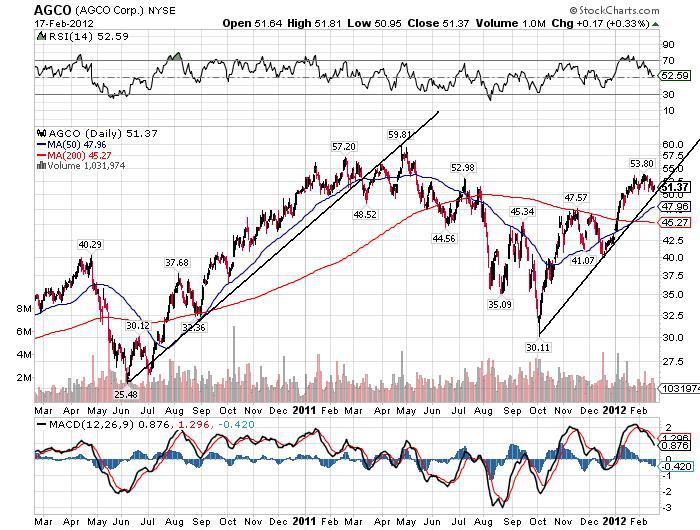 One explanation may be the fact that Caterpillar's share price slid roughly 42% during the brief mini-bear market in the middle of 2011, while Agco's share price slid 49.6%. Therefore, Agco's share price has more ground to make up. There is, however, a very important note to make regarding this trend: Agco's share price is more volatile during periods of weakness. This is important for long term investors because the equities market will always cycle between bear and bull markets. Therefore, during periods of weakness it is better to hold less volatile stocks, such as Caterpillar.
Another reason Caterpillar is a better long-term investment is because Caterpillar is currently in a high growth phase. Therefore the share price will continue to climb quarter after quarter and year after year. With that in mind, Agco inherently carries this same potential, but with the lack of consistent net income and revenue - compared to Caterpillar - the share price has a higher probability of losses. Also, it is important to reiterate when losses occur, the losses will be steep; unlike Caterpillar, which will catch resistance at various levels that will hold the share price from falling.
At the end of the day, investors must weigh several options. On the one hand you have Caterpillar, which is a steady growth company with a dividend that has a high probability of being raised every year in July. And on the other hand you have Agco, a high growth and dividendless company that is slightly more volatile than Caterpillar.
A strong contrarian play would be to invest in Agco, because the share price sits 17% below the 52 week high. Therefore the share price has a high probability of making this move in a bull market environment. While Caterpillar's share price will fight with that $115 level for possibly an entire week or longer.
But when it comes down to it, Caterpillar's combination of high growth, history of raising the dividend, lower volatility, increasing revenue and net income margins, and an increase in supply and demand, make the stock a perfect long-term portfolio addition.
Disclosure: I am long CAT.