Note to the Reader
This article is Part III of a series of articles - Part I: Long-Term Healthcare an Introduction and Part II: Healthcare and the Internet of Things can be read by following the embedded links. Also note that part IV of this series - Can Big Data Fix Healthcare - the Case Of Home Healthcare has subsequently been published.
Introduction
Healthcare and Big Data (HCBD) are each complex topics, so it comes as no surprise that discussion of the intersection will prove to be very complicated. If you are new to the topic, a good way to get started is to read a somewhat dated but highly relevant paper by McKinsey entitled The Big Data Revolution in US Healthcare: Accelerating Value and Innovation along with an excellent whitepaper from Optum entitled Moneyball Analytics: Connecting and leveraging the best data across the healthcare continuum. A highly provocative alternate perspective worth considering is that of Vinod Khosla who stated - "In the Next 10 Years, Data Science will do more for medicine than all of biological sciences combined." An updated version of this line of reasoning is available here.
We plan to tackle the topic by writing this article in three segments: Segment I - an introduction, definitions and the "Institutional" side of the subject; Segment II - the "Consumer" side of the subject and Segment III - overall conclusions and implications. Our use of the phrase "Institutional" has multiple meanings - it certainly includes the large Payor (i.e. insurance company) and provider sides of the Healthcare complex. It also includes the related benefit managers and suppliers (e.g. Express Scripts (NASDAQ:ESRX) and Cardinal Health (NYSE:CAH)) and the Mega-scale players such as CVS Health (NYSE:CVS) and Wal-Mart (NYSE:WMT) that will straddle any well defined, pre-existing boundaries. Another key example may be IBM (NYSE:IBM). Clearly IBM is an important traditional institutional player, but the Apple-IBM partnership could turn into a significant consumer play as Watson capabilities are applied to Apple HealthKit and ResearchKit data generated by numerous consumer devices.
Our use of the phrase "consumer" will certainly encompass the wide range of devices/wearables such as FitBit (NYSE:FIT), Jawbone (JAW), Under Armour (NYSE:UA), Garmin (NASDAQ:GRMN), Apple (NASDAQ:AAPL), Samsung (OTC:SSNLF) and Xiaomi (XI) as well as various capabilities directly embedded on smartphone platforms. It will also include the rapidly growing information associated with consumer interactions with healthcare-related self-help. It includes the huge amount of information that is potentially derivable from social media interactions and from geo-location and search interactions (e.g. imagine the information potentially derivable from the nature and pattern of your Google searches. Where are you located? Are you staying home more than usual? Are you making an unusual number of searches related to disease symptoms or medication interactions?). (note to reader - we should probably assume that Google is giving deep thought to this very matter...)
Definitions
Big Data can be defined as "a term that describes large volumes of high velocity, complex, and variable data that requires advanced techniques and technologies to enable the capture, storage, distribution, management, and analysis of the information."(Hartzband). There are numerous alternative definitions of Big Data. For the specific case of Healthcare we also emphasize slightly orthogonal capabilities such as veracity (i.e. accuracy and reliability), value and timeliness as critical increments to the definition.
Healthcare Big Data Sources, Users and Uses
Numerous key questions about HCBD revolve around 3 issues: what are the sources of the data, (2) who are the users of the data, and (3) what do they do with the data. We'll start with a basic model - the users are the Payors (e.g. insurance companies), the Providers (e.g. Hospitals), the pharma/biotech complex (e.g. there are those who argue that most real medical knowledge is actually learned during clinical trials) and the consumers (regular people). Top level uses of HCBD are summarized in the diagram below on the right.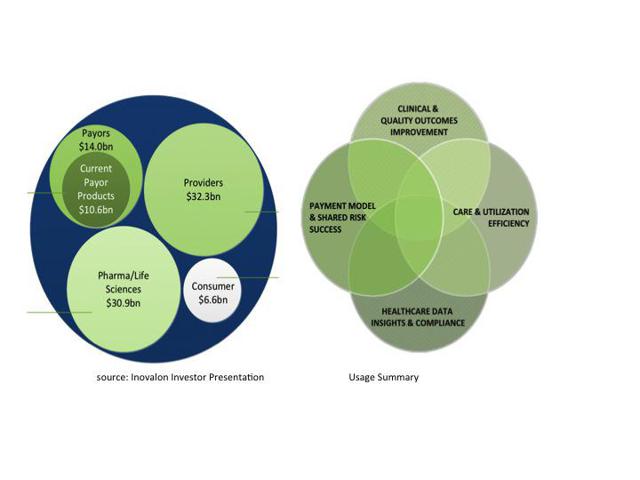 We can extend this picture (as illustrated below) by including key data sources such as: electronic health records, insurance claims, drug prescriptions, doctor's records and notes, hospital records including biometrics, medical imaging (including Radiology and Picture Archiving and Communications (PACs)), Quality data and data derived from home devices, wearables, implants, genetic analysis and our social and financial interactions.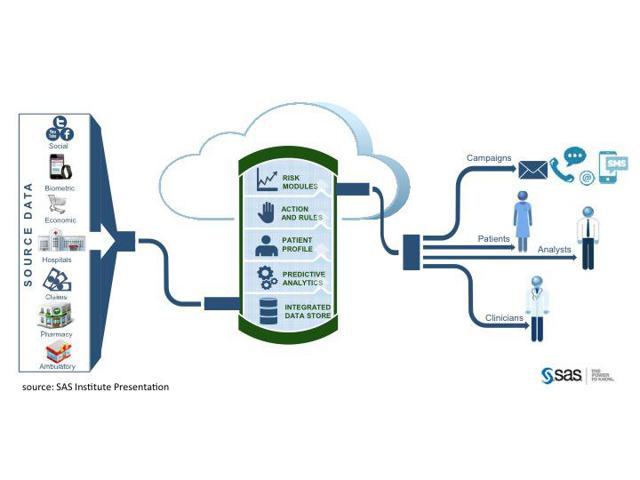 A Little Healthcare Big Data History
Although it may seem that the concepts of Big Data in Healthcare are somehow new and revolutionary, in reality it has been in the works for a considerable period of time. IMS Health has been gathering "big data" for many years. Healthcare practitioners and researchers have also been wrestling with notions of using large data sets and analytics to derive comparative quality/performance for many years. A key slide from Inovalon provides a summary of some of the watershed events:
As early as 1994, the National Committee for Quality Assurance (NCQA) released version 2.0 of the Health Plan Employer Data and Information Set (HEDIS) aimed at beginning to provide the Healthcare industry with a comprehensive set of performance and quality measurements. In the years 2000/2001, a program known as California Pay for Performance (P4P) was launched on behalf of several leading HMOs. The program was responsible for collecting and reporting a well-defined data set to 35,000 physicians in 200 different organizations in multiple different geographic regions served by multiple health plans. In 2011, the Medicare Advantage Star Rating and Bonus Payment program was launched. Initially, the patient pool was composed of Managed Medicaid patients; the pool was subsequently expanded to include Medicare Advantage, then to the Medicare Shared Savings Program (MSSP) and the Pioneer Accountable Care Organizations (ACOs). With the 2014 launch of Commercial Healthcare Exchanges the addressable patient pool has grown substantially (see the diagram above).
The Role of Government
The government has played and will continue to play a unique role in the evolution of HCBD. The government is the only entity which is concurrently a major Payor (CMS is the largest payor), Provider (e.g. Veterans Administration), rule maker, data specifier, data collector, research sponsor and financial stimulator. An excellent way to understand what can be accomplished is to examine the case of Electronic Medical/Health Records (EMRs/EHRs). They were widely agreed to be the path forward but it took critical stimulus in the form of the American Recovery and Reinvestment Act (ARRA) of 2009 combined with the HITECH Act to reach the needed goals (observe the leap between 2011 and 2014 in the diagrams below).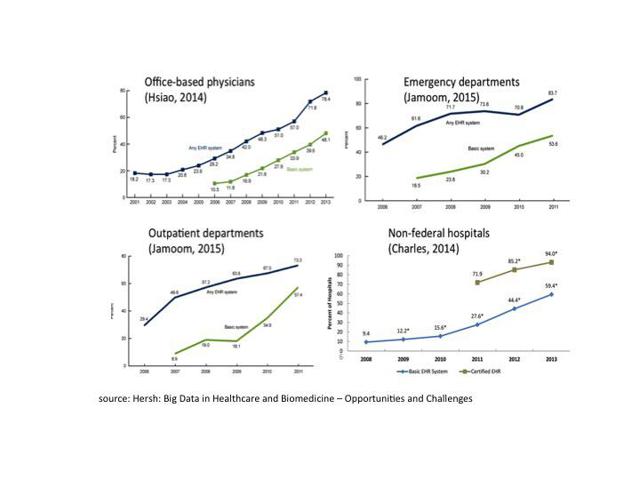 Ironically, the rapid adoption of EHRs/EMRs has served to expose the lack of interoperability as a critical issue and in essence a "hole in the road" leading to the HCBD superhighway. The Federal Government has responded by forming the Office of the National Coordinator for Health Information Technology (ONC). In turn, the ONC has issued a proposed set of guidelines and roadmaps for Interoperable Health IT Infrastructure - key information sources are the whitepaper Connecting Health and Care for the Nation: A Shared Nationwide Interoperability Roadmap and A Vision to Achieve an Interoperable Health IT Infrastructure. It is also well worth the time to consider alternative perspectives that are best represented by two articles: EPIC FAIL - Digitizing America's medical records was supposed to help patients and save money. Why hasn't that happened? and the ONC Technology Report on Health Information Blocking.
This raises an interesting set of strategic questions as the USA Healthcare system is highly fragmented in nature and companies have rapidly come to understand the potential value of the data that they generate and collect. Thus a conundrum - in order for HCBD to fully blossom we require access and exchange ("set the data free") but there is also strong incentive to "hold the data close" in order to try to gain competitive advantage. We actually discussed Health Data Exchange via the CommonWell Health Alliance (www.commonwellalliance.org) in a previous article so in order to save space here, have a read of the CommonWell section of the article. (note to the reader - some humor from McKesson exemplifying the complexity of "Image enabled" interoperable EMR systems)
Meanwhile, we shouldn't underestimate the Government's role as a data collector and disseminator. One view is provided by the Research Data Assistance Center (RESDAC). Of particular interest may be a new CMS initiative to make data available under what is known as the Data For Innovators Research program which is specifically aimed at innovators and entrepreneurs trying to create new products for sale. CMS also has initiatives aimed at providing better tools and methodologies to access key data - an excellent example is the Chronic Conditions Data Warehouse and Virtual Research Data Center (VRDC) program and tools which CMS describes as follows - "The Chronic Conditions Data Warehouse (CCW) is a research database designed to make Medicare, Medicaid, Assessments, and Part D Prescription Drug Event data more readily available to support research designed to improve the quality of care and reduce costs and utilization". There is an additional "treasure trove" of data from various government entities including: Center for Disease Control (CDC) data sets; FDA openFDA for data sets on drug, device and food; Hospital charge datasets aimed at showing variation within communities and between communities of charging levels; State insurance commissions (health insurance company rate filings potentially provide a wealth of useful information) and National Center for Biotechnology Information genomic data sets.
Categorizing the Institutional Players
As usual, because the number of players involved is large, our approach will divide them into strategic categories and "cherry pick" the key players in each category.
[C1] "Pick-and-Shovel" Players (aka the Tool Suppliers)
As with many technology intensive initiatives, while it is difficult to call the winners and losers early, we can often be sure that the tool makers will be among the key beneficiaries.
Castlight Health (NYSE:CSLT) - Castlight describes itself as: "a new category of cloud-based software that enables enterprises to understand and manage health care spending as a strategic business investment, and help employees make more informed medical decisions based on factors such as cost, quality and patient experience. Our technology offering aggregates complex, large-scale data and applies sophisticated analytics to make health care data transparent." Castlight was founded in 2008 and IPO'd in 2014. Castlight has rolled out a growing solution suite: Essentials (cost and quality analytics), Elevate (behavioral), Pharmacy, Protect (reference pricing migration), Rewards (incentives), Dental, Action (benefits timing) and Academy (education). As can be seen from a glance at the latest 10Q, Castlight has rapidly grown revenues but also continues to rapidly accumulate losses.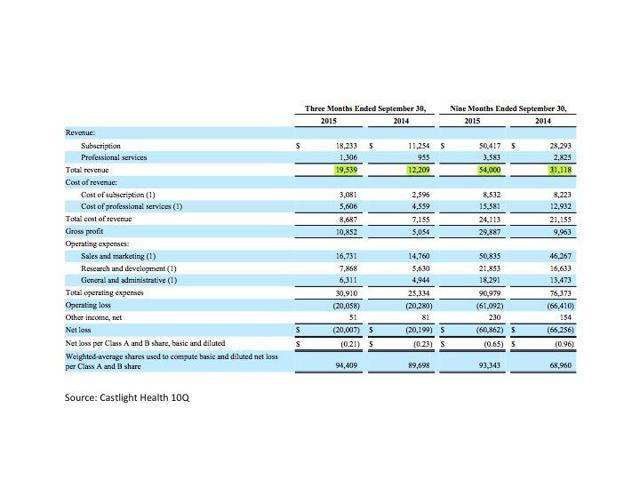 Castlight suffers from a data access conundrum that is well stated by language in its 10Q: "In order to deliver the full functionality offered by our Enterprise Healthcare Management solutions, we need access, on behalf of our customers, to sources of pricing and claims data, much of which is managed by a limited number of health plans and other third parties. We have developed various long-term and short-term data sharing relationships with certain health plans and other third parties, including most, but not all, of the largest health plans in the United States. We are limited in our ability to offer the full functionality of our offering to customers of health plans with whom we do not have a data-sharing arrangement."
As we will see throughout our series of articles, this area is a sweet spot being targeted by the big players who are also the generators and/or controllers of many of the data sources. There is a Healthcare Big Data imperative at work - you must keep growing both your key data sets and the set of useful derived actions. Castlight's ultimate challenge may be to find alternative data sources and to enhance the velocity of their capability development. Of note to investors, Castlight went public in March 2014 at $16/share and traded as high as $40/share. As of this writing, it is trading at $4.05/share, down 65% year-to-date.
Inovalon (NASDAQ:INOV)
In several aspects, the leading established Pure Play Healthcare Big Data platform is Inovalon. Ironically, although the company has been operating since 1998, it just IPOd in February 2015. Inovalon has methodically executed the Healthcare Big Data Imperative by: (1) continually expanding its customer and relationship base among leading payors, providers and Electronic Health Record vendors, and (2) continually expanding capabilities to include quality measurement/reporting, quality rating optimization, claims/payment integrity assurance, data integration/EHR interoperability, claims processing and financial valuation, diagnostic accuracy assurance and Business Intelligence. An excellent measure of ongoing progress is the steady increase in unique patient count and medical event metrics which are captured in the chart below: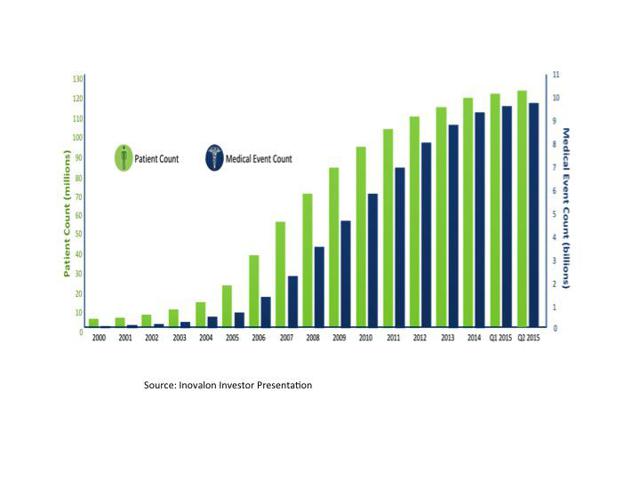 Finally, Inovalon has recently executed two strategic deals: the acquisition of Avalere which expands its customer base to include pharmaceutical, life sciences and biotechnology, and the DataDiagnostics™ partnership with Quest Diagnostics (NYSE:DGX) for clinician ordered, on demand, patient-specific lab diagnostics. Key aspects of the benefits of this partnership for Inovalon are: (1) the ability to order diagnostics either via Quest's Care360 system or via numerous leading EHR systems, and (2) the augmentation of Inovalan datasets via the diagnostic results workflow.
IBM
IBM is making a massive bet on HCBD. IBM reorganized the company and brought in key outside talent. It made a series of strategic acquisitions including: Curam (social program management), Phytel (population health management), Explorys (healthcare big data analytics) and Merge Healthcare (enterprise imaging solutions). It has invested billions in research and development on Watson Cognitive Computing. It is collaborating with a key set of strategic partners including Johnson & Johnson, CVS Health, Apple, Medtronic and EPIC and are working closely with a stellar set of customers (e.g. Memorial Sloan Kettering, MD Anderson Cancer Center, Mayo Clinic) both to advance Watson's capabilities as well as to build innovative solutions (e.g. Oncology advice). IBM is also rolling out more integrated solutions such as the HealthCloud for Life Sciences and the CareManager (which integrates Apple HealthKit and ResearchKit).
A recent article in the Wall Street Journal entitled Lessons from the Cognitive Frontlines: Early Adopters of IBM's Watson is a must read. Especially insightful is the quote from Dr. Lynda Chin - "An application like Oncology Expert Advisor (OEA) cannot deliver on its intended impact of improving patient outcomes worldwide without addressing the necessary network infrastructure, security and regulatory controls, data sharing/access/use contracts, and reimbursement, not to mention the culture of medicine and clinical adoption. Only through addressing these non-technical challenges, we will be able to translate a piece of technology, like OEA, into impact. That is what separates an innovation from a transformation...that is what makes it a moon shot."
Oracle (NYSE:ORCL)
Oracle is a Healthcare industry veteran and the one company that can reliably make claims such as: "10 of the top 10 Hospitals and 20 of the top 20 US Health Insurers run Oracle". Oracle has segmented the Healthcare vertical into Medical Device, Payors, Providers and Contract/Academic Research. For example, Oracle designed the Data Management Workbench for the research segment. Oracle has crafted an excellent Healthcare Internet of Things (HCIoT) proposition and has nicely connected the HCIoT story with the larger HCBD opportunity - at least on paper….
Oracle published a recent whitepaper on HCBD entitled Improving Healthcare Provider Performance with Big Data. This paper lays out the required functionality and then maps Oracle products to the function blocks: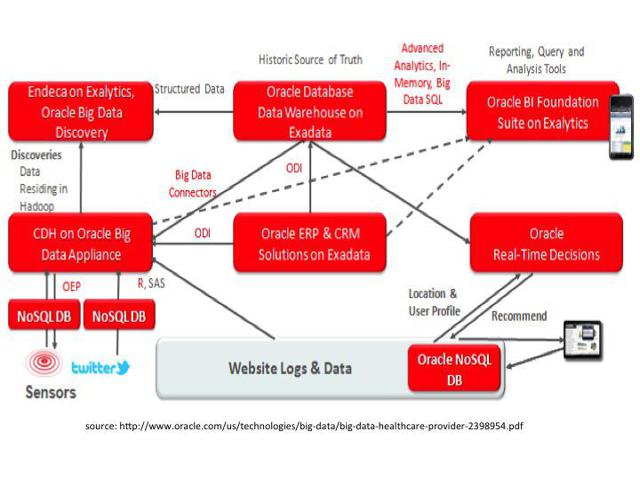 Despite the look of this diagram, the problem for Oracle is the lack of both functional and publicity leadership in HCBD. That said, this is not a new situation for Oracle and the solution for past instances of this situation has been aggressive acquisitions when the market segment is deemed sufficiently important.
SmallIron HCBD Software Vendors
The most frequently mentioned company in this category was SAS, followed by Teradata (NYSE:TDC), Hortonworks (NASDAQ:HDP), Tableau (NYSE:DATA) and then by Informatica. Of these, Teradata, Tableau and Hortonworks are publicly traded. We mention Informatica (although it has been taken private) because two of the strategic investors are Microsoft (NASDAQ:MSFT) and Salesforce (NYSE:CRM), which could certainly make for some interesting future possibilities… Due to insufficient space in this article, we suggest that the reader peruse Hortonworks and Tableau on your own.
Teradata
Teradata has a longstanding Healthcare industry vertical solutions focus with an extensive collection of whitepapers and a well-formulated solution architecture. However, combing through Teradata's latest investor presentation shows us the following industry-specific revenue breakdown: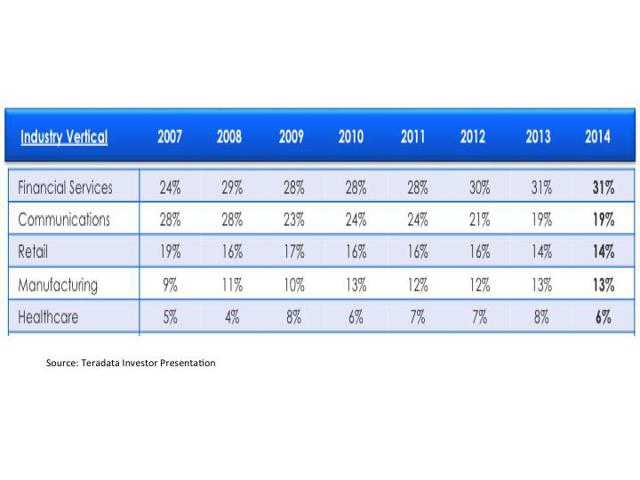 The issue at hand is that Teradata's overall revenues and the healthcare-specific revenue share have both been in decline.
SAS - SAS is privately held, but we'll briefly include it in this analysis because of longevity and sheer prevalence among payors, providers and academic hospitals alike. Although SAS is private company, it is actually the world's largest privately-held software company and 2014 revenues were $3.1B. The reader can get a good feel for SAS architecture, functionality and capabilities by perusing the Population Health Analytics presentation.
[C2] Mega Health Insurance Company Players
It should come as no surprise that there is significant concentration in the health insurance market in the USA. One view of the trend between 2006-2014 of the market share of the top five insurance companies is given in the table below:
| | | | |
| --- | --- | --- | --- |
| | 2006 | 2010 | 2014 |
| Cigna | 5% | 6% | 6% |
| Aetna | 8% | 9% | 11% |
| United Healthcare | 13% | 13% | 13% |
| Anthem | 15% | 16% | 15% |
| Blue Cross/Blue Shield | 35% | 35% | 37% |
| /Totals | 75% | 79% | 82% |
Source: Commonwealth Fund: Evaluating the Impact of Health Insurance Consolidation
What is much less known is that the dominant share and concentration vary widely by geography - e.g. the resident Blue Cross/Blue Shield has dominant market share in Alabama; Kaiser Foundation is a key player in California and Colorado; United Healthcare (NYSE:UNH) is a powerhouse in Arizona, etc.
The insurance companies have been using big data for a variety of purposes for a number of years. Several have done this by forming subsidiaries to provide sufficient focus on the expanded business prospects and the technology. The last 2 years have brought a wave of mega-insurance company M&A activities. Assuming the acquisitions go through, the industry will be substantially reshaped. The table below depicts both the reshaping of the insurance industry itself as well as the resulting Big Data subsidiary milieu - a number of interesting changes are rapidly evolving…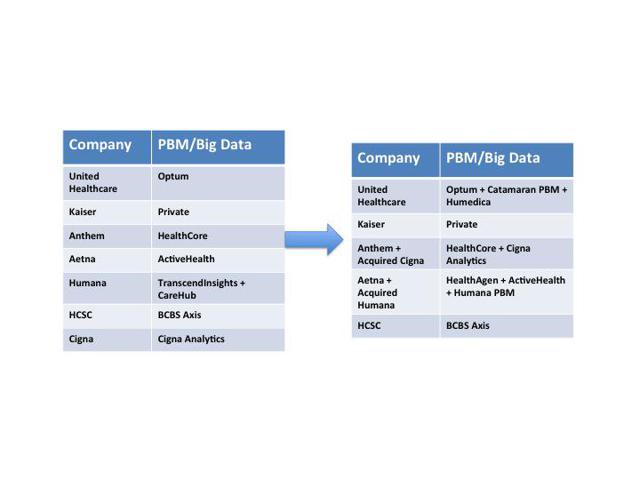 Of these five, the Healthcare Service Corporation (HCSC) Blue Cross/Blue Shield system is non-profit ("customer owned") and Kaiser is privately held. The scale, scope and strategic importance of the efforts by United HealthCare and Aetna (NYSE:AET) dwarf that of Anthem (NYSE:ANTM) and Cigna (NYSE:CI) is this arena, so we will briefly cover Cigna Analytics and BCBC Axis, but focus our attention on the emerging giants - Optum and Healthagen.
Note to the reader - in many aspects Kaiser makes for an excellent case study as it is the one non-government, mega-scale, truly integrated system (i.e. concurrently a payor, a provider, a PBM and a pharmacy). Kaiser was an EHR pioneer and after an initial failed attempt (based on a partnership with IBM), built a comprehensive system in partnership with EPIC now known as HealthConnect. There is potentially much to learn about HCBD from Kaiser but its private status often makes for considerable additional difficulties in gathering and interpreting information. We'll leave detailed coverage of Kaiser for later.
Cigna Analytics - Cigna
Cigna has formed an organization called Cigna Analytics, built a Big Data platform based on technology from SAS, Teradata and Tableau and pursued a plan called "Connected Care." The strategy has 2 major components: (1) identifying health tendencies that provide opportunities for change/improvement and (2) pursuing tight collaboration with providers by sharing key actionable information and creating aligned incentives. Cigna has developed a metric called the "Health Matters Score" - the gist of the idea is depicted in the diagrams below. For example, a high-risk patient diagnosed with a chronic condition such as diabetes might be analyzed for gaps in care and prescription drug savings opportunities and coached via direct telephone. A patient determined to be low risk might be directed towards usage of fitness devices and mobile apps and supported via online coaching and preventative health social groups.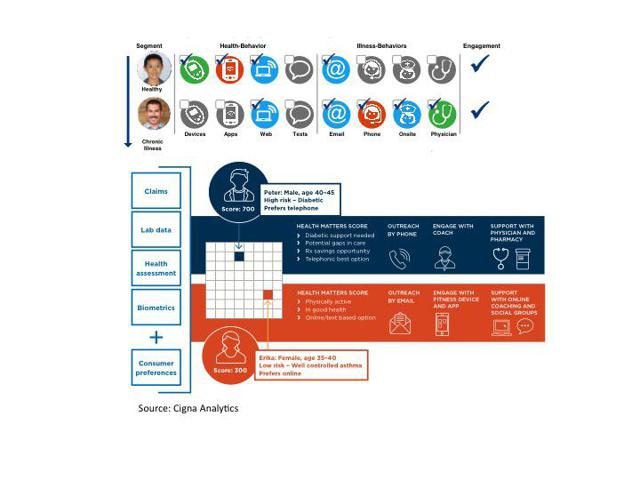 Note that Cigna is in the process of being acquired by Anthem. Hence, it remains to be seen how these capabilities will move forward.
HCSC BCBSAxis
Healthcare Service Corporation (HCSC) is the non-profit conglomeration of Blue Cross/Blue Shield entities throughout the USA. It has developed an HCBD platform known as BCBSAxis with the tagline - "connecting the dots with data - with unmatched local depth and breadth, Axis puts comprehensive, reliable and actionable data and information into the hands of employers and employees so that it can make the best decisions on cost and quality of care." BCBSAxis has proceeded with little of the fanfare associated with the mega-budget efforts being pursued by Optum and Healthagen. However, HCSC has a nationwide footprint that allows it to pursue the Big Data Imperative mentioned above as it "Spans every zip code, 96% of all hospitals and 92% of all doctors, 2.3B covered procedures and 1.7M unique providers". BCBSAxis claims to have "the largest aggregated healthcare dataset in the USA with cost, quality, provider and member experience data at the local and national level" and continuously grows its datasets by aggregating new data from all 36 BCBS subsidiaries. BCBSAxis is currently used to derive benefit strategies, drive employee engagement (i.e. preventative healthcare programs) and drive "high performance care such as value based payments and coordinated patient centered care." We plan to follow BCBSAxis closely going forward in order to compare/contrast its progress and strategic approach vs. the likes of Optum.
Mega-Disruptor Insurance Provider
UnitedHealthcare and Aetna deserve a special category of their own. Both recognize the confluence of disruptive forces buffeting the Healthcare environment including rapidly advancing technology, out of control costs, poorly aligned incentives, potential regulatory flux, employer coverage transitions and consumer empowerment. Both have decided to attempt to be disruptors instead of merely being disrupted. Both have formed mega-scale subsidiaries - Optum (UNH) and Healthagen (AET). Both are pursuing strategies that require large scale re-branding, re-positioning and re-equipping. Optum summarizes its strategy as follows: "Our insights deliver better outcomes for hospitals, doctors, pharmacies, health plans, governments, employers and consumers. We provide the tools for better decision-making and better outcomes by modernizing infrastructure, advancing care and empowering consumers." Healthagen suggests a similar strategy - "the challenges of rising costs, chronic conditions and aging populations aren't going away. Healthagen shows you how to turn those challenges into opportunities, and transform health care on your terms. Through an approach that combines care management, financial incentives and technology, you can achieve better quality of care and greater profitability." Our analysis of the common goals of these two entities is that they are trying to create a product that won't carry the bad connotations of "Health Insurance" and instead become known by a phrase such as Population Health Management (Healthagen's words). The opportunity is to create a product that is cheaper than existing PPO offerings, provides substantially more consumer control and choice, drives aligned incentives with consumers (e.g. preventative care, exercise and careful diet) and drives aligned incentives with providers (e.g. cost-effective procedures based on the best available evidence and pay-for-performance).
United Healthcare Group - Optum + Humedica
Optum leverages United Healthcare Group's plan sponsors, consumers, network care providers, hospitals and clinics in order to continually grow data sets on claims, consumer behavior and clinical information. Optum has also created a suite of tool offerings including: Symmetry and Impact for quality measurement and evidence-based analysis, NorthStar for EHR data mining and Clinformatics for clinical trials.
Optum consists largely of four key entities: (1) OptumRx is best thought of as a PBM. OptumRx built scale by acquiring Catamaran. OptumRx also acquired AxelaCare for home health data collection including CareExchange outcome assessment technology and myHealthCare cost estimator for consumers. OptumRx is attempting to strongly differentiate itself from a "traditional" PBM by leveraging the BigData capabilities of the Optum family; (2) Optum360 provides revenue cycle management solutions for Hospitals and Physicians; (3) OptumOne is the HCBD "Intelligent Health Platform" created and managed by Humedica (acquired by Optum and now a subsidiary). OptumOne is explicitly aimed at both internal and external (to United HealthCare Group) Payors and Providers. The overall architecture and capabilities are summarized in the diagram below: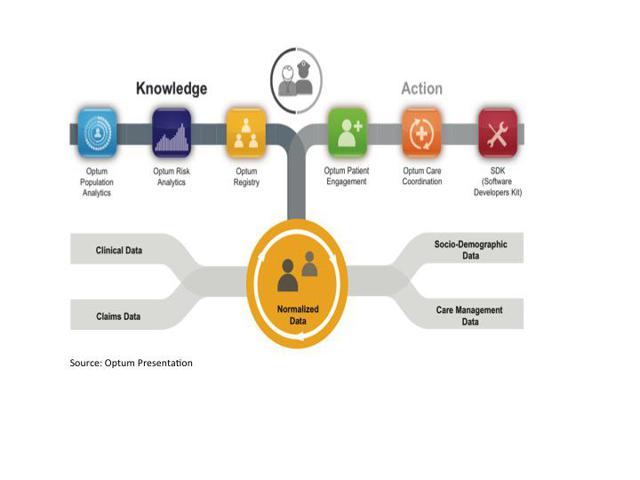 (4) Optum Labs is "the health care industry's first open collaborative research and innovation center. Our mission is to work with thought-leading partners to enable innovation and ground-breaking research designed to improve patient care and patient value." A key set of outside entities have partnered with Optum to drive Optum Labs initiatives including the AARP, Boston Scientific, the Mayo Clinic, Pfizer (NYSE:PFE) and US Department of Health and Human Services. Optum Labs provides its partners with a rich and growing set of Data known as the Optum Labs Data Warehouse. (note to readers - IBM should be concerned about these activities...)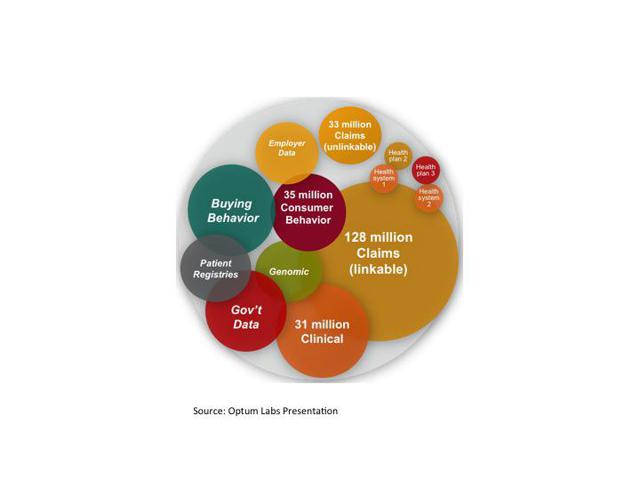 Optum has also entered the provider business via the curiously quiet acquisition of the urgent care operator MedExpress. Now if we step back, this approach begins to raise an interesting set of issues for UnitedHealth Group (and for its competitors). Let's examine the latest 10Q: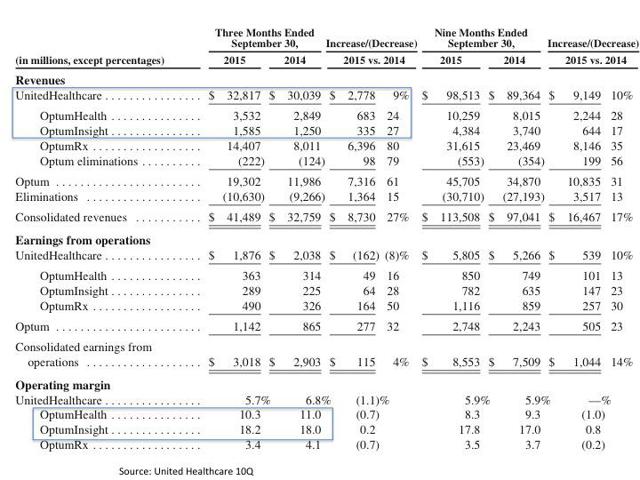 As we can see from the above, revenues, earnings and operating margins for OptumHealth and OptumInsight are strong and growing briskly whereas the same metrics for the "core" business are at best stagnant. If we invoke the Healthcare BigData imperative, we can see that there is strong incentive to grow the Optum business outside of UNH's areas of strong geographic Healthcare Insurance footprint.
Aetna
Although Optum is further along in the transition, it is very useful to look at Aetna in order to grasp the implications of its strategy. Its top level description depicts three key ongoing transitions - the roles of the employer, providers and consumers respectively.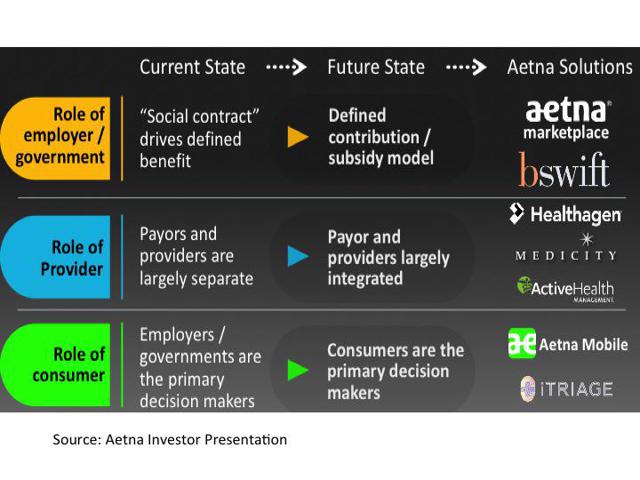 Aetna's slide suggests "payors and providers will be largely integrated" - certainly an interesting choice of words (we might have expected the word "aligned"). Aetna's offering in this segment is the Healthagen complex which is depicted in the slide below in terms of the individual subsidiaries and its focus capabilities.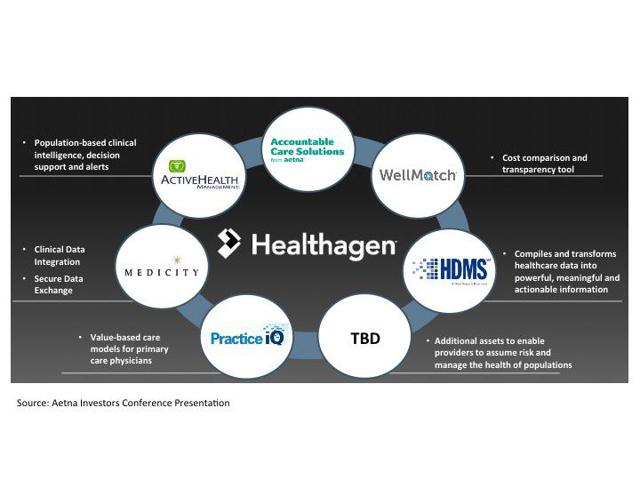 Aetna has taken interesting strides on the consumer side by making two small but highly innovative acquisitions. In the area of consumer mobile apps, Aetna acquired iTRIAGE which is an extraordinarily popular consumer mobile health app with a wide variety of functionality including patient symptom navigation, emergency room wait time and healthcare cost visibility. Aetna has also acquired bswift which has developed the springboard ™ marketplace - and is making great progress in developing a consumer-oriented retail environment for comparing and selecting benefits choices.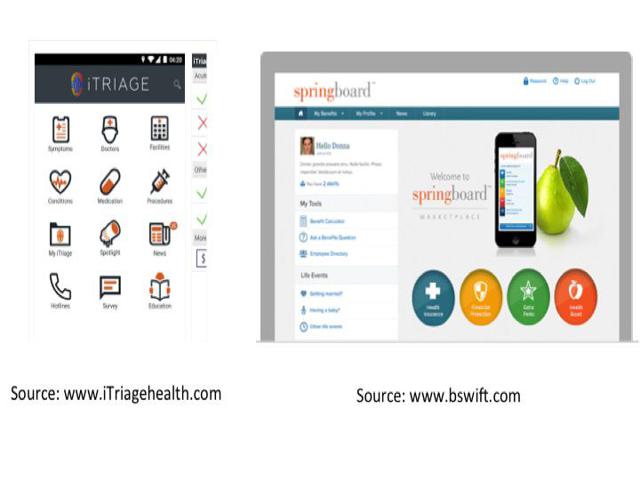 [C3] The Corner Pharmacy Mega-Player
Since we are cherry picking and focusing on the domestic market in the USA, there are really only two players to discuss in this category - CVS (the overall conglomerate is now CVS Health) and Walgreens (the overall conglomerate is now the Walgreens Boots Alliance) (NASDAQ:WBA). This category of players has realized that there is a large "hole" in the USA healthcare system that sits at the center of key trends such as convenient access, cost effectiveness, empowered consumerism, demographic ageing, managed cost containment (think PBMs) and pervasive quality measurement. They realize that many healthcare providers are unable to leverage the combination of these trends which can be summarized as reachable within 5 minutes, no appointment needed, short waiting times and advice/care from a trusted advocate. The path forward is to rehabilitate and expand the role of the pharmacist and the pharmacy. If this goal is accomplished then the new Pharmacy will be ideally situated to sell an increasingly wide range of drugs, numerous other healthcare services and a variety of other goods and services.
As we shall see below, Big Data is a key tool/weapon in realizing this vision. Ironically, an insightful paper entitled A New Perspective: The State of Pharmacy in America was published by Walgreens in 2006. The overall message of the paper was that the role of the community pharmacy can be transformed and convenient drugstore locations can "become community health centers led by knowledgeable, caring pharmacists". The paper also mentioned several other key points: people in the USA have determined that prescription drugs are a key part of the path to health/well-being; non-core retail sales needed to be ramped down; that a range of new services such as flu shots, immunizations, blood pressure checks and diabetes care should be quickly deployed and that "technology can capture and store a vast trove of data and the information should be exchangeable with external healthcare systems."
Walgreens Boots Alliance
WBA consists of the Walgreens chain in the USA, Boots - the largest retail pharmacy chain in Europe and Alliance Healthcare - a global pharmaceutical wholesaler and distributor. WBA announced the acquisition of Rite Aid Pharmacy in Nov. 2015 under the rationale of filling gaps in Walgreens domestic footprint. Interestingly, the acquisition includes the EnvisionRx PBM which had been acquired in early 2015 by Rite Aid (one might ask if WBA has bigger PBM acquisition plans). Walgreens has done an excellent job of positioning its roles and responsibilities vs. those of its partner providers as well as describing an impressive "Connected Health" digital technology initiative.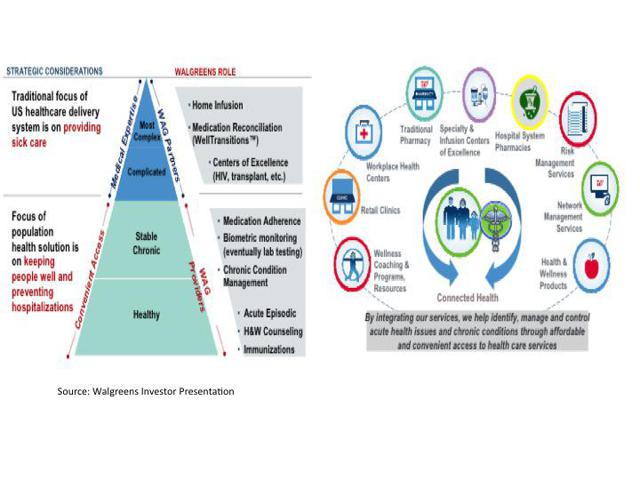 Walgreens has announced several Big Data partnerships: it has been working with Inovalon ePASS for several years and it recently announced partnering with EPIC on a new EHR implementation. It is working closely with Qualcomm Life 2net which has resulted in an innovative smartphone app called Walgreens Connect to enable data collection from Bluetooth-based glucose and blood pressure monitors.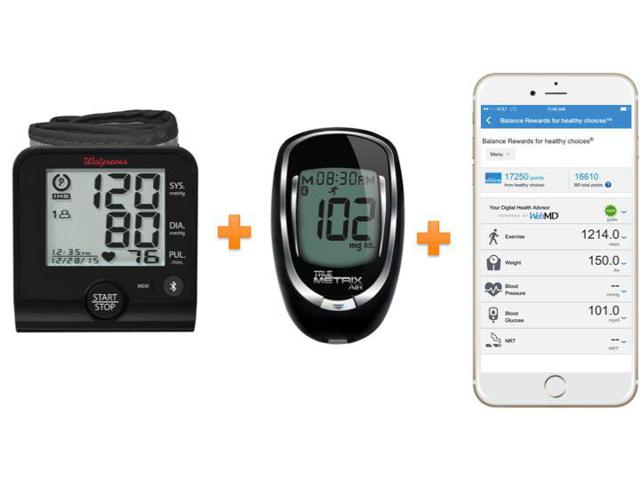 The Walgreens Connect app has been integrated with the BalanceRewards membership program which enables numerous possibilities such as analyzing the collected data and rewarding customers with discounts or other benefits based on adherence and/or fitness criteria. Walgreens also offers TeleHealth doctor appointments via a partnership with MDLive.
CVS Health
CVS Health now makes the following claim to investors - "CVS Health is a pharmacy innovation company helping people on their path to better health. At the forefront of a changing health care landscape, we have an unmatched suite of capabilities and the expertise needed to drive innovations that will help shape the future of health." CVS Health consists of CVS/Pharmacy (retail pharmacy), CVS/Caremark (PBM), CVS/specialty (specialty pharmaceuticals) and CVS/MinuteClinic (walk-in, cost effective retail clinic with RNs/NP/PA staffing and extensive health system affiliations). The MinuteClinic is now the largest retail clinic system in USA. CVS acquired OmniCare, the leading provider of pharmacy services to long term care facilities in May 2015 and agreed to acquire and rebrand Target's (NYSE:TGT) extensive network of pharmacies and clinics in June 2015. CVS has created a Digital Innovations Lab as well as CVS Health Research Institute to drive research collaborations and new pilot programs.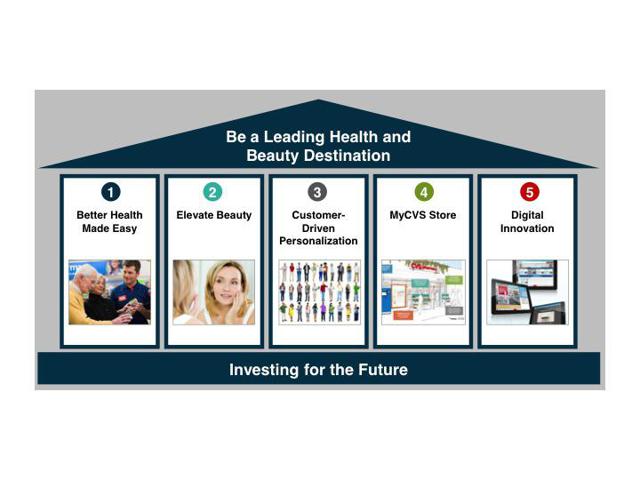 CVS has been reported to be doing extensive Big Data analytics and used the information to reach some rather critical Business intelligence such as: who are the best customers (they turned out to be frequent pharma customers instead of retail shoppers), how should the store be arranged to best accommodate these customers; how to measure and maximize prescription adherence (and thus CVS revenue) and how best to tailor personalized rewards via the ExtraCare rewards program. CVS has partnered with IBM Watson to analyze customer EHRs to determine those most likely to develop chronic disease and to suggest treatment plans. CVS has also partnered with EPIC to develop a new EHR system for MinuteClinics and to provide information exchange with numerous provider and Healthsystem partners. CVS created ScriptSynch for coordinated prescription pickups after having analyzed adherence benefits. The Research Institute has co-published several papers concerning maximizing prescription adherence.
[C4] Big Box Retail Health Clinic - Wal-Mart
Wal-Mart initially partnered with established providers via the Clinics at Wal-Mart program. However, Wal-Mart is pursuing a different model known as the Wal-Mart CareClinic which is owned and operated by Wal-Mart, provides a full suite of primary care services and offers everyday low prices (especially for members of the Wal-Mart Health Plan). We can imagine the evolution of this plan driven by HCBD datasets and analytics - e.g. various bundles and incentives as depicted in the diagram below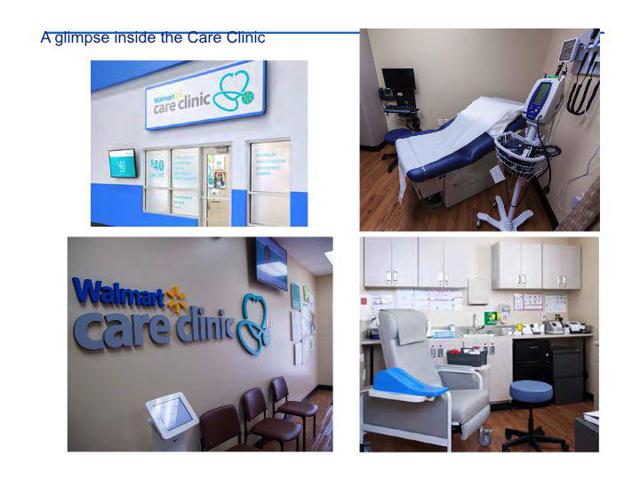 (note to the reader. Costco certainly belongs in this section as well but we have not covered them further in the interest of article length)
[C5] MegaPBM Express Scripts
Due to vigorous merger and acquisitions activity (e.g. UnitedHealthcare taking over Catamaran), the remaining standalone, mega-scale PBM is Express Scripts. ESRX provides numerous instances of the Big Data Imperative. One example is pharmaceutical fraud and drug abuse. Because ESRX has such comprehensive data access, it can detect unusual patient or doctor (or both) activity that might otherwise go unnoticed. Also interesting, although we don't know its algorithms, is ESRX's apparent usage of social media data to improve and expand its database and analytics capabilities. ESRX has developed a Big Data and Analytics platform called MediCUBE - "MediCUBE helps Express Scripts' clients to easily mine Big Data to uncover cost drivers and quality issues; giving plan sponsors precision in directing resources to the issues affecting patients." A recent estimate of data scale/scope suggests "11B prescription claims, 4B healthcare claims and180M patients." The customers for MediCube are both internal to ESRX as well as health plans. One internal user is United Biosource, a subsidiary of ESRX. UBC utilizes MediCube to optimize clinical trial investigator selection and patient recruitment as depicted in the diagram below: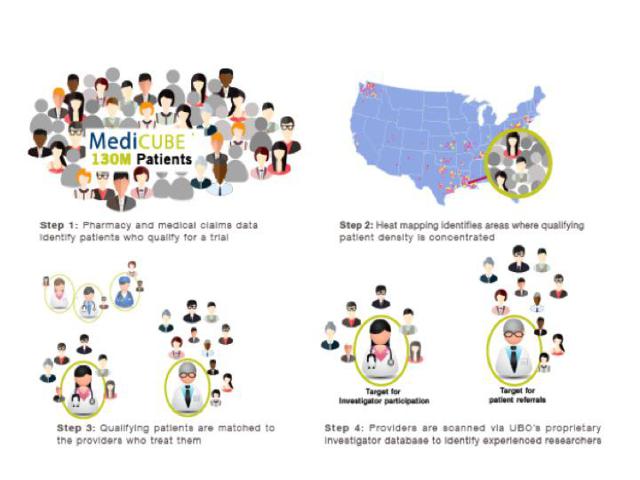 Other significant MediCube applications include: detection of pharmacy fraud & prescription drug abuse; drug interaction studies and detailed medication adherence analysis. ESRX is also rolling out a series of Big Data-enabled solution packages including the following: (1) ExpressPath physician portal - provides real-time information about coverage and clinical rules to generate optimal prescribing decisions; (2) RationalMed drug safety/interaction analysis; (3) ScreenRx adherence prediction - "Leveraging the power of predictive modeling, the tool identifies patients at highest risk for not following their doctors' orders. It weighs dozens of factors - ranging from a patient's age, geography and marital status, to his prior prescription records and physician's profile. Once identified, patients receive personalized interventions to help them stay on their therapy." A portion of the factor analysis is depicted in the AdherenceIndex diagram below: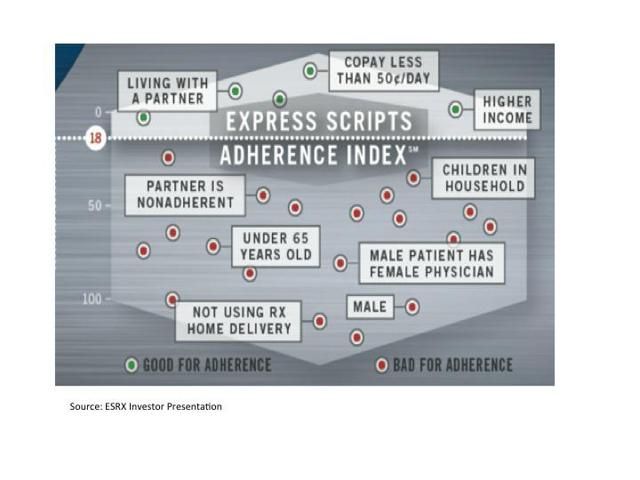 [C6] Mega Healthcare SupplyChain Provider
We have created this category in order to classify and discuss several huge, highly diversified companies such as McKesson (NYSE:MCK) and Cardinal Health. Consider the following factoids: Cardinal Health claims that it delivers 40K Home healthcare products to 1.8M patients, works with 5K pharmaceutical and medical/surgical suppliers, serves 20K pharmacies, serves 75% of hospitals and manufactures/sources 2.5B healthcare related products each year. McKesson claims to serve 52% of hospitals, 20% of physicians and 33% of all pharmaceuticals used in North America ranging from generics to specialty pharmaceuticals (e.g. for Oncology). It also claim market leadership in hospital automation and in medical management software/services for Payors. What these two have in common is their potential ability to create a "Smart Supply chain" on behalf of their customers. Such a supply chain would be a key factor in reducing costs and providing better quality care by replacing multiple systems with little shared data or decision transparency with a shared platform driven by HCBD analytics. As we covered McKesson in the previous article, we'll focus on Cardinal Health below.
Note to the reader - AmerisourceBergen (NYSE:ABC) (www.amerisourcebergen.com) certainly belongs in this category as well but as usual we cherrypick…
Cardinal Health
CAH combines pervasive reach in the healthcare system with an aggressive and insightful set of HCBD initiatives. CAH is preparing for what it calls the "Analytics of Things." CAH makes extensive use of technology from Alteryx, Teradata and Hortonworks. It has acquired naviHealth which utilizes HCBD to optimize post-acute care and is a key innovator in the area of bundled payment solutions via predictive analytics. CAH also acquired Wavemark for its RFID tracking capabilities which enable dataflows for a wide range of supplies from high-end implantable devices down to mundane items such as bandages. CAH has recently established a new Healthcare Supply Chain Innovation Center aimed at transforming the supply chain from a cost center to a strategic asset that makes measurable contributions to the quality and value of care. CAH is proposing to move away from the current system of workflows (as depicted below) which require Healthcare workers to learn and use multiple different silo'd systems which lack an integrated repository for powerful analytics.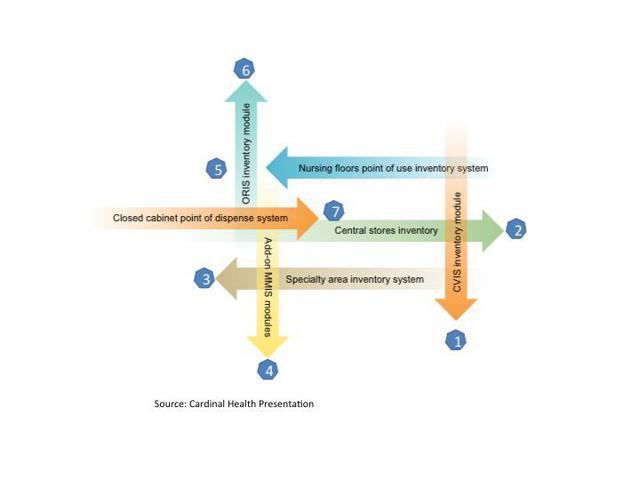 It proposes to transition to a new system with usage tracking pushed as close to the patient as possible. The solution would be based on extensive HCBD and applied analytics as depicted below: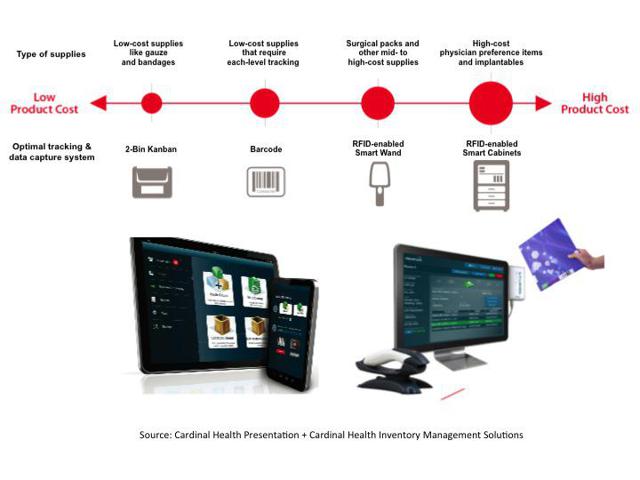 [C7] Wild Card Players
This category is reserved for the rare companies that have unique and proven capabilities and defensible competitive moats yet are little known and publicized.
IMS Health (NYSE:IMS) - IMS Health belongs in this category because when we mention HCBD to various people, IMS rarely comes up as an important entity/influencer. The irony is that in many ways, IMS invented HCBD and to this day has considerably more data, more capabilities and more customers than any of the companies mentioned above. One way to understand the power of IMS is to examine past lawsuits against the company. A key rival, Symphony filed an anti-trust lawsuit in 2013 making the following claim - "IMS has entered into exclusive long-term agreements with pharmacies and other health care providers, preventing would-be competitors from accessing a substantial percentage of U.S. drug and health care data." A second lawsuit, Sorrell v. IMS Health reached the Supreme Court. The case argued for the Doctor's right to keep prescribing information, which was being sold by pharmacies to IMS, confidential. IMS emerged as the victor. The sheer scope and scale of IMS Data Collection and the comprehensive coverage of "Blue Chip" customers are depicted on the slides below: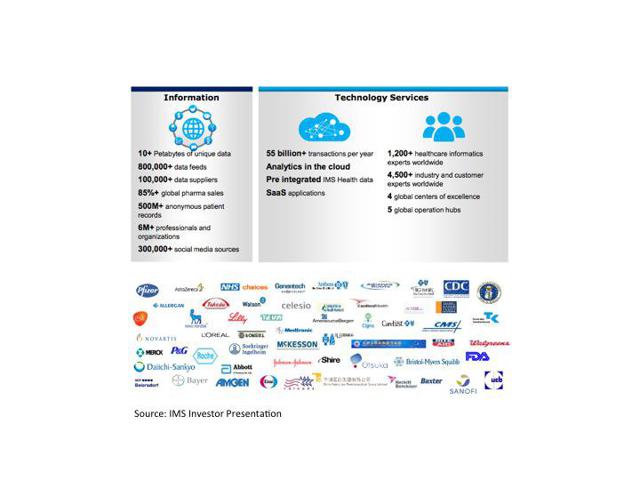 IMS' closest direct competitor is Symphony Health Solutions. Symphony is not publically traded and is owned by the Private Equity Firm Symphony Technology Group.
Mednax (NYSE:MD) - Much was made of IBM's $1B purchase of Merge Healthcare, largely due to Merge's strength in various medical imaging categories. An equally interesting deal to consider is Mednax's $500M acquisition of vRAD. vRAD is arguably the largest radiology provider with a massive radiology imaging database of more than 33M exams, growing at rate of more than 15,000 per day. vRAD also provides a unique set of analytics capabilities that has been utilized to develop the Radiology Patient Care (RPC) index used to benchmark performance against local peers or nationwide standards. vRAD also has the unique ability to bring big data capabilities to small and medium size Providers due to its outsourcing model.
Long-Term Care Insurance - Although we haven't discussed Long Term Care (LTC) Insurance in this series of articles, this would seem to be an excellent area of applicability for HCBD. One of the key issues for the previous generation of LTC policy offerings was incorrect assumptions about life span, chronic disease burden and cancellation rates (not to mention the devastating prevalence of Alzheimer's disease). With HCBD, there will be a tremendous amount of new data that can be parsed and used for new policy formulations. Indeed, at least one company called FuzionAnalytics has emerged that specializes in this area - "our solutions are designed to improve business operations and achieve desired outcomes in blocks of LTC. Our management and analytics services support our mission to transform the LTC industry by innovative technologies". Additional coverage of Fuzion can be found here.
(Note to the reader - the leading Health Insurance and the leading LTC Insurance companies (e.g. Genworth) are entirely different. Wouldn't it be interesting if a hybrid policy based on information derived from HCBD was offered by a major Health insurance company?)
Security Concerns - Discussion about HCBD often leads to discussion about security and privacy issues in relation to Personal Health Information. Ironically, 2015 has turned out to be the year of several rather massive data breaches suffered by health insurers and health care systems - e.g. Anthem (78M individuals' records), Premera Blue Cross (11M), Excellus Blue Cross/Blue Shield (7-10M), etc. These concerns have been magnified by promotional programs offered by CVS and Walgreens which appear to offer rewards in return for customers waiving HIPAA. Given that the HITECH Act of 2009 modified HIPAA rules and implemented the Genetic Information and Nondiscrimination Act of 2008 (GINA), it is well worth the reader taking some time to examine the changes. Given that a key COG in the success of HCBD will be secure and interoperable Health Information Exchange, we also suggest that the readers familiarize themselves with the activities of the Direct Trust consortium. Finally, readers should be aware that the states are exempt from HIPAA rules and often put healthcare data for sale -the buyers are known to include IMS Health and Optum.
Publically Investable Universe
Finally, let's examine the recent stock market performance of the various players mentioned in this article. The performance of each over the past 3 months as well as year-to-date is tabulated below. It has been a tough year for many of the pick-and-shovel players, a steady performance from PBM, Pharmacy and Health Supply and an excellent overall year for the Mega-insurance disruptors.