Intel (NASDAQ:INTC) and Micron (NASDAQ:MU) made some pretty big promises on the future potential of 3DXpoint and 3D NAND. But when doing further research on the specifications, I'm really starting to wonder whether there are useful applications for main system storage that's as fast as short-term memory. Furthermore, pricing information is not available for its next-generation technology, but given Intel's line-up of enterprise grade SSDs not reaching cost parity with enterprise HDDs my excitement on the cost front is more muted.

Source: Newegg
Intel's current storage offerings are significantly faster in terms of read/write speeds when compared to consumer class SSDs. However, even with the read/write speeds being anywhere from 2 to 3 times better due to improvements in cell density and various other technologies, the cost per GB seems fairly prohibitive. When Intel made presentations on the future of its SSD technologies they mentioned that it would be fairly cost disruptive due to the transition from 2D NAND to 3D NAND, which Samsung markets as V-NAND. What ended up happening was that the cost of these faster solutions didn't keep pace with competitors in the past year, and the marginal performance improvement was non-existent according to an in-depth real world performance test with the exception of vastly improved random access read and write speeds. In other words, the incremental performance advantage of Intel's current storage offerings doesn't justify such a massive pricing premium (so consumers won't be using Intel-branded SSDs for quite a while). SSDs typically sell for around 14 to 17 cents per GB, but Intel's SSD costs around 72 cents per GB, which is approximately 4.23x more expensive with very minimal performance gain.
From my perspective, the cost of producing these NAND equivalents were supposed to be inline with the broader industry so Intel could compete on both cost and performance. Instead, the cost of manufacturing each wafer is still prohibitive (for whatever reason), or the company is pricing its new technology too aggressively. The engineer made comments at the Micron and Intel partnership update back in March of 2015 about the cost disruptiveness of vertically-stacked NAND cells. When talking about cost, the engineer was pretty vague, but pointed out an exponential path to lowering costs at the wafer level. We fast forward a couple quarters and Intel arrives with the most expensive NAND storage solutions whereas every other storage player has implemented aggressive strategies to lower the cost per GB (particularly Samsung and Mushkin). What's interesting is that Micron is the provider of 16nm NAND for the Mushkin Reactor and is priced more appropriately at 39 cents per GB for the 512GB drive. Again, reasonable with very little performance compromise when compared to Intel's 750 series. In other words, Micron seems better positioned to leverage 3D NAND in the consumer space, but it's not the market leader.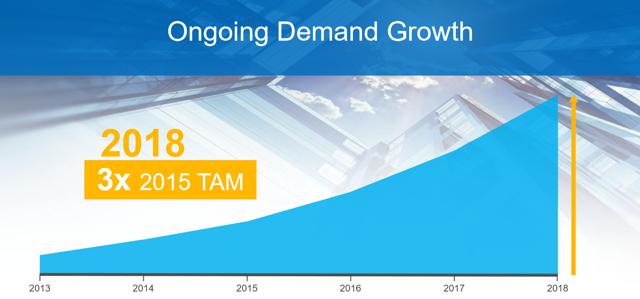 Source: Intel
Intel mentions that the TAM will grow by 3x in the span of three years. For some reason, I'm skeptical of Intel's claims that the market will expand as rapidly. It would be more believable had Intel released an SSD product with 2100 mbps read speeds and 800 mbps write speeds at a price point below $.30 per GB. In that scenario, the market could have rapidly responded to the technology because it's both cost and performance disruptive. These enterprise facing drives have to compete with storage that's somewhat cheaper.

Source: Oppenheimer & Co.
According to Oppenheimer, the enterprise storage market can be broken down into four broad categories: fiber channel storage area network, network attached storage, internet small computer interface storage area network and direct-attached storage. The entire storage market contracted this year in terms of pricing, but overall storage needs grew. NAND-based storage doesn't compose a meaningful amount of the storage volume, and it's more expensive when compared to hard disk drive storage, which is why many data center designers will situate frequently used data on the faster SSDs and leave much of the older archives on HDDs. It's also common for back-ups to be situated on HDDs, which is why the progression of SSDs into the enterprise has been slow. The above figure is in terms of millions of TBs of storage with capacity at 8,700 Petabytes. The pricing is derived from the industry revenue divided by the total storage capacity, which is estimated to be $.65 per GB from my own calculations due to rounding, whereas Oppenheimer calculated $.63 per GB. The Intel 750 SSD costs around $.72 per GB, so the cost needed to come down a little more to be fully competitive with industry averaged pricing. Furthermore, the cost dynamics of HDDs for servers is a bit different from consumer class HDDs, so the pricing tends to be higher even if it's an HDD.
While there's no denying the growth of SSDs in enterprise and Intel's rapid ramp up of SSD revenue. The enterprise-facing storage division needed to lower the cost even further, perhaps into the $.50/GB range, to be truly competitive. HDDs are expected to decline in pricing at a sustained pace with a regression of around 10% to 20% the norm for the past couple years. To leapfrog HDD, SSDs need to reduce cost by 20% to 30% at a sustained pace. Enterprise facing drives are more expensive than consumer drives (so there will be a discrepancy in the cost comparisons).
Determining the intersection point of SSDs and HDDs is difficult. Various industry forecasts sound overly optimistic on the pricing economics of HDDs and overly pessimistic on flash-based storage. From what I understand Moore's Law will likely sustain for the next 10 years, but it's not yet clear what other new technologies will be developed to sustain HDD pricing. If anything, HDDs aren't going to become a legacy technology until the 2020 timeframe, so investors should be cautious of wildly optimistic forecasts on Intel's storage revenue and somewhat cautious on bearish views when pertaining to conventional storage names like Seagate (NASDAQ:STX) and Western Digital (NASDAQ:WDC).
Disclosure: I/we have no positions in any stocks mentioned, and no plans to initiate any positions within the next 72 hours.
I wrote this article myself, and it expresses my own opinions. I am not receiving compensation for it (other than from Seeking Alpha). I have no business relationship with any company whose stock is mentioned in this article.