On December 28, Transocean (NYSE:RIG) announced Shell (NYSE:RDS.A) (NYSE:RDS.B) had terminated, for convenience, the harsh environment semi-submersible, Polar Pioneer, for convenience. The rig had been under contract through July 2017. The provisions of the termination, a lump-sum adjusted for a reduction in operating costs, are such that RIG will not be economically injured from the termination.
RIG originally contracted the rig at a dayrate of $620,000 in 2013 for RDS.A's Arctic Ocean project (Burger J) in the Chukchi Sea. In September, the project was suspended due as the prospects did not justify the expense. RDS.A invested $7 billion in the project, using the Polar Pioneer and Noble's (NYSE:NE) Noble Discoverer rigs. The contract for the Noble Discoverer was cancelled earlier this month.
Some have opined that the cancellation is not really such a bad thing, since it was project related not macro environment related. Further, as RIG is getting paid there is no economic loss. While I do agree, that RIG is not being economically harmed by the cancellation, I disagree with the assertion that cancellations are neutral events. It has been clear that contracting is not occurring in any material way. What is (relatively) new is the realization that there will be no new drilling contracted for the foreseeable future as exploration and drilling ("E&P") companies are pulling back on long-term capital programs and managing their balance sheets to preserve capital at all costs.
I get the feeling that a majority of market observers feel drillers will rebound when oil does (which continues to be an open question). My perception is drillers will not rebound until some period after oil rebounds due to the impaired balance sheets of the drillers.
From an investor's perspective, despite the stocks of RIG (down 30+%) and other drillers being down substantially, they continue to represent material market capitalizations ($4.6 billion) and enterprise values ($11.0 billion).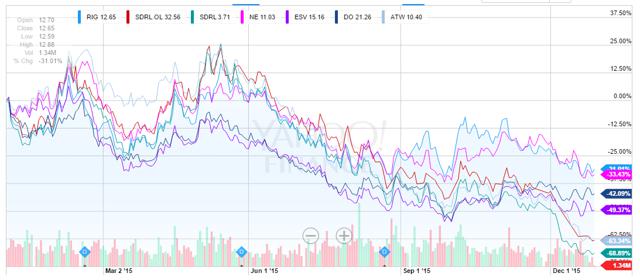 Source: Yahoo!
With the possible exception of Seadrill (NYSE:SDRL), which represents a materially higher level of risk, it does not appear the driller stocks have experienced a true capitulation in price. As strange as it may sound, it appears that there is a certain amount of optimism inherent in the stock prices of drillers (especially RIG and NE).
While I do believe most of the major drillers (including RIG) will survive, prices are not really cheap (and the lack of capacity reduction will further delay economic contracting when demand returns). While I may trade the drillers, I am not making any new investments. My suggestion for those with a long term view is to pick two or three drillers and buy a 5% (or 10%) position monthly. Due to the long-term need of E&P firms to replenish reserves, it is almost inevitable drilling will return to the market by 2018. However, it may be two years before equilibrium in contracting (and driller prices) returns.
Disclosure: I am/we are long SDRL.
I wrote this article myself, and it expresses my own opinions. I am not receiving compensation for it (other than from Seeking Alpha). I have no business relationship with any company whose stock is mentioned in this article.