Overview
For over a year now, the subject of police brutality has increasingly gained public attention both in the U.S. and internationally. With 2015 coming to an end, this widespread media attention has only gained traction. It is for this very reason that 2016 will be the year of the officer body-worn video camera and TASER International (NASDAQ:TASR) will profit.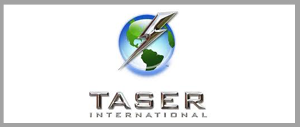 TASER began as (and still is) a developer, manufacturer, and seller of conducted electrical weapons (CEWs), or stun-guns. In addition to the company's CEW segment, starting in 2011, TASER began producing body-worn video cameras for police officers. This product line is known as the Axon cameras. The company also provides a cloud-based SaaS platform, Evidence.com, which stores videos and other digital information that can be used as evidence. Evidence.com and the Axon cameras both comprise the company's "Axon segment".
Weapons Segment Analysis
TASER's CEWs have been widely adopted by police departments due to their positive effect on combating insurance costs by lowering the rate of injuries/deaths following incidents. CEWs have always been TASER's main product line, which is still the case. TASER remains a dominant market leader in the development and manufacturing of advanced CEWs, as this market has significant barriers to entry given the underlying technology. The company is currently unaware of any significant sales of competing products. For this reason, TASER continues to enjoy moat-like qualities surrounding its CEW business. TASER's most recent CEW edition is the X26P: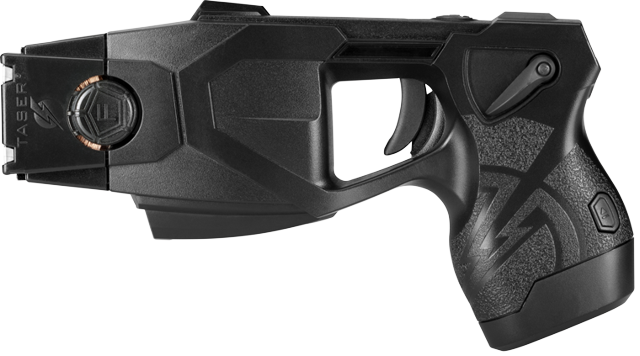 Growth in the weapons segment appears to be somewhat flat as of late. Furthermore, the weapons segment is making up a decreasing portion of overall revenues (78% in Q3):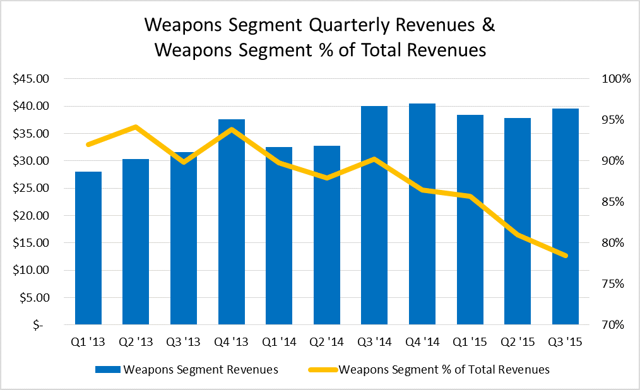 *Data source: TASR SEC Filings
Given that the company's most recent model was released in January of 2013 (nearly 3 years ago), we could be approaching a temporary down-cycle, as TASER's weapon upgrade cycle typically spans five years.
The table below breaks down the sales (in $ millions) of each major model, with its year of release, and the percentage of net sales in parenthesis:
| | 2014 | 2013 | 2012 |
| --- | --- | --- | --- |
| TASER X26P (2013) | $43.5 (26.4%) | $21.9 (15.9%) | |
| TASER X2 (2011) | $28.8 (17.5%) | $26.5 (19.2%) | $25.8 (22.5%) |
| TASER X26 (2003) | $18.7 (11.4%) | $30.3 (22.4%) | $35.2 (31.3%) |
*Data source: TASR SEC Filings
Worth noticing from the table is evidence of an increase in demand for TASER weapons in general as the X26P was rolled out in 2013. This indicates that not only did customers upgrade their legacy CEWs, but the introduction of the X26P also generated new incremental customers. This is also in line with management's analysis.
Axon Segment Analysis
TASER's video evidence brand, the Axon camera system, utilizes advanced audio-video record and capture devices used by first responders to record the video and audio of critical incidents. The Axon camera system product line is shown below: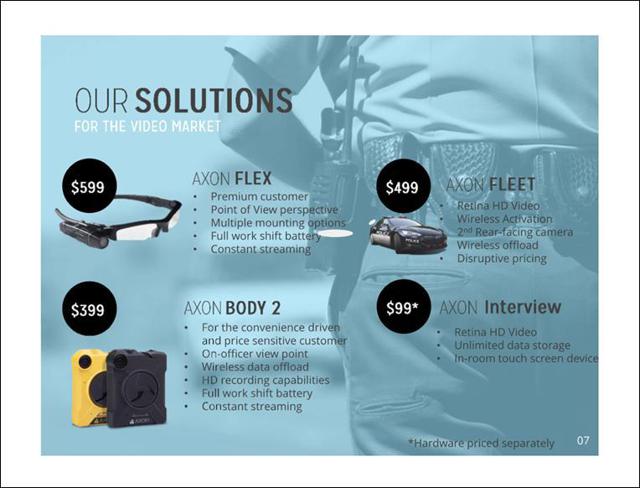 *source: TASR Q3 2015 Investor Presentation
While Axon Flex and Axon Body 2 are both meant to be part of an officer's uniform, Axon Fleet is meant to be attached to vehicles and Axon Interview is meant for interrogation rooms. In addition to the actual cameras, TASER also offers a SaaS platform called Evidence.com, which is a cloud-based digital evidence management system and warehouse, offering digital evidence management, sharing, analysis and storage. This service is offered to customers through a variety of pricing tiers based on value-added.
Over the past three years, the service component has comprised an increasing portion of total Axon segment revenues, averaging just over 30% in 2015: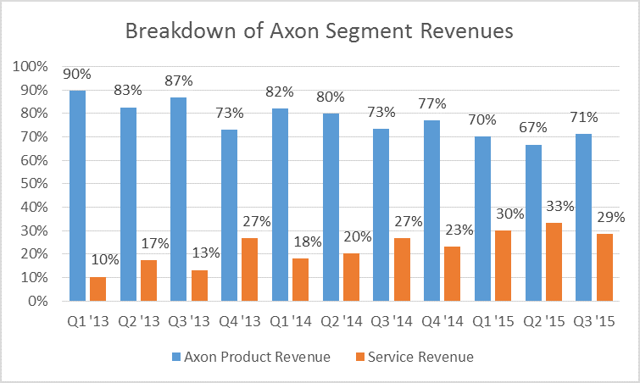 *Data source: TASR SEC Filings
The Axon segment has comprised an increasing portion of the company's net sales, amounting to just under 22% for the most recent quarter: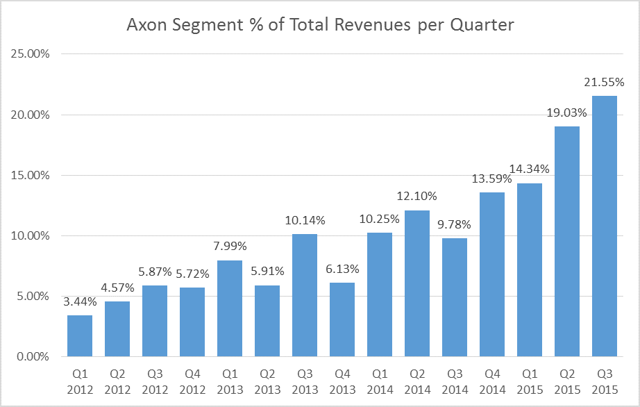 *Data source: TASR SEC Filings
Comparison Of Business Segments
| | Weapons Segment | Axon Segment |
| --- | --- | --- |
| Growth Stage: | Maturity Stage | Infancy Stage |
| Gross Margin %: | ~ 70% | ~ 30% |
| Upgrade Cycle: | 4 - 5 years | 2 - 3 years |
| Stability: | Steady & Reliable | Volatile |
| Main Components: | CEWs & Cartridges | Axon Products & SaaS |
*Source: TASR SEC Filings
The Addressable Market
While the CEW market isn't expected to grow terribly fast, the market for body-worn cameras is a different story. During the company's FQ3 2015 Conference Call, regarding TASER's Axon sales, President Luke Larson said this:
"In the domestic market we believe that there is 1 million potential touch points... approximately 600,000 patrol officers, and another 400,000 patrol vehicles. To date we have booked approximately over 45,000 licenses on Evidence.com meaning that we are at the very beginning stages of this adoption curve."
Management estimates that the domestic market has a total addressable recurring annual revenue opportunity of $1 billion: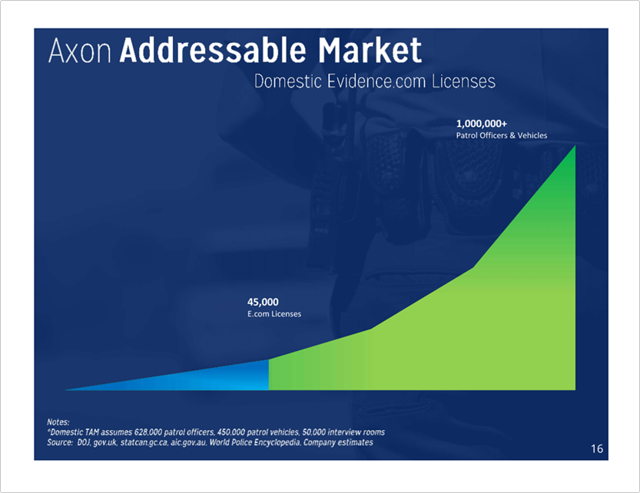 *Source: TASER Q3 2015 Investor Presentation
Already having established a presence in this market, management is dedicated to consolidating the market on the Axon platform. Management also estimates up to a $2 billion opportunity in the international market. Assuming the estimates are accurate, the total market is valued at $3 billion.
Competitive Landscape
Motorola (NYSE:MSI) and Panasonic (OTCPK:PCRFY) are the most recent entrants into this space. As for the constituents, Digital Ally (NASDAQ:DGLY), Wolfcom and VieVu continue steadily competing for the same market share as TASER. While there are a plethora of other fringe firms, the five companies above represent the most serious competition, at least in the near term.
Catalysts In 2016 And Beyond
President Obama has been a large advocate of implementing body-worn video "BWV" cameras for officers in the U.S. Just over a year ago, the President announced plans to spend $263 million in purchasing 50,000 BWV cameras for law enforcement agencies within three years. This program, which requires state and local police to match its funding, will result in an aggregate $526 million in domestic purchases body cameras for police, as well as training, through the end of 2018.
Even with the assumption that Obama's massive spending program will be executed in full, this would still leave nearly 500,000 patrol officers and 400,000 patrol vehicles in the U.S. without cameras. These police forces that aren't being given grants still have strong incentives to follow suit, as statistical studies have shown the effectiveness of implementing evidence-capturing cameras. According to an article published by evidencemagazine.com, one study of the Rialto, CA, police department showed an 88% decline in complaints filed against officers and a 60% decline in use of force due to the rolling out of BWV cameras for officers. The cost analysis from this study (shown below) displays that the City of Rialto saved $4 in hard cost for each $1 spent on the body cameras.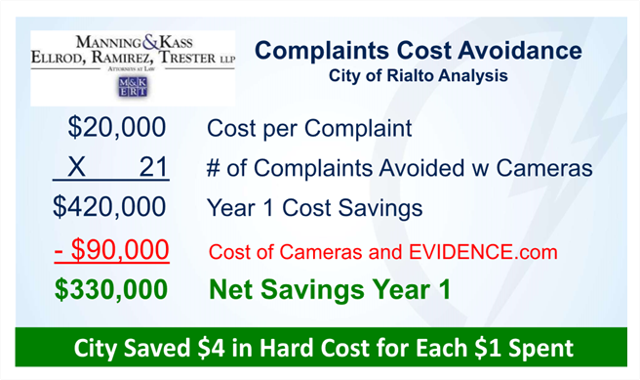 *source: TASR 2014 Shareholder Presentation
It is rather difficult to imagine a police department that wouldn't like to see similar results, even if there didn't exist a problem to begin with. Moreover, this unmet demand will only gain strength as the public and the media reign more attention upon the topic of police brutality, which is exactly what has been happening and is set to carry over to 2016.
Investment Drivers
Trending Growth:
In the past five years, TASER has experienced trending growth in revenues, more than doubling overall: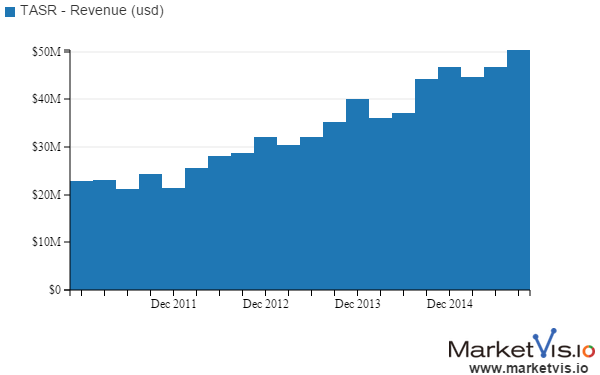 The most recent quarter proved to be record-breaking in terms of revenues, which came in at $50.4 million - well above management's previous expectations. Given this outperformance, management expects a 17% YoY increase in revenues for Q4 of 2015.
Having previously concluded that TASER's weapons segment has likely reached a near-term plateau, worth highlighting is the rapid growth of the Axon segment relative to the weapons segment: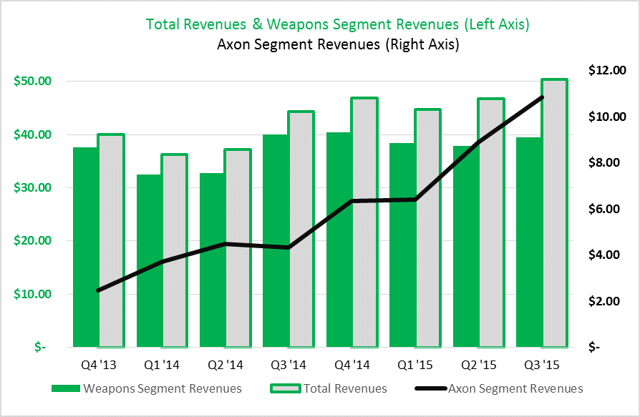 *Data source: TASR SEC Filings
The graph above shows that the Axon segment is becoming the primary driver of company's overall revenues. YoY growth in the Axon segment is displayed below: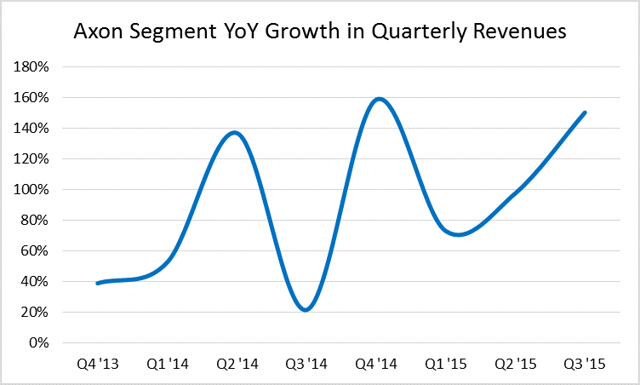 *Data source: TASR SEC Filings
Given management's expectations, the rapid growth already being seen in the Axon segment, and the large, untapped market that it addresses, we can reasonably assume that overall revenues will continue to grow. Moreover, any additional growth in TASER's weapons segment will further supplement this overall growth in revenues.
Efficiency:
TASER's management has shown increasing levels of effectiveness in operations over the past five years. This efficiency can be displayed through the following four metrics:
1) Return on Capital Employed:
Strong positive trend indicating increases in shareholder value creation from operations
2) EBITDA Margin %:
Strong positive trend indicating increasing profitability of operations
20.68% is well above the industry median of 12.26%
3) Asset Utilization:
Mild positive trend showing positive efficiency in using assets to generate revenues
0.972 is above the industry median of 0.836
4) Revenue per Employee:
Strong positive trend indicating that TASER is generating increasing revenues per employee hired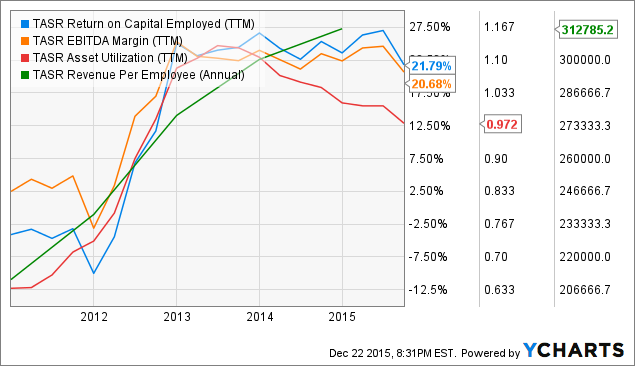 TASR Return on Capital Employed (TTM) data by YCharts
*Industry data source: unclestock.com
Sustainable Balance Sheet:
TASER's management has maintained a pristine balance sheet. The company has zero LT debt, other than $100k in capital leases. In terms of capital structure, the current mix is around 38% liabilities and 62% equity. With respect to solvency, TASER's debt ratio is healthy at just under 30%: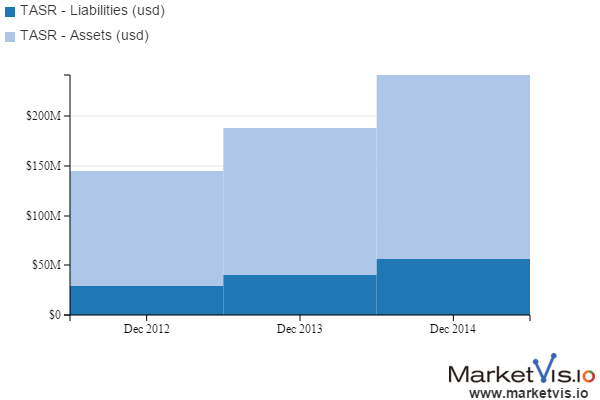 In terms of liquidity, current assets are consistently near 5x current liabilities: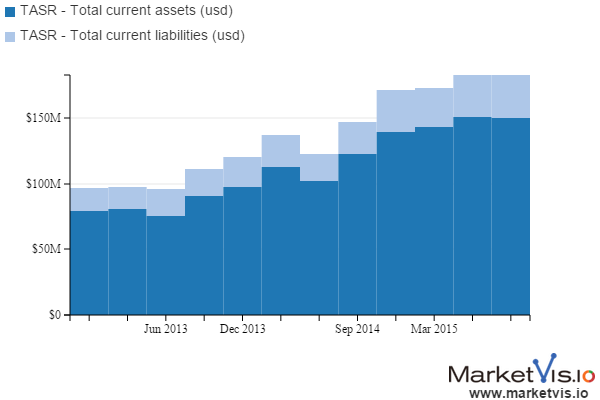 And, working capital exceeds 50% of total assets: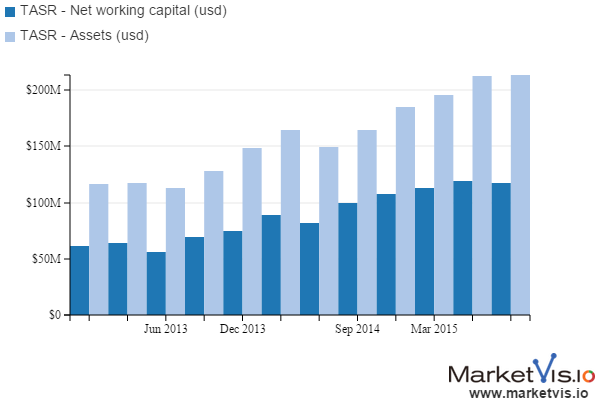 Moreover, cash makes up nearly a third of total current assets: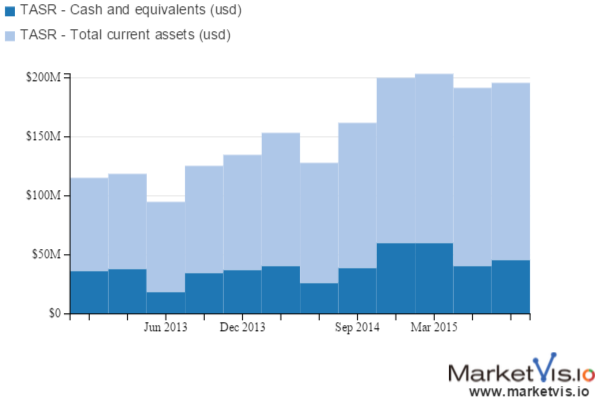 TASER is in an adequate financial position to sustain significant increases in operating expenses (SG&A and R&D) as management invests toward the company's competitive position. Additionally, TASER's liquidity ensures that the company will be able to meet the ever-growing level of future bookings.
Reliable Cash Flows:
TASER has been free cash flow positive 18 of the last 19 quarters while also growing free cash flows on average: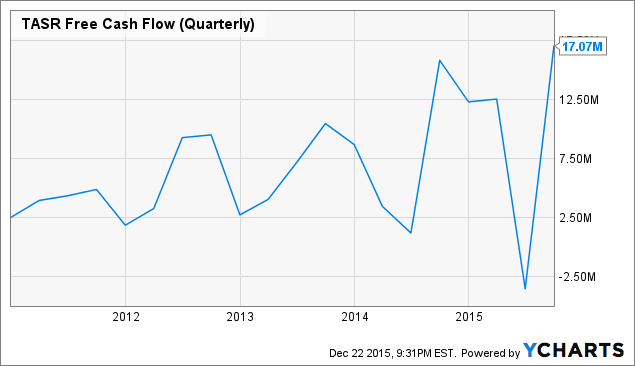 TASR Free Cash Flow (Quarterly) data by YCharts
The company's cash flows are primarily attributable to its weapons segment. TASER's weapons segment is expected to continue generating a steady and reliable stream of residual cash flows which will further supplement working capital, enabling the company to invest in emerging technologies.
Management's Strategic Awareness:
TASER's competitive position lies in its ability to continue innovating and developing its technology for both new and existing products. This has been the core basis of TASER's success as a company thus far. Accordingly, it remains a leader in the market for CEWs. However, regarding the Axon segment, the company acknowledges a recent increase in competition.
The competitiveness of TASER's Axon segment is not predicated on the company simply delivering a product to the market; the underlying nature of this lucrative industry has recently attracted a slew of new market entrants who are all capable of delivering a product. Rather, the company must take action in order to preserve its competitive position. Management is well aware of these current shifts in the marketplace. As CFO Dan Behrendt explained it:
"We want to be in front of every deal that is in the marketplace. IACP made it clear that the competition in the national space is multiplying quickly. We have a very large first floor advantage, but we need to capitalize on it now in order to avoid market fragmentation."
Management, recognizing that the market is moving fast, has backed up this talk in a variety of ways recently. First of all, the company is ramping up its sales force, having hired an additional 19 sales and marketing employees during Q3 2015 in order to get in front of more customers. Secondly, management has recently increased its R&D spend. TASER's CFO described the management team's focus on R&D as "imperative" given the company's urgency in delivering fully-functional products to the market as soon as possible.
The recent R&D spending was specifically focused on having the Axon Body 2 ready to be marketed before the IACP show of Fall, 2015. This focus proved to be ultimately beneficial for TASER, as many of its competitors at the same show had only mediocre products to show off, while TASER was able to show off the applications of its cutting-edge technology.
In-Car Video Market Disruption:
At the conference mentioned above, over 3,000 people (mostly Chiefs of Police) were taken through the experience of TASER's new products and services. The company reported its products being met with resounding excitement, with one being particularly impactful: Axon Fleet.
While TASER is historically an innovator and market creator, the rolling out of Axon Fleet by TASER places the company in a competitive position to gain market share in the already-established in-car video space. This is due to Axon Fleet's disruptive price point, well below alternative solutions provided by competitors. On the company's Q3 conference call, CEO Rick Smith explained:
"Given that many of our competitors that are coming into the body worn space have built their core businesses around this bloated economics of $5,000 in-car video system, we felt we needed to bring our best game to compete in this market at a price point of just $499 or 90% below these older systems."
Moreover, the company is positioned to enjoy the benefits of entering this market without having to educate its customers on the advantages of implementing Axon Fleet; they have been buying in-car systems for years and there are significant budgets that are already in place.
Evidence.com:
TASER's SaaS business has seen tremendous growth over the past 2-3 years. Though TASER has barely penetrated its addressable market for the Axon segment as a whole, customer engagement on Evidence.com has gained significant traction, seeing exponential-like growth over the past couple years: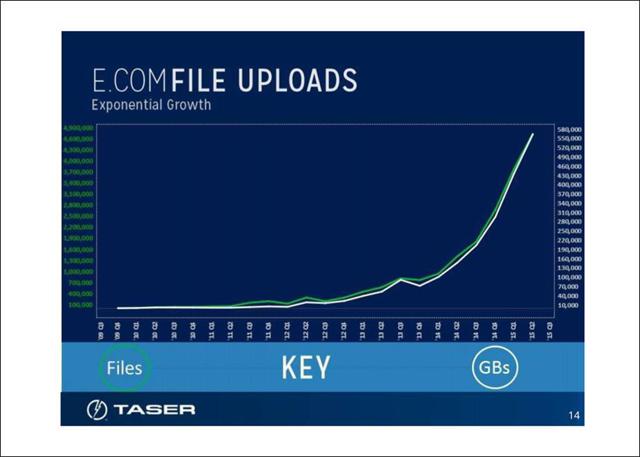 *source: TASR Q3 2015 Investor Presentation
Similarly, Q3 2015 saw 168% YoY growth in service revenues: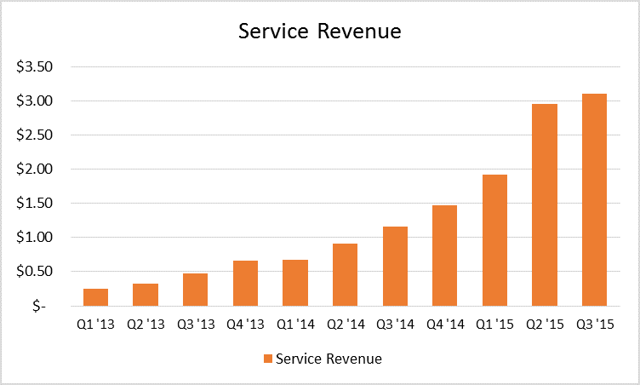 *Data source: TASR SEC Filings
**Service revenues in $ millions
Not only are service revenues growing rapidly, this revenue stream represents the future profitability of TASER's underlying business as it makes up an increasing share of Axon segment's revenues. This will ultimately create a predictable, high margin, recurring revenue stream for TASER in the long run.
Furthermore, Axon and Evidence.com bookings grew 21% sequentially, growing its total major city count to 29. This is a positive leading indicator of increases in installed base seats on Evidence.com.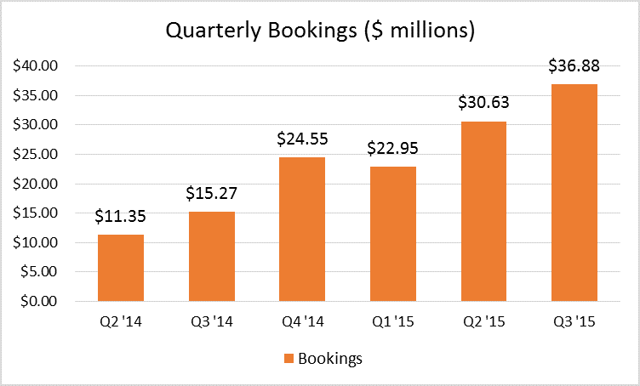 *Data source: TASR SEC Filings
This bookings growth was likely the result, in part, of TASER's recent partnership with Microsoft (NASDAQ:MSFT) which enables the company to offer a new unlimited HD data storage program. After attending the IACP conference, CEO Rick Smith reported customer excitement and overall hype for this new service.
One key metric used by TASER's management is known as Lifetime Value of the Customer Compared to the Customer Acquisition Cost Ratio (LTV/CAC). This metric (often used in the analysis of SaaS platforms, not just by TASER) focuses on the return on sales and marketing investments, and shows long-term return on a book seat basis for the Axon segment in this context. Management's benchmark for LTV/CAC is 3, with anything over reflecting superior effectiveness.
| | Q3 '15 | Q2 '15 | Q1 '15 | Q4 '14 |
| --- | --- | --- | --- | --- |
| LTV/CAC | 4.6 | 4.5 | 3.5 | 3.9 |
*Data source: TASER Q3 2015 Investor Presentation
The Q3 LTV/CAC reading of 4.6 shows that the company's investment in SG&A are effective and that growth in bookings are proportionately outgrowing growth in spending.
Multi-Level Pricing:
TASER's multi-level pricing strategy of its products ensures that the company is able to capture revenues from all potential customers, given each unique demand curve. Having a variety of different pricing points boosts incremental sales as it enables the company to sell products based on customers' willingness to pay. TASER has a similar pricing strategy with respect to its SaaS platform. The company offers a multitude of service tiers, with the high-end tiers coming in the form of bundled packages. The schedule below outlines TASER's service pricing: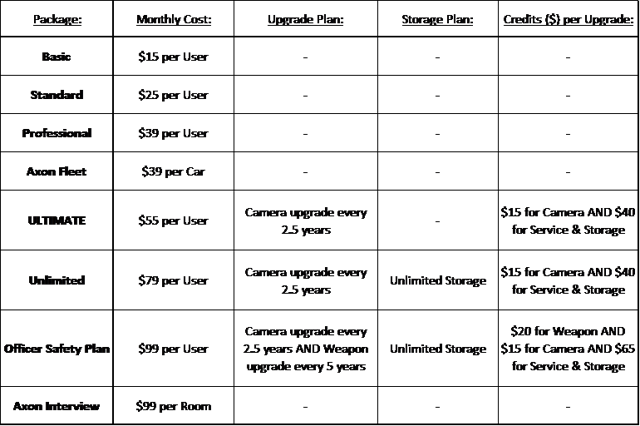 *Source: TASR Q3 2015 Investor Presentation
Not only does this pricing strategy help TASER capture sales at each level of demand, it also creates long-term incentives for customer integration through value-oriented bundling. Furthermore, through the Officer Safety Plan, customers are encouraged to use both TASER's weapons and body cameras.
Platform Synergies:
In addition to the incentives created through bundled offerings, providing a high-quality experience in just one segment gives rise to the cross-selling of the other. The company has also structured its sales staff such that Axon reps and CEW reps communicate with one another, sharing and developing leads. Moreover, each of TASER's products has the ability to connect to Evidence.com, even its CEWs. In effect, this has created strong synergies within TASER's entire business by giving customers the ability to easily manage, share, and analyze its digital evidence all on a single platform. This can come in the form of HD videos or even the number of times the trigger was pulled on a TASER weapon. Ultimately, TASER has created an ecosystem, similar to Apple's (NASDAQ:AAPL), that provides total value to customers in excess of the sum of its parts. Below is a visual representation of this ecosystem: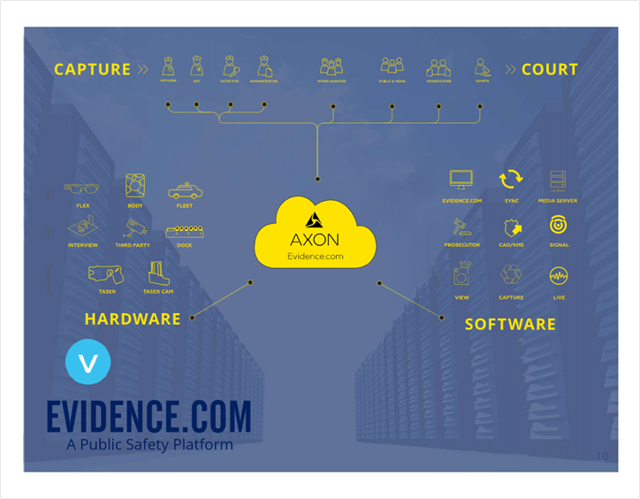 *Source: TASR Q3 2015 Investor Presentation
TASER's platform is sticky, and once customers initially implement the company's platform, there are high switching costs as compared to upgrading from within. Moreover, TASER is already a trusted partner within law enforcement, which means that customers have even less of a reason to switch. Given the fact that TASER has already developed business relationships with a large majority of U.S. agencies (17,000 out of 18,000), 2016 is set to be another record-breaking year for the company as it capitalizes on the widespread increases in demand.
International Business:
TASER's pre-existing international network of distribution channels for selling and marketing its products give it a leg up on competitors. Over 17,000 law enforcement agencies in nearly 150 countries have made initial purchases of TASER brand devices for testing or deployment. While 1 in 2 officers in the U.S. carry a TASER, only 1 in 50 officers internationally carry a TASER. This is even more skewed with respect to Axon products. This market is wide open for the taking, which is why TASER has made significant investments internationally.
Currently, international revenues comprise 17% of total revenues. Long term, management's goal is to have this number at 50%. This will have a positive impact on TASER's effective tax rate and provide reliable cash flows given the relative lack of international competitors.
Another slight advantage inherent in TASER's international business is the company's handling of currency risk. The majority of TASER's foreign receivables are paid in the form of U.S. dollars, which does not directly expose the company to exchange rate fluctuations. However, the cost of TASER's products/services do increase when the USD strengthens against foreign customers' local currencies, leaving the customers exposed to FX risk. While the implied effects may not differ either way, this policy ensures that TASER will never be explicitly levered to FX fluctuations.
Valuation
It would be difficult to try and value shares of TASER on a relative basis to its competitors; each firm has a different mix of operating activities. Thus, my valuation will be based on TASER's growth potential. As a self-proclaimed "value investor", it is hard to justify a bullish case on TASER. Indeed, TASER's EV/EBITDA [TTM] is 23.3 which is cheap by few measures. Moreover:
| | TASER | Industry | Sector |
| --- | --- | --- | --- |
| P/E Ratio | 48.3 | 40.9 | 21.6 |
| Price to Sales | 5.1 | 4.9 | 2.7 |
| Price to Book (MRQ) | 6.4 | 3.1 | 2.4 |
| Price to Cash Flow | 41.3 | 32.9 | 13.3 |
| Dividend Yield | - | 1.34% | 1.70% |
*Data source: Reuters
But, it is TASER's growth potential, rather than current valuation, which makes me bullish on the stock. As I laid out above, there are plenty of reasons to believe that TASER will continue to grow its business at a high rate. Based on such qualitative factors, as well as the quantitative expectations given by TASER's management and the underlying addressable market, I've reached the following range of projections for revenues and EBIT (assuming the base-case EBIT margin levels out to 20%):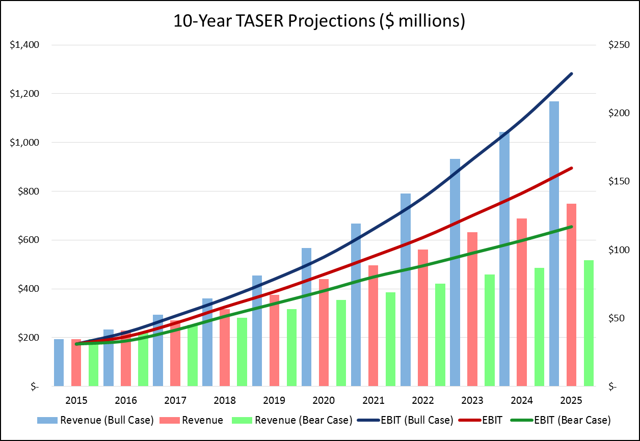 This would imply revenue growth of 20%-30% in the Axon segment and 5% to 10% in the weapons segment. This also implies that TASER's Axon segment attains a range of 10%-30% market share by the year 2025 (based on management's estimations for market potential, percentage of revenues comprising of the international business, and without adjusting for inflation). Using these projections, I reached the following range of intrinsic values per share, using a 2-stage high-growth DCF model with capitalized R&D spending:
| | |
| --- | --- |
| Bullish Case (18% growth) | $28.39 |
| Base Case (13.5% growth) | $20.77 |
| Bearish Case (10% growth) | $16.37 |
Given the bullish nature of my qualitative factors, I chose a middle-ground growth projection of 15% which would put my target price for shares of TASER at $23.03, a margin of safety of 33.19%.
Why The Market Has It Wrong
Over the past six months, the market has been extremely bearish on TASER. It's easy to comprehend the bearish stance on TASER. Given the recent increase in competition, the company must rely on differentiating itself from its competitors in order to maintain market share. Without fully understanding the situation, there wouldn't seem to be many ways to differentiate a product such as a video camera when solely used for the purpose of evidence; one video is just as conclusive as the next, absent any significant variation in the underlying video quality. As for the data service and storage aspect, the same goes. If we assume that there indeed exists zero differentiation between TASER and its competitors, then the company's Axon segment may as well be a commodity, competing solely on the basis of price.
However, due to the factors outlined in my Investment Thesis, these assumptions are in fact unrealistic. It is quite evident that TASER possesses a significant first mover advantage. First of all, the company has technological leadership stemming from its 3-year-old presence in the market for BWV cameras. While the competition is currently busy perfecting their first-generation body cameras, TASER has already rolled out its second, the Axon Body 2. Moreover, TASER already offers a diversified mix of proprietary products and services ranging from interrogation room cameras to body cameras of all varieties, each of which can be easily integrated with TASER's cloud-based platform. This effectively has created a company that is capable of attracting virtually any law enforcement customer in the market for evidence-capturing cameras.
Secondly, TASER has significant advantages stemming from the company's pre-existing network of CEW customers. Regarding this advantage, TASER enjoys substantial market power in the CEW space, as it is the dominant leader in terms of market share in the U.S. and internationally. Not only do these customers trust TASER, they have also given positive feedback on the overall experience of TASER's products/services. Common sense would lead one to believe that any customer in the market for TASER's CEWs would also be in the market for TASER's Axon cameras. The path of least resistance for these customers would lead to them choosing TASER over the competition due to: 1) The switching costs associated with implementing an entirely new platform upon the purchase of non-TASER BWV cameras and 2) Buyer choice under uncertainty, which says that buyers tend to rationally stick to doing business with sellers with whom the buyer is previously familiar.
Third, but to a lesser extent, TASER will see an advantage from having an established long-term presence in international markets. This is an advantage for TASER since these markets deter entry due to geographical barriers and in terms of potential sunk costs.
The TASER bears also point toward the company's disappointing earnings for Q2 and Q3. Regarding TASER's Q2 results, the company reported a strong quarter, but with atmospheric expectations, shares sold off nonetheless. However, Q3 was a different story as the company reported slimmer gross margins (61.7% vs. 64% in prior year), -46% growth in operating income ($6.7M vs. $12.5M), and an even larger decline of -80% in net income ($1.5M vs. $7.6M):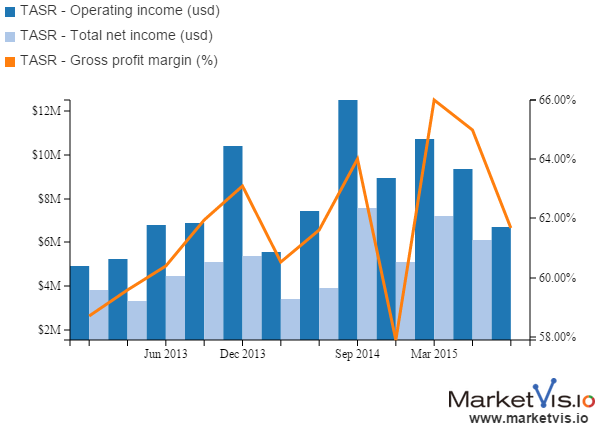 Given the market's growth expectations for TASER, these declines were followed by another big selloff. Judging solely on the data above, the selloff was warranted. Indeed, on the surface, Q3 was ugly. However, the Street failed to consider the real story surrounding TASER's business in Q3.
As I mentioned earlier, the market for evidence-capturing cameras has undergone some major shifts within the past year due to an increasing number of firms in the market. Noticing this, TASER's management could have chosen one of two trajectories: 1) Maintain near-term profitability and risk losing valuable market share, or 2) Sacrifice short-run profits and invest heavily in R&D and SG&A in order to maintain a long-term competitive position. As they should have, management intelligently chose to sacrifice profits in the near term in order to sustain the company's long-term position as the market leader. The result, as expected, was a 50% YoY increase in operating expenses leading to a significant bottom-line contraction: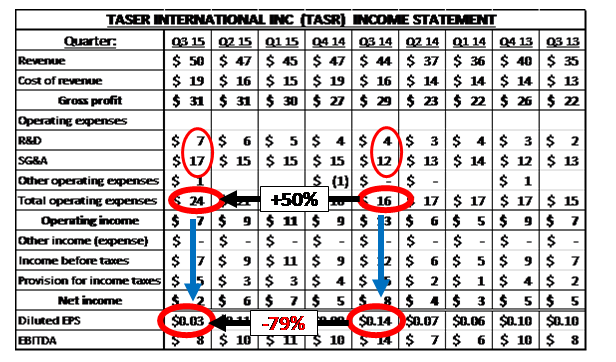 *Source: Morningstar.com
Of course, near-sighted Wall Street interpreted this as a failure to maintain growth, ignoring the fact that the company generated a record top line for the quarter and actually grew TTM revenues by nearly 20%. While gross margins did contract, 61.7% is still in line with the overall trend and falls within management's expectations of near-term gross margin range from 60% to 64%.
Prudent investors should question the market's bearish perception of TASER. The overall business is still performing very well. Revenues and future bookings both continue to grow at an impressive rate. What it truly comes down to is the fact that the current moment in time is crucial in avoiding market fragmentation. Profitability in hardware is secondary right now. Accordingly, management is wisely choosing to invest in the company's long-term competitive position. The market has foolishly mistaken this as a risk, when it is actually a depiction of management competency. However, there are additional risks yet to be addressed.
Additional Risks
We are already know that the market has lowered its outlook on TASER due to increases in competition and, more recently, bottom-line headwinds. But these two factors alone don't cause shares to decrease by 50% in just 6 months. So, what else is baked into the price of shares of TASER?
1) The cannibalizing of one segment by the other:
Revenues generated by the Axon segment will potentially take the place of revenues generated by the weapons segment, as either segment targets virtually the same market. This could have adverse effects on TASER's business due to the fact that investments in R&D and SG&A could turn out to be sunk costs if the investments don't end up driving incremental sales.
2) Customers may experience budgetary or political constraints:
Given that most of TASER's end-user customers are government agencies, they may experience budget constraints or political pressures that could delay or prevent sales. In the same sense as above, this could result in sunk costs from investing if sales unexpectedly come up short.
3) Lengthy sales cycle:
TASER is required to expend significant resources in anticipation of a sale and may receive delayed or even no revenue in return. This issue is especially pronounced with its international business, even more-so when orders are large as this makes the subsequent implementation all the more complex. This often results in the company having to defer its revenues and/or take on additional expenses.
4) Declines in gross margins due to shift in product sales from CEWs to Axon devices:
As TASER continues to invest in the growth of the Axon segment, this segment will comprise of a greater percentage of total revenues. Since gross margins for the Axon segment are currently lower than the weapons segment, gross margins may continue to be lower in the future. This was likely the driver of the shrinkage of gross margins that we saw in Q3 2015, as the Axon segment comprised of a record 22% of overall revenues.
5) The officer camera industry is still wide open:
In addition to previous increases in competition, this industry still has lots of room left for newcomers. Due to the large number of buyers, high profit margins, low capital requirements, and commodity-like nature, there are relatively few barriers to entry. While TASER has proven itself as a leader in terms of quality, any further increases in the number of sellers in the market is sure to drive down price, lower margins, etc.
6) Short-lived product cycle:
The short lifespan of TASER's Axon products require that the company almost continuously be spending on researching and developing its next line of products. This gives rise to residual operating expenses, which might effectively shrink the company's margins.
Implications of Risks
The first two risks mentioned are inherently similar in that customers' budget constraints would likely be underlying reason for one segment capturing the potential sales of the other. While this is a risk, it doesn't necessarily rule out doubling up on sales in the future. As for the company's lengthy sales cycle, management views this as a near-term headwind, but not a long-term problem. This issue has mainly stemmed from international sales, as the company continues to set up its infrastructure. To a lesser extent, this is also due to having more vendors in the market and customers trying them out before they make a decision. On customers trying out new vendors, CFO Dan Behrendt showed confidence in saying,
"We actually encourage that because I think that's where we really shine."
While the last two risks may or may not even pan out, the fourth risk regarding smaller gross margins has certainly played into the recent selloff. The shift in sales from CEWs to the Axon segment will continue to weigh down on profits at least for the next few quarters for two reasons: 1) The company is discounting some of its sales in an effort to continue driving market share gains and 2) TASER is still in the transitional phase with respect to implementing its entire platform for customers. The first step is to integrate the actual cameras, then the service comes after that. Once the service is up and running for each customer, the company will see reliable and recurring service revenues which will again expand margins.
In sum, most of these risks - at least the substantial ones - are near-term risks, meaning that they will be ironed out in due time. Given the current circumstances, management is taking all the necessary steps to ensure that TASER maintains its long-term competitive advantage. Yes, this does involve high levels of current spending and investment. However, any investor with a long-term horizon should recognize that the underlying business continues to have a very strong trajectory.
Current Upside/Conclusion
TASR's shares have been practically cut in half since their peak in June of 2015: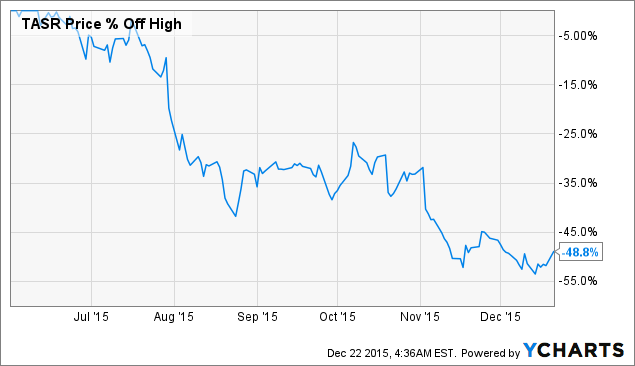 TASR data by YCharts
Without getting deep into technical analysis, there appears to be somewhat of a double-bottom formation, providing a solid entry point. The downside risk of TASR's shares appears to be very limited, as sellers seem to have run their course. Additionally, the short interest as a % of float, while down from 33% in October, is currently near 27%, indicating heavy expectations to the downside: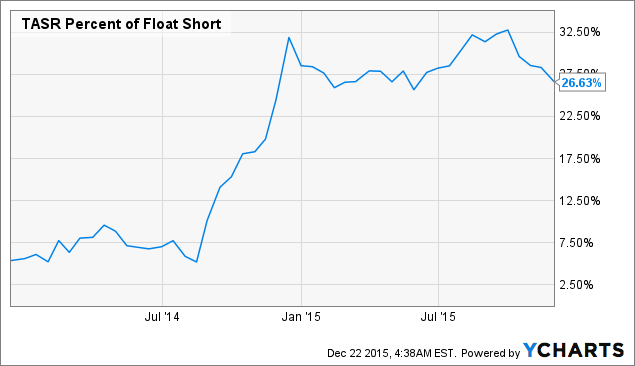 TASR Percent of Float Short data by YCharts
Given the extreme levels of short interest and very limited downside risk, conditions are ripe for a short squeeze. The only remaining ingredient is the release of some significant positive news. The likelihood of such positive news seems to be increasing due to a flurry of recent announcements of new bookings for TASER. Since the Q3 earnings call, the company announced significant new orders on November 10th, 24th, December 4th, 10th, and 21st. Not only do these announcements indicate the likelihood of a short squeeze, they also indicate that TASER's business is showing no signs of slowing down.
Expectations have been substantially lowered, which is already baked into the stock price. Along the same lines as a short squeeze, this means that the market can easily be surprised right now. This gives reason to be bullish on TASR's shares in the short run. In the long run, the bullish case also remains strong. Over the next 5 to 10 years, you can expect TASER to be:
The leader of the rapidly growing market for law enforcement aids in terms of market share.
The leader in this space in terms of technological advancement.
The most well-run company in this space in terms of management's strategy and handling of financial stability.
The beneficiary of a highly oligopolistic international market for stun-guns and law enforcement video evidence.
A cash flow-generating "machine", giving management ample flexibility to invest in the newest technology.
Ultimately, the one-stop shop for law enforcement agencies in the U.S. and internationally to supplement their efforts in combating crime.
Given the recent surge in attention surrounding police brutality, 2016 will be the beginning of heavy investment in TASER's products and services. This is not just a near-term trend; this space provides secular tailwinds and recurring revenues. Currently, 85% of ownership in TASER's shares are institutional investors. Under pressure to achieve the returns they promised to clients, these institutions are using leverage to try and achieve short-term gains. This is a dream come true for the retail investor once the institutions begin taking a long-term view again. At current levels, shares of TASER present an opportunity for investors to profit from this secular trend thanks to the near-sightedness of institutional investors.
In 2016, do you want to be ahead of the curve, or simply part of the herd?
Supporting Documents
Disclosure: I am/we are long TASR.
I wrote this article myself, and it expresses my own opinions. I am not receiving compensation for it (other than from Seeking Alpha). I have no business relationship with any company whose stock is mentioned in this article.
Editor's Note: This article covers one or more stocks trading at less than $1 per share and/or with less than a $100 million market cap. Please be aware of the risks associated with these stocks.