Technology Agnostic, Sustainable Finance Company/REIT Positioned for Focus on Climate Change
Company Overview
Headquartered in Annapolis, Maryland and trading on the NYSE, Hannon Armstrong Sustainable Infrastructure, Inc. (NYSE:HASI) is a $743MM market cap/$1.46B enterprise value company providing debt and equity financing to the energy efficiency, solar and wind markets. With a 12-month pipeline consisting of $2.5 billion of energy efficient, solar and wind investments, HASI estimates its 3Q15 projects alone will help to reduce almost 91,000 metric tons of greenhouse gas (GHG) emissions annually. The Company targets preferred or senior level financing to high quality projects and sponsors, governments or Global 1000 corporations that generate long-term, predictable cash flows. Although it went public in April 2013, the Company has been around for 30+ years, with an experienced management team that made renewable and energy efficiency investments, 25 and 15 years ago, respectively. Technology agnostic, yet focused on sustainability, HASI's motto is "financing the future of energy." Hence, while priding itself on financing clean investments, the Company is not locked into one technology, and should be positioned well to reap the benefits of the renewed focus on climate change.
Baby, It's NOT cold outside-
For many parts of the globe, December, and 2015 overall, are sizing up to be the warmest on record. Combined with the recent Paris Agreement and Investment Tax Credit (ITC) extensions for renewables, 2016 is looking like it could be an important year for green investments.
COP 21-Historic Agreement in Paris: On December 12, 2015, representatives from more than 200 countries came together and approved a global agreement on climate change, the primary objectives of which include stemming rising global temperatures, cutting carbon emissions, and putting trillions of dollars of capital toward encouraging more renewable, alternative, and efficient energies. Although exact implementation will need to be worked out among member countries, the Paris Agreement has been widely lauded as the most historic on climate change to date - with former hold-outs, the United States, China, and India each having made individual commitments to reducing GHG emissions before/and in conjunction with the talks.
Extension of ITC for Solar and Wind: On December 18, in conjunction with the lifting of a ban on U.S. oil exports, the House and Senate passed a bill extending the ITCs for solar and wind. Especially attractive for the solar industry, Rhone Resch, President of the Solar Energy Industries Association, believes the extension could create approximately $125 billion in new solar investments. Additionally, while acknowledging further work would be necessary to level the energy playing field in the future, Tom Kiernan, CEO of the American Wind Energy Association, said the wind industry saw progress in the bill, and should benefit from more development and less uncertainty with tax credit step downs.
Compelling risk/reward and valuation profile compared to peers - Why HASI?
BTDT - Green got you seeing red? Compelling risk/reward profile versus peers
Depending on timing, in terms of "green" investments, that acronym might stand for "Burned there, done that." And while if there finally is a rising tide, it should lift more than one boat, HASI seems better positioned from a risk/reward standpoint based on the following:
a) Controls its pipeline of investments at a senior level. Unlike many of the yieldcos, which are controlled, to varying extents by parent companies via structure, drop-downs, etc., HASI makes its own investments and focuses on taking senior positions in the capital structure (senior debt, land; senior to yieldco equity and underwritten to individual project);
b) Is technologically agnostic. Although there are clearly some other diversified clean tech plays out there, many of its portfolios are weighted more heavily to one or two technologies, meaning that depending upon how the energy landscape falls out, they may win or lose - and likely experience more versatility;
c) Does not appear (at this point anyway) to have some of the issues which have plagued other cleantech/green stocks. While, intuitively, it makes sense other companies should benefit from a renewed focus climate change, good luck finding many that do not have some kind of "issue" that might weigh them down for a while. Whether it be too many non-differentiated companies, too many parent problems, too much debt, confusing structures, executives leaving, reorganizations, or deals that may or may not go through, many yieldcos, independent power, alternative energy, solar, wind and others companies have some issues likely to create some uncertainty/overhang in the near term;
d) Believes it is positioned for higher interest rates and that it has good investor base. Although it is legitimate to be concerned about interest rate risk, access to capital, project availability, etc., HASI has 65% of its investments fixed rate debt, 35% other investments comprised of floating rate debt, equity and real estate investments, and new assets at current rates. As of the end of 3Q15, HASI had closed on an additional $595MM in new assets for 2015, a $101MM 4.28% bond offering, and a $100MM follow-on equity offering in October. Public float is 94%; institutional ownership is greater than 60%;
e) Generates green (i.e., money) from green investments. In addition to quantifying the metric tons of carbon saved with its sustainable investments, HASI is making money and paying out dividends. Hence, while there are "green" companies with higher dividend yields, it is difficult to see how their yields will be sustainable with negative EPS.
Compelling valuation versus peers
Admittedly, HASI is not the easiest company to value because it really does not have any direct comparable companies. One of its "challenges" is that it does not fit perfectly into any one sector category - is it a cleantech/green company, finance or utility/energy company, REIT? Further, since it is a project-oriented company - albeit it with longer-term, contracted cash flows, it likely does not lend itself to the traditional DCF analysis. In terms of P/E analysis, many of the companies that might be considered comparables (i.e., yieldcos or even independent energy companies), do not have positive earnings yet. And if we consider more mature companies with earnings, like First Solar (NASDAQ:FSLR) which is only solar, or NextEra (NYSE:NEE) which is diversified and much larger, we see P/Es in the range of 12-15X on 2015E earnings, but with slower growth rates (i.e., forward P/E estimates appear higher) versus the 14-16% growth expected for HASI, indicating mid-range estimate P/Es of 18X for 2015e or 15.5X for 2016e. Hence, given the nature of this stock, it seems some sort of dividend discount model would be most appropriate. The Company recently closed a $101MM 19-year 4.28% bond offering during the 3Q, and raised its dividend to an annualized level of $1.20. If we assume that the dividend stays the same, and equity holders will need a dividend yield of at least 5%, we would get a target price of around $24 ($1.20/.05) which represents approximately 25% upside to where the stock is trading (ex-dividend) today, December 28, 2015.
Consistent track record of delivering on earnings and dividend growth
Show Us the Money - Looks Like They Have
In addition to having shown consistent core earnings growth from $.43 in 2013, to $.93 in 2014, to an estimated $1.06-$1.08 in 2015, HASI's guidance is for 14-16% growth in 2016 to $1.21-$1.25. Additionally, 3Q15 EPS was $.26 per share, up 18% year over year. With a current dividend yield of approximately 6.3%, HASI announced on December 15th, that it would raise its quarterly dividend by 15% to $.30. In addition to the strong dividend yield, investors familiar with the Company have been favorably rewarded with past stock price appreciation since HASI's IPO as well.
Figure 1: HASI (April 2013-IPO to Present)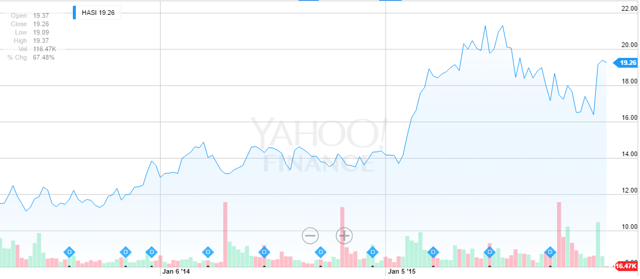 Upside potential in recent announcements and broadening market exposure/visibility
Although past performance and track record cannot predict what will happen going forward, HASI has had some good announcements recently which could bode well for the future. On December 17, 2015, HASI announced a partnership with the Connecticut Green Bank that will help fund $100MM more energy efficient/clean energy projects throughout the commercial and industrial sectors in Connecticut. As more states sign on to green projects, they may seek out experienced partners with an established track record like HASI.
Further, although HASI is covered by some analysts, to date, despite its being an NYSE-traded company, one of its challenges has been limited exposure and coverage. As HASI likely gains access to more partnerships, builds its portfolio of assets, and as more investors begin to look at/revisit the cleantech/green space (in light of renewed domestic and global focus), HASI's visibility may improve, potentially benefiting the stock going forward.
Conclusion
No one knows for sure what will happen in energy in 2016. However, for those looking for a "green" investment that might actually put some "green" in their pockets this year, HASI is my guess at what might be a good long idea for a Happy New Year!
Disclaimer: The statements, views, or opinions expressed herein are my own, and should not be relied upon by anyone. While, hopefully, readers will find the discussion insightful and entertaining, the post is provided exclusively for your reading enjoyment. Although care was taken to do reasonable research when gathering information herein, and was believed to be accurate at the time, there is no representation made, or assurance given, that it is either comprehensive or accurate. Additionally, any comments from other respondents/posters are their own; I am neither responsible nor liable for their comments. If there are any issues with this post, please feel free to contact me, and I will try to address your concerns.
Disclosure: I/we have no positions in any stocks mentioned, and no plans to initiate any positions within the next 72 hours. I wrote this article myself, and it expresses my own opinions. I am not receiving compensation for it (other than from Seeking Alpha). I have no business relationship with any company whose stock is mentioned in this article.