Welcome to the Financials section of Seeking Alpha's Positioning for 2016 series. This year we have once again asked experts on a range of different asset classes and investing strategies to offer their vision for the coming year and beyond. As always, the focus is on an overall approach to portfolio construction.
Celan Bryant has been an author on Seeking Alpha since 2014, specializing in the coverage of banks and financial institutions. She has worked for Freddie Mac, Citigroup, JPMorgan Chase, Bank of America, SunTrust and Harvard University. Currently, she's a research consultant, working with a tight team, and has a subscription product with Seeking Alpha. "An Insider's Analysis Of Banks" is dedicated to identifying the best bank stocks in a new regulatory paradigm, click here to learn more.
Seeking Alpha's Carolyn Pairitz recently spoke with Celan to find out what she is expecting from the banking industry in 2016.
Carolyn Pairitz [CP]: We are wrapping up 2015! Are you happy to be closing the books on this year or has 2015 been kind to you?
Celan Bryant [CB]: Carolyn, first I want to say thanks for offering this series. Seeking Alpha has carved out a special place in the world of investment research and I'm glad to be affiliated with the publication. Second, yes, I'm happy to be closing the books on 2015. This has been a year marked by extreme volatility for the banking sector, but the regulatory onslaught has pulled back and legal expenses have fallen dramatically for most banks. You can read more about our regulatory "Safe Zones" here.
CP: Your focus on Seeking Alpha has been on financial institutions. How did you come to this specialty? Is there another market you would like to learn more about in 2016?
CB: My background is in banking and I think this is a once in a decade opportunity. As far as "another market," that's a good question and one we have given a great deal of thought to. I believe the relationship between crude oil and interest rates has become compelling, and, unlike the FOMC, I see nothing transitory about it. I plan on investing more time on this relationship and will be including the analysis in commentary to subscribers, especially as it relates to bank profitability. In terms of financial products, this is still a good time for floating rate notes.
CP: The Fed raised interest rates for the first time since 2006 this December. How does this affect your outlook for financial institutions in 2016?
CB: I'm extremely bullish. My team, we've been in the weight room getting ready, practicing, watching plays and developing strategies about what would happen if the Fed were to EVER raise rates. That time has come. Dec. 17 marked the beginning of a new era for banks. Libertarians call it a government subsidy, bankers call it tax relief, and most commentators refer to it as a simple hike in the fed funds rate. The truth is the Fed did not raise the fed funds rate - the rate at which banks lend money to each other - they simply raised the IORR/IOER. You can read more about how this was all orchestrated technically here, and this article provides more historical/political context behind the legislation.
CP: What exactly is the IOER and what does it have to do with the fed funds rate?
CB: Well, the IORR or IOER stand for interest on reserves and interest on excess reserves, respectively, though they are used interchangeably. Both represent the interest rate paid to banks on the reserves or deposits they have at the Fed. The following is the current IORR and IOER as shown on the Fed's site:

It shows that on 12/17/2015 both the interest rate paid on excess reserves and the interest rate paid on reserves were hiked up by .25% to .50%. It's the IORR and IOER that were hiked up by the FOMC on Dec. 21, not the fed funds rate. This means the rate at which banks get paid on cash held at the Federal Reserve has gone up, nothing more. The hope is that the IOER (yellow line below) will act like an industry magnet of sorts, pulling the effective fed funds rate higher. The overnight repurchase (O/N Repo) rate will act as a floor.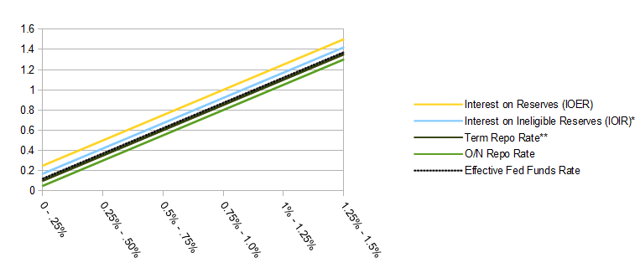 Source: Author
In a direct relationship a 1.50% IOER equates to 1.38% target fed funds rate.
CP: Do you have any concerns about this new approach to monetary policy and what it will mean for the banking industry?
CB: The plan is rather ingenious really, but has never been attempted in central banking history, which is to say, there is no precedent for how this will play out. In fact, the Fed just started paying banks interest on reserves in 2008. Prior to that, the IORR/IOER was effectively 0%. So, for the first time in history, banks are getting paid a stated rate of interest on reserves and that rate is being used to set the benchmark rate on the economy. The only thing we know for sure is that deposit rates are about to go higher, higher than fed funds, but lower than the IORR/IOER.
This is a bold statement I know, Carolyn. Many of my colleagues believe the Fed is attempting to rid the world of cash by placing negative rates on deposits. You can read more about these unlikely scenarios here, but they are flawed. The impact of a rate increase in the IOER/IORR will flow more directly, and almost immediately, to depositors than it will to the fed funds market. Think of it as a trickle down effect for those holding paper cash. Which is to say banks with a surplus of reserves are more interested in borrowing money from depositors than other banks.
That said, and let me be clear on this point as there should be no ambiguity, there is no guarantee that the fed funds rate will follow the IORR/IOER.
CP: Can you help me with a few "what if" scenarios?
CB: Sure. What if the FOMC raises the IOER by .25% and the fed funds rate stays the same? What if the relationship isn't as direct as the one presented above? Perhaps a parabolic or exponential curve is the best fit. What if the impact or sensitivity of a rate hike in the IOER increases or decreases over time? What if banks in deposit rich areas are able to pay a lower rate on deposits than other banks? There are many questions because we are in uncharted territory. Only time will tell if this experiment will work.
CP: How does this lead to increased profitability for banks?
CB: Good question. Well, I first introduced this idea, the connection between profitability and the fed funds rate in an article published in April. Even though there's uncertainty around whether or not the IOER will drive the fed funds rate, there is no confusion about the impact it will have on bank profitability. Banks will begin earning the IOER/IORR immediately. Reserves are still hovering around historic highs as can be seen from the chart below.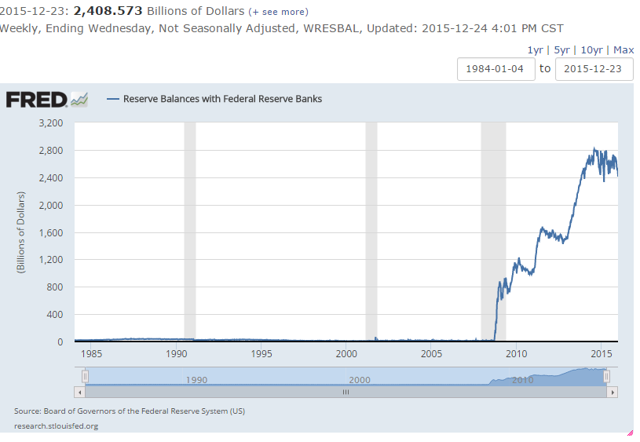 To quantify the impact, a .25% hike on $2.4 trillion in reserves is $6 billion. And, what's more, the FOMC has a history of making consecutive rate hikes so we could be much higher than .50% by this time next year.
The Fed publishes a "dot plot" depicting information gained in a survey given to FOMC participants. Participants are asked to say where they think rates will be at the end of 2016, 2017 and beyond. According to the survey, the consensus is that the fed funds target will be 1.375% by the end of 2016, which requires an IOER of at least 1.50%. An IOER of 1.50% equates to ~$36 billion in interest payments by the Federal Reserve to banks. Our bank picks focus on those banks smart enough to capitalize on this new "free" money.
CP: What about outside of the U.S.? Which international financial companies (or economies) are you considering for 2016?
CB: My focus is U.S. banks, but I like Canada and TD Bank (NYSE:TD). China's a good short. Europe is where the US was six years ago.
CP: Any last advice for Do-It-Yourself investors in 2016?
CB: These are fun times for those of us in the know; that is, for those of us who like to use information and historical trends to gain advantage within the market. Even if the IOER doesn't move rates, banks will continue to get paid, especially those within deposit rich locations. This also makes small banks in high deposit growth areas strong targets for acquisition.
Our picks:
Finally, we will continue to monitor the SEC's tick-size experiment and its impact on small caps in the banking sector.
I'd also like to suggest reading The Demographic Cliff: How to Survive and Prosper During the Great Deflation Ahead and The Alchemists: Three Central Bankers and a World on Fire. Both books provide some context for where we are in history.
Disclosure: I am/we are long SOME STOCKS MENTIONED.
I wrote this article myself, and it expresses my own opinions. I am not receiving compensation for it (other than from Seeking Alpha). I have no business relationship with any company whose stock is mentioned in this article.