Interest rates have begun to rise as the Federal Reserve tightened monetary policy this year. While Treasury bonds have not experienced much selling pressure to date, SPDR Barclays Cap Mortgage Backed Bond (NYSEARCA:MBG) sold off heavily. This weakness in mortgage bonds led to steady declines in both Market Vectors Mortgage REIT ETF (NYSEARCA:MORT) and iShares Mortgage Real Estate Capped (BATS:REM).
In early 2015, U.S. economic data began to pick up, leading many to believe the Fed was on the cusp of raising rates. While a rate hike didn't actually occur until December, Treasury rates rose throughout the year. The chart below is of the ten-year Treasury yield. While the Fed will likely gradually hike rates in 2016, due to continued global economic weakness, investors are already preparing for the rise.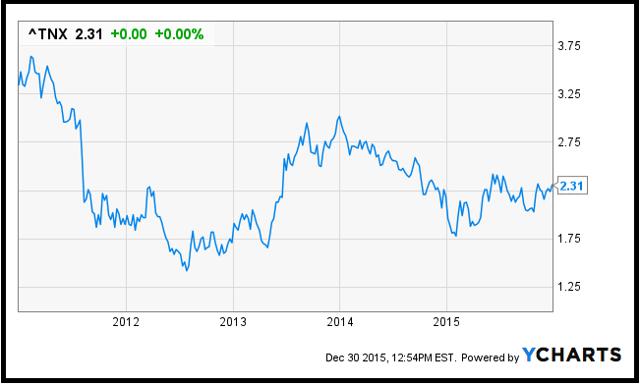 With the Fed exiting credit markets, acting as a once major buyer, investors are now more cautious surrounding bonds, outside of Treasuries. Since the start of 2015, both MBG, as well as SPDR Barclays High Yield Bond (NYSEARCA:JNK) have seen selling pressure. The high yield sell-off received most of the media attention, but declines in mortgage securities are equally as troubling. Amid the expectation of a normalizing interest rate environment, overbought high yield and mortgage securities are returning to lower valuations, which has added to financial market volatility in recent months.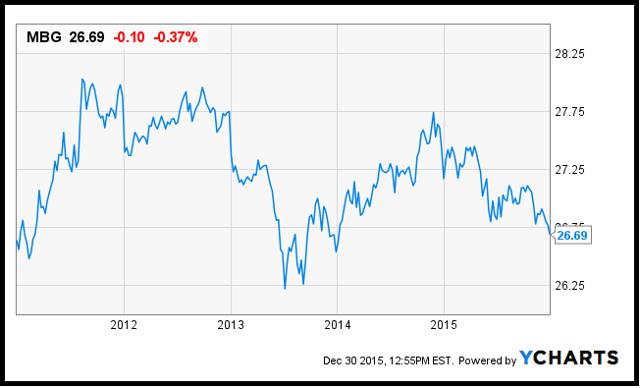 One of the largest markets affected by declining mortgage bond prices has been mortgage REITS, represented by both MORT and REM. The mortgage REITS tend to offer high dividend yields, but are subject to fluctuations of their mortgage security portfolios. In 2015 alone, MORT and REM both fell by close to 22%, seen below.
With bond markets likely continuing to sell-off amid higher interest rates in 2016, both mortgage securities, and mortgage holding REITS should similarly weaken. Initiating a short position could be costly due to both ETFs' high dividend yields, but avoiding exposure altogether could be a smart move. If you are willing to stomach paying out the dividend as a short seller, then getting negative exposure is the way to go when playing either MORT or REM.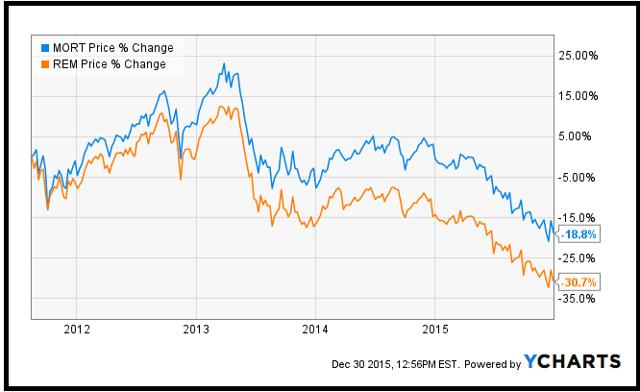 Disclosure: I/we have no positions in any stocks mentioned, and no plans to initiate any positions within the next 72 hours.
I wrote this article myself, and it expresses my own opinions. I am not receiving compensation for it (other than from Seeking Alpha). I have no business relationship with any company whose stock is mentioned in this article.