After surging in January, prices for gold and silver have been remarkably steady through the first three weeks of February, setting the stage for a possible big move sometime in the period ahead - direction unknown - as bearish technical factors contrast with bullish reports of increased demand by China, India, and central banks around the world.
For the week, the gold price rose less than 0.1 percent, from $1,722.10 an ounce to $1,723.80, as the silver price fell 0.9 percent, from $33.59 an ounce to $33.28. Gold is now up 10.0 percent for the year, but down 10.3 percent from its high last year, and silver has risen 19.4 percent so far in 2012, down 32.8 percent from its peak last spring.
If not for the recent series of lower highs and lower lows since record prices were seen last summer, you'd think that gold is setting itself up for another assault on the $2,000 an ounce mark as the most recent Gold Demand Trends report from the WGC (World Gold Council) was unequivocally bullish, painting a picture of steadily growing demand from all around the world. But, given the remaining uncertainty about the Greek bailout and what a disorderly default would do to investors' recently increased appetite for risk, higher gold and silver prices over the near-term are anything but a sure thing.
The WGC report noted that India once again held the top demand spot for all of 2011 with gold imports totaling 933 tonnes to China's 770 tonnes, but it was the sharply higher imports by China during the fourth quarter that compelled the WGC to predict this nation will take over the top spot from India in 2012.
I thought the graphic below, derived from Table 10 in the report, was also telling.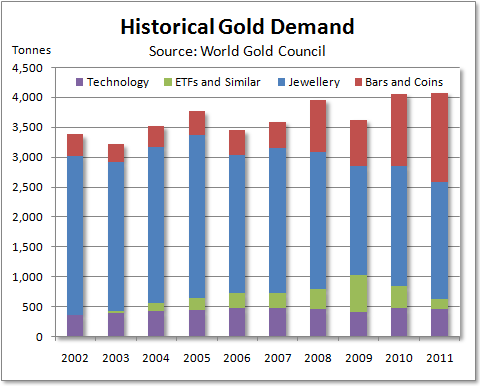 For reasons that are easily understood, since the financial crisis began, demand for physical metal has risen sharply.
From around ten percent early in the last decade, gold bars and coins have risen to more than one-third of overall demand, more than offsetting declining jewelry sales in recent years, as gold bars, coins, and other physical gold products are particularly popular in China due to the lack of other investment options at a time when incomes are soaring.
Perhaps more importantly, per the footnotes provided by the WGC, the data in the chart does not include central bank sales and purchases that shifted from the former to the latter in 2009 and would make for an even more impressive graphic.
From net sellers of 400+ tonnes a few years ago, central banks purchased the most gold since 1964, some 440 tonnes last year, up from just 77 tonnes in 2010, primarily in emerging market economies where officials have grown wary of all the money being printed in the West. Mexico was the biggest buyer in 2011 with 100 tonnes of gold while Russia came in a close second with 95 tonnes, but, again it is China that is attracting attention here, though that is clearly not their intention.
In an interview with the WGC's Marcus Grubb in this report at the Financial Times, China central bank gold buying is believed to have played a major role in the surge in China's fourth quarter imports:
China's imports from Hong Kong, which account for the majority of its overseas buying, soared to 227 tonnes in the last three months of 2011, according to data published by Hong Kong. Mine production in the country, the largest gold producer, stood at about 100 tonnes in the quarter, implying total supply of at least 330 tonnes.

That compares to demand of 191 tonnes for gold jewellery, bars and coins - which account for the vast majority of Chinese demand - reported by the WGC on Thursday.
Since China does not allow the export of gold, there was a domestic supply/demand gap of about 139 tonnes during the last three months of the year and central bank purchases likely accounted for some or all of that gap. This is consistent with the widely held belief that China's central bank will continue to quietly accumulate gold, buying on price dips such as the one in December and only revealing to the world the extent of their purchases long after the fact as they did back in 2009 when they said they had nearly doubled their gold reserves to 1,054 tonnes since it last reported its official holdings six years earlier.
In short, the People's Bank of China could be adding to their gold reserves at a blistering pace and this is unambiguously bullish for the yellow metal as many analysts think they will ultimately buy thousands more tonnes, trading out Western paper for something more tangible in a culture that has had an affinity for gold for millennia.
In other news, quarterly reports indicated that U.S. hedge funds made adjustments to their holdings of the SPDR Gold Shares ETF (NYSEARCA:GLD) in the fourth quarter, some of them adding to positions while others reduced their holdings, however, as has been the case for a few years now, the most important gold news is being made in Asia.
Disclosure: I am long GLD, SLV.
Additional disclosure: I also own gold and silver coins and bars