Oil prices have been stuck in a rut for about a year and a half now. As of the time of this article's writing, February 2016 price futures were at $36.62 per barrel. This has definitely not been a great time to be an oil bull. Over the past year, oil companies had persisted in increasing the production of crude oil in order to survive in this low-price environment. That trend, however, has begun to turn around and the production of oil has finally begun to decrease. Does this signal that a recovery is near? And if so, how high can oil go?
Current Production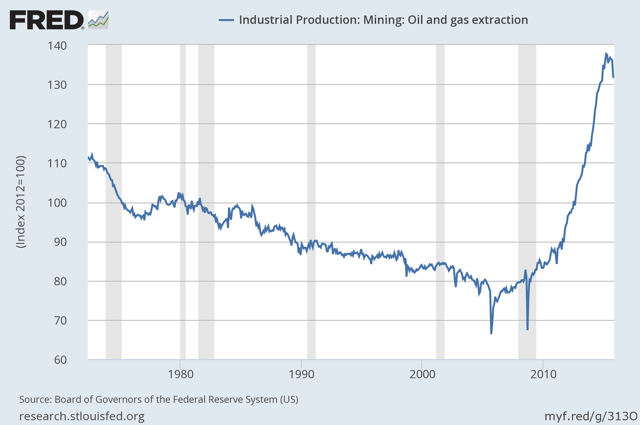 Stretching back to the 1970s, we can see oil and gas production charted monthly. Since that time, there was a steady decrease as the U.S. grew more and more reliant on cheap, foreign oil. Starting in the mid-2000s, a trend reversal finally came about and by 2011 production began to boom. The fracking revolution had arrived. By 2014, just a few short years later, these fracking projects had turned to busts as oil prices quickly collapsed due to the glut of supply. The extent of this boom is astounding given how steady production had been over the previous three decades.
As oil prices continued to falter, production kept on rising -- until earlier this year, that is. What we see is the first real decrease in oil production since the mid-2000s. This is a long time to go between reversals, and given the extent of the previous increase, there is still a long way to go. Still, this cut in production is an excellent sign that we have reached a bottom in oil prices, and that we may finally start to correct from here. The extent of that correction, however, is going to depend on how much production will be cut.
Oil Price Model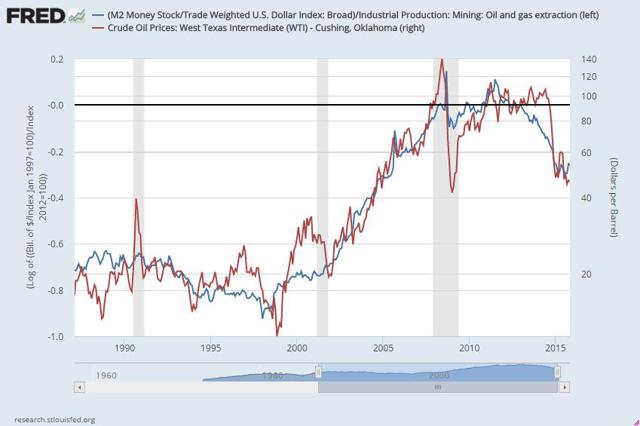 Earlier this year I wrote an article describing a model for oil prices. In that article, I argued that oil prices (then closer to $50 a barrel) were here to stay and that we should expect no quick turnaround. Since then, prices stabilized and then continued to fall. Production, however, has since started to decrease, and we can see this represented by a small blip at the nearest date in the model (shown in blue). Oil prices (in red) have only gone down, and now there is a decent discrepancy between actual oil prices and the model.
According to the model, as of the latest data in November, oil prices should be around $55 per barrel. Oil prices, in the meantime, have come down closer to $35 per barrel. That's about a 57% upside just in the medium term. Long term, if this oil production correction continues, we might see even larger returns possible.
Priced in Gold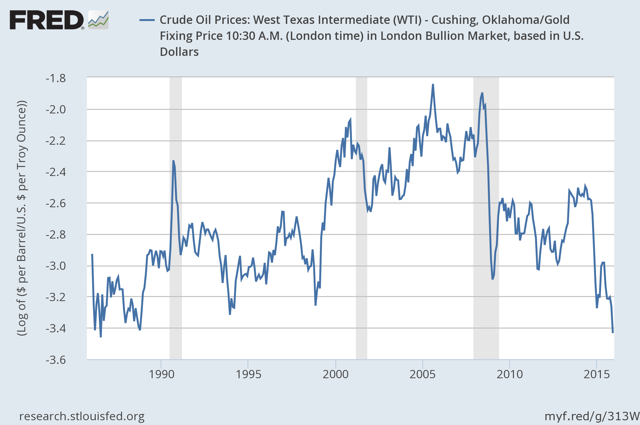 Finally, and somewhat of an unconventional indicator, is the ratio between oil and gold prices. This is about the cheapest that oil has been, in terms of ounces of gold required to buy a barrel of oil, since the 1980s. While there does not seem to be anything resembling mean reversion very evident here, the ratio is still at an extreme level. Over the long term, oil then would seem to be a great bet if you think that the gold price tells you anything meaningful. As a fan of gold myself, this tells me that the real price of oil is cheaper than it has been for decades. If you are not a fan of gold, then make of this ratio what you will.
Summary and Action to Take
Oil looks as if it should finally be settling down at this point, and if the correction in production continues, a larger recovery may be in order. A great investment play for cheap would by the United States Oil Fund ETF (NYSEARCA:USO). Or, for those of you who like oil majors, Chevron (NYSE:CVX) and Exxon Mobil (NYSE:XOM) would offer attractive upside potential at current oil prices. A more detailed analysis of any investment should be considered, though, as every company is different.
Disclosure: I am/we are long CVX.
I wrote this article myself, and it expresses my own opinions. I am not receiving compensation for it (other than from Seeking Alpha). I have no business relationship with any company whose stock is mentioned in this article.