Introduction
This is the December portfolio checkup capturing all of the events and changes to my portfolio over the past month.
Portfolio Changes
New Positions
Starbucks (NASDAQ:SBUX)
I added 40 shares to start a position in Starbucks. I am well aware it is near a 52 week and all time high which isn't usually my forte but I see this being a generational holding. Earnings growth this past year has roughly equal to its P/E of 33. This will only add $32 of income this year but the dividend growth should expand rapidly over many years. This should be a double digit increase every year for the foreseeable future. The payout ratio is also in the low 40s which gives the company substantial room to grow that once the dividend becomes a bigger driver than store growth.
W.W. Grainger (NYSE:GWW)
I added 13 shares to start a position in W.W. Grainger. That doesn't sound like much but with shares near $200 I am sticking with my half positions being worth about $2500. I wrote an article on this company and was very encouraged by several factors. Shareholder friendly management, an enormous and fragmented market which to expand in while being the big fish in the pond. Current yield is low at 2.4% but the dividend growth has averaged about 15% for the past 10 years and doesn't look to show much sign of slowing yet. Current position adds about $61 to my income.
Walt Disney (NYSE:DIS)
I added 20 shares to start a position in Disney. The stock doesn't need much explaining, they have some of the best brands throughout television, movie, and their legendary parks. It has a low current yield and will add $28.40 to my income. The stock is still trading at a premium to its own history but it doesn't seem to be terrible overvalued.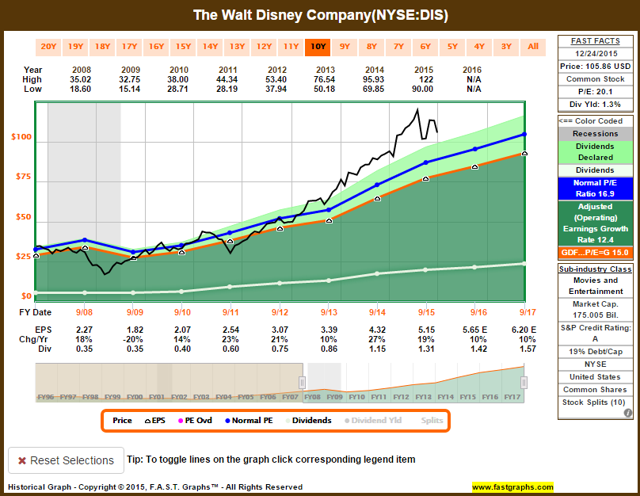 Johnson & Johnson (NYSE:JNJ)
This transaction was spawned from my sale of Kinder Morgan (NYSE:KMI). I wrote about that here. I received a lot of mixed feedback on that article which was to be expected. The reasoning is more detailed in the other article but Johnson & Johnson has a stellar 50+ year dividend growth history, AAA credit rating and trades at a fair value per this Fast Graph.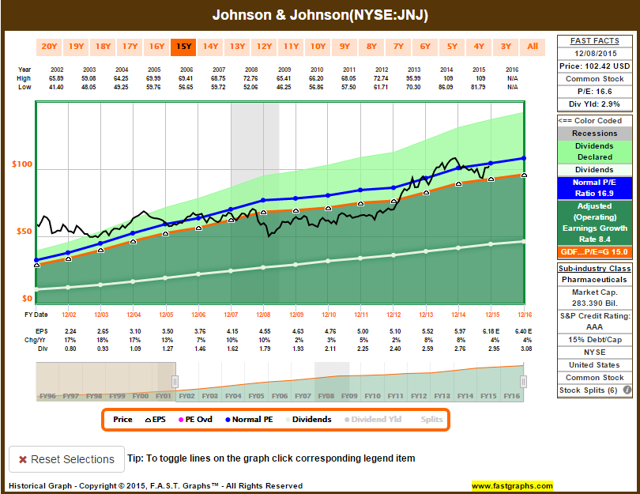 Existing Positions
Cummins Inc. (NYSE:CMI)
On 12/1 Cummins was downgraded from Buy to Sell by Bank of America / Merrill Lynch. The stock quickly dropped about 7%. I had set a limit early in the day for $93/share which was fully executed. I added 27 shares to go with my existing 25, adding $105 to my yearly income with my income from Cummins now $202.
Dividend Increases
WEC raising dividend 8.2% with the first payment of 2016.
Dividend Cuts
Kinder Morgan on 12/8 decided to slash their dividend 75%.
Sells
I ultimately sold my Kinder Morgan position as the fundamental thesis for the position were flawed and ultimately exposed. This will be reflected in my projected income dropping this month. I wrote about this here.
Charts and Graphs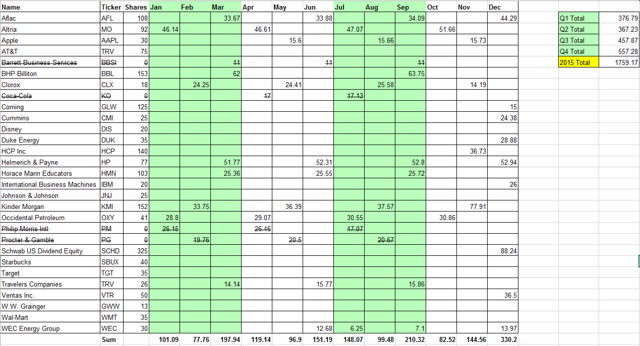 Here, we can see the dividends by month, quarter and the 2015 total. From my 401(k) plan, the current forward-looking income estimate is $3,257, down from $3,459 due to the snafu with Kinder Morgan. For 2015 I've collected $1759 in dividend income.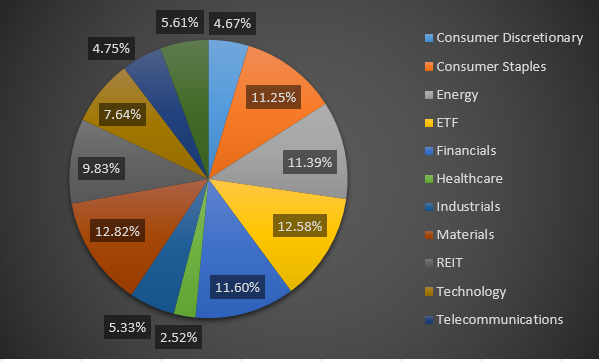 This is my income by sector graph. From earlier iterations of this graph the energy portion has come down considerable between cutting Kinder Morgan as well as bolstering other sectors through purchases.
As mentioned before, I am a fan of some dividend ETFs. In this case, I own Schwab US Dividend Equity ETF (NYSEARCA:SCHD). This gave my portfolio a big boost in income and diversity, while waiting to set up all my individual positions.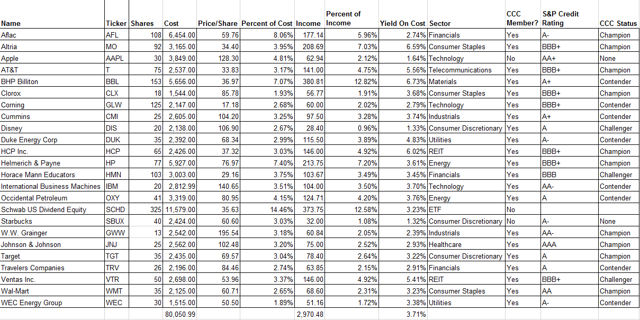 With a full chart I can see stats about my portfolio at a glance, my own yield on cost and overview notes about the company, its sector, its S&P rating, CCC member and category.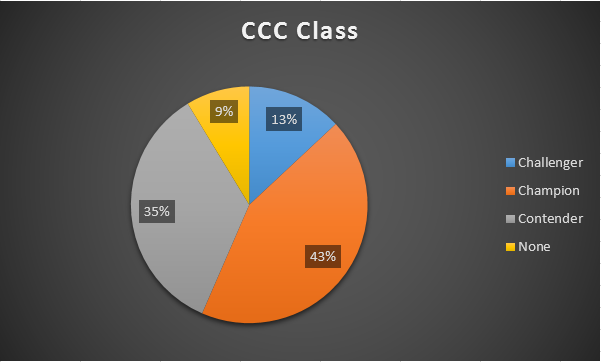 After the moves made this month my updated picture has 91% of my portfolio coming from a CCC company with only Starbucks and Apple not members - though I fully expect them to become members and more importantly, big growing members.
Strategy Update
My purchasing strategy thus far has been to buy a 1/2 position at a time. I am going to increase the granularity to 1/4, this will increase my overall commission costs but should give me the flexibility to start small positions without betting the farm. This may be more appropriate when a company is fairly valued.
The Portfolio
The portfolio now contains the following companies: Aflac (NYSE:AFL), Altria (NYSE:MO), Apple (NASDAQ:AAPL), AT&T (NYSE:T), BHP Billiton (NYSE:BBL), Clorox (NYSE:CLX), Corning (NYSE:GLW), Cummins, Disney (DIS), Duke Energy (NYSE:DUK), HCP Inc (NYSE:HCP), Helmerich & Payne (NYSE:HP), Horace Mann Educators (NYSE:HMN), International Business Machines (NYSE:IBM), Occidental Petroleum (NYSE:OXY), Schwab US Dividend Equity ETF , Starbucks , W.W. Grainger , Johnson & Johnson , Target (NYSE:TGT), Travelers Companies (NYSE:TRV), Ventas Inc (NYSE:VTR), Wal-Mart (NYSE:WMT), WEC Energy Group (NYSE:WEC).
To Do And Conclusion
This month started to change my opinion on some sectors and companies completely. Commodity based companies are at the will of the underlying commodity, whether it be an E&P oil company or a mining company. This of course is not new news but reasonably projecting income well into the future is much harder when the underlying business is not steady.
On the other hand a company like Coca-Cola or McDonald's has pricing power on how their product will be priced down the road.
With the dividend cut to Kinder Morgan and a cut possible with BHP Billiton, it seems to me that certain sectors are far too risky for a dividend growth investor. I can't lump all energy players together, Phillips 66 (NYSE:PSX) seems to be doing just fine as they "value add" the refining to the raw material to make gasoline and other products. They are rather agnostic about input prices as that is passed on to the end consumer.
In general I won't be visiting the energy and materials sectors anytime soon. After the debacle with Kinder Morgan, even though it is not technically an MLP, I don't plan on looking at MLPs again.
For 2016 I will be adding more companies with solid financials, stellar credit ratings, growing business prospects and management willing to reward shareholders.
For a dividend growth investor it is important to keep in mind that dividends are the result of excess capital and are not promise or guarantee to the shareholder.
Best of luck to all and have a happy New Year!
Disclosure: I am/we are long AFL, MO, AAPL, T, BBL, CLX, GLW, CMI, DIS, DUK, HCP, HP, HMN, IBM, OXY, SCHD, SBUX, GWW, JNJ, TGT, TRV, VTR, WMT, WEC.
I wrote this article myself, and it expresses my own opinions. I am not receiving compensation for it (other than from Seeking Alpha). I have no business relationship with any company whose stock is mentioned in this article.