Still too much confusion in Investment Town
Upon arrival in Investment Town the situation appeared confusing to me. I was looking for someone showing me round and the locals referred me to a bunch of reputable gentlemen who would (where were the ladies?). Surely, the gentlemen appeared to be very competent and kind enough to offer their help. However, they were in violent disagreement about the right directions. No matter in which direction I was turning, some of them were nodding while others were shaking heads. Their advice summed up to a veritable cacophony.
Risk or return? Luck or skill? Active or passive? Stocks or ETFs? Value or growth? Market-timing or time in the market? Income or total return? Diversification or diworsification? Am I swimming with sharks or closet trackers? Does volatility equal risk? Do P/E ratios matter? And so on and so forth.
Contradicting myself
Surely, all experts have come to their own findings and conclusions and they have probably no difficulties staying their respective course. For me the confusing total created an environment in which I had no difficulties to contradict myself on a couple of occasions. Just to give you an example: In my article about Coloplast I wrote in March 2014
[…] I am prepared to hold a stock through both, phases of over- and undervaluation.
Not even a year later I was on record saying:
I decided to change my strategy quite a bit by starting to sell the stocks that did not seem to offer much further upside, including old favorites like Coloplast […]
Needless to say that I am long Coloplast at the time of writing. On my quest to find the ultimate truth in investing, I came up with the "I may be wrong" concept, which may be philosophically convincing, but my conclusions could have been a bit more actionable in hindsight. Eventually, I developed a cunning plan: If a portfolio that I called "sustainable" had become unrecognizable after a year, I may be able to create something that is actually sustainable by reframing the project as "The Ever-Changing Game Plan" -- ECGP. Here is the current status.
The hardware
On the hardware side some parts have changed, others have not. Diversification is key, if you cannot rule out the possibility that you are wrong. On asset class level there are still stocks including REITs, gold and cash in my portfolio. However, I closed all bond positions early this year in order to lock in the capital gains.
The stock allocation consists mainly of individual stocks that are diversified across different market caps, geographies and currencies. A common denominator of all stocks is that the respective companies seem to be reasonably environmentally conscious plus they provide products and services that I consider (increasingly) beneficial to people. The latter is my single most important criterion in stock selection. I do only feel comfortable investing in companies for which I expect the best yet to come. No doubt, there will be bad calls among my stock picks, but the damage should be limited if I manage to avoid major industry headwinds.
Before I buy a stock, it undergoes a financial health check. When it comes to valuation, though, I very much doubt that this is an exercise that could give me an edge over the rest of the market and therefore I stopped doing it.
My stock selection does still show a preference for reliable dividend payers. Dividends can be a safety feature that partly offsets the extra risk that comes with holding individual stocks. At the same time, I am still some 20+ years away from retirement and happy to include a few riskier non-dividend-payers offering particular high growth potential.
What has changed
Apart from quite a bit of position turnover that served no greater purpose other than addressing short-term concerns, there are three new entrants that bring something new to the party: Investor AB (OTCPK:IVSXF), Investment AB Kinnevik (OTCPK:KINNF) and EQQQ (NASDAQ:QQQ) give me access to baskets of stocks through single purchases -- a feature that I deemed not to be necessary in the past, but that may prove to be helpful in the future.
Current hardware summary (stocks): What and why
(1) Investor AB
Diversified play on Europe's old economy. Equivalent to an ETF, but with the 'investment company' (=owning family) being in the same boat as I am.
(2) Investment AB Kinnevik
Diversified play on Europe's new economy. Equivalent to an ETF, but with the 'investment company' (=owning family) being roughly in the same boat as I am (I do only own class B shares).
(3) PowerShares Nasdaq-100 ETF , but denominated in EUR (=EQQQ)
ETF play on what I consider the present and future of the world's largest economy.
(4) SAP SE (NYSE:SAP)
One of the few European companies that tick both boxes, large cap and growth.
(5) UBS Group AG (NYSE:UBS)
World's largest wealth management provider. The rich keep getting richer; if you can't beat it, join it.
(6) The Swatch Group AG (OTCPK:SWGNF)
Purest European play on Asia's growing middle class. Innovative company that keeps developing products that are unlikely to be replaced by Apple Watches.
(7) Coloplast A/S (OTCPK:CLPBF)
'By all criteria that matter to me, Coloplast is the ideal stock.'
(8) Schaltbau Holding AG
Sustainable modes of transport will dominate tomorrow's metropolitan areas. The trams, metros and trains all need automatic doors, infrastructure and safety equipment. Schaltbau operates in the sweet spot for investments in Germany: A small engineering company offering solutions to seemingly trivial problems.
(9) Energiekontor AG
Renewable energy project developer with a growing power generation division. I cannot see any real downside to this business.
(10) IAR Systems Group AB (OTC:IARSD)
High-growth micro-cap play on embedded systems and the internet of things. A current dividend yield north of 3% compensates somewhat for the extra risk.
(11) Pentair plc (NYSE:PNR)
Part of my "DIY micro ETF" on water as investment theme. I could not decide between PNT and XYL and picked them both.
(12) Xylem Inc. (NYSE:XYL)
see above.
(13) Canadian National Railway Company (NYSE:CNI)
Leading class I railroad by many measures (among other things: dividend and sustainability track record).
(14) Sims Metal Management Limited (OTCPK:SMUPF)
Leading metals recycler. A smaller part of the business takes care of the worldwide ever growing pile of electronic scrap. Balance sheet strength gives some comfort in currently tough market conditions for commodities.
(15) Alterra Power Corp. (OTCPK:MGMXF)
Renewable energy play covering geographies not covered by Energiekontor. Anticipating Godot the first dividend.
(16) Epicore BioNetworks Inc. (OTC:EPCBF)
High growth nano cap stock. Producer of biotech products for the aquaculture industry that among other things allow to replace antibiotics with probiotics in shrimp hatcheries.
(17) secunet Security Networks AG
Cybersecurity play. Only German provider of NATO SECRET compliant cryptography solutions.
(18) Shimano Inc. (OTCPK:SHMDF)
Japanese manufacturer of bicycle components. Very impressive growth stock. An industry expert mentioned to me a potential supply bottleneck at Shimano which I took as unconscious investment advice.
REITs: HCP (NYSE:HCP), Hannon Armstrong Sustainable Infrastructure Capital, Inc. (NYSE:HASI), The GPT Group (OTCPK:GPTGF), PSP Swiss Property AG (OTCPK:PSPSF)
A little bit of everything.
The software
As always, the added value is in the software which incorporates a couple of lessons learned, with the most important one being, that I will basically stand to benefit the most from my portfolio, the farther I stay away from it. This is because
The longer the holding period, the more consistent the outperformance of stocks against other asset classes,
Transaction costs matter.
The software has two features that shall keep me from messing up the ECGP. The first feature is inspired by the quote ascribed to Warren Buffett about buying on the assumption that they could close the market the next day and not reopen it for X years. X is five in my case. I have put a clock next to each position in my spreadsheet counting down the days since my initial purchase. I will only consider taking action when that clock has run down.
Obviously, the commitment forces me to be extra careful and/or confident in my stock selection. At the same it will give me a better view on what is really important. Following quarterly reports is to me like standing half a foot away from a large painting; I see the strokes of the brush, but could not tell if it is a landscape or a lady. Five years should work just fine to make out the difference.
The second feature is courtesy of Daniel Kahneman:
Closely following daily fluctuations is a losing proposition, because the pain of the frequent small losses exceeds the pleasure of the equally frequent small gains. […] The typical short-term reaction to bad news is increased loss aversion. Investors who get aggregated feedback receive such news much less often and are likely to be less risk averse and to end up richer.
Based on this advice, I have put the prices of individual stocks backstage in my spreadsheet in order to keep track only of the aggregate. This turns out to be particular effective for me when combined with buying discipline. My number one reason for checking stock prices on a daily basis was to look for pullbacks on which I would add to my positions. Although I did manage to buy the dips in some cases, I clearly failed in others.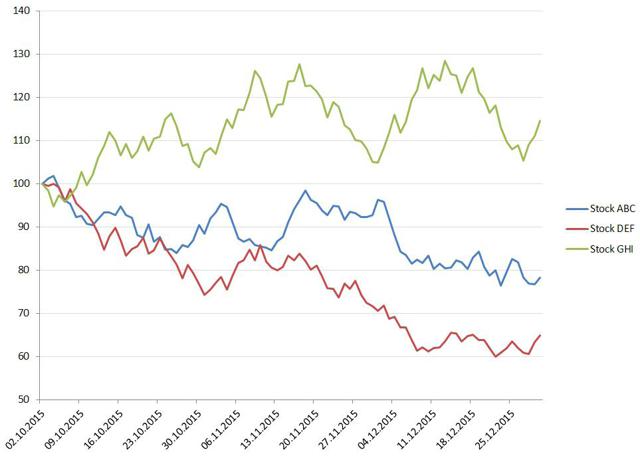 Which of the three stocks above is the most obvious buy? Well, after having read Malkiel's 'A Random Walk Down Wall Street', I could not resist plotting some random charts in Excel like the ones above. This was a useful exercise since
The results do truly resemble stock charts (in fact, it will be difficult to come up with better ways of synthesizing stock charts),
You may even have to remind yourself that the charts are random and that there is no point in carrying out any technical analysis.
On that basis looking at stock charts reminds me more and more of Rorschachs. Not my cup of tea. My conclusion is to establish a dollar-cost averaging schedule as described below.
My portfolio's autopilot works very simplistic: Starting point is a targeted asset allocation of 50% non-REIT stocks, 10% REITs, 20% gold and 20% cash equivalent to a diluted Permanent Portfolio. Below asset class level there are caps for each stock position up to which I am prepared to add. These caps are at 2.5% of the portfolio total. The caps for the diversified positions (1), (2) and (3) above are higher at 5%. All stock caps combined exceed 50% which allows for some flexibility in the weightings between the stocks.
The autopilot checks quarterly, if there is excess cash available. If yes, it will check the amount available for each asset class. Amounts below a certain threshold are ignored to facilitate sensible order sizes and amounts above a certain threshold are capped to make sure the buying is spread across a couple of quarters. Action is only triggered if the autopilot finds that there is excess cash, which means that it does not know how to sell. It is called accumulation phase for a reason.
For stock purchases the autopilot will prioritize stocks that have moved sideways compared to my cost basis. This is a bit of an arbitrary decision inspired by Peter Lynch:
[…] I'm accustomed to hanging around with a stock when the price is going nowhere. Most of the money I make is in the third or fourth year that I've owned something […].
I do not expect this to be a secret success formula, but it feels about right to avoid both, falling knives and high-flyers (although the caps prevent me from adding to the latter anyway). As a result the autopilot will find me among those stocks that have not reached their caps the ones that have moved the least compared to my cost basis. The output is a shopping list that I can use right away. Note, that there is no further check of any fundamentals before the five years are over.
What is left for the ECGP-manager to manage?
The autopilot is equivalent to the first generation of autopilots in cars that take over the steering wheel on highways, but hand it back to the human driver in the more difficult city traffic. What I will still allow myself to do is:
Adding bonds when the new normal (level of interest rates) is succeeded by something newer and even more normal,
Building some two or three further stock positions to diversify a bit more,
Reviewing each stock position in five year intervals. GPT will be first and due next year.
While some 90% of the investment advice that I have come across is about stock picks, the reality is that only the very first stage of an investment plan should consist of stock picking. The much, much longer subsequent phase has to consist inevitably of something less exciting: patience. You do not read much about that, but most of your stock picks will simply need time to work out. As far as my portfolio is concerned, I will look for another hobby in the meantime. This one cost me too much in transaction costs, capital gains tax and time. Much of the above is conventional wisdom that has been available for a while. Unfortunately, it is the first-hand experience that has made all the difference to me.
2015 performance
If my portfolio was worth 100 at the beginning of this year, it is now at 114. As 2015 was a year of transition this does not say much about how well the ECGP has worked. As discussed, I am not inclined to look under the hood to check out the performance on the level of each position. What probably helped me was EUR-weakness, my timely exit from bonds and perhaps a bit of luck when I added to a couple of positions on the August dip in a final attempt to time the market.
Disclosure: I am/we are long CLPBF, CNI, EPCBF, GPTGF, HASI, HCP, IARSD, IVSXF, KINNF, PNR, PSPSF, QQQ, SAP, SHMDF, SMUPF, SWGNF, UBS, XYL, MGMXF.
I wrote this article myself, and it expresses my own opinions. I am not receiving compensation for it (other than from Seeking Alpha). I have no business relationship with any company whose stock is mentioned in this article.
Editor's Note: This article covers one or more stocks trading at less than $1 per share and/or with less than a $100 million market cap. Please be aware of the risks associated with these stocks.