As far as Wall Street is concerned, Palo Alto Networks (NYSE:PANW) is the gem of cybersecurity while FireEye (NASDAQ:FEYE) is being exposed as a second-tier player in the space. For proof, turn your attention to the performance of each respective stock, which paints a completely different picture for each company. While the assumption that Palo Alto has the most to gain long term from continued growth in the cybersecurity industry may be correct, FEYE is now the superior investment from this point forward.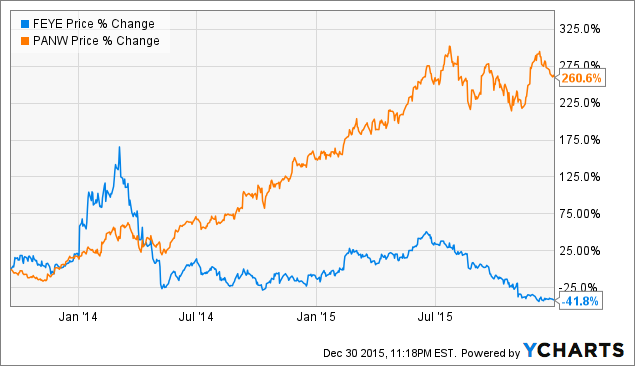 FEYE had a brief yet impressive run shortly after its 2013 IPO, but since then the performance between it and PANW has been nothing short of complete opposite. While both companies operate in the cybersecurity space, the operating focus of each company is very different.
Palo Alto is selling next-generation firewalls and products that mainly prevent attacks. These are considered preventative measures, services that large businesses need, a fact that lies at the epicenter for why investors are so bullish on PANW.
Palo Alto claims that nearly half of Global 2000 businesses are customers. The big catalyst for PANW long term is whether it can upsell more services to these customers and become the primary firewall for customers. Back in 2014, Morgan Stanley conducted a survey that showed PANW's market share at just 2% as a primary firewall vendor, and that 10% used the company as either a primary or secondary firewall. Clearly, there was a lot of upside for market share gains, upside that Palo Alto has experienced in 2015.
Nevertheless, the disconnect between FEYE and PANW also has created a wide gap in the expectations that surround both companies. FEYE now trades at just four times next year's expected sales whereas PANW trades at 11.5 times fiscal 2016 expected revenue. Therefore, PANW may be seen as having a superior business model, and more revenue upside, but in order to trade at the same 4x sales multiple as FEYE, Palo Alto would have to triple in size. Thus, the expectations surrounding PANW are far greater.
With that said, the big difference between PANW and FEYE is that Palo Alto's services are used more for preventative reasons whereas FireEye's services are used once an attack has already occurred. FireEye's services determine what created and/or caused an attack, and then how to rid it. This might not present the same opportunity as preventative cybersecurity, as not all companies see having such technology as imperative. But there is still a vast market for FireEye nonetheless.
What FireEye has done is create an entirely new industry for cybersecurity. IDC now tracks the specialized threat analysis and protection market. With a now 40% share, FEYE's presence in this market is seven times greater than its next closest competitor, with the specialized threat analysis and protection market accounting for more than 80% of FireEye's revenue last year.
In other words, FireEye has no real competition in the industry in which it operates, a market that did not exist five years ago and a market that the company is making relevant. While the firewall business is much larger, it is also very crowded.
All things considered, Palo Alto is clearly a great company, one that is expected to grow 43% in fiscal 2016 and 32% in fiscal 2017. However, it's tough to imagine PANW supporting a price/sales multiple much higher than 15, implying minimal upside from this point forward. However, FireEye has near equal growth, and at four times next year's sales, it is one of the cheapest fast-growing technology companies in the entire sector.
Thus, when you consider growth and valuation, it's clear that FEYE is presenting a far better investment opportunity for both stock gains and minimized downside risk in comparison to PANW. After all, with FireEye essentially creating its own market, it's unfair to punish the stock due to questions regarding how large it can ultimately become. And with high-profile cyberattacks occurring by the month, and more businesses moving their operations to a virtual and cloud-based environment, FireEye's business opportunity should only grow larger. Collectively, FEYE looks superior to PANW for 2016 and beyond.
Disclosure: I am/we are long FEYE.
I wrote this article myself, and it expresses my own opinions. I am not receiving compensation for it (other than from Seeking Alpha). I have no business relationship with any company whose stock is mentioned in this article.