One currency pair that has continued to disappoint longs for some time now is the cable. The question at hand is of course will this disappointment continue? We look at some economic data points in the UK, as well as the long term technical picture for the cable to see if we can draw a potential 'road map' for the Cable.
Let's start with the economic fundamental picture, looking first at the positives for the UK economy.
The Positives
Employment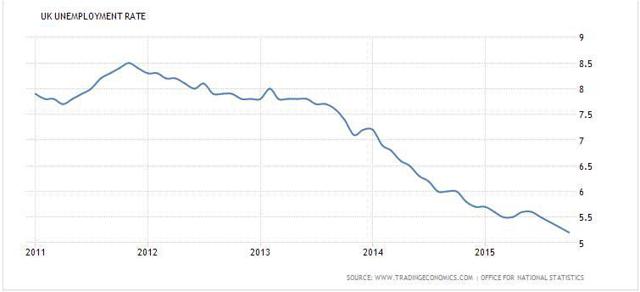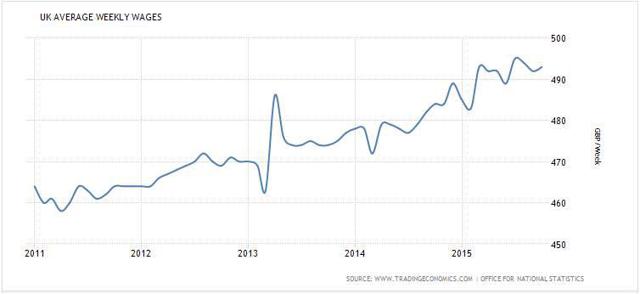 The UK employment picture continues to look healthy with unemployment continuing to trend lower, and average weekly wages continuing to rise over the last 5 years.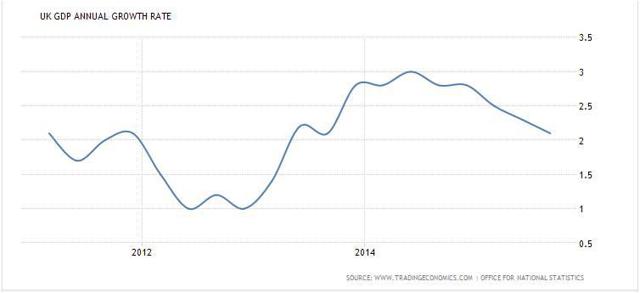 UK GDP growth showed great promise in 2014, though it has since leveled off tracking the 2% growth rate similar to that of the United States. However, the continued tepid growth of the Eurozone continues to threaten this growth.
The Negatives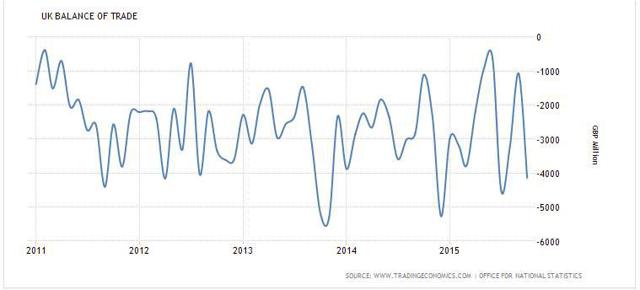 Despite numerous budget cuts, the UK continues to report an overall fiscal deficit with only marginal improvement seen since 2011. Combined with the continued trade deficit, these twin deficits will inevitably weigh on the Sterling in the future unless a turnaround in deficit spending is seen soon.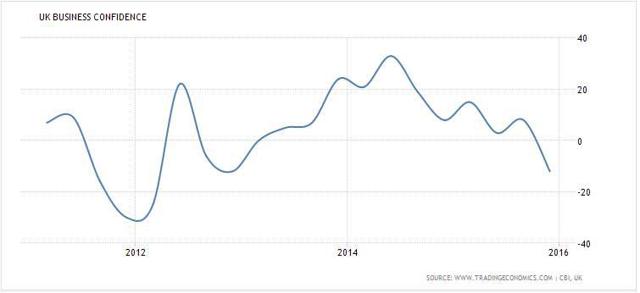 One worrying trend that has been seen as of late is the sudden drop in UK Business Confidence. The question of whether this is just temporal or a prelude to expected harder economic times ahead remains to be seen at this juncture.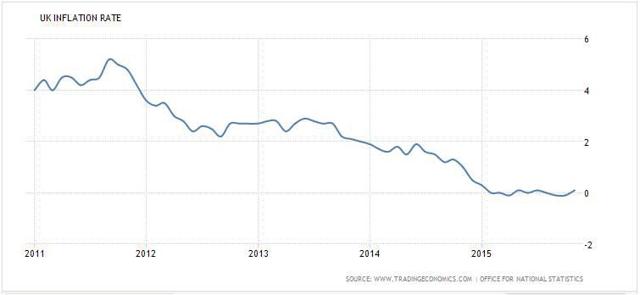 Inflation thus far has been more or less non-existent in the UK after a steady slide from the 2011 high. With the collapse in oil prices, any hope for higher inflation has been quelled at this juncture. This has been one of the major factors that has kept the BOE from hiking interest rates so far, and until energy prices begin to rebound, inflation is not likely to improve any time soon for the UK.
TECHNICAL OUTLOOK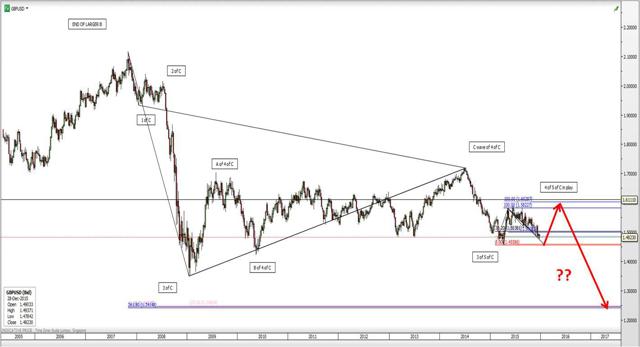 The pair is currently oversold in the short term against the USD, though a little more downside is expected for now toward the 1.4560 level. With the USD likely near a significant short term interim top, we think the pair could stage a rebound very soon once the 1.4560 level is reached to levels potentially as high as the 1.5820/1.6020 region before making a final decline thereafter to around the 1.2450 level. It will take a move above the 1.7500 level to invalidate the primary bearish scenario at this juncture.
Conclusion
Whilst we expect a rate increase somewhere in 2016 for the UK, we think the BOE will struggle to raise rates again thereafter with inflation continuing to be non-existent. Couple this with a continued trade deficit, tepid growth in the Eurozone and potential exit from the EU, we think any recovery that is seen in the cable would be corrective in nature with a larger downside move likely to be seen after the short term rally that should begin in the not too distant future from 1.4560.
Whilst prospects look dim against the USD for the GBP in our opinion, we think that the Sterling will continue to outperform against the EUR with better overall prospects vs. the Eurozone. We will revisit this piece at the end of 2016 again to see how the roadmap has played out for the cable.
RISK DISCLOSURE:
HIGH RISK WARNING: Foreign exchange, Futures and ETF trading, carries a high level of risk that may not be suitable for all investors. Leverage creates additional risk and loss exposure. Before you decide to trade any instrument, carefully consider your investment objectives, experience level, and risk tolerance. You could lose some or all of your initial investment; do not invest money that you cannot afford to lose. Educate yourself on the risks associated with trading, and seek advice from an independent financial or tax advisor if you have any questions.
ADVISORY WARNING: THEMARKETJOURNAL provides references and links to selected blogs and other sources of economic and market information as an educational or informational service to its clients and prospects and does not endorse the opinions or recommendations of the blogs or other sources of information. Clients and prospects are advised to carefully consider the opinions and analysis offered in the blogs or other information sources in the context of the client or prospect's individual analysis and decision making. None of the blogs or other sources of information is to be considered as constituting a track record. Past performance is no guarantee of future results and THEMARKETJOURNAL specifically advises clients and prospects to carefully review all claims and representations made by advisors, bloggers, money managers and system vendors before investing any funds or opening an account with any brokerages or dealers. Any news, opinions, research, data, or other information contained within this article and our website is provided as general market commentary and does not constitute investment or trading advice.
THEMARKETJOURNAL expressly disclaims any liability for any lost principal or profits without limitation which may arise directly or indirectly from the use of or reliance on such information. As with all such advisory services, past results are never a guarantee of future results.
Disclosure: I/we have no positions in any stocks mentioned, and no plans to initiate any positions within the next 72 hours.
I wrote this article myself, and it expresses my own opinions. I am not receiving compensation for it (other than from Seeking Alpha). I have no business relationship with any company whose stock is mentioned in this article.