Cheniere Energy, Inc. (NYSEMKT:LNG) and its subsidiary Cheniere Energy Partners (NYSEMKT:CQP) have reportedly started production from their Sabine Pass liquefaction plant in Louisiana on December 30th. Commissioning is always a delicate time for an engineering project, and with the complexity of the Sabine Pass terminal, it is an exciting time for investors. As the gas starts to flow, and the liquefaction arms of the plant are scaled up, many issues may arise that require management. Cheniere has likely been in the midst of dry commissioning for several months and wet commissioning for several weeks. In a follow-up to my article on firing CEO Charif Souki, I analyze publicly available information to glean insight into the status of commissioning.
Taking In Gas For Cooling and Liquefaction
The Sabine Pass began taking in natural gas on December 10th, absorbing more than 12 times the previous days average of gas. This increase is significant, as it represents much more than the initial filling stages of the pipeline and facilities running to the liquefaction unit. In the article referenced, they observe testing of the turbine and compressors used for cooling the fluid to -260f.
Intake gas continued, with Cheniere Energy taking in the first deliveries from NGPL on December 22nd, and four of the six turbine stacks were operating. Once all six turbine stacks are working, investors can expect liquefaction to be taking place.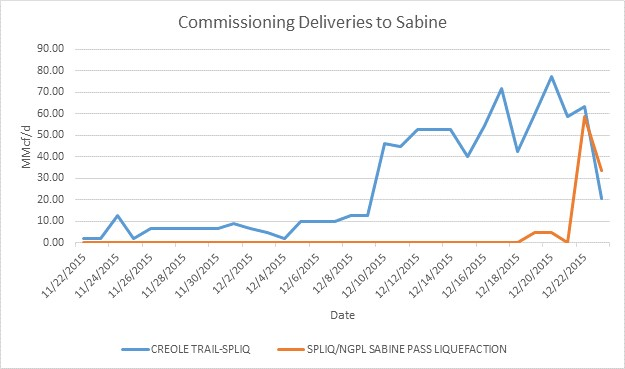 Source: (Genscape)
The gas intake tails off on the 23rd as the process is ramped up and the gas is fed into the cooling units. Cheniere Energy will see an increase in gas intake once they move into steady state production.
Wet Commissioning
According to Genscape, whom investors can subscribe to real-time updates, the Sabine Pass will take an estimated 20 days to fill their tanks and prepare for the first LNG shipment. Since all turbines were not online on December 22nd, it is likely that the first shipment will not be ready for January 12th and will be delayed several days to weeks. This outcome shouldn't scare investors yet as such a complex process is bound to run into issues at first commissioning.
In the process flow diagram below, I have highlighted the areas that have been commissioned and are under commissioning as of the report on the 23rd. We will need to wait for another update from Genscape's infrared cameras to confirm that all turbine and compressor stacks are running for Stage 1.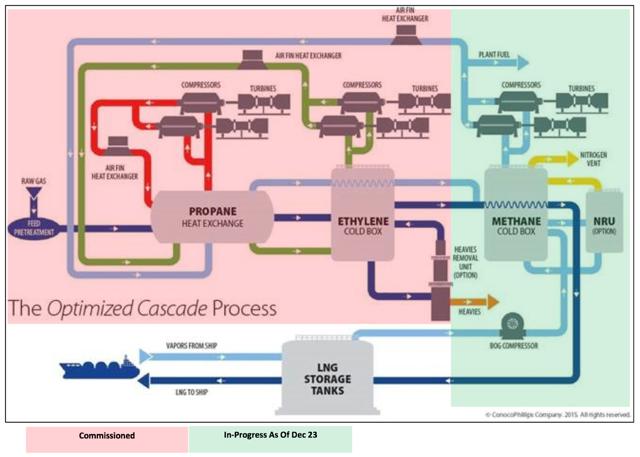 Source: (Genscape)
Recent Notable Insider Trading
One last area of publicly available information is insider trading.
Director Vicky Bailey sold just under 16,000 shares in LNG, making up one-quarter of her holdings on December 12
Carl Icahn's wife purchased 2,500 shares in LNG at $35.88 on December 18
Charif Souki sold over 400,000 shares in LNG through disposition or automatic sale
Michael Wortley (CFO of LNG) purchased 4,000 shares in CQP on December 7 at $21.86 per share
Carl Icahn holds 13.8% of LNG, with his last purchase on December 8th
Gas Prices
As Henry Hub gas prices tumble to $2.11/MMBtu, CQP turns the tap on at Sabine Pass. Here is the breakdown of committed deliveries for Sabine Pass from my cash flow model for CQP.

BG will be the beneficiary of first deliveries at a contracted price of $2.25 plus 115% of Henry Hub price. This price is in addition to an amount of gas that Sabine Pass is allowed to keep for plant fuel.
For CQP, the remaining 22% capacity of train 1 is earmarked for LNG's marketing arm at a $3.00 fixed price plus 115% of Henry Hub. It is not a take or pay contract and will be subject to the international price arbitrage. As a whole, it costs LNG's marketing arm $6.16 per MMBtu plus shipping. Shipping costs vary; however, assuming an all inclusive cost of $2.00-$2.50 per MMBtu, the delivered cost for the marketing arm of Cheniere Energy is $8.16 to $8.66 per MMBtu.
Whether or not the LNG marketing arm will exercise its option is a difficult call. We do not know any put contracts that the trading arm has entered, and as the delivered cost is seeming above landed prices in other parts of the world, this remaining 22% may go unused. Furthermore, as Cheniere Energy turns up Sabine Pass, the Henry Hub gas price is likely to rise - boosting earnings from fixed contracts, but decreasing the likelihood of option execution by LNG's marketing arm. These arguments are all spot priced, and as I projected in my article on LNG, LNG By The Numbers Part 1: Why Your Portfolio Must Be Exposed To LNG, this arbitrage will grow as we move forward to 2020 when all trains are online, and Cheniere's significant cash flows are expected.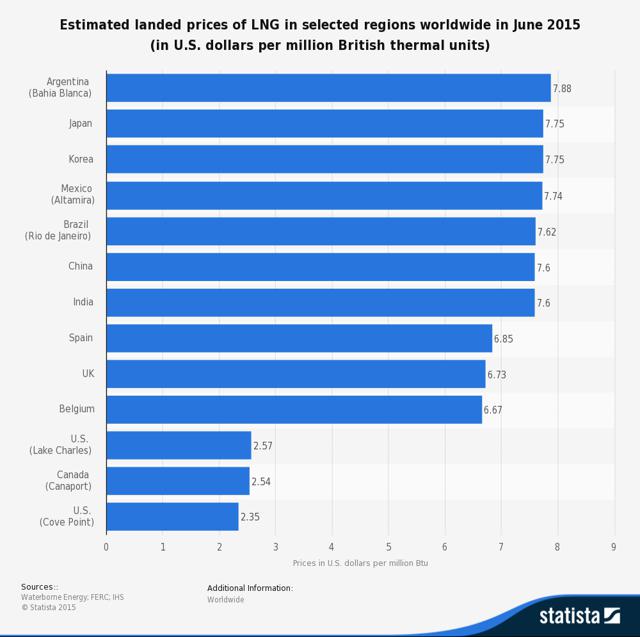 Conclusion
Commissioning of Sabine Pass seems to be going well. While its maiden shipping date of January 12th will not be met, commissioning is continuing to progress. At present, investors should not be concerned about delays of 2-3 weeks due to the complexity of the operation and the teething issues involved. Monitoring Genscape's releases over the next few weeks will provide valuable information regarding the status of commissioning and help investors to be in front of any major issues. However, if turbines or compressors are turned off for an extended duration, or gas intake ceases, investors have cause for concern as this represents an important technical issue. Analyzing insider trading does not provide a reliable extrapolation of events as directors are both buying and selling shares. LNG CFO Michael Wortley's purchase of CQP shares is in contrast to most directors' history of buying LNG shares and could represent an opinion that the company is undervalued when compared to its parent.
Disclosure: I/we have no positions in any stocks mentioned, but may initiate a long position in CQP, LNG over the next 72 hours.
I wrote this article myself, and it expresses my own opinions. I am not receiving compensation for it (other than from Seeking Alpha). I have no business relationship with any company whose stock is mentioned in this article.
Additional disclosure: Many of the assumptions are opinion based or inferred based on available information. This should not be considered financial advice or an accurate picture of the company's circumstances for investment purposes.