In my article of June 3, 2011 called GigaMedia Will Survive Current VIE Turmoil I discussed the time bomb of Variable Interest Entities. Many foreign companies frequently use VIEs to operate in China. A VIE is an entity that is not owned by the public company, but is allowed to be consolidated in the financial statements because it is controlled through agreements.
GigaMedia (NASDAQ:GIGM) had those agreements with T2CN, which almost ruined the company. For the details I recommend reading the article noted above.
My call in June last year was too early because the stock price went to $0.80 twice (September and December), and despite these price swings, the stock is up more than 50% this year, trading at $1.25.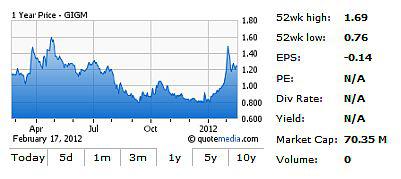 A lot of positive things have happened and many things have still to be done.
In December 2011 GigaMedia announced the sale of its problematic subsidiary T2CN for a cash payment of $4,738,588. In connection with the sale of its ownership interest in T2CN, GigaMedia has entered into a settlement agreement to resolve all of its civil legal disputes with the former head of its Asian online game and service business in China and former Chief Executive Officer of T2CN, Wang Ji. On December 14, 2011, the settlement agreement was finalized. As a result of the settlement agreement, each civil action has been or will be withdrawn or dismissed. A relief for GigaMedia at the end of last year.
This year began with an announcement on January 2 that its Chinaonline games platform Jidi Joy acquired a specialized Web-based social games development team in Shanghai and expects to roll out the first of its new proprietary social network games in March 2012 .
"We are making rapid progress in China , positioning ourselves to benefit from two powerful market forces in online games: the ongoing shift into Web and mobile platforms and the continued strong popularity and growth of social games," stated Jidi Joy Chief Executive Officer John Huen . "Web-based and social games are projected by industry analysts to grow at up to triple-digit rates in China - faster than traditional client-based or PC games."
The best news came in the same week with the announcement of John Stringer as new CEO. John is a veteran technology executive with 25 years of senior leadership experience and an exceptional track record of driving strong growth and profitability in companies such as Wyse Technology and Network Associates. And because GigaMedia regained compliance with NASDAQ's minimum bid price listing requirements this month, a reverse split is also not necessary anymore.
In a press release on February 10, Mr. Stringer gave some insight into his strategy. The company's turnaround plans are based on an explicit decision-making framework with clear objectives: Effectively managing cash, maintaining the company's listing on NASDAQ, and executing a new strategic growth plan.
Additional details on new management's turnaround plans will be presented in the second half of March.
Friday's news was also quite positive. GigaMedia announced that it is seeking to sell some of the company's assets in the first half of 2012. The planned disposals are intended to free up approximately US$30-US$40 million for investment in new strategic growth initiatives.
Final note
As you can see, the company is still in a turnaround situation which will take another year to seed. Every weak moment in the stock price is, in my opinion, a great entry point. I am convinced that John Stringer is the right man in the right place at the right time.
Disclosure: I am long GIGM.