Recently out of curiosity I began looking for dividend paying companies that carried no debt (or very little) on their books. Not every company that I found would fit into my portfolio but several have found a place on my watch list and could prove to be quality investments over a long time period. I'll take a look at five at a time and whittle my list down to three or four that could fit into my retirement portfolio and hopefully add them throughout 2016.
A company may have no debt for many reasons, not all are a positive for an investor. From an investor's stand point right away we see the benefit of a company having no debt because if you choose to invest in that company you are not incurring any share of their debt. By remaining skeptical and cautious we must ask ourselves how they came to have no debt. It could be that their products sell so well they generate enough revenue to cover all their expenses. On the other end of the spectrum it could be that the company is doing so poorly that nobody is willing to lend them money. In no way am I saying that debt is bad for a company, or even an individual. Debt can be a tax advantage for many corporations as the interest payments provide a great tax break. Companies often also utilize debt to finance their operations rather than their equity. If companies continue to sell additional shares to finance their operations it can destroy shareholder value, especially when that money raised does not go toward improving revenue and growth. The intricacies of debt for a corporation is not the purpose of this article, however. This article and the ones that follow it are simply to provide a beginning to the additional research necessary before making an investment decision.
The first five companies I will introduce are Crown Crafts (NASDAQ:CRWS), Chicago Rivet and Machine (NYSEMKT:CVR), American Eagle Outfitters (NYSE:AEO), Arctic Cat (NASDAQ:ACAT) and finally Barnes and Noble (NYSE:BKS). I'll provide a very general outline of their business, cover their dividend and a basic breakdown of their current financials using their last reported quarter. For the sake of the article I will consider debt to be reported on their balance sheets as "Short Term Debt" and "Long Term Debt" and their cash amounts will be "Cash and Cash Equivalents." The balance sheets will be the consolidated balance sheets of all parts of the business.
Crown Crafts
First up is Crown Crafts Inc, a company that produces infant and toddler bedding, bibs, blankets and disposable products and accessories. They have an $84.9M market cap and have been operating since 1957. They are thinly traded in a pretty tight range, the 52 week between 7.45 and 8.97 and currently offer a 3.77% yield of $.08/quarter. Their dividend hasn't been increased since Q2 2012 when it went to the current amount from $.04. A more in depth look at their dividend can be found here. Their Q3 2015 EPS was $.16 which easily covers the dividend. Also on the Q3 balance sheet they reported having $6M in cash, a $4M year on year increase, and no debt. If you spend a minute looking at their balance sheet and income statement you'll notice the cyclical nature of their business. It should also be mentioned that in Q3 they spent $1M buying back shares, of which they now have 10M outstanding. Their 10 year chart shows a slow and steady growth with typical periods of volatility.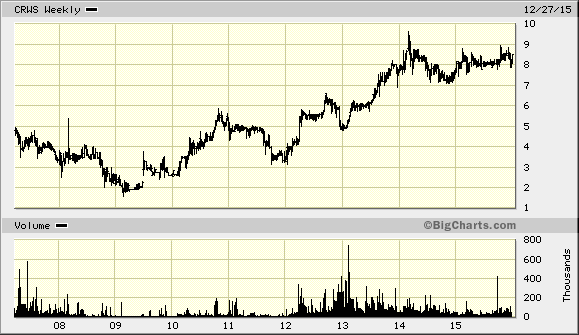 Overall this small company appears to be conservatively ran and could fit nicely into a portfolio as a low-risk dividend paying stock. At the very least they weren't completely beaten down by the market this year when so many big guys were.
Chicago Rivet and Machine
This $22.4M market cap company has been operating since 1920 in the industrial tool and accessories space. They provide hardware and fasteners to a multitude of other companies so their business is cyclical in nature. Jumping right into their Q3 2015 earnings we see they reported no debt on their balance sheet and $1M cash on hand. They made $.44/share and pay a 3.11% yield of $.18/quarter. Their dividend history is comforting seeing that they continued to pay it through the "Great Recession" period and heave steadily increased it since then. They also have a few special dividends scattered in there. Like other cyclical companies their share price has declined steadily over the year which presents a great opportunity to lock in a generous yield. Their 10 year chart also shows a nice steady increase besides the regular market corrections in the past, 2015 included.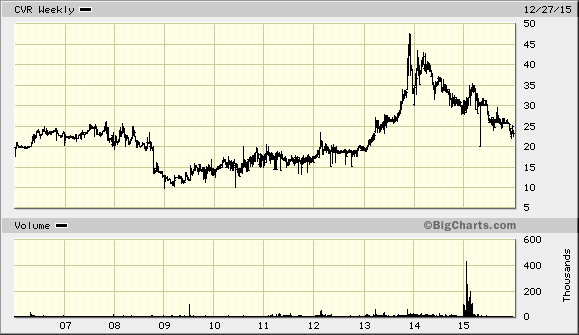 Chicago Rivet and Machine is appealing, they appear to be conservatively ran and have weathered many a storm since 1920. They are thinly traded but pay a great dividend and provide a vital product to hundreds of other companies. They've made my short list to keep an eye on.
American Eagle Outfitters
One of the larger companies on this list with a $3B market cap, this clothing company has been operating since 1977. If you've ever been inside a mall chances are you've seen their stores where they provide men's and women's clothing and accessories targeted at a younger crowd. The cyclical nature of their business and the beating retailers have taken this year presents an opportunity to own a piece of the company at a 3.23% yield and a $.125/quarter payout. On their last quarter they earned $.38/share with $363M cash on hand and no debt placing them in a favorable position to weather the retail and fashion storms. Their dividend history is slow and steady with small increases every 2-3 years and a couple special dividends thrown in the mix. Looking at their 10 year chart you can see they haven't recovered to their pre-recession greatness but have remained fairly steady.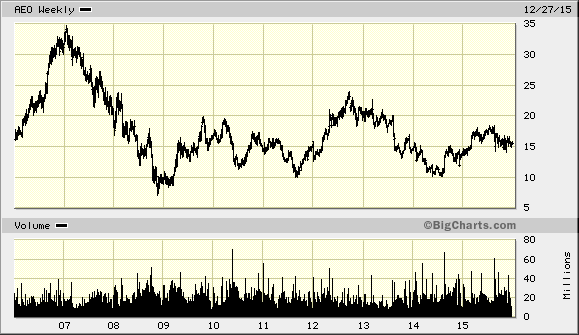 What is keeping this off my own watchlist is the fashion industry in general. I view fashion as double cyclical, they have the typical cyclical headwinds and tailwinds but they can also go in and out of style. Despite having no short or long term debt in the classic sense, they do have lease agreements for their stores like other retailers, presenting another concern for a long term dividend investor like me, rent must be paid, dividends not so much.
Arctic Cat
Lets get moving here and take a look at the $212.8M market cap maker of sleds, side-by-sides, and ATVs. Since 1960 they've provided quality vehicles to hunters, farmers, trappers, and adrenaline junkies but currently find themselves trying to establish their footing once again in a highly competitive and cyclical market. Peeking at their Q3 2015 earnings report you may notice that they actually do have long term debt in the amount of $16M, I've included them because it was just added in Q2 at $31M and they paid half of it off very quickly. They currently have $11M in cash on their books and earned $.88/share and paid $.125 in the same quarter. Their dividend history is pretty steady minus a period from 2008-2013 and is once again currently at risk having paid out more than they've earned per share so far this year, sitting at 3.1% yield if they can turn it around it could be a great long term investment. If you were riding their quarterly balance sheet roller coaster from quarter to quarter almost every figure would snap your neck, their 10 year chart is less intense but they have been on a downward spiral for about the last two years.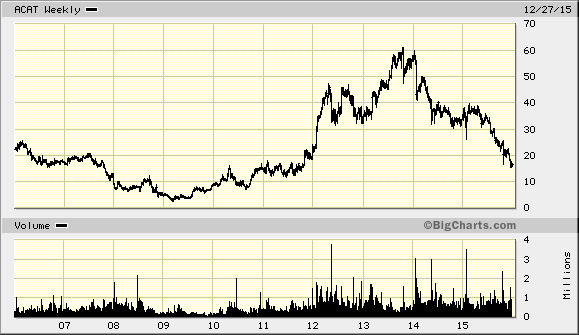 Arctic Cat certainly has a lot of blood flowing down their streets, they are in a highly competitive market filled with lots of quality companies. For those contrarian investors this may be a great underdog value play, personally I won't be placing this on my watch list just yet.
Barnes and Noble
Last but not least is the $666M market cap retail bookseller. Tracing their roots back to 1886 they have recently found themselves beaten and bloodied along with other retailers. Currently trading danger-close to their 52 week low they present a 3.66% yield of $.15/quarter. The dividend history shows us it is anything but steady having just recently come back after it was suspended in 2010. Sadly, Q3 2015 Barnes and Noble also added on $192M in long term debt, having not carried any debt all year. With $13M of cash on hand and three consecutive quarters of negative EPS, they're in a financial hurt locker and the dividend is at risk. What makes them a little appealing is their property, they hold over $2B of property in high traffic areas. Compared to the other four on this list, this 10 year chart is pretty much a slow and steady decline.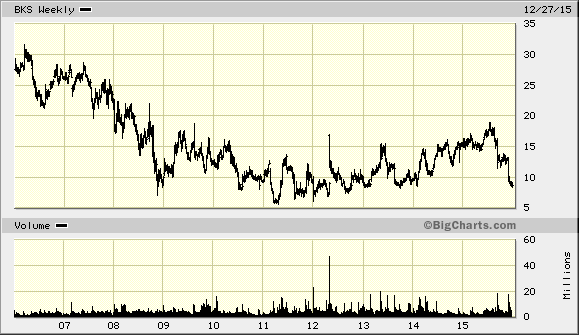 Despite attempting to sell more toys and games, and partnering with Starbucks (NASDAQ:SBUX) to sell coffee in their stores it has been a rough road for the booksellers. They were added onto the list because they only recently added debt and have an ace in the hole with their property. For somebody who roots for the underdog this could be an incredible long term play. Despite all the risks I find myself checking in on the company as I'm a firm believer they will find their way back to success.
In no way am I making a "buy" recommendation on any of these, and the limited peek into the companies provided should not be enough to convince an individual to throw their money at a company. This list is simply to provide some ideas and maybe present a few companies that weren't on your radar. For me, the winner of these five is Chicago Rivet and Machine. I feel they've been beaten down along with the other cyclical industrial companies but they have a solid and conservative balance sheet and knowledgeable management. I'm curious to see what others may think. In a week or two I'll cover the next five companies. I encourage others to present their ideas in the comments. As always, good luck to all of you and happy investing!
Disclosure: I/we have no positions in any stocks mentioned, and no plans to initiate any positions within the next 72 hours.
I wrote this article myself, and it expresses my own opinions. I am not receiving compensation for it (other than from Seeking Alpha). I have no business relationship with any company whose stock is mentioned in this article.
Editor's Note: This article covers one or more stocks trading at less than $1 per share and/or with less than a $100 million market cap. Please be aware of the risks associated with these stocks.