Source: Xpo.com
Since 2011 I have covered XPO Logistics (NYSE:XPO) to exhaustion, and even with my familiarity with the company and its investors, I will admit that its 35% stock loss in 2015 has been a big shock to me. This is a company that has grown fast through a series of mergers & acquisitions, but the market no longer cares about that growth. Instead, it wants to see profits, and that's why 2016 will be a great year for XPO stock.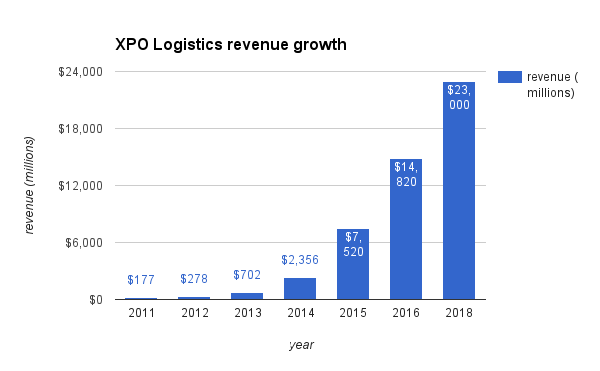 As seen above, there are not too many if any companies that have grown faster than XPO Logistics. While 2015 and 2016 are based on analyst expectations, and 2018 is from the company's own guidance, there is no question that XPO has had no problems with growing fast. However, the problem is profits, or a lack thereof.
Since Brad Jacobs took over in 2011 with his equity investment in the company, XPO Logistics is yet to produce a single quarter of positive EPS. That is the metric retail investors monitor so closely.
With that said, XPO's profit and operating margin has increased in each year since 2012, and during XPO's last quarter the company produced its highest ever operating income of $44.1 million. After completing two game-changing acquisitions, and XPO looking to slow the pace of acquisitions to optimize its business, the company is now poised for its first year of positive EPS, and its first quarter.
For this current quarter, XPO's EPS is expected to be breakeven based on the average estimate from 15 analysts who cover the stock. In the first quarter of 2016, XPO is expected to earn $0.04 per share, and from that point forward, it is all rapid EPS growth with the company expected to finish 2016 by earning $1.12 per share. Notably, this $1.12 per share is about double the $0.62 that analysts expected for XPO in 2016 just 90 days ago.
As explained in a previous article, producing profits will be the trick needed to catapult XPO stock and quiet the naysayers, and $1.12 per share will represent a huge margin increase and improvement to the $0.41 loss the company is expected to produce this year.
With that said, the fact that XPO is likely to earn positive EPS in each quarter from this point forward is a huge catalyst for a stock that has fallen 35% in 2015 due to continuous profit losses. Personally, I expect XPO Logistics to significantly exceed the $1.12 per share that analysts expect. Recently, I wrote two articles here and here explaining how XPO is poised to perform far better that analysts anticipate, with profits.
The company is currently guiding for $1.7 billion in EBITDA for 2018, and at least $1.25 billion next year. Based on the calculations in those two linked articles, XPO's EBITDA should translate to operating income at 90%, implying that $1.25 billion should equal about $1 billion in operating income. The current consensus for next year suggests net income of less than $150 million, a number that I think is far less than XPO will actually produce. At this point, analyst outlooks are likely conservative due to XPO's history, and its inability to generate profits due to mergers, acquisitions, and expansion.
The bottom line is that XPO is set up for its first year of profits, to exceed analyst expectations, and with the stock trading at just three times next year's operating income (my figure), XPO will very likely recover all of last year's losses plus a whole lot more.
Disclosure: I am/we are long XPO.
I wrote this article myself, and it expresses my own opinions. I am not receiving compensation for it (other than from Seeking Alpha). I have no business relationship with any company whose stock is mentioned in this article.