By Jonathan Rodriguez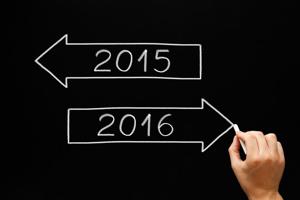 2015 has been a pretty brutal year for stocks.
Not only will the S&P 500 Index likely close the year in the red, it's also set to post the third worst yearly performance in the last 10 years.
There's plenty of blame to go around. Greece, China, commodities, and healthcare are just a few of the factors weighing down equities this year.
But the biggest drag on the market was undoubtedly the Federal Reserve.
Of course, I'm talking about the first federal funds rate increase in almost a decade. According to many analysts, the rate hike could be the straw that breaks this bull market's back.
When interest rates rise, larger borrowing costs eat into corporate profit margins - and many firms are already struggling to grow earnings.
Thus, the prevailing theme in the stock market for 2016 will be volatility, as fearful investors exit the stock market for the safety of fixed-income securities.
I know, I know… volatility is a dirty word.
But trend traders like myself are licking their chops for 2016. And I think we're in for some of the best and most profitable volatility since the financial crisis of 2008.
A Predictable Pattern
Rate hike cycles are typically associated with muted stock market returns.
Indeed, when compared with stock market returns during expansive periods, that's generally true - but it doesn't tell the whole story.
If we look a little closer, an interesting pattern emerges.
Over the last 30 years, the S&P 500 falls 0.9%, on average, in the one-week period following the start of a rate hike cycle.
One month out, the index has declined 0.6% on average - mostly from investors rotating out of stocks and into less risky securities, such as Treasuries and bonds.
But here's where it gets interesting. Three months out from the first rate hike the index posts an average gain of 0.9%. Fast-forward to six months from liftoff and the index gains 7%.
Finally, after one year, the S&P 500 is up 4.3%, on average, from the start of the cycle.
Translation: The first three months of a rate hike cycle provide a fantastic opportunity to buy stocks at deep discounts.
Plus, some of the biggest outperformers during a restrictive rate period are historically already marked down: energy, utilities, and materials.
This year is no exception. Utilities declined 8%, materials fell 10%, and energy stocks plummeted a mammoth 24%.
And from a technical perspective, all three are just now emerging from oversold territory and gaining strength.
Brace Yourselves: Recovery Is Coming
Energy stocks, in particular, took the biggest beating this year - and that's after a 24% drop in 2014.
But that doesn't mean we should buy indiscriminately. Over-leveraged firms will continue to suffer as credit tightens.
However, the larger, diversified players are certain to be "smart money" targets in 2016.
Crude will remain oversupplied through the first half of the year, but I believe we'll begin to see deep production cuts in the second half of 2016 as OPEC nations begin to choke on their budget deficits.
And even if we don't see a full-blown reversal of crude's long downtrend, traders can still bag profits on the volatile price swings.
Bottom line: 2016 could be a rocky road, but patience will reward energy investors down the stretch.
And if you're into short-term trading, keep an eye out. Over the next few weeks, I'll show you how to squeeze maximum profit from these short-term trend trades.