January 4, 2016 - Not all risky stocks go down in price. But, when their potential for gain is so out of proportion with the risk they present to investors, they are to be avoided even if they may continue to run up in market value.
With that caveat, we present our U.S. list of the 25 Most Risky Stocks to Own in 2016.
Our methodology looks at two forms of governance - financial and ESG. For us, governance is not about the stereotypical issues of one-share/one-vote, split CEO/Chair roles, etc. Those are smaller factors in our work. Rather, we define governance as both the ability and the framework of an organization that allows it to successfully pursue its transparent values and objectives. Our views on governance, therefore, are sometimes in conflict with what the corporate governance consultants might value. But, we're after the same thing - what works best for those who have an interest in the success of a company.
Using both external and internal analysis, we assign letter grades for both Financial Governance and Environmental, Social, and structural Governance (NASDAQ:ESG) at companies with a market capitalization generally in excess of US$500 million. We then look at valuations and similarly assign a grade. For our own internal purposes, we also calculate timing, momentum, and other portfolio measures to guide our establishment of long and short positions and to guide a final Risk to Valuation ranking.
Needless to say, we are not long any of the stocks on this list. And, we are short several of them (identified below). For some, we see more room for potential continuation of their up-trends, or, better places from which to establish short positions. In those cases, we either have no short position (yet) or have only partially established a position (identified below).
These stocks are listed in alphabetical order and their letter grades for Financial Governance, ESG, and Valuation are below. As in school, an F is a failing grade. But, in some cases, as you'll see, some members of our class have earned an F- in more than one subject.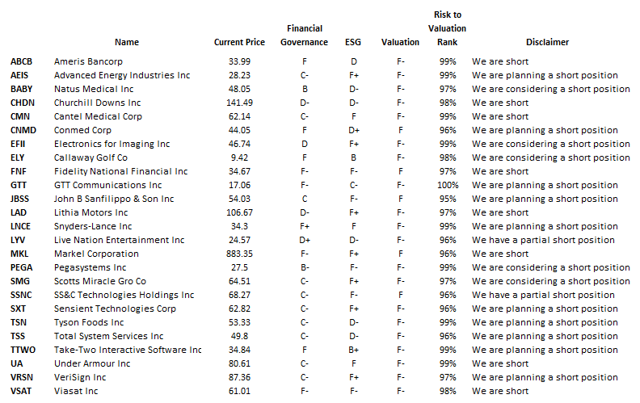 Tickers mentioned: ABCB, AEIS, BABY, CHDN, CMN, CNMD, EFII, ELY, FNF, GTT, JBSS, LAD, LNCE, LYV, MKL, PEGA, SMG, SSNC, SXT, TSN, TSS, TTWO, UA, VRSN, VSAT
Important Disclaimer
This report is provided solely for information.
This report is not an invitation or inducement to engage in investment activity, nor is it an offer to buy or sell securities, and does not constitute tax, investment or other advice. Neither this report nor the information contained in it should be relied upon.
The Governance Fund does not aim to provide advice which is appropriate to the individual circumstances of the private investor. Use of this report is not a substitute for obtaining proper investment advice from an authorized investment professional. While the information contained herein has been obtained from sources deemed reliable, neither The Governance Fund nor any party through whom the reader obtains this report guarantees that it is accurate or complete or makes any warranty or representation with regard to the results obtained from its use. In addition, the information contained in this report may become inaccurate as a result of the passage of time and should therefore be read for historical information only. Potential investors are urged to consult their own authorized investment professional before entering into an investment agreement.
The Governance Fund makes no warranty or representation that this report or its contents are current or that they have been updated based on changes in the economic market or other factors. In particular, but without limiting the preceding sentence, statements of fact or opinion made by The Governance Fund in this report may not be up-to-date and may not represent the current opinion of The Governance Fund.
When used in this report, the terms "we," "our" or "us" mean, unless the context otherwise indicates, The Governance Fund Advisors, LLC.
Issuers mentioned or included in any MSCI ESG Research Inc. materials may include MSCI Inc., clients of MSCI or suppliers to MSCI, and may also purchase research or other products or services from MSCI ESG Research. MSCI ESG Research materials, including materials utilized in any MSCI ESG Indexes or other products, have not been submitted to, nor received approval from, the United States Securities and Exchange Commission or any other regulatory body. MSCI ESG Research Inc., its affiliates and information providers make no warranties with respect to any such ESG materials. The ESG materials contained herein are used under license and may not be further used, distributed or disseminated without the express written consent of MSCI ESG Research Inc.
Questions or comments about our rankings, including any information you wish to submit for us to consider that is in conflict with our analysis, may be sent to info@thegovfund.com. Please note that we cannot respond to each email individually. But, we thank you in advance for any input that you wish to share.
Disclosure: I am/we are short ABCB, CHDN, CMN, FNF, LAD, LYV, MKL, SSNC, UA, VSAT, GTT, TTWO.
I wrote this article myself, and it expresses my own opinions. I am not receiving compensation for it. I have no business relationship with any company whose stock is mentioned in this article.