Yahoo (NASDAQ:YHOO) appears to have a number of catalysts. But for a company with so many options, it's still trading rather poorly. First, there's the option to sale or spin off the core business. Then there's the 99-page turnaround plan put together by hedge fund SpringOwl Asset Management. All this comes after the company tried to spin off its Alibaba (NYSE:BABA) stake. Even with the new options of selling or spinning off the core business, there's still no easy way to unlock value at Yahoo.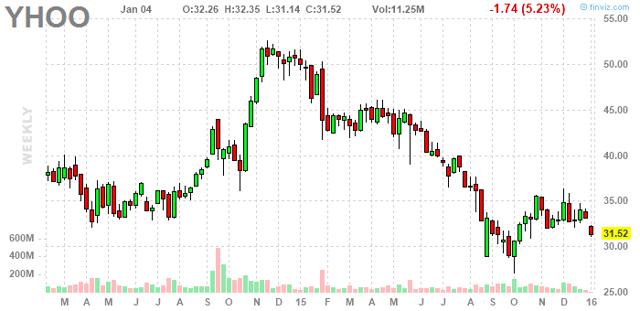 The sale makes sense
Activist hedge fund Starboard Value is also involved here, which has pushed back on a potential spinoff of the core business. Instead, pushing for a sale of that business. Hedge fund Canyon Capital is in the mix, sending a letter to the company and asking for a sale.
Time is of the essence here. Yahoo has said the spinoff would take more than a year to get done, navigating contract negotiations and getting various approvals. The company has been lackluster in communicating with shareholders, which dates back to the botched Alibaba spinoff. The new plan of spinning off the core business and the Yahoo Japan stake has come with no concrete plans or interim timeline for getting the deal done. It appears that at least a year of exploring the options for a spinoff of the core business is unacceptable.
Sure, everyone talks about the sum-of-the-parts and the fact that the market is putting a negative value on its core business. The big reason is that business is in decline and there's no clear way of turning it around, nor has there been a clear way to monetize what's left of the business. The best option at this point is to do a last ditch effort to sell the core business, other assets, real estate, IP and/or its Yahoo Japan stake. A sale of any of those assets could help close the discount that the market is placing on the Alibaba stake, cash, etc.
Yahoo's inaction - the likely plan
Yahoo would ideally like to spin off the core business (which is its current plan), taking another year to do so and giving Mayer time to cut costs and refocus the company to make it more attractive to a buyer. But the unsuccessful turnaround under Mayer has already been painful enough. Its growth lags peers and there's nothing (no catalysts) that will correct this.
SpringOwl's turnaround plan is focused on costs, but doesn't address the bigger issue - Yahoo's a melting ice cube. Mayer's big failure was in her M&A strategy - in particular, not finding its YouTube or Instagram, both of which have been big wins for Alphabet (NASDAQ:GOOG) (NASDAQ:GOOGL) and Facebook (NASDAQ:FB), respectively. Why wasn't Mayer more aggressive? Why not buy Netflix (NASDAQ:NFLX) back in the day? In any case, the time for big M&A and turnarounds at Yahoo is in the past.
As mentioned, Yahoo has been grossly inactive at laying out a plan. A spinoff is going to take a bit longer than much of the market expects, meaning its core biz will continue to deteriorate. It generates a third of revenues from search and this business remains grossly disadvantaged in this market when it comes to competing with Alphabet's Google.
Look for Yahoo to come around to a sale, whether it will be its own decision or not. There's a large consensus that Marissa Mayer has to go. With a spinoff, it's likely Mayer stays in the saddle. Under a sale, it's likely she goes.
There could be an uprising brewing in the boardroom, where the deadline for director nominations is March 26 and they'll have to let the board know by Jan. 31 - look for Starboard to step up if there's not a sale in the next few months. There's likely plenty of support to overthrow Mayer, who's also on maternity leave. Two of Yahoo's board members support Mayer, two are against her and the others are "swing" votes at this stage.
Conclusion
Yahoo is set on going its own way, defiling SpringOwl's turnaround plan and Starboard/Canyon's push for a sale. There is likely some interest in the core biz, either from private equity or buyers like Verizon (NYSE:VZ). However, the company is turning away buyers. When private equity buyers call up Yahoo CFO Ken Goldman about buying the core biz, they're being told it's not for sale.
In the end, Yahoo is placing a lot of weight on its plan to spin off the core biz without a plan B - something it did with the Alibaba spin. While the sale is the best case, it's still not worth being a shareholder here given that Yahoo is stringing along shareholders and we could be in store for another year of figuring out what to do next. If there are some hard facts that hedge funds are going to take to task management in an upcoming proxy battle, we'll have another look.
Disclosure: I/we have no positions in any stocks mentioned, and no plans to initiate any positions within the next 72 hours.
I wrote this article myself, and it expresses my own opinions. I am not receiving compensation for it (other than from Seeking Alpha). I have no business relationship with any company whose stock is mentioned in this article.