Dividend Growth Investing requires a lot of due diligence in portfolio selection and maintenance. For investors who like to follow the dividend growth model but don't have the time or inclination to do the individual stock selection a Dividend ETF may be a good choice. The question is which one is the most suitable. I will present the data and a ranking mechanism.
The following 6 funds are mentioned quite often on Seeking Alpha for Dividend Investors:
Some are characterized as dividend growth (SDY, VIG) and some as high dividend yield (HDV, VYM) and some as broad dividend equities (SCHD, DVY). Of these 6 ETFs, I excluded SDY and DVY due to their expense ratios of 0.35 and 0.39. With the competition amongst ETFs, it is hard for me to accept US based ETFs with expense ratios of more than 0.15. I also excluded VIG due to its yield of 2.28 which is not materially higher than any value ETF.
This left the following three ETFs with low expense ratios, yields ranging from close to 3% to 3.8%) and the fact that they follow three dividend focused methodologies:
iShares Core High Dividend ETF
This ETF follows the Morningstar® Dividend Yield Focus Index. This index applies two screens to US based equities. The moat screen is applied first and then a distance to default screen. The resulting top 75 securities are generally large or mega cap value U.S. companies. It is rebalanced quarterly.
Vanguard High Dividend Yield ETF
VYM tracks the performance of the FTSE High Dividend Yield Index which consists of stocks that are characterized by higher than average dividend yield.
Schwab U.S. Dividend Equity ETF
SCHD tracks the return of the Dow Jones U.S. Dividend 100™Index. The index is designed to measure the performance of 100 high dividend yielding stocks issued by U.S. companies selected based on four fundamentals-based characteristics (cash flow to total debt, return on equity, dividend yield and five-year dividend growth rate) and are subject to screens for dividend payment consistency, size and liquidity
All of these indices seem to have a good approach so I wanted to see how the ETFs that use these indices fared in the last three years.
First and very important for the dividend growth investor is the dividend growth rate.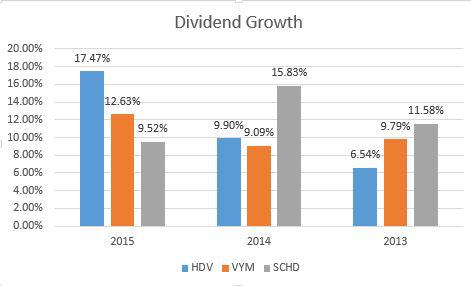 Averaging the dividend growth over the last three years comes to 12.31% for SCHD, 11.3% for HDV and 10.5% for VYM.
Using data available from Morningstar, the following table provides a quick performance and fundamentals overview:
| | | | |
| --- | --- | --- | --- |
| Key Stats | HDV | VYM | SCHD |
| Expense Ratio | 0.12 | 0.1 | 0.07 |
| Equity: Long Term Earnings % | 7.00% | 7.61% | 7.84% |
| 3 yr market return | 11.53% | 13.98% | 13.95% |
| Yield | 3.80% | 3.10% | 2.94% |
| Beta | 0.83 | 0.95 | 0.96 |
| Forward PE | 19 | 17.3 | 18.59 |
Looking at the table above does not provide me with a clear favorite. I like HDV's low beta and the high yield. The overall 3 yr market return with an underperformance of more than 2.4 % to the others is definitely not great. All three ETFs are fairly new so 5 yr data is not available yet. However, the underlying indices can provide an indication of a bit longer performance history: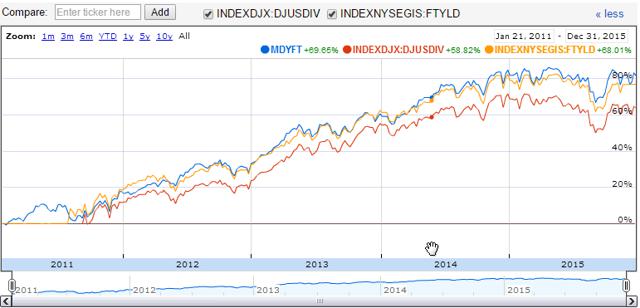 MDYFT (HDV), DJUSDIV (SCHD), FTYLD (VYM)
According to this chart, HDV and SCHD should be performing very similarly with VYM lagging a bit.
Last but not least, let's take a look at the sector allocations and concentration risks: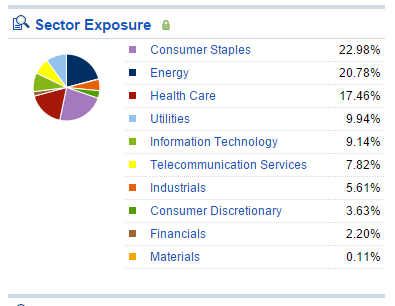 HDV has 75 holdings, of which 62.8% are in the top 10. Exxon Mobil Corporation (NYSE:XOM) is by far the largest holding with 10% allocation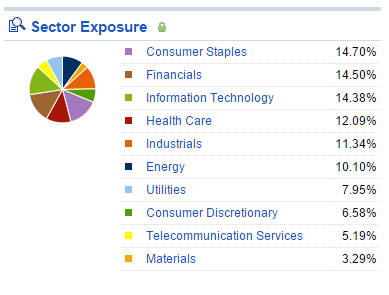 VYM has 431 holdings, or which 32.3% are in the top 10. This is best diversified of the 3 ETFs.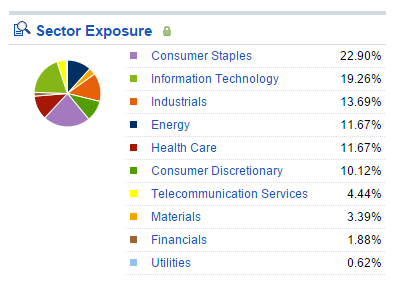 SCHD has 100 holdings of which 42.96 % are in the top 10.
I like SCHD's allocation to Information Technology and Consumer Staples but for an eventual energy turnaround, HDV's big bet on energy and especially XOM would be the way to go.
Summary:
Looking at the data shows three high quality funds. To rate which ones I like best, I assigned 1 to 5 ratings in the table below. The ratings for allocation will depend on each investor's current portfolio holdings and what they believe maybe the better performing sectors for the future. The rankings for 3 yr dividend growth, performance, current yield and volatility (Beta) are assigned based on the numbers in the table above. I added a row for the underlying index but I gave them all the same rating since I cannot say that one methodology is clearly better than the other. You may choose to assign different ratings per your preference.
| | | | |
| --- | --- | --- | --- |
| Criteria | HDV | VYM | SCHD |
| 3 yr Dividend Growth | 4 | 3 | 5 |
| Allocation | 4 | 3 | 4 |
| Performance | 2 | 4 | 4 |
| Current Yield | 5 | 4 | 3 |
| Underlying Index | 4 | 4 | 4 |
| Volatility | 5 | 4 | 3 |
| Average | 4.00 | 3.67 | 3.83 |
Based on this my next investment may be in HDV as a way to invest in an eventual energy rebound. I already own SCHD and VYM and I will keep both.
SCHD and VYM have 5 holdings of the top 10 in common so one of these funds for a given portfolio may be sufficient. HDV seems sufficiently different due to its high concentration in the top 10 and 20% energy exposure that I could see a benefit of adding this to a portfolio in addition to SCHD or VYM.
Disclosure: I am/we are long SCHD, VYM.
I wrote this article myself, and it expresses my own opinions. I am not receiving compensation for it (other than from Seeking Alpha). I have no business relationship with any company whose stock is mentioned in this article.
Additional disclosure: Please do your own due diligence and do not take the opinions of the author as an investment recommendation. I am not an Investment Advisor.